How to implement a successful DEI initiative
Did you know that, in addition to boasting better employee experiences, inclusive companies have more than twice as much cash flow, produce more innovative leaders, and are 70% more likely to capture new markets? Diverse, equitable, and inclusive (DEI) strategies are proven to transform the workplace to everyone's benefit – but many organizations are failing to implement them.
To curb this trend and help you achieve key business goals with DEI, this article will cover:
The state of DEI in the workplace
The ROI of DEI and making a business case to secure leadership buy-in
Actionable steps to implementing impactful DEI initiatives
Let's get started.
The state of workplace DEI
In March 2023, Culture Amp partnered with Censuswide to conduct an international DEI research project featuring perspectives from approximately 5,000 employees and 1,250 HR decision-makers. Of this group, roughly 2,000 employees and 500 decision-makers represent the U.S. or Canadian workforce.
Our research revealed that the problems DEI efforts are intended to address continue to be common in the business world despite renewed attention on DEI over the past few years. Namely:
At least one in four employees has experienced discrimination based on race, ethnicity, gender, age, caregiver status, disability status, or sexual orientation.
34% of employees have suffered unwelcome comments and/or conduct.
22% of HR leaders witnessed a person being denied a job or promotion due to their age.
23% of HR decision-makers said their company received complaints about gender discrimination.
These findings point to the prevalence of unjust hiring practices and treatments that can impede progress and prosperity at the organizational level.
Our research also indicates that many companies are not doing enough to accommodate people with different backgrounds, cultures, and experiences:
61% of employees said they did not receive any DEI training from their employer.
39% of companies said they do not have a tool to measure DEI.
40% of HR decision-makers said that DEI is not considered when making business decisions.
30% of HR decision-makers said that budget constraints prevent them from implementing a DEI tool.
28% of HR decision-makers said that insufficient data prevents them from making an adequate business case to gain approval for a DEI tool.
33% said that their leadership team is not particularly supportive of DEI efforts.
Not having a formal DEI strategy or adequate tools in place to inform and execute said strategy undermines even the best DEI intentions. That's because recognizing that certain advantages and barriers create unequal starting places for some members of your team is only the first step in a DEI initiative; organizations also need resources to help level the playing field and boost their bottom line in the process. Equal and inclusive work environments, for example, spark positive employee attitudes and increase job satisfaction and trust in the organization – all of which support higher performance and productivity.
But getting leadership to sign off on those resources can be a challenge. To get the buy-in you need, build a business case that points to a return on DEI investments.
The ROI of DEI
So, what are the benefits of DEI in the workplace? It turns out that workplace cultures that prioritize diversity, equality, and inclusiveness foster employee engagement and motivation and encourage a stronger connection between employees and the organization. This matters from a business perspective because employee engagement and retention levels are positively correlated. On the other hand, DEI shortcomings can drive good employees out the door, resulting in a loss of thousands of dollars per employee.
Innovation is also a common result of DEI efforts. DEI promotes innovation because it helps create psychological safety. Employees who are psychologically safe feel comfortable voicing their ideas, sharing criticisms, and taking risks – without the fear of negative consequences. As a result, they are more willing to contribute their unique perspectives, even when they challenge the status quo. This freedom creates avenues for change because it gives teams space and authority to identify new opportunities, pivot where necessary, and adapt to evolving circumstances.
By encouraging employees' authentic voice and sense of self-worth, psychological safety also empowers them to make stronger connections with their colleagues, further contributing to performance, productivity, and retention. These factors drive innovation, too, because they motivate employees to become collaborative problem solvers who create new products and services and contribute ideas that push everyone forward. Simply stated, employees at inclusive organizations perform at a higher level.
The effects on organizations can be significant:
Of course, it can be difficult to determine whether your organization is doing enough to implement DEI practices that drive favorable business results. Fortunately, there's a scale you can use to assess where you are as an organization: the DEI maturity model.
Introducing the DEI maturity model
In December 2022, Harvard Business Review described the five stages of DEI maturity: aware, compliant, tactical, integrated, and sustainable. To understand where your organization sits on the spectrum from less to more mature from a DEI perspective, decide which statement best applies to your organization's DEI efforts:
Aware: DEI is new to my organization, and we are just becoming aware of its importance.
Compliant: Our DEI efforts are focused on compliance with EEOC and other legal requirements.
Tactical: DEI has been connected to our business initiatives and outcomes in pockets of the organization.
Integrated: DEI is part of everything we do as an organization, including internal and external objectives.
Sustainable: We have best-in-class DEI practices and are strengthened by our commitment to continued improvement.
The most important thing to take away from this exercise is that if you believe your organization can do more, you can take actionable steps to enhance your efforts as soon as today.
Implementing impactful DEI initiatives
Sometimes, the biggest challenge of implementing or enhancing a DEI strategy is knowing where to begin – and how to proceed from there. Here are some concrete actions you can implement to improve your DEI efforts no matter where your organization falls on the DEI maturity model.
Collect baseline data directly from employees
You can't know where to focus your efforts until you understand the state of your organization and workforce from a DEI perspective. The best way to get this information is by soliciting input straight from your employees.
The goal is to establish a baseline understanding of your teams' demographics and how employees perceive your organization and their place in it. You want to find out how employees identify regarding race, gender, and beyond. You want to find out how employees feel about your organization's leadership team and performance processes and what their relationship is like with their manager. Do they feel like they have a voice? Do they feel valued? Do they feel like they have a path to advancement?
Many organizations already collect this information through engagement surveys, which some organizations refer to as employee satisfaction or sentiment surveys.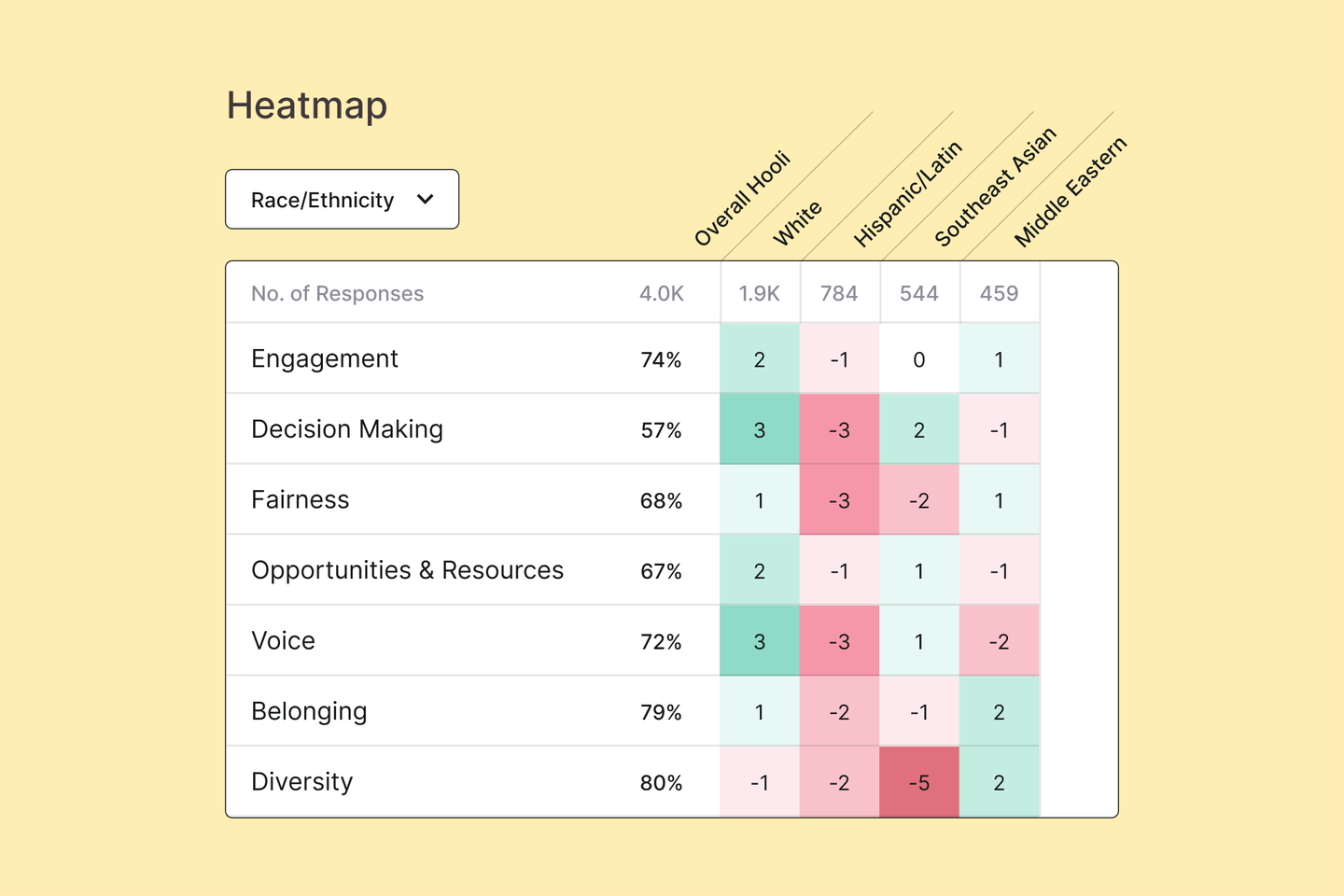 If you aren't doing so already, consider adding a separate inclusion factor to your engagement surveys. This will allow you to measure employee sentiments around things like belonging, equity, growth, decision-making, voice, and contribution to a broader purpose. Assessing perceptions around these issues will help you gauge how inclusive your organization is and how the experience differs for different identity groups.
Once you have this data, break it down by identity groups. How does each group experience inclusion? Where are there differences? With this input, you can address policies or strategize new actions to implement, analyze, and track changes over time.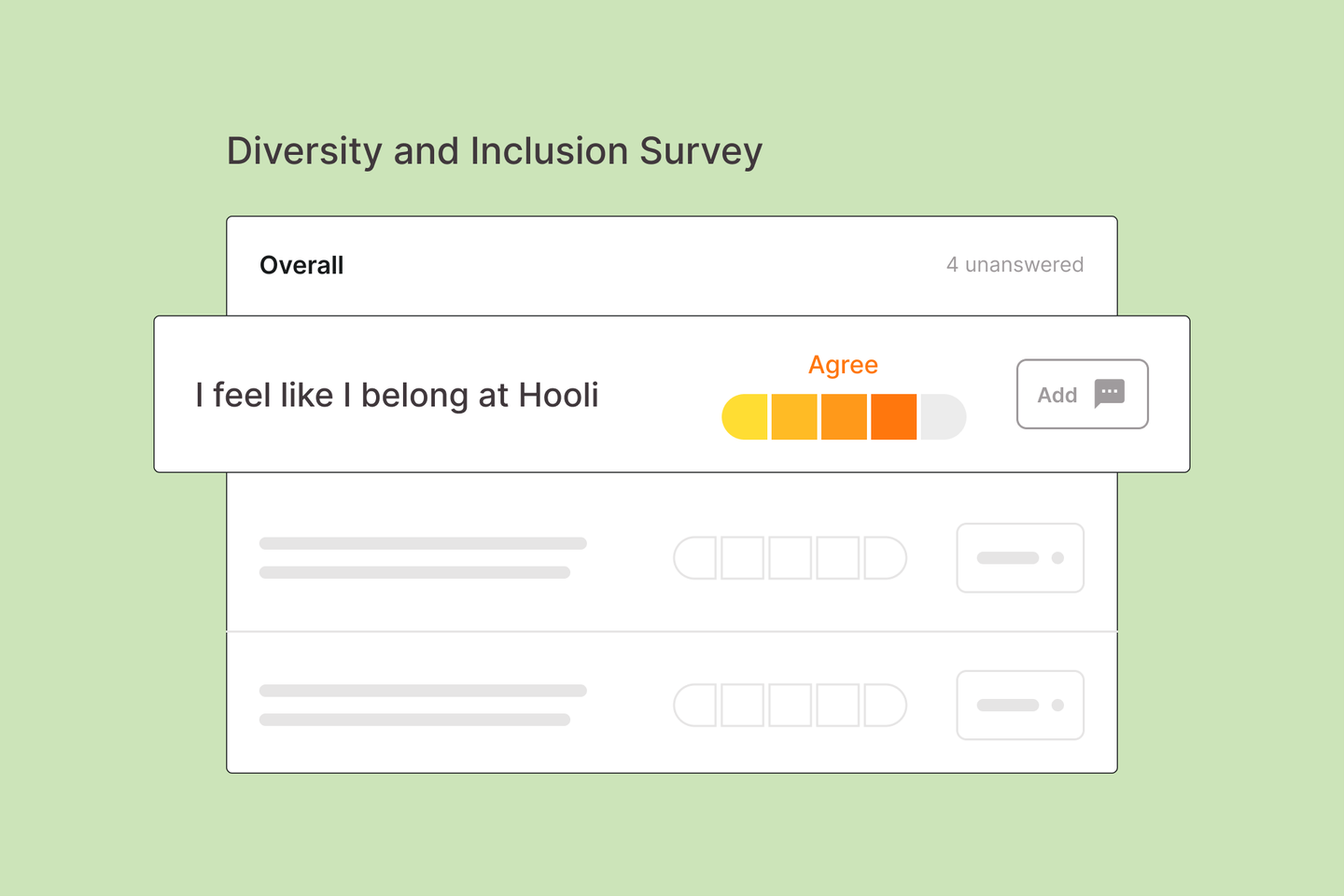 For organizations that want to go even deeper, we suggest a full, science-backed inclusion survey that focuses solely on the inclusion experience at your company. This will give you more comprehensive data so you can determine whether different groups of employees experience your company culture differently.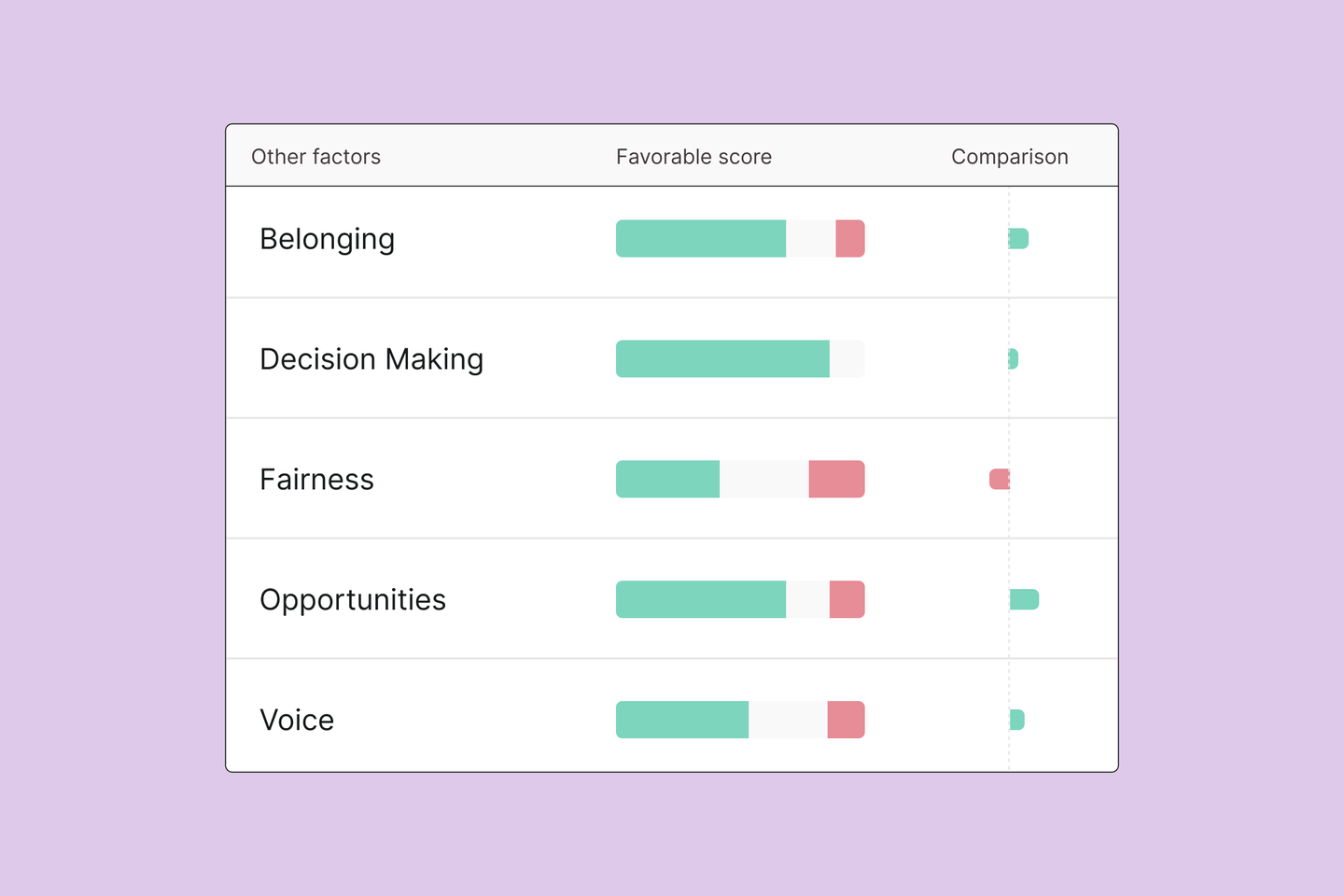 Finally, don't forget to bring context to your results with benchmark data. How does your DEI data measure up against the industry standard? If your numbers suggest that your DEI efforts are behind your competitors, that's a major indication it's time for change.
Drive equity through performance management
An essential part of creating equity in the workplace is putting processes in place to ensure people of all identities can develop and succeed. Unfortunately, our recent survey showed that:
1 in 4 HR leaders is not confident that people of different genders, ages, and backgrounds have equal access to development opportunities at their company.
Nearly 20% of employees disagree that career advancement and promotion paths are transparent to all employees.
To address these perceptions, regularly audit your organization's performance management processes to ensure you have a clear, fair, and equitable process for career development.
At Culture Amp, we've seen great success in this respect by fostering and sustaining strong employee-manager relationships and encouraging managers to regularly check in on their employees' development goals.
For example, many of our customers use our 1-on-1 meetings tool to ensure that managers are having regular conversations with their direct reports about their development goals and progress toward them. This allows employees to be heard and supported, and it allows managers to connect employees to development opportunities, whether they are lateral moves or cross-functional collaboration opportunities. Performance management tools like this support a consistent cadence of conversations and a recurring set of agenda items that help keep the relationship between managers and employees strong regarding these core topics.
Implementing performance management tools can have a significant effect. Last year, Culture Amp looked at data from over 160 companies and 70,000 employees to assess the impact of introducing a formal performance management process on the employee experience. First, we looked at what organizations were doing traditionally. Then, we introduced a performance management system based on best practices.
After just one cycle of using our recommended performance management review process, these companies significantly narrowed gender gaps in perceived recognition, growth, and workload – the same three areas where the largest gaps were initially observed. In short, they learned how to drive impact and equity in the workplace.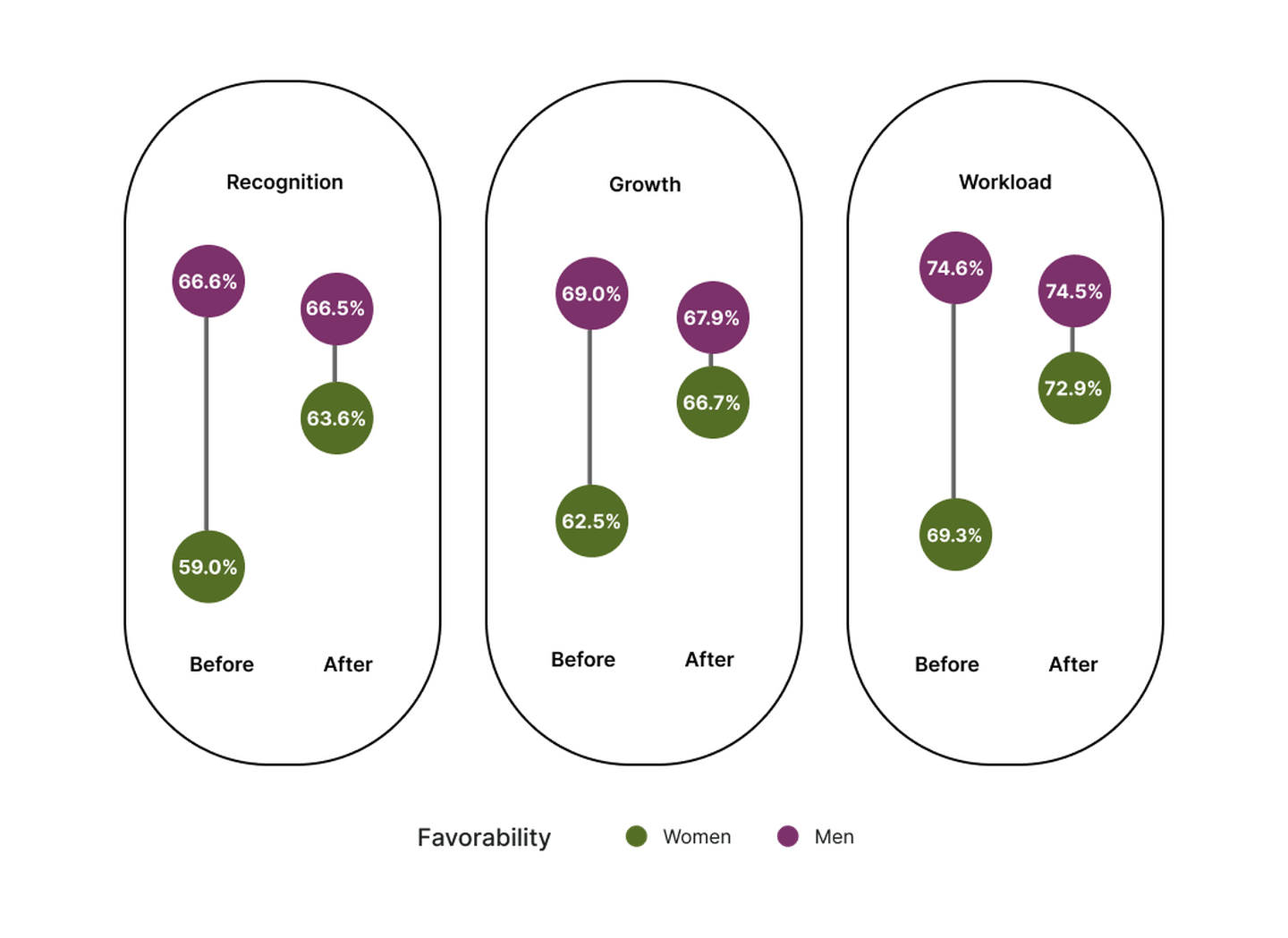 To generate similar results through your organization's DEI initiatives, consider introducing a performance management tool that:
With the right tools in place, your DEI efforts go from being a good intention to a meaningful initiative that moves the needle for your employees and organization.
Personalize employee development plans and map out career paths
In addition to performance management, you'll want to take a close look at career development. According to our research, 33% of HR leaders aim to establish development plans for employees in underrepresented groups in the year ahead. This is critical because employees without access to clear development opportunities are 41% more likely to leave their current company.
Creating transparent development plans ensures that growth opportunities are open to all employees, regardless of where they're from or what they look like. It's an important first step to dismantling inequities in the workplace.
To put it another way, making development and advancement decisions inconsistently or subjectively – without a clearly defined process – tends to favor employees from majority groups. Without an intentional process that aligns career growth with actual performance metrics, companies often offer majority groups better opportunities, consciously or not.
To support DEI efforts and retain employees simultaneously, Culture Amp created Develop, a science-backed tool for employee development that drives growth and performance.
With Develop, you can create career paths that help employees see exactly where they are in the company and, more to the point, where they could go. Career Paths allows employees to tailor their development goals alongside the company's core mission, vision, and business objectives, ensuring employees are moving with the company toward an aligned vision for the future.
Onward and upward with DEI at work
Are you ready to jumpstart your DEI journey? Knowing where you are and what steps you can take along the way is critical. As you continue to learn the value of DEI, reflect on what resonates with you, share insights with your team, and explore what actions you can take within your organization.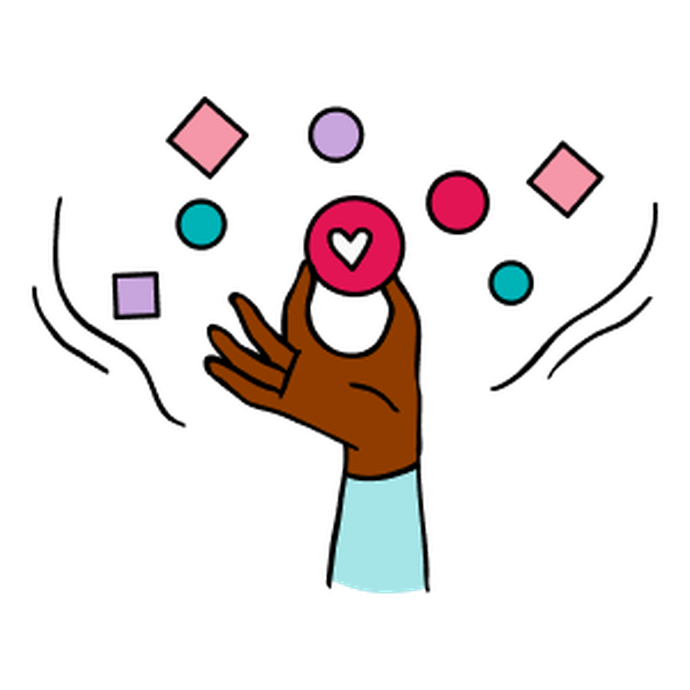 Learn how to navigate the path to inclusion
Learn more
Build a world-class employee experience today