Introducing Career Paths: Helping you drive growth at scale
Today, companies around the world are trying to do more with less – they are downsizing teams and limiting budgets, but still need their people to drive and grow the business.
That's why employee development has become more critical than ever. It is the number one predictor of both employee motivation and retention. Culture Amp data shows that employees highly value the opportunity to build skills that will help them reach their next career milestone.
Organizations that are tapping into this motivation and aligning employee career development with business goals see big benefits. Prioritizing development not only improves performance across the organization but also boosts retention by helping employees visualize their future careers with you.
Knowing this, how can organizations support their people in creating aligned, motivating development plans?
Our employee development tool, Develop by Culture Amp, already includes a science-backed development planning workflow, personalized development plans, and growth specific goals. Now, we're excited to introduce the new Career Paths feature in Develop. With Career Paths, organizations can now provide clarity around career progression and role expectations to every employee.
By helping your employees understand the skills required to succeed in their current and future roles, you'll create a culture where employees are engaged and invested in their work.
Introducing Career Paths
Research from Gartner shows that only 1 in 4 employees are confident about their career path at their current organization. At Culture Amp, we want to help every employee feel that confidence.
With Career Paths, role descriptions and competencies can be stored, updated, and shared across the entire organization – all in one location that's easy for HR leaders to use and easy for employees to access.
Career Paths amplifies the impact of employee development for everyone in your organization:
HR leaders are empowered to provide clarity around career progression and role expectations
Managers have the structure they need to share specific, actionable, and meaningful feedback that helps their direct reports grow
Employees can see a clear path to career advancement in your organization, boosting overall motivation, retention, and individual performance
Here are 4 ways Career Paths supports your organization's success.
One centralized hub for everything development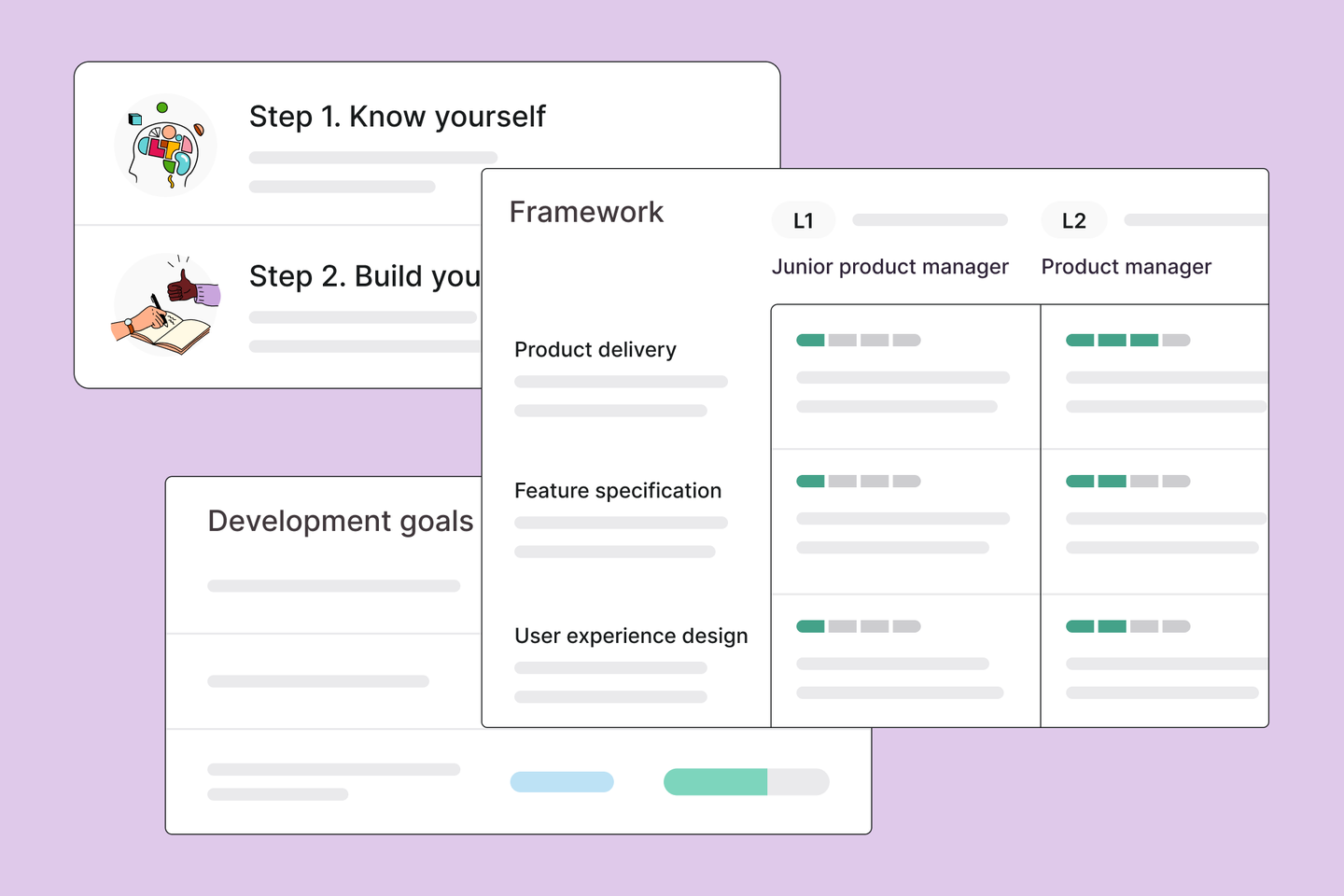 HR leaders and their teams no longer have to spend countless hours reviewing and organizing clunky, manual spreadsheets. With Career Paths, everyone in the organization – from HR business partners to managers to employees – has easy access to development plans, role descriptions, and competencies in one centralized location.
It's simple to revisit and review, transforming development from a set-and-forget exercise into a continuous process. Plus, new managers can quickly get up to speed on their direct reports' development plans and role expectations – ensuring that their direct reports' growth goals stay on track.
Competencies that are easy to build and maintain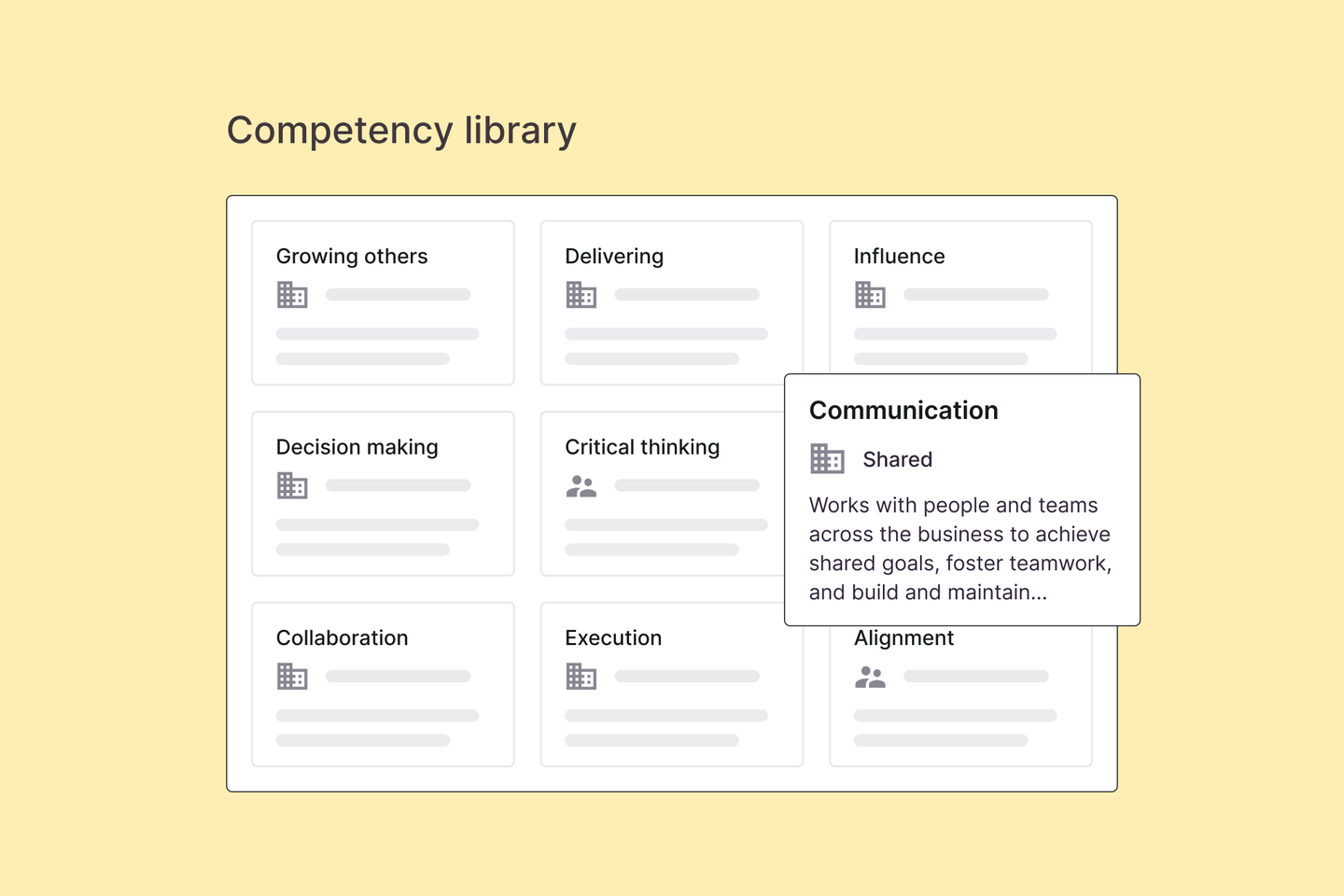 Our science-backed approach combines flexibility with guidance and structure, making it easy for HR leaders to get the most from the framework. Get started quickly with ready-made shared competencies, or create customized competencies to suit your organization's specific needs. Use Career Paths to build role-specific competencies with multiple proficiency levels that can be updated anytime.
Competency frameworks that keep employees motivated and growing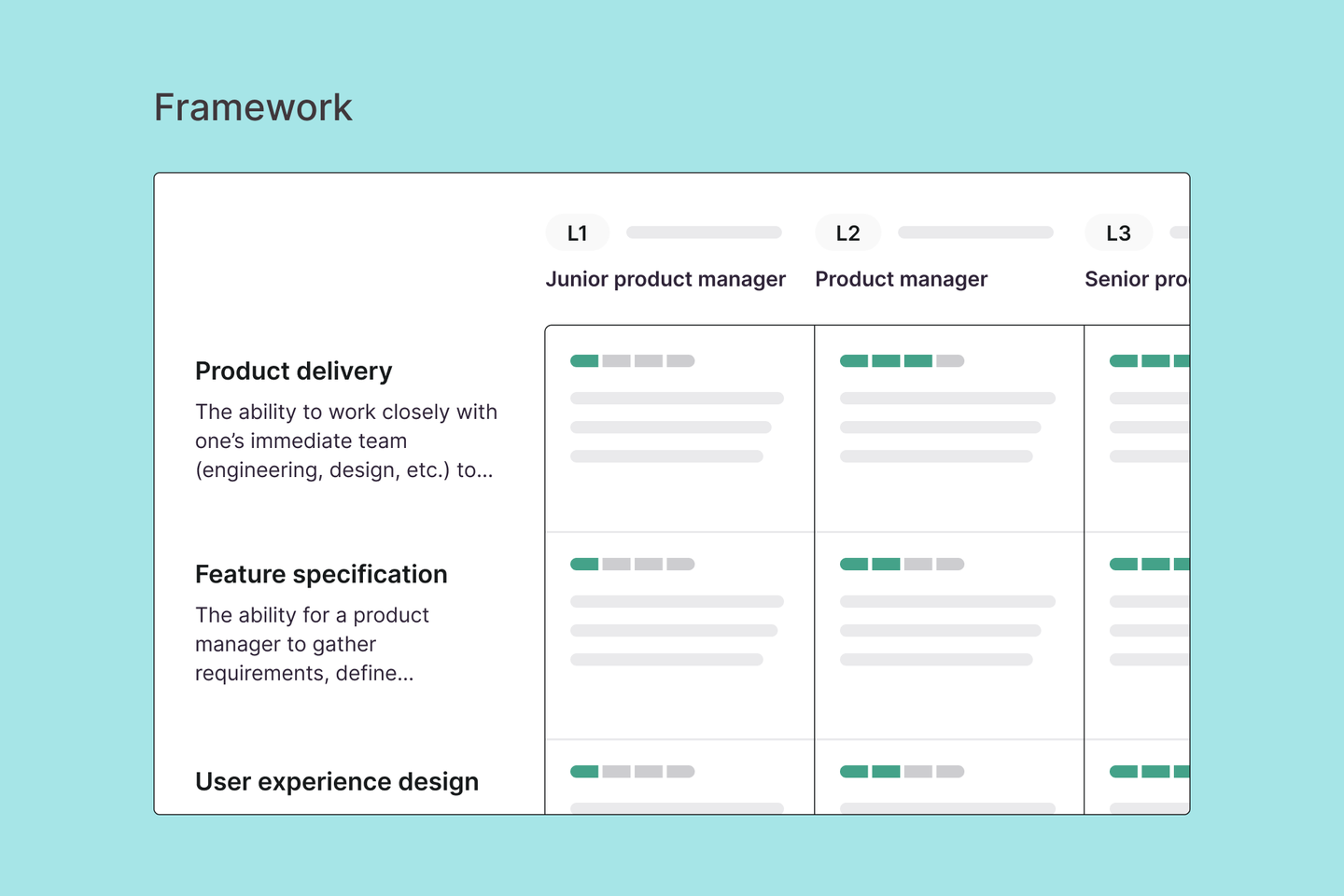 Career Paths allows your employees to easily compare different roles at your company and see how expectations change from one role to the other. They'll be able to understand how their skills will help them succeed, whether they move up the ladder or laterally.
Plus, both managers and employees can rely on competency frameworks to help guide development and performance conversations. With a clear career roadmap, employees can identify key areas for improvement and opportunities to develop new skills that are aligned with business needs.
At the same time, competency frameworks provide a standard set of criteria that helps managers assess employee performance objectively and identify direct reports' areas of strength and development needs.
Role clarity that drives individual and organizational performance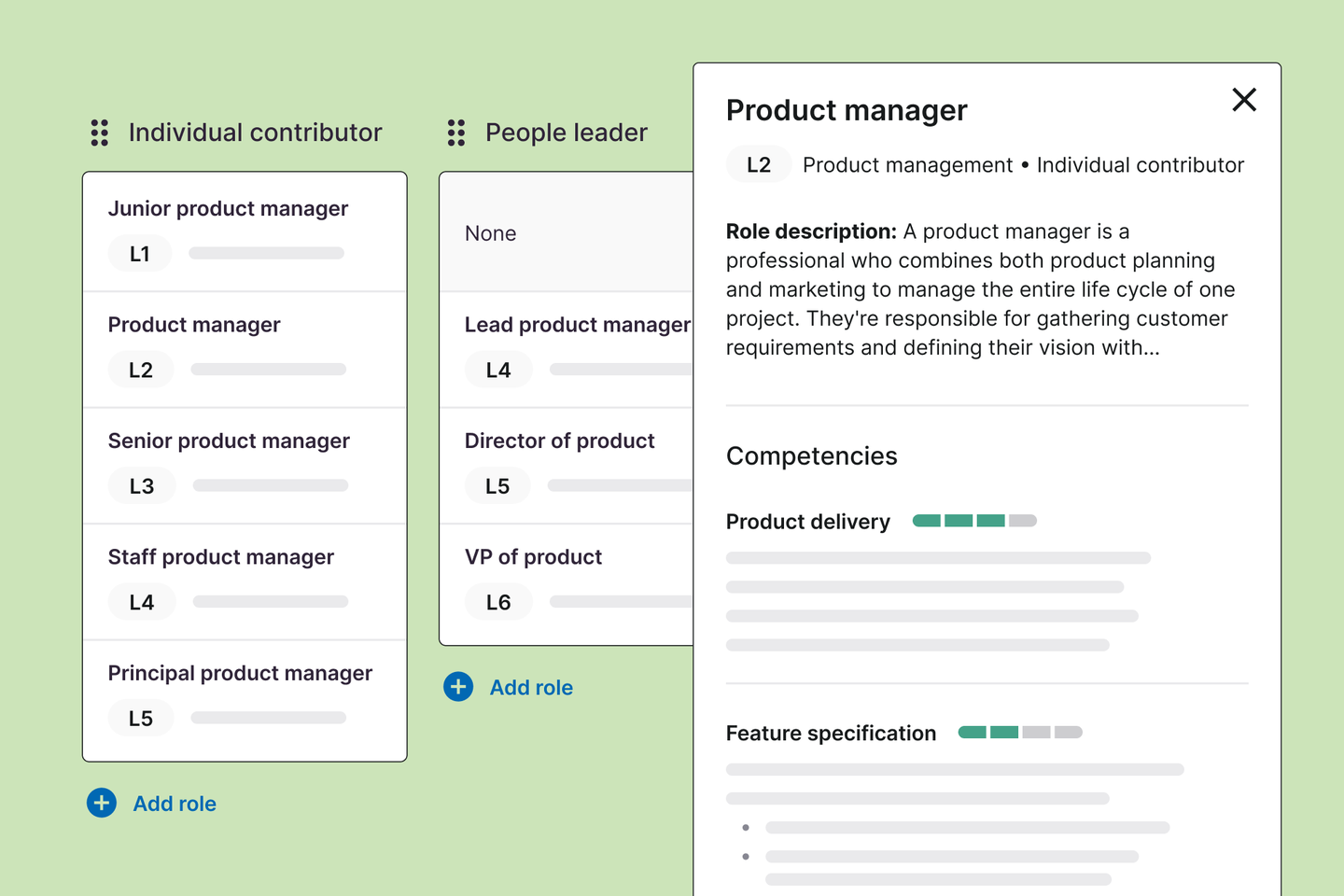 Keep your best employees by creating clarity around future roles at your organization where their current skills would be valuable. The role descriptions and related competencies in Career Paths allow employees and managers to explore new role opportunities and possible next steps in their career journeys, whether it's a direct progression or a lateral move.
Meanwhile, role tracks show employees what comes next on each path, and provide insights on building the skills to get there. By centralizing access to growth opportunities, Career Paths gives your people the information and confidence they need to plan their future at your company.
Unlock your employees' full potential and drive performance at scale
Career Paths makes it simple to build high-performing teams and retain your top talent. With a customizable competency library, powerful competency frameworks, role descriptions, and role tracks all accessible from a centralized development hub, Career Paths empowers your people to excel in their current roles and motivates them to grow with the company.
Ready to get started? Career Paths is available today as part of Develop.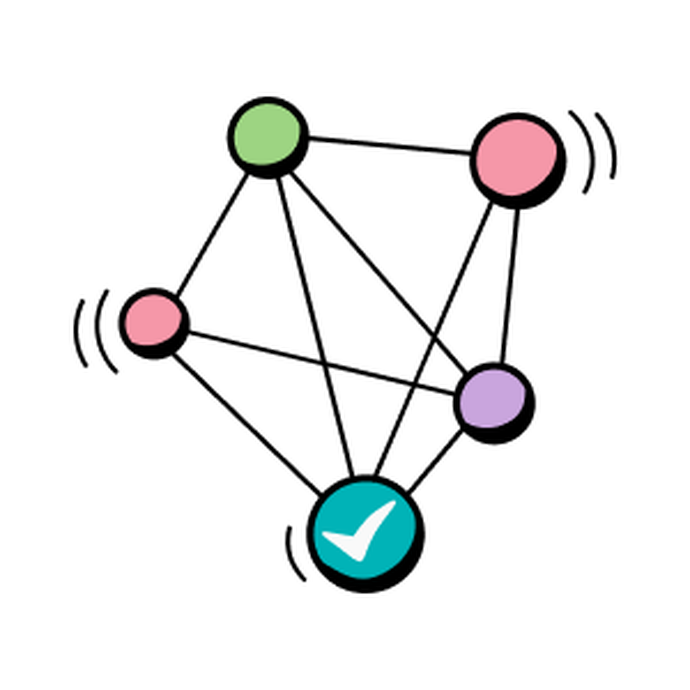 Keep your employees motivated and growing
Learn more about Develop with Career Paths and how Culture Amp can help you boost performance, retention, and more.
Explore Develop today
Build a world-class employee experience today