HR's complete guide to company culture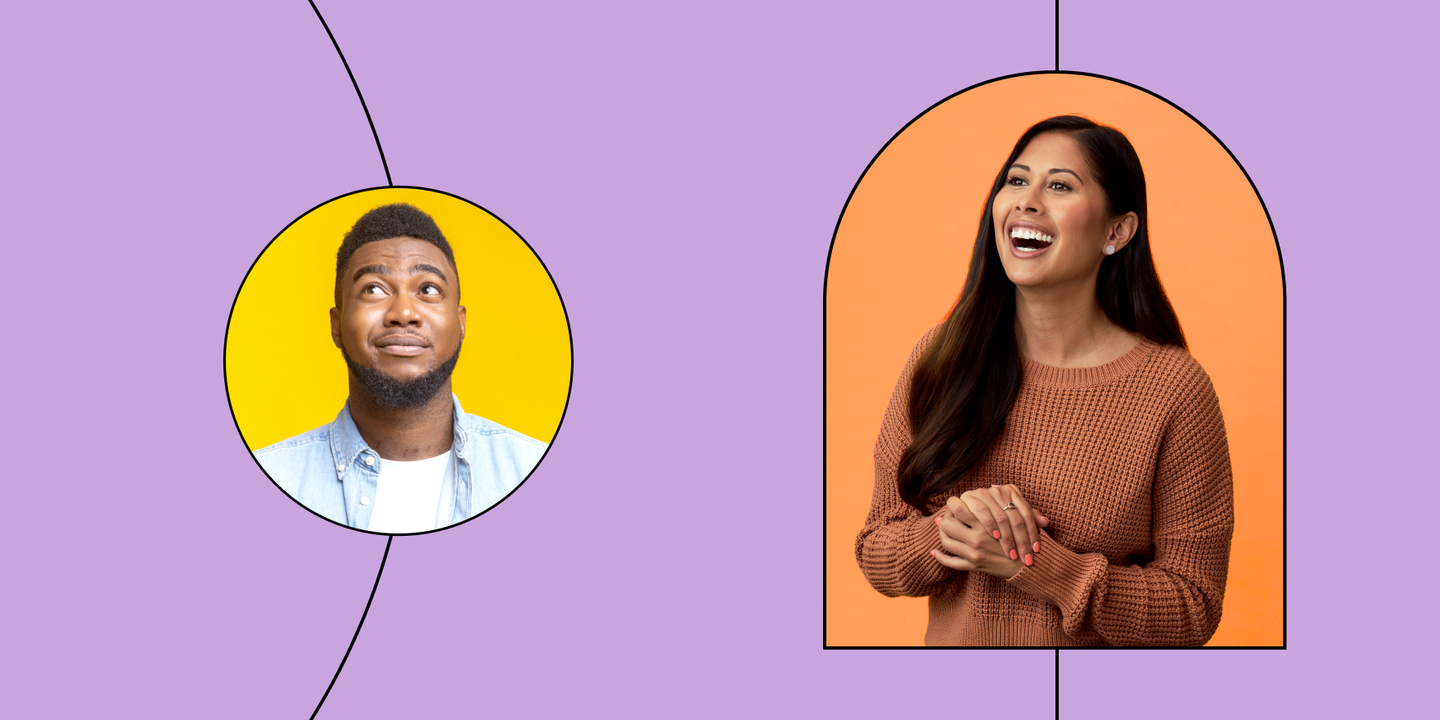 Workplace culture is central to employees' experience at work and a pivotal driver of organizational success. By putting culture first, organizations can scale sustainably, unlock high levels of performance and engagement, and meaningfully motivate and retain their talent.
Yet, despite culture's importance in the workplace, it often falls between the cracks as organizations focus on their day-to-day business operations. This is because culture occupies a rather ambiguous space – although the concept is relatively easy to understand, it can be difficult to measure and consequently improve.
That's why we put together this comprehensive guide to company culture. Learn the business case for putting culture first, tips for measuring your culture, steps for improving organizational culture, and more.
What is company culture?
Company culture is a shared set of values, attitudes, and practices that characterize how an organization operates both internally and externally. Every company has different goals, expectations, and norms – and culture describes how the company goes about setting and achieving these. In a sense, culture can be thought of as the "personality" of an organization.
Internally, Culture Amp defines culture as "how we work – together."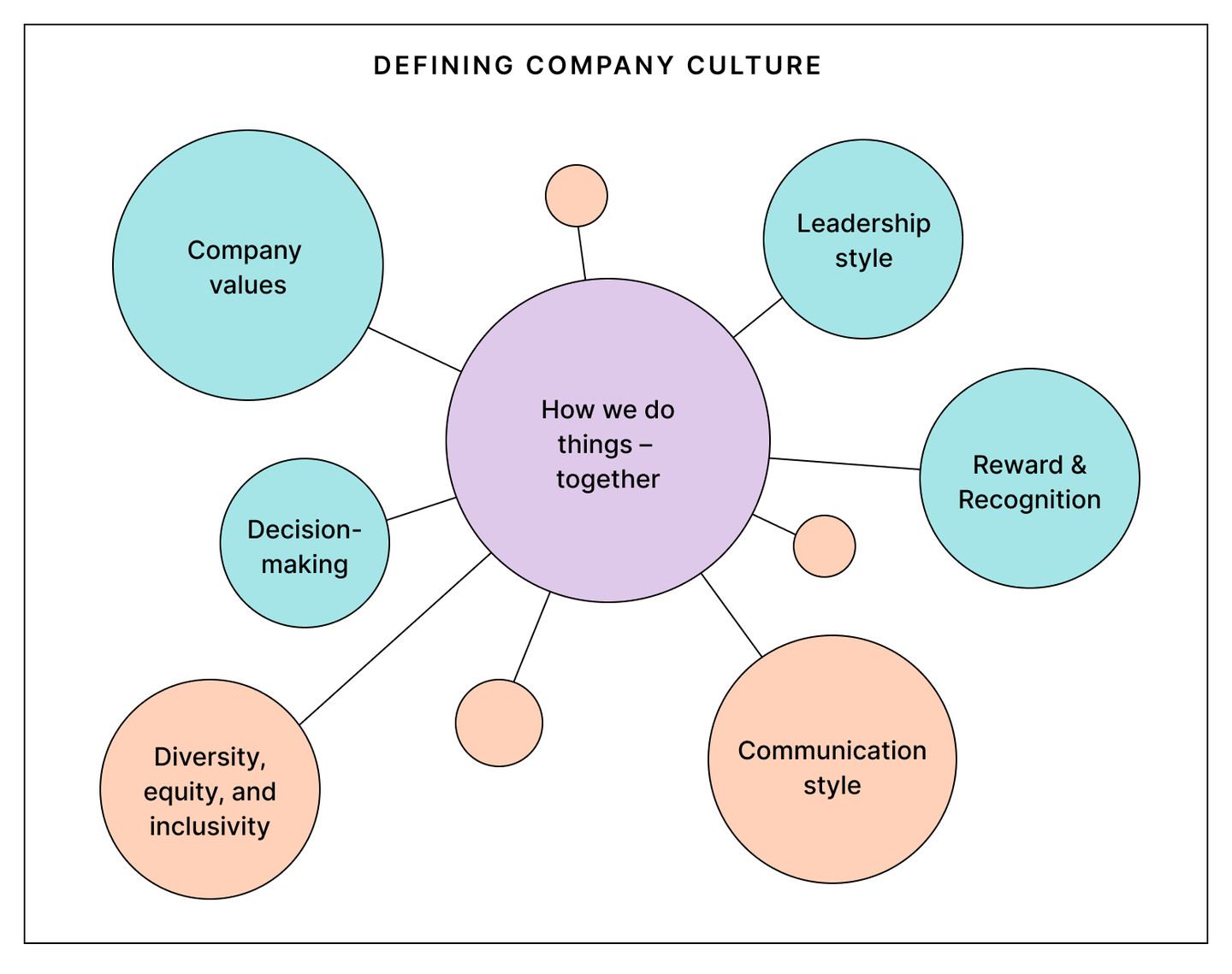 Culture encompasses a broad range of factors, including but not limited to:
Company mission
Compensation approach
Communication style
Hiring and retention practices
Leadership
Work environment
It's important to note that company culture encompasses much more than free massages, Summer Fridays, or other trendy employee perks. Such benefits may help shape workplace culture and the wider employee experience, but a strong organizational culture requires much more than an in-office barista.
Why is company culture important?
An engaging, aligned, and positive work culture supports employees' productivity and wellbeing, while also serving as the cornerstone of an organization's ability to achieve key business objectives.
Data has shown that a strong company culture leads to:
These benefits are precisely why Culture Amp believes in the importance of putting culture first. Companies that share this belief (which we call culture first companies) recognize that if you take care of your people and your culture, then the customer experience and profits will take care of themselves.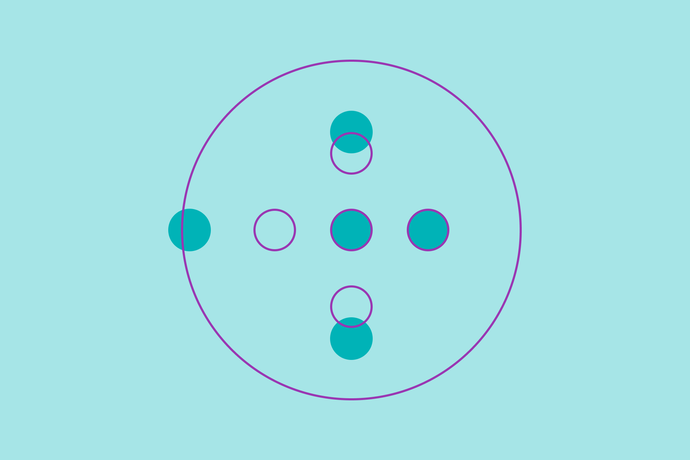 Put culture first to overcome uncertainty
Learn about the four company types, how the employee experience differs at each one, and what actions they can take to lay a resilient culture first foundation.
See the data
Deeper dive: What is the relationship between culture and engagement?
While the words "culture" and "engagement" are often used interchangeably when describing the overall environment of a company, there are essential differences between culture and engagement.

Culture is qualitative; employee engagement is quantitative. While culture describes the practices, behaviors, and priorities that unite and motivate employees, engagement measures the health of a company's culture and its effectiveness.

Engagement, which is usually represented by an employee engagement score, can be thought of as a report card of your culture – it measures the strengths and areas of opportunity created by your company's current culture.

→ To learn more about employee engagement, check out HR's complete guide to employee engagement.
What is a "good" company culture?
When people say they want to build a "good" or "positive" company culture, they often mean they want to foster a healthy culture (as opposed to a toxic one). It's important to remember that there are as many cultures as there are organizations – the differences may be subtle, but every organization's culture is unique. Therefore, there's no clear-cut way to define "good" company culture.
That being said, in our experience working with over 6,500 companies, we have found six key elements that successful culture first companies have in common. The six elements of good company culture are:
Transparency. Being transparent helps cultivate an open and honest work environment where employees trust and have confidence in each other and leadership.
Open communication. This is a key part of any healthy company culture – innovation and collaboration requires that employees feel psychologically safe enough to voice their concerns, ask for and give honest feedback, and resolve conflict through conversation.
Inclusivity. Most companies with a great company culture ensure that every employee feels equitably supported and has a sense of belonging. They prioritize and take action on diversity, equity, and inclusion, proving to their employees that the organization won't tolerate biased, unfair, or inequitable treatment of any employee on the basis of identity.
Accountability. Companies that embrace and model accountability experience greater trust, a stronger sense of individual autonomy, and increased productivity. When accountability is a part of the organization or team's culture, people take responsibility for their actions – celebrating their own and others' successes while also honestly acknowledging areas of improvement.
Values-based decision-making. Successful culture first companies use their company values to guide internal and external decisions – demonstrating to their employees that the values undergirding the company's culture aren't just words on paper.
Leading by example. Company culture can deteriorate if people – especially leadership – don't live up to the organization's professed values. In a "good" company culture, leadership models behaviors that reinforce the relevance and integrity of the company culture, setting an example for the wider workforce.
How to build a high-performance culture
Creating a high-performance culture begins with understanding the science of Total Motivation (ToMo).
The concept is based on research that Lindsay McGregor and Neel Doshi outlined in their book Primed to Perform: How to Build the Highest Performing Cultures Through the Science of Total Motivation. To understand ToMo, you need to know the two types of performance:
Tactical performance. This type of performance is derived from whether or not someone can "do the thing" (i.e., fix the bug, write a blog, etc.).
Adaptive performance. This type of performance depends on how creative and innovative a person is. When someone has high adaptive performance, they can transcend their knowledge and agilely adapt to a changing situation to achieve the desired outcome.
According to Lindsay, if you want to build a high-performance culture that delivers both tactically and adaptively, you need to provide your employees with motivation across these three areas:
Play: When one loves or enjoys the activity itself.
Purpose: When one deeply cares about the impact of the work.
Potential: When one is driven by some second-order outcome of the work (e.g., the work will enhance their potential for a promotion, job advancement).
Didier explains:
Take customer service in retail. Historically, staff were trained to do things in a certain way. It was assumed that everything would be fine if they never went off script, but in the modern world of work, it's often necessary to go off script. Increasingly, customers have needs that we don't expect or know about. When staff take on board the context of the situation and make the best decision, that's adaptive performance.

To create an environment for adaptive performance, you need to optimize purpose, play, and potential. When people are in a state of play, they're actually more capable of performing at a higher level than when they're worried about their job, and not sure if they will get rewarded or just stuck in inertia.
To drive ToMo, consider the following aspects of your organization:
How individual roles are designed
How performance management systems are shaped
How teams work together within an organization
How leaders help each team member find play, purpose, and potential in their work
How to measure culture
Although you can't directly measure company culture, you can use employee surveys to help you understand whether your cultural practices are successful or not. One particularly useful survey for this is an employee engagement survey.
By asking the right employee engagement survey questions, you can assess whether or not:
Employees are united by a common set of priorities and beliefs
Employees feel like they can collectively work towards achieving those goals
If scores around these areas are low, then you know that there are aspects of your culture that need improvement. Meanwhile, high scores mean that employees feel unified and that you likely have a solid, cohesive culture.
Engagement surveys can also help you understand which areas of your culture might need work. For example, low leadership or employee development scores can provide concrete, data-backed direction on improving company culture. Including open-ended survey questions or incorporating employee survey comments can help you surface more detailed responses.
Other ways to measure or understand company culture include:
Focus groups, which allow you to dive deeper into employees' thoughts on the company's culture, including where it excels and where it falls short.
Exit interviews, which enable you to understand exiting employees' reasons for leaving the company – and whether something about your company's culture contributed to their decision to leave. Exit interviews can also reveal what parts of your current culture employees felt positively about.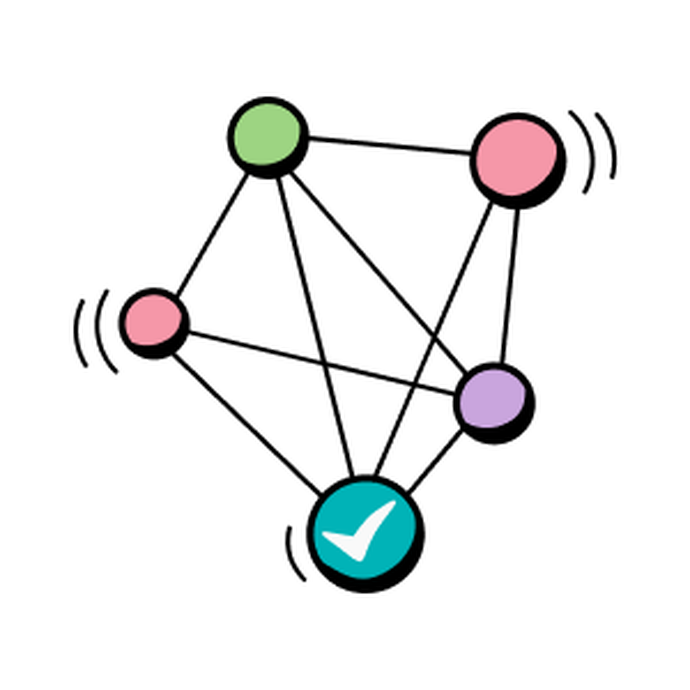 Measure the success of your cultural practices with Culture Amp
Learn more
How to improve company culture
Improving or changing your organizational culture can feel daunting, but there are many ways to take action – and employee surveys are the best place to start.
Culture varies widely depending on your specific workplace, which is why we consider surveys the first and most important thing for any company to undertake when considering how to change company culture. Surveys allow you to identify where you should focus when improving culture and to measure the success of your efforts over time. Moreover, by holding these surveys over time, you can assess whether the changes you're making to your culture are positively impacting the employee experience.
If you're already conducting employee surveys and taking action on your results, you're set up to start making more significant improvements to your culture. All this said, there are certain initiatives and practices we've noticed in our time working with 6,500+ organizations that can point you in the right direction.
Below are five ideas to improve your team, department, or company culture,
1. Define the culture you want to see
What do you visualize when you imagine your ideal company culture? Brainstorm widely and get it in writing.
By creating a concrete definition of the culture you want to see, you can better focus your efforts and provide a clear and compelling vision across the organization. This will make improving your company culture a more uniform process with broader buy-in.
Consider the following questions:
Why does your company exist? What is your core mission?
What are the core values of your company?
What are your strategic priorities? Where's the focus currently?
Once you've created a broad cultural definition, the what and how of improving culture will come easier.
2. Don't focus too much on culture fit
Culture fit is a commonly used technique in recruiting, in which you screen potential candidates based on "how well they fit your company's culture." This approach is based on the belief that hiring employees whose personalities and values fit the organization's culture would lead to more engaged employees who feel more motivated and committed to their jobs.
However, overprioritizing culture fit can lead to a homogeneous workplace that lacks diversity and inclusion – key qualities of a strong, healthy company culture. This is because interviewers asked to assess culture fit are likely to fall into the trap of seeking personal connections instead of actually identifying common values. That's why we recommend interviewing for culture-add, as well. In this approach, you consider how a given person's identity, background, and experiences can "add" or "contribute" to your current culture.
This doesn't mean that you shouldn't interview for culture fit – as long as you're intentional in your approach, you can still incorporate culture fit screenings into your interview process. Just be aware of your biases, as you might think someone doesn't "fit the mold" of your culture when really they're just underrepresented at your company.
3. Show your employees you recognize and appreciate them
Companies with a great culture embed recognition and appreciation into the day-to-day. This is because working at a company without adequate recognition practices can make employees feel like their hard work isn't valued – or even noticed.
When you foster a culture of appreciation and fair recognition, your employees will feel more connected and engaged in their work and more likely to perform at a high level. Just make sure you're consistently rewarding people for the right things (e.g., living according to company values) – and that you make it clear why and when certain types of recognition are given.
4. Focus on employee development
One of the things that culture first companies do is grow their people. Culture Amp research has consistently shown that the most common reason employees leave their companies is a lack of development opportunities.
This checks out; employees want to feel like they're making progress toward their personal goals. A company culture that doesn't embrace employees' personal and professional development is one that most people will eventually tire of. On the other hand, a company culture that prioritizes employee development motivates employees to go above and beyond, and equips managers to adequately support direct reports in their career journeys.
The most successful companies help their employees set employee development goals that:
Motivate employees by playing to their strengths and their personal aspirations
Help employees understand what the business is trying to achieve and how their individual growth fits into the picture
Meet the company's business needs
By thoughtfully weaving employee development across your company culture, you set both your people and the wider business up to succeed.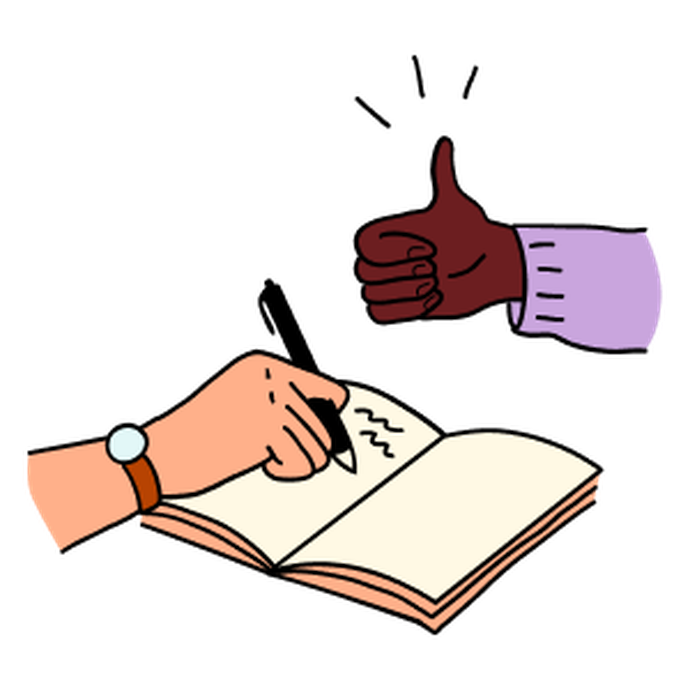 Learn everything HR needs to know about employee development
Read now
5. Use meetings to reinforce the culture you want to build
Don't underestimate the way that meetings do (or don't) affect the integrity of your culture. As Bob Pothier, Director of Partners in Leadership and a former GE executive, says, "The strongest message about how you want your culture to perform is embedded in how you conduct your meetings."
Unsurprisingly, this is because meetings take up a disproportionately large amount of time and energy in the workplace. Research has shown that employees spend 6 hours and managers spend more than 23 hours a week in meetings – and this number is only growing.
As you work to improve company culture, consider the following questions:
What do our meetings say about the current company culture?
What values do we want our meetings to reflect?
Are our meetings consistent with the above values?
Remember, meetings are a space to generate ideas and insights, build relationships, and make decisions. Use these shared moments to reinforce the culture you want to see.
Create a company culture that inspires
Culture is the cornerstone of engagement, retention, and high performance. When employees feel positively about your culture, they feel more connected, committed, and driven to work together to drive high performance. However, culture's value is easy to overlook, especially in times of ambiguity or change.
Set the foundation for a resilient company culture that inspires with Culture Amp, the all-in-one employee experience platform. Using tools for employee engagement, development, and performance management, you can:
Measure and track how your people feel about company culture using 30+ science-backed and customizable survey templates
Identify the highest-impact action items using the built-in Focus Agent tool
Understand how you compare to other businesses like yours using benchmarks
Help your employees reach their full potential with a performance process focused on their development
By leveraging tools across the employee experience, you can more effectively take action to create a workplace culture that empowers every employee to perform at their highest level.
Build a world-class employee experience today