Beyond rainbow washing: Supporting LGBTQ+ at work and beyond
As Pride Month comes to an end, hundreds and thousands of rainbows will silently blink out of existence. Storefronts will switch out their multi-colored displays, and colorful merchandise emblazoned with "love is love" and "love has no gender" will quietly leave the shelves. Corporate logos and social profiles will revert to their original state, and just like that, LGBTQ+ solidarity has been achieved, right? Not exactly.
Termed "rainbow washing," the practices described above have been strongly criticized for being a superficial and arguably profit-driven show of support for LGBTQ+ equality. It doesn't help that these symbolic displays rarely engage with Pride's radical political legacy. Often, corporations will instead skirt the issue with generic ahistorical platitudes like "hate has no home here."
While it's important to show support for the LBGTQ+ community, without action, it's just a performance. Merely slapping a rainbow on something doesn't achieve pragmatic results or drive real change. And for some members of the LBGTQ+ community, this performative allyship has the exact opposite of its intended effect.
Holly Phillips, a sociologist, defines performative allyship as:
When someone from [a non marginalized] group professes support and solidarity with a marginalized group in a way that either isn't helpful or that actively harms that group. Performative allyship usually involves the 'ally' receiving some kind of reward - on social media, it's that virtual pat on the back for being a 'good person' or 'on the right side.'
It's time that companies move beyond rainbow washing and towards action that drives progress. Organizations looking to meaningfully support and uplift their LGBTQ+ employees need to recognize that the hard work of solidarity does not begin and end with spreading (and/or selling) rainbows for a month in June.
In this blog, we'll take a look at the current state of LGBTQ+ experiences at work, and briefly explain why an intersectional approach to diversity, equity, and inclusion (DEI) is crucial. We'll also share some perspectives on what companies can do to support the LBGTQ+ community at work and beyond. Finally, we've compiled resources that HR and organizational leaders can use to educate themselves as they embark on the journey of building a truly diverse, equitable, and inclusive workplace.
Understanding LGBTQ+ experiences in the workplace
Overall, decisions have been made to protect LGBTQ+ rights in recent years. This includes a landmark 2020 Supreme Court ruling that prohibited workplace discrimination on the basis of gender or sexual identity. Despite this positive progress, the reality is that many LGBTQ+ employees still don't feel welcome or comfortable at work.
A Human Rights Campaign report exploring the experiences of gay, queer, and trans professionals found that 46% of respondents are still closeted at work. Reasons included the fear of being stereotyped, as well as the possibility of making colleagues uncomfortable or losing coworkers. Whether or not someone feels comfortable coming out in the workplace matters because people spend the majority of their lives at work. Coming out and being out empowers folks to bring and be their most authentic self - something we at Culture Amp see as crucial for building a better, more human world of work.

Unfortunately, we as a society still have a long way to go. A June 2021 LinkedIn report found that 31% of LGBTQ+ folks have faced blatant discrimination and/or microaggressions at work. Of those who are out of work, 25% of respondents that identify as being "out" report having been overlooked or intentionally passed by for career advancement opportunities.
The statistics for trans and nonbinary/genderqueer/agender/gender non-conforming folks are even more disappointing. A 2020 American Progress report found that 62% of transgender respondents and 69% of nonbinary/genderqueer/agender/gender non-conforming experienced discrimination last year, compared to 36% overall. For that reason, we advocate for an intersectional approach to DEI that puts the most vulnerable and marginalized members of the LGBTQ+ community at the forefront. (Pride Month's roots are intersectional, after all, though this history has largely been left out of the celebration).
Less talk, more action: How to meaningfully support LGBTQ+ employees and coworkers
Aubrey Blanche, Culture Amp's Director of Equitable Design, outlines three steps that organizations can take to get started:
Collect information on LGBTQ+ employees' representation and experiences in the workplace. For example, Culture Amp's Diversity & Inclusion survey can help you unlock insights into how your employees feel about the workplace.
Conduct equity audits on talent processes and pay. Ensure that your organization isn't perpetuating pay gaps, whether that's in starting salary, merit increases, promotions, or otherwise. Take steps to mitigate the risk of biases affecting your hiring or performance management practices, in particular when it comes to trans people of color.
Provide visibility and opportunity for LGBTQ+ leaders to influence business decisions. LGBTQ+ leaders should not be treated like figureheads. If your company doesn't have LGBTQ* folks in executive positions, consider why and take action to remedy this lack of representation.
Of course, these are just a few of the things organizational leaders can do to drive LGBTQ+ equality and equity in the workplace. As culture and circumstances differ from company to company, it's crucial that you listen to your LGBTQ+ employees to understand their pain points and create action plans to address them.
Camper Perspective: Alex Loukellis
Alex Loukellis is one of the employee resource group (ERG) leaders of Camp Out - Culture Amp's employee resource group (ERG) for LGBTQ+ employees. Camp Out's mission is to create a safe environment for members of the LGBTQ+ community to bring their authentic selves to work. Below are some of Alex's recommendations and thoughts on meaningfully supporting LGBTQ* folks at work.
Create an ERG for LGBTQ+ employees. ERGs foster belonging by creating a community where like-minded individuals with similar experiences can come together. Alex explains, "Camp Out's first goal is to increase community, foster feelings of belonging, and create empathy by sharing stories. The second is to drive membership, so obviously making sure we are doing diverse hiring … and making sure that our LGBTQ+ employees are supported."

To that end, the ERG holds an annual event called Camp Out - Coming Out, where leadership and coworkers are invited to listen to employee stories of coming out. Through that storytelling, "queer employees are given a voice and a platform" and organizations can tap into a really powerful way to build a culture of empathy.
Offer diverse mental health and career coaches. Learning & development (L&D) is a powerful way to drive employee performance, engagement, and retention. Yet, organizations need to be careful that the L&D opportunities offered are accessible and welcoming to all employees, including those from marginalized backgrounds.

A couple of years ago, Alex tried out a career coach but didn't move forward with it. He elaborates, "I don't know if it was the imposter syndrome, but I was just like, this guy is too straight. He's not going to understand the challenges I'm facing in the workplace." Because of this experience, Alex strongly recommends that organizations be more thoughtful and intentional in choosing coaches with diverse perspectives who can help people navigate their specific challenges.
Enact policy changes in favor of LGTQ+ folks. This includes LGBTQ+-inclusive benefits, such as offering health insurance to same-sex partners, as well as health services for transgender employees (including gender transition-related treatment). This could also include offering time-off for trans employees to focus on their mental health, especially as it relates to transitioning - something Alex strongly recommends.
Raise money for LGBTQ+ charities. Fundraising can be done in a fun, exciting way that involves everyone in the organization. For instance, Camp Out holds an annual lip-sync charity event during Pride Month. Campers are encouraged to embrace drag queen culture as they dress up and record videos of themselves singing and dancing to raise money for charity. A local drag queen is also invited to come in, perform, and judge the entrants. Culture Amp matches all attendee donations up to $1000 in each of the 3 offices. The event has quickly become one of the most anticipated and celebrated events at Culture Amp.

This year, Culture Amp was able to raise $9000 for The Ali Forney Center, Larkin Street Youth Services, and MindOut. And although donating money is always appreciated, Alex considers it "the bottom of the barrel" in terms of impact, as there are more meaningful actions organizations can take to directly impact and improve the lives of LGBTQ+ folks.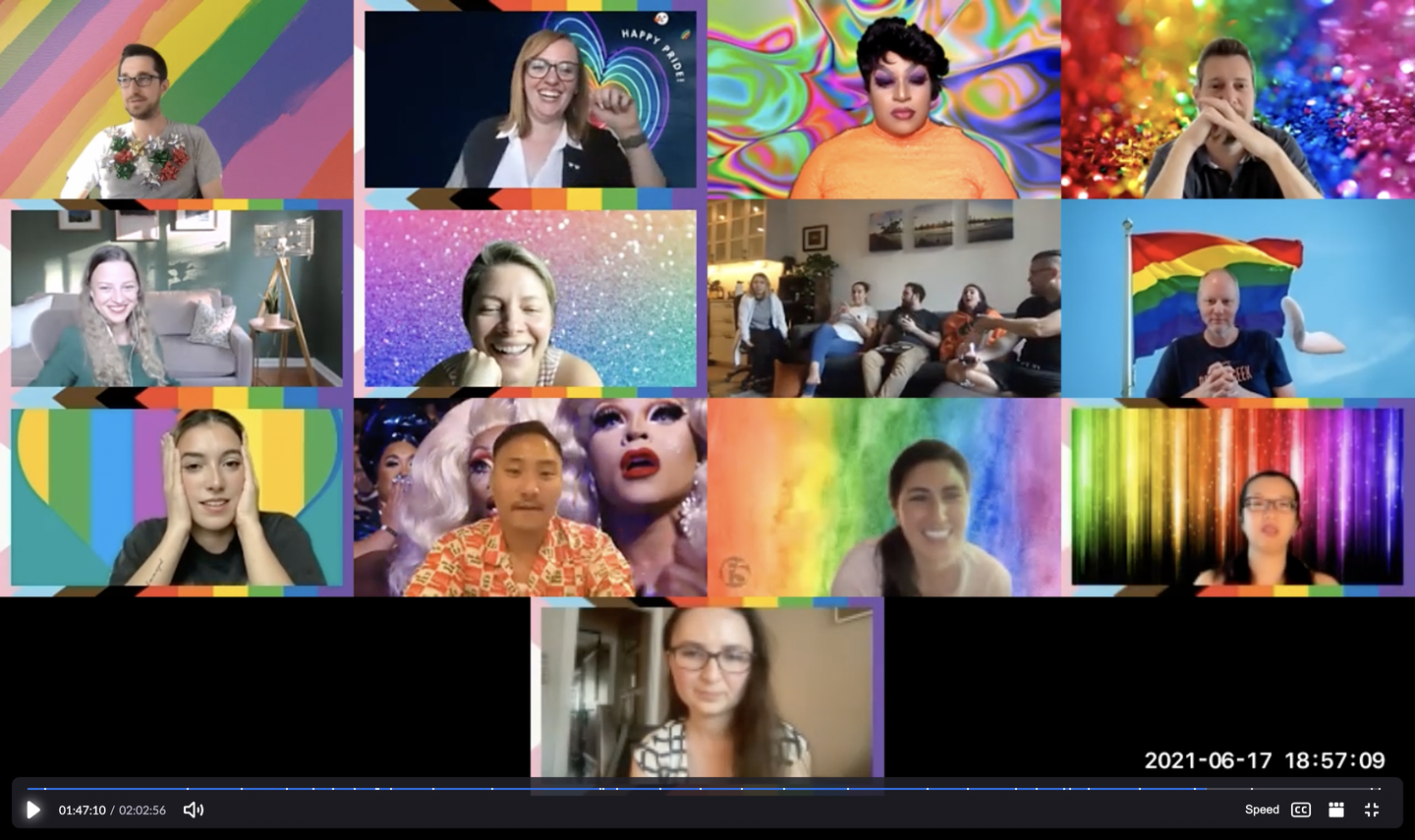 From performative allyship to true solidarity
Moving beyond the realm of performative allyship and rainbow washing requires organizations to take the time and make the effort to educate themselves, rather than simply rely on LGBTQ+ folks to perform the hard labor of educating everyone in the organization. "Even if you're a progressive company, don't just always be reactive and ask for things [from your LGBTQ+ employees]," explains Alex. "Your company should already have a stance and have things in place to protect LGBTQ+ workers."
Here are a few resources that members of Camp Out have recommended to get started:

To watch:
To read:
True solidarity requires that we recognize, honor, and protect the LGBTQ+ community not just during Pride Month, but every month. Organizations should consider what they can do (beyond posting vague social media messages) to support the larger mission of creating a better world of work for everyone. If you're genuinely looking to create a safe workplace, you must be proactive in recognizing the intricacies of intersectionality and facing the discomfort inherent to driving meaningful change.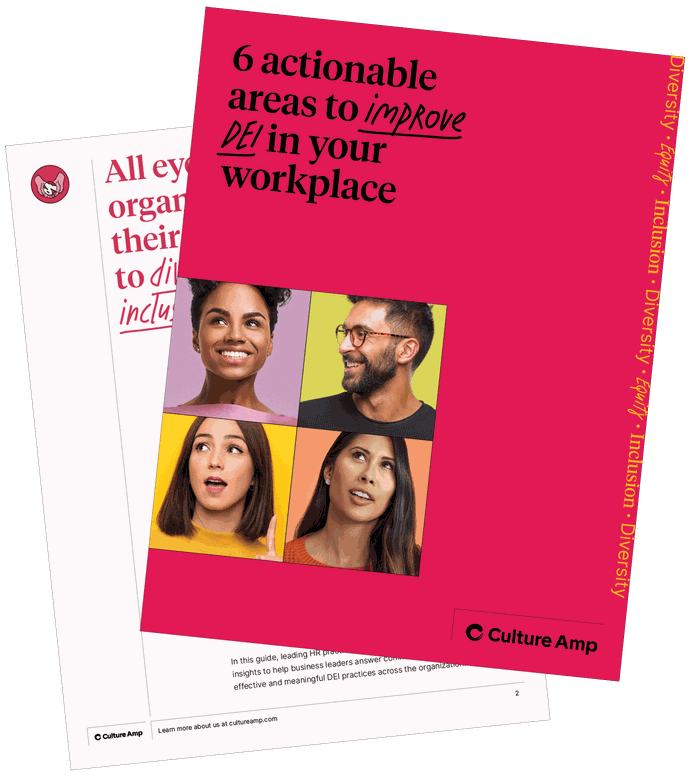 Building a diverse, equitable, and inclusive workplace starts with listening to your employees
Get 6 actionable areas for improving DEI at your organization
Download the eBook
Build a world-class employee experience today