Disability in the workplace: Embracing disability diversity
Today, many businesses understand the benefits of diversity in the workplace and are prioritizing initiatives that push the needle on DEI – or at least claiming to do so. Yet, the "diversity" in DEI often excludes the disability community. Research by The Valuable 500 found that out of all the articles discussing diversity published in 2019 and 2020, only three percent referenced disabilities.
"Part of the larger problem, some activists and scholars say, is that disability is often framed as an individual biomedical condition and as a technical problem to be solved rather than as a group identity," explains an Inside Higher Ed article. This bias leads individuals and corporations to inaccurately categorize disability status as an "affliction," rather than a form of natural human diversity – a detrimental approach that affects not only folks with disabilities but also the organizations that misunderstand and exclude them.
This blog is the first of a three-part series based on conversations with two women in the disability community: Ola Ojewumi and Regina Walton. Ola is a double transplant survivor, a wheelchair user, a disability rights advocate, and the Founder and Director of Project Ascend. Regina currently works at Reforge in Program Operations, leads the SFTech4Good community, and has lived and worked with Type 1 diabetes for over thirty years.
In these conversations, Ola and Regina shared their thoughts on workplace barriers and what they believe organizations can do to build truly inclusive organizations that support folks with disabilities.
In this first article, we dive into the benefits of recognizing and embracing disability within our definition of workforce diversity. We'll also set the stage for further discussion by defining key terms and concepts.
Disability as diversity: Benefits
Let's get straight to the point – there's a real and powerful case for not just incorporating, but prioritizing disability rights and empowerment into corporate DEI strategies. The Accenture report, "Getting to Equal: The Disability Inclusion Advantage," found that companies that excel at disability employment and inclusion experience:
28% higher revenue
200% higher net income
30% higher economic profit margins
200% increased likelihood of outperforming their peers in total shareholder returns
Moreover, "people with disabilities are the largest and fastest-growing minority group in the world. This untapped talent pool includes more than 750 million individuals," writes Valentini Kalagyrou. Disability inclusion significantly widens the talent pool – a major benefit for today's organizations given the recent talent shortages resulting from The Great Resignation.
Folks in the disability community also often possess multiple social identities, making disability inclusion a key component of intersectionality. For example, both Ola and Regina are Black women living with disabilities, and both developed their disabilities later on in life – a point that individuals currently living without disabilities should consider deeply.
"Being disabled is the one group that you don't have to be born into – you can become disabled at any time," explains Ola. "So my fight for equality and disability justice should be your fight, because you may very well become a person with a disability one day."
Being disabled is the one group that you don't have to be born into – you can become disabled at any time. So my fight for equality and disability justice should be your fight, because you may very well become a person with a disability one day.
— Ola Ojewumi
Founder and Director of Project Ascend
Learning the vocabulary around disabilities
For those who do not currently have a disability, and/or have had little interactions with individuals in the disability community, we've compiled a list of relevant terms and definitions to help equip you with the vocabulary you need to understand the experiences and challenges of people with disabilities.
Ableism
Wikipedia defines ableism as "discrimination and social prejudice against people with disabilities or who are perceived to have disabilities. Ableism characterizes persons as defined by their disabilities and as inferior to the non-disabled. On this basis, people are assigned or denied certain perceived abilities, skills, or character orientations."
Here are just a few examples of ableism:
Feeling "sorry" when you see somebody with a disability
Assuming that people with disabilities are inferior or less capable than people without disabilities
Using disability as a punchline, or mocking people with disabilities as a joke
Asking people with disabilities when, or if they will "be fixed"
Accessibility/Accessible
The Office for Civil Rights (OCR) defines something as "accessible" when a person with a disability is afforded the opportunity to acquire the same information, engage in the same interactions, and enjoy the same services as a person without a disability in an equally integrated and equally effective manner, with substantially equivalent ease of use.
For example, a city may be described as accessible if it has Braille signage, audio signals at crosswalks, etc. A computer screen reader serves as an accessibility device for individuals with vision impairments.
Barrier
A barrier refers to an obstacle preventing a person with a disability from living independently, working, traveling, and/or accessing buildings, services, forms, and information. Barriers usually fall into one of the following categories: attitudinal, communication, physical, policy, programmatic, social, and transportation.
Examples include stereotyping persons with disabilities, the absence of wheelchair ramps in a building, and inconvenient or inflexible scheduling.
Disability
The definition of disability has historically been contentious. Moreover, the definition varies by country. To be protected by the Americans with Disabilities Act (ADA) in the United States, a disability must fit the following description: "A physical or mental impairment that substantially limits one or more major life activities, a person who has a history or record of such an impairment, or a person who is perceived by others as having such an impairment."
Under the Equality Act 2010 in the UK, someone is considered as having a disability if they "have a physical or mental impairment that has a 'substantial' and 'long-term' negative effect on [one's] ability to do normal daily activities."
The following are some general categories that disabilities fall into:
Chronic health conditions (e.g. diabetes, cancer)
Sensory impairments (e.g. hearing loss, low vision, mobility limitations)
Mental health and learning disabilities (e.g. depression, anxiety disorders, attention-deficit disorder)
Disabilities are also sometimes divided into the following categories:
Visible disabilities have indicators that others can visibly identify. Examples of indicators include assistive devices (e.g. a wheelchair), a particular set of actions (e.g. Tourette's syndrome), a communication method (e.g. sign language), a physical feature (e.g. quadriplegia), or something else.
Hidden (or non-visible) disabilities are not immediately apparent to others and are typically chronic illnesses and conditions that can affect or impair activities of daily living. Examples include chronic back pain, sleep disorders, ADHD, and autism (which is sometimes considered a form of neurodiversity, rather than a disability).
Often, others don't know that someone is living with a hidden disability until that individual chooses to disclose its existence, or "come out" as disabled.
It's also important to know that the line between visible and hidden disabilities is thin and that what may be visible to some is invisible to others. In(visibility) is not a binary, like other aspects of identity. For example, somebody with mobility limitations may be comfortable walking some days but prefer to use a cane or wheelchair on other days.
Similarly, individuals with hidden disabilities can develop visible disabilities later in life, as Ola did when she needed to start using a wheelchair. People can also have multiple disabilities, both visible and invisible.
Taking it one step further
Disability is a form of diversity that is often misunderstood and consequently excluded from the workplace despite the numerous benefits folks with disabilities bring to organizations.
By creating a common ground and language for disability, we hope that individuals will become increasingly open to understanding and genuinely listening to the voices of those living with disabilities, instead of defaulting to stereotypes and biases.
As the conversation around disability, diversity, equity, and inclusion continues to develop, we encourage you to keep Regina's words in mind: "Don't overthink your disability. People aren't perfect, so ask for help when you need it. And if you're on the receiving end of a request for help or accommodation, be open to learning about and helping folks with disabilities when they ask for it."
Don't overthink your disability. People aren't perfect, so ask for help when you need it. And if you're on the receiving end of a request for help or accommodation, be open to learning about and helping folks with disabilities when they ask for it.
— Regina Walton
Program Operations at Reforge
In the second part of this series, we'll dive into key challenges and barriers faced by folks with disabilities. You will also hear more from Regina and Ola as they describe their personal experiences living and working as people with disabilities.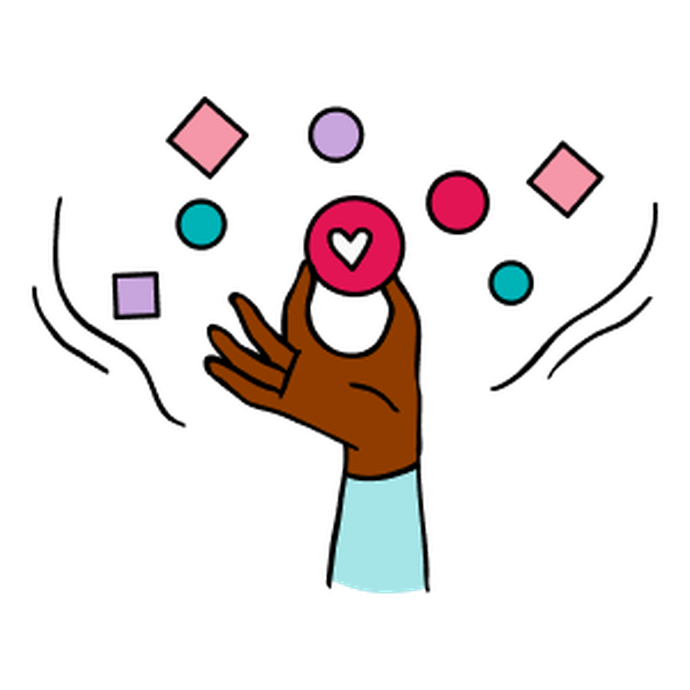 HR's complete guide to DEI
Get everything you need to know about DEI, including best practices and resources for both getting started and evolving your approach.
Discover more
Build a world-class employee experience today