HR's complete guide to employee development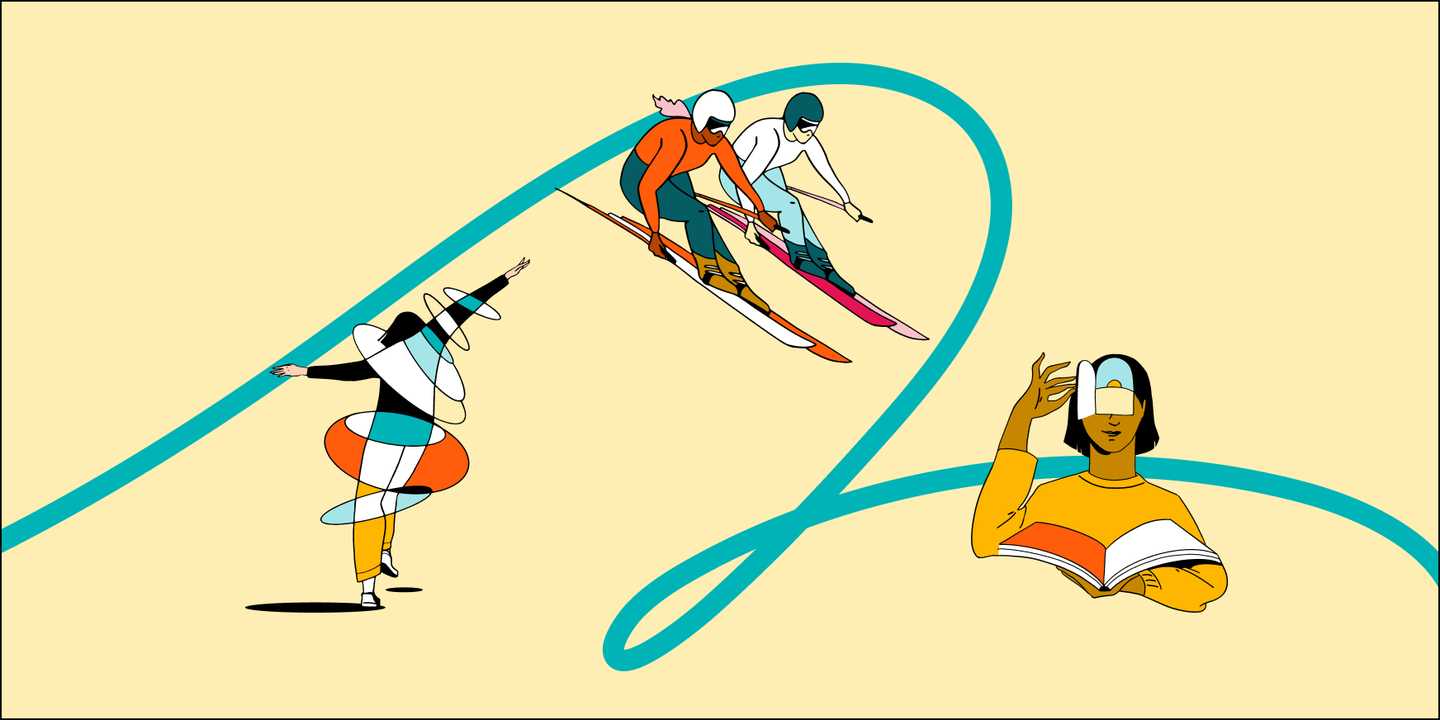 Professional development is an element of the employee experience that can often go overlooked. Access to opportunities for learning and development (L&D) is traditionally organized on an ad hoc basis. This means companies may not have a clearly structured employee development plan or access to metrics for growth tracking. Culture Amp data shows that employees who don't have access to meaningful L&D opportunities are two times more likely to leave an organization within a year.
If your company wants to engage and retain team members, it's important to have an employee development strategy in place. To create an employee-first culture, you must invest in an employee development plan that is personalized, continuous, and measurable.
As the world of work continues to evolve, employees are re-evaluating how well their goals and desires align with their current roles. Whether it's a career pivot, or simply upskilling in a particular field, access to growth and development opportunities is one of the top drivers for employee decision-making today.
Whether you have basic development tools in place, or you are looking to redefine your organization's approach to employee learning and development entirely, the right development framework sets you up for success – and for engaging and retaining your best talent. From empowering managers to support development conversations to tailoring development based on individual employee needs, embedding growth into the employee experience is crucial to future-proofing your organization. In this guide, we'll break down the fundamentals of employee development and share how to make a growth mindset part of your organization's DNA.
What is employee development?
Employee development is defined as the shared initiative of an employer and employee to strengthen the employee's skill sets and expand their knowledge. This is also sometimes referred to as professional development, staff development, or people investment.
Effective development goes beyond simply training for employees; it is ongoing, adaptable, and personalized. To improve development at your organization, start by considering the 3 E's of development: Experience, exposure, and education. These 3 areas of development will shed light on the kinds of opportunities you can offer employees. Education ranges from online courses to books; exposure includes job shadowing, networking, and cross-functional collaboration; and experience includes stretch projects and new projects that an employee can own.
When you create a culture that embeds employee development into day-to-day work, performance reviews, and 1-on-1 conversations, you'll help managers better support the growth of their team. You'll also create a workforce of employees who feel their success is valued, leading to better business outcomes.
"When we frame learning (using a tool like the 3E's) as a more holistic and nuanced range of activities, we help employees recognize that development happens every day and isn't just limited to attending a course." – Dany Holbrook, Senior People Scientist at Culture Amp
Why is employee development important in the modern workplace?
Employee development is a demand of the current workforce. Culture Amp's research team has found that a lack of career growth was cited as a self-identified reason for leaving the company for one out of three employees. Employees were also found to be 46% points more engaged when they could develop skills that were relevant to their interests.
It's a growing trend – employees are moving to organizations that allow for flexible working arrangements, better work/life balance, and stronger growth opportunities. Many companies have been adopting a new perspective on career development. While your organization may already be focused on building an employee-first culture, putting these growth opportunities at the forefront is a key factor in how to motivate and develop staff.
While demand for a development plan for employees is increasing, traditional tools for driving and supporting these opportunities for growth can be cumbersome. They may provide little to no direction, lack a definitive structure, or leave managers with no clear process for guiding their direct reports. A robust, clear strategy for L&D provides managers and employees with a clear framework for charting a way forward together.
Building an employee development strategy
No employee's path will be identical to another, so it's important to implement an agile approach to development that can be personalized to each employee. Employees are all navigating a unique set of challenges, so make sure the development tools your organization uses offer equitable access to all employees – no matter their background, tenure, or skill set. Continuing conversations around L&D ensure that your managers have what they need to help employees build out specific, actionable steps toward a tangible goal.
To be effective, people development must be an ongoing process. From working with a mentor to upskilling and gaining experience in another department or role, find ways to work development into an employee's day-to-day. Actionable steps provide managers with a measurable "checklist" when it's time to touch base and see how an employee is progressing. Further, ongoing development offers employees the confidence to grow and advance at your company.
Support employee learning and development with the right tools
Tracking and evolving development plans may feel like an added task for managers who are already stretched thin working to hit targets, keep projects moving, and manage a team. But employees rely on managers for guidance and support when it comes to development.
That's why reframing L&D as an ongoing, day-to-day part of the employee experience can help managers balance a heavy workload while keeping growth a priority. Managers will be there to guide employees, but employees can really own their growth and drive the development process forward.
Rather than relying on a manual approach, consider employee development tools that offer an automated workflow, which streamlines the process and reduces the time required by traditional methods. The voice of the employee will shape the foundation of their growth trajectory, so start by identifying areas that are important to them.
With Develop by Culture Amp, employees can share what motivates them, where they feel they excel, and where they feel they're lacking. With this information and Develop's built-in guiding prompts, managers have a better understanding of each employee's desires, and together with the employee, they can identify the steps needed to move forward. Once managers have helped determine the next steps, employees can own their growth by completing tasks within their personalized plan.
How to measure employee growth and development
Measuring and tracking employee sentiment around development empowers you to prioritize L&D initiatives and demonstrate business impact. When starting out, these three indicators will help you understand the impact of your employee development strategy, and you can use the insights they provide to continue evolving your approach:
Adoption
Understand how your employees are engaging with your employee development tools. With solutions like Develop by Culture Amp, you can easily access data on development activities to understand how your employees are engaging with these tools. You can even drill deeper into the data on participation by demographic variables to identify any discrepancies.
Sentiment
Use survey insights to learn how employees feel about their development process. Consider the following statements to gauge employee sentiment around the development process:

I have a clear sense of my development goals
I have a clear understanding of the skills and knowledge I need to develop
I see a motivating future for me at this company
I am clear where I want to be in my career or job in a few years time
Prioritization
Collect data on what employees want and need to learn. Insights into development needs and interests could include:

Development focus - e.g., developing in current role vs., looking for a new opportunity
Top growth areas (skills)
Top self-reported strengths (skills)
Most motivating aspect of work
Least motivating aspects of work
While these indicators can be tracked manually, tools like Develop automatically aggregate this data into a centralized view to help you prioritize the most valuable L&D initiatives at scale.
How are employee development practices strategic?
Culture Amp research shows that companies prioritizing L&D as a facet of the employee experience see:
Statistics
24.3%more company growth (by headcount)

46%higher engagement for employees whose skills are being built in line with interests

21%more motivated employees
The results are in – an investment in employee development is crucial for keeping your business ahead in today's world of work. Executive teams are continually presented with competing priorities, but with development as a core element of your business strategy, you'll be on track to growing and retaining your people at scale. When you intentionally nurture the goals and interests of your people, you boost engagement, satisfy employees, and support better business outcomes.
Getting started
When you invest in employee learning and development, you're investing in your business. Personalized and continuous employee growth helps managers align the company's vision with the career goals of their direct reports and instills confidence in employees that the work they do is contributing to a larger purpose.
Employees want to know where they fit in your organization – not just today, but in the future. Honest, transparent conversations around the direction of your organization help employees see the bigger picture and the opportunities that lie ahead. Regular communication and check-ins around employee development goals will build an environment of trust as employees clearly understand where they fit in their team. Instead of waiting until your employees seek growth opportunities elsewhere, develop and retain your people now – and reap the rewards.
Build a world-class employee experience today