How to use DEI-specific surveys to jumpstart your DEI strategy
When building an effective diversity, equity, & inclusion (DEI) strategy, it can be hard to know where to start and where to focus your efforts. And, who better to ask than the very people who know your business the most: your employees.
If your business is just beginning its DEI journey, introducing regular DEI surveys can give you powerful insights into the employee experience and help you identify where to target your efforts and resources. DEI surveys also allow you to keep a pulse on the changing composition of your workforce, quantify the impact of your DEI efforts, and more. Here's a closer look at how these powerful surveys can help you introduce a data-backed DEI strategy.
1. Launch your DEI journey
DEI-specific surveys are designed to uncover critical insights about diversity, equity, inclusion, and belonging at your organization. Although you can hold an engagement survey with a few DEI questions, you won't be able to get as many insights or measure enough of the factors that can affect the state of DEI in your workplace as you would with a DEI-specific survey. Since DEI-specific surveys provide your organization with so much more data, they're so important for organizations just starting their DEI and belonging journey.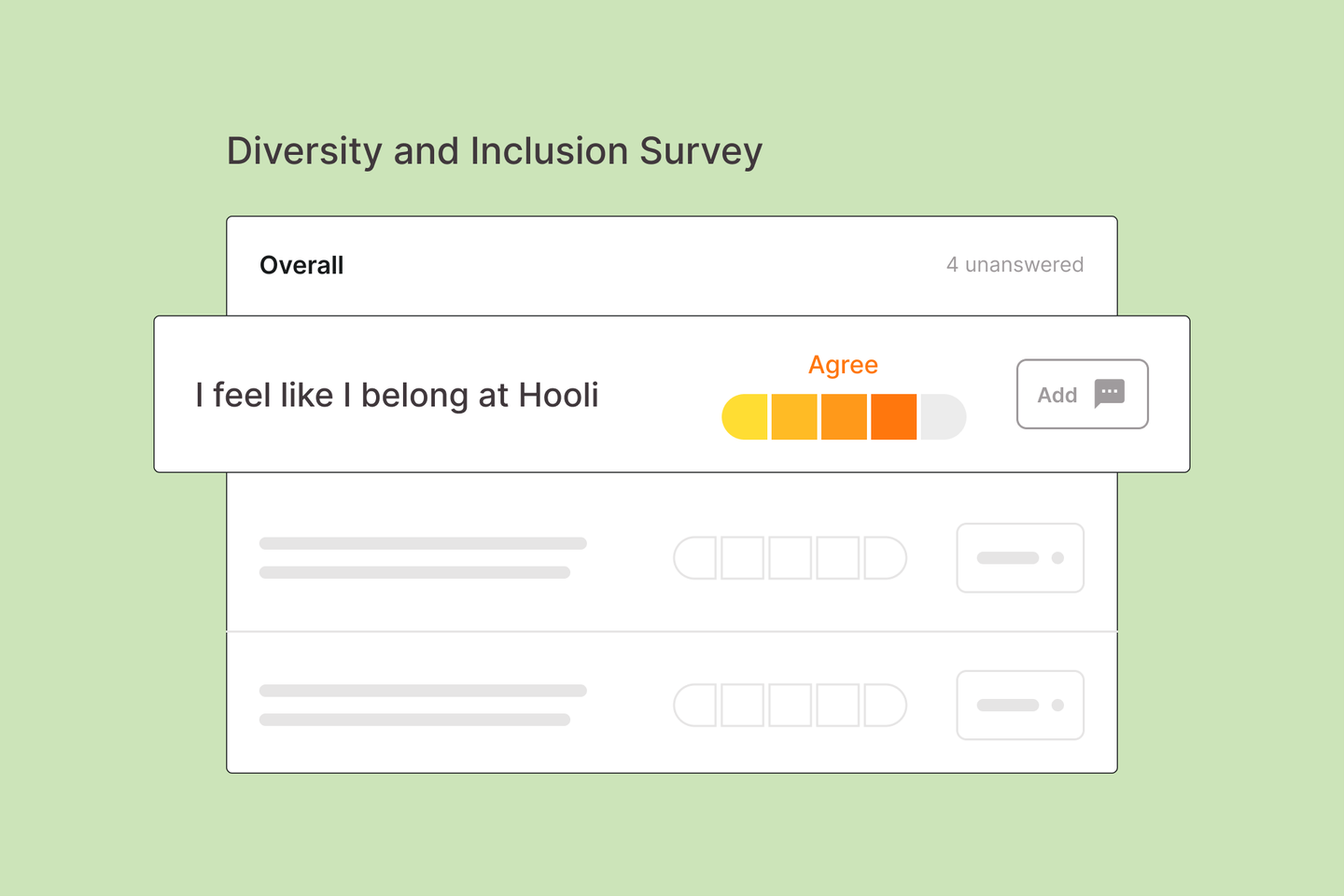 Even just having a DEI-specific survey sends a powerful message to your workforce. In fact, our 2022 Workplace DEI Report found that employees who have taken a DEI-specific survey feel more positively about decision quality, growth opportunities, and their relationships with their manager and others in the organization. That's not all, we also found that organizations with DEI surveys are more intentional about communicating that DEI is a priority and are more proactive about creating opportunities for all employees.

When getting started, we recommend holding an inclusion survey annually and pulsing every quarter or every six months. The survey should include questions that directly measure the outcomes of inclusive behaviors, like:
"At [Company] there is open and honest two-way communication"
"I feel safe to take risks at [Company]"
"I am provided the information I need to do my job well."
"People from all backgrounds have equal opportunities to succeed at [Company]"
"I am comfortable sharing my personal background and experiences at [Company]."
These five driver questions will enable you to identify which factors drive inclusion at your company, making it easier to hone in on key focus areas and take immediate action to improve inclusion within your organization.
2. Understand the makeup of your workforce
One important layer of any DEI survey is collecting and reporting on employee demographics. Depending on how you want to measure the makeup of your workforce, the employee demographics could include age, gender, sexual orientation, parental status, race or ethnicity, veteran status, or other characteristics. Deciding what to include isn't as simple as it might sound.
In fact, you'll want to give some thought to what demographics to collect, because this part of the survey sends a strong signal to your employees about your diversity ideology. For example, requiring employees to designate their gender as either male or female can exclude individuals who identify as another gender identity, such as non-binary. Taking the time to create more inclusive options and questions shows your employees that you take a thoughtful approach to diversity.
Additionally, tracking these detailed characteristics gives your business more ways to filter your data, which can allow you to gain more granular insight into the employee experience of certain demographics within your organization. Keeping tabs on employee demographics also allows you to track changes in experience and representation over time, measure the impact of your recruiting efforts and DEI program, and understand if your business has reached full Black, Indigenous, and people of color (BIPOC) representation.
3. Track the progress of your DEI initiatives over time
In nearly all cases, the employee experience differs based on demographic traits. For example, your Christian employees might love it if holidays like Christmas, Good Friday, and Easter are all company-wide days off, while your Jewish or Muslim employees might feel overlooked and undervalued if your company doesn't observe time off for their religion's holy days. By measuring and tracking how different employees experience day-to-day life at your company, you can uncover any perceived unfairness in systems or processes, and monitor how your actions impact employee sentiment over time.
Once you've identified these areas of opportunity, your business can promptly take action to improve them. For example, your company might decide to incorporate more inclusive company holidays or introduce floating holidays that employees can use on the days that are most significant to them. Whatever changes you implement, your DEI surveys allow you to track the effectiveness of your actions and understand whether you're moving the needle on DEI in your organization. With this information, you can determine what changes are achieving results and where you may need to refine your approach.
4. Learn how your business stacks up
Even with organizational DEI surveys, you might be wondering how your business's state of DEI compares to other companies and whether your business is doing enough. Benchmark data can be invaluable here – especially before you've run a few DEI surveys and collected enough data to measure your progress.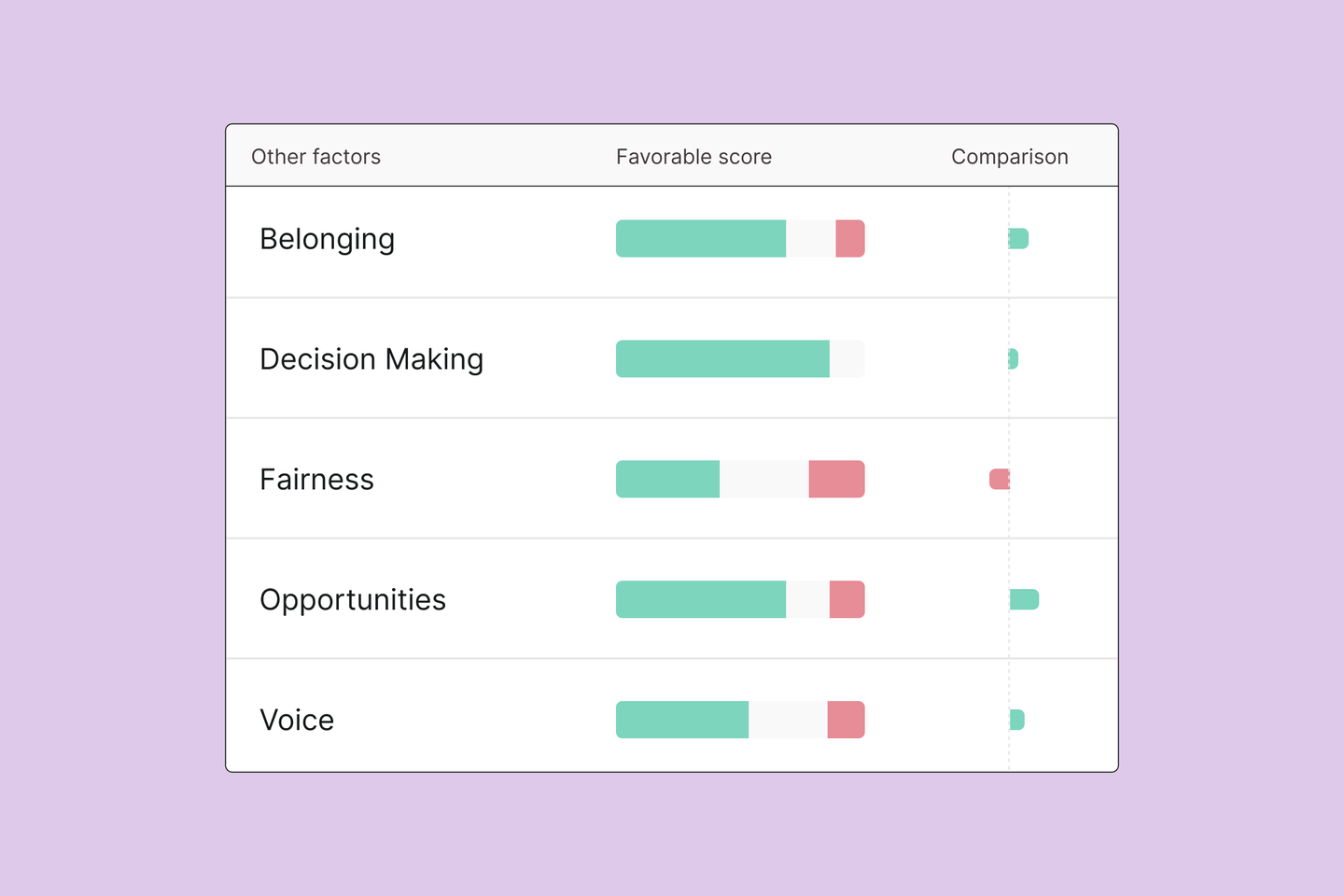 With DEI benchmark data, you can compare your business to companies of a similar size or in your industry. This can give your initiatives more context and allow you to make even more informed decisions about your DEI strategy. With Culture Amp, our clients get access to over 2,000 benchmark data sets that they can add directly to their survey reports and dashboards. Now, when you're evaluating your survey results, you can easily learn whether your business sits in the top 25% or top 10% of customers within a certain benchmark, or if you've got more work to do.
5. Inform your DEI strategy
In addition to measuring the state of DEI within your company, inclusion surveys also give you powerful insights into how your business can improve its current DEI roadmap. Let's say your latest survey reveals you have a growing number of parents within your organization. You might use this insight to start an employee resource group for parents, revamp your parental leave policies, offer flexible scheduling so your employees can step out of the office to pick their kids up from school in the afternoon, or even try to lower the cost of your health insurance's dependent care. Changes like these prove to your employees that your business listens to them, understands their needs, and takes action to improve their lives and careers.
6. Gain executive buy-in
While DEI and belonging have become more widely accepted as influential to business success, they remain elusive concepts to some individuals. If these individuals hold the purse of your organization and have the final say on what initiatives get the green light, it can be particularly tricky.
To help improve DEI buy-in at the executive level, be sure to present your survey findings and suggested action plan to your leadership team following the conclusion of your surveys. Armed with quantifiable DEI data, you'll be able to show your executives concrete workplace trends and the impact of your efforts over time, which helps you make a strong business case for current and future DEI initiatives and investments.
Aside from reviewing top-level survey findings, diving in to review granular results, like heatmaps and employee comments, allows your senior leaders to better understand the current challenges facing your organization, as well as the largest areas of opportunity your business can work to address. Over the course of a few discussions, you can work together to determine your business's plan of action and who will be held accountable for driving change. For example, having certain initiatives tied into your senior leaders' personal OKRs or compensation packages can help set expectations for success and improve accountability.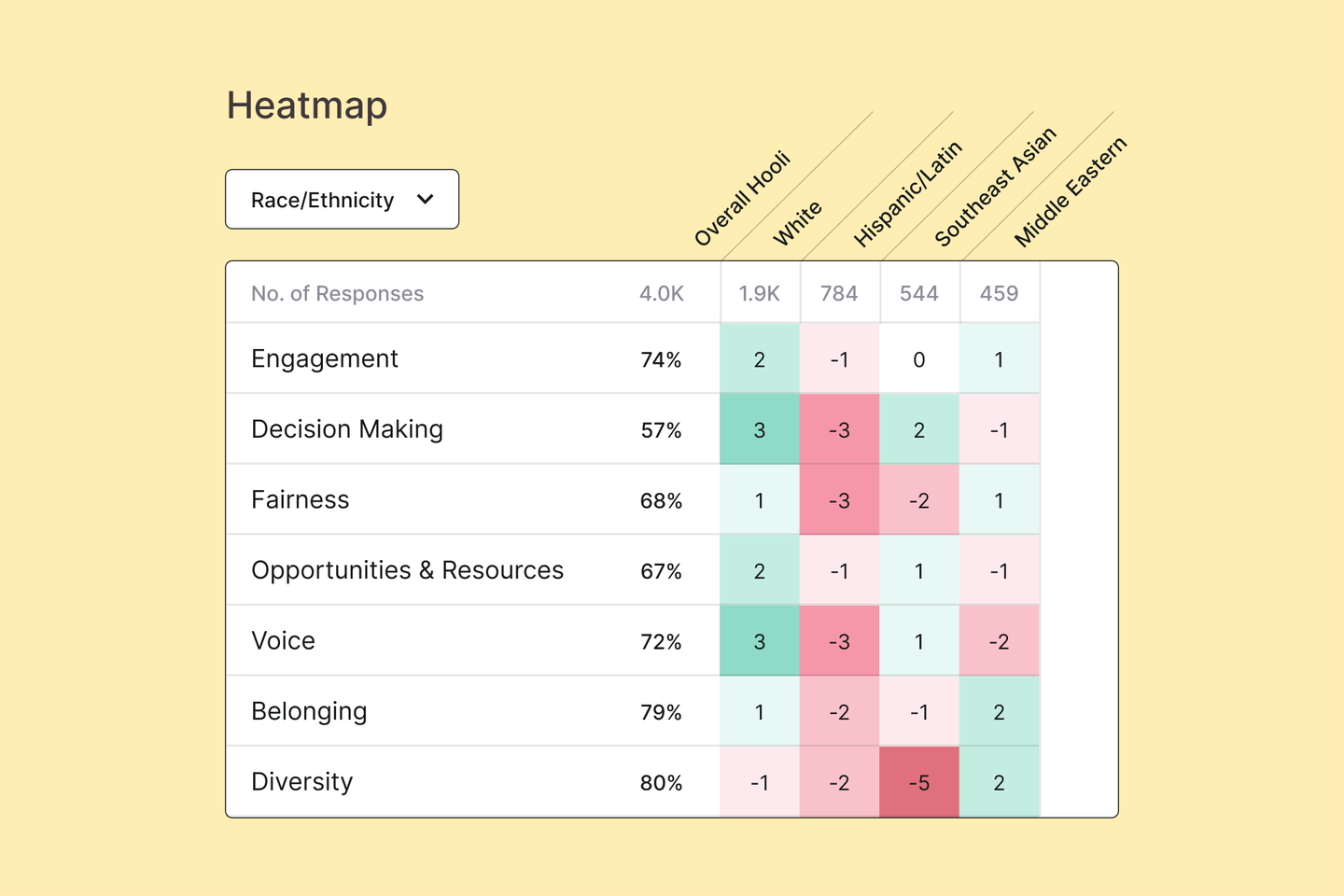 7. Prove the value of DEI and DEI initiatives
Unfortunately, running a single engagement or DEI survey won't instantly fix all of your organization's areas of improvement. While DEI surveys can give you powerful insights and feedback into the employee experience at your company, these findings are meaningless unless you follow them up with action. Sharing the results of your organization-wide DEI surveys and your team's plan for action can help improve accountability and demonstrate to your employees that you're listening to their feedback and working to build a better experience at your company.
Improve DEI strategically within your organization
As your business embarks on its DEI journey, consider conducting regular DEI-specific surveys. These surveys will give your team powerful insights into the state of diversity within your organization and, more importantly, help guide your efforts to improve DEI and the workplace experience for every employee at your company.
To help organizations take a more data-backed approach to DEI, Culture Amp created our 2022 Workplace DEI Report. After analyzing data from hundreds of companies globally, we uncovered which DEI initiatives are most effective. To learn how to make DEI progress you can measure and instill lasting change within your organization, download the full report now.
Build a world-class employee experience today