Diversity and Inclusion survey: Building a more inclusive future
Our journey to building the industry's most comprehensive Diversity and Inclusion survey began in 2015 when we partnered with Paradigm. We set out to develop a measure that helps companies understand how people from all groups feel about their workplace.
Today marks the next step in that journey. We're proud to announce that all Culture Amp customers can access our DEI survey template, analytics, inspirations, and bias mitigation techniques through our platform at no additional cost.
Why you should run a diversity and inclusion survey
Every company is on its own path to creating a more inclusive workplace. Whether that journey has just begun with the first steps taken to measuring inclusivity or if it's already well on the way with the prioritization of inclusion initiatives, our data shows that there's plenty of work to do. For example, only 50% of women believe perspectives like theirs are included in the decision-making at their company, compared to 70% of men.
With the employee experience being far from equal, we've focused on making it even easier for companies to take action to create more inclusive workplaces.
Diversity and inclusion surveys help you bring clarifying data to a complex topic. Results from a diversity and inclusion survey show you if, where, and how different groups of employees experience your company culture. 
Culture Amp's template gathers feedback on seven evidence-based and research-driven constructs of diversity and inclusion that include:
Fairness
Opportunities and resource
Decision making
Voice
Contribution to a broader purpose
These constructs are areas where negative stereotypes adversely affect minority groups and can prevent everyone from achieving their full potential. The questions in each of these constructs originate from applied experience with our dataset of over 2 million responses and modern research.
With Culture Amp's diversity and inclusion survey template, you get inclusive demographics, global benchmarking, text analytics, and an action framework driven by collective intelligence. You can capture a more granular view of the differing employee experience with progressive demographics covering gender, race, sexual orientation, disability, and more.
How your diversity and inclusion survey shows what matters
In any employee survey, the questions you ask send a signal to employees about what's important. In the case of diversity and inclusion surveys, this is a significant consideration. The demographics you choose to include (or not) in your survey send a strong signal to employees about your diversity ideology. Here's what to consider when choosing your survey demographics and how we decided on what's already included in the template.
More inclusive gender options
If you only list "Man" and "Woman" as gender identity options on your survey, you're telling employees that you believe gender is binary. The Diversity and Inclusion Survey template provides various options for gender identity, sexual orientation, and race/ethnicity.
When choosing the demographics for your survey, seek input from Employee Resource Groups, your legal team, or any other resources you have available to you if you want to make any changes to our template's demographics.
Diversity goes beyond visible factors
Culture Amp's diversity and inclusion survey promotes the idea that diversity goes beyond visible traits. By including structural factors, organizations can foster a culture that includes a broad and encompassing definition of diversity. We included Veteran Status, Family Status, Disability Status, and Socioeconomic Status (measured by the degree of education obtained by parents/legal guardians).
You may decide to add more factors, like religion/faith or political affiliation. While these factors are not listed in our template, you may use them if your team decides it's important. Keep in mind that by including certain demographics – you create an implicit promise that you will take action on results that show a disparate experience. Ask yourself: "If religious minorities and those in a political minority do not feel they belong, am I (and my organization) equipped to have the conversation and take action?"
Launching your diversity and inclusion survey
With your demographics chosen and diversity and inclusion survey questions set, it's time to send pre-survey launch communications to your company. To make this process easier, you can use a survey launch email template:
Hi,

On [insert date], you will receive an invite from [person sending invite link] to take our first Diversity and Inclusion Survey. Unlike some of the engagement surveys you may have taken in the past, the Diversity and Inclusion Survey is unique in that it is centered around researched constructs of Inclusion, such as fairness, belonging, and voice. This survey also asks important, though sensitive, demographics like gender identity, race/ethnicity, and sexual orientation. It only takes about 5 minutes to complete.

The Diversity and Inclusion Survey is run on the Culture Amp platform and was co-designed with Paradigm. This enables us to benchmark against our peers and dive deep into the topics that are well-researched and broadly tested. This survey is 100% secure, anonymous, and optional, though we strongly encourage you to participate. With a high participation rate, we can confidently take actions that focus on making life at [company name] more inclusive and equal for all.

Should you have any questions, please reach out and I would be happy to answer them. Again, this survey will reach your inbox on [insert date].

Thank you!
[Name]
Prioritizing your post-survey action plan
After your survey closes, you'll want to share the results with the company and create an action plan. A common post-survey sharing plan looks like this:
Executives and People leaders review the results as a group and identify the most important findings.
The most important findings are rolled out through structured communication and moderated discussions with the organization.
Those responsible for driving action are empowered with the appropriate level of data to improve the areas of focus chosen by executives and People leaders.
You'll be able to understand your organization's results with additional context provided by our global Inclusion benchmark. Use these insights to help shape your priorities.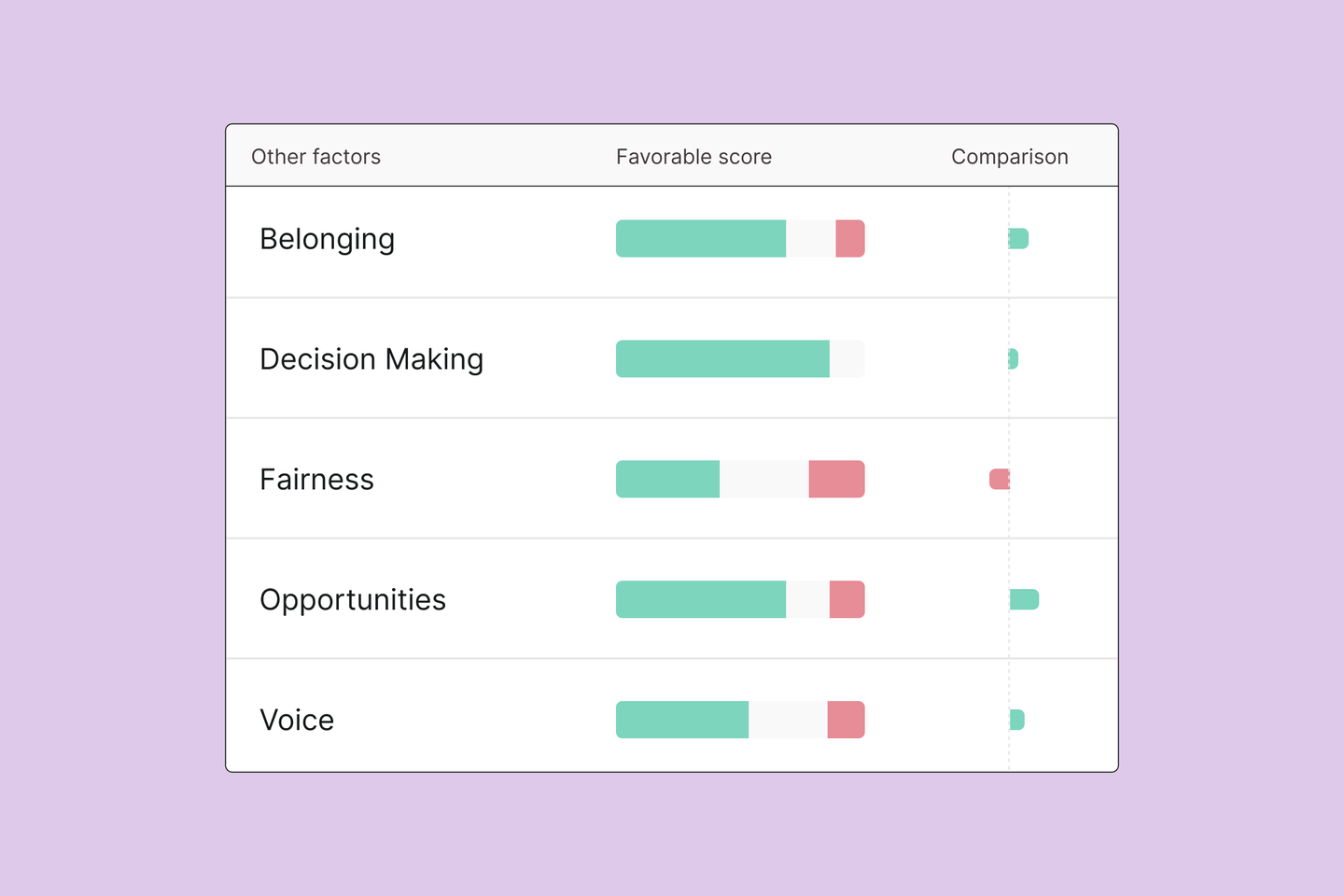 The Collective Intelligence of our global community provides actionable suggestions on how to make your workplace more inclusive. Guide your company on improving with these built-in inspirations from leading companies and research institutions.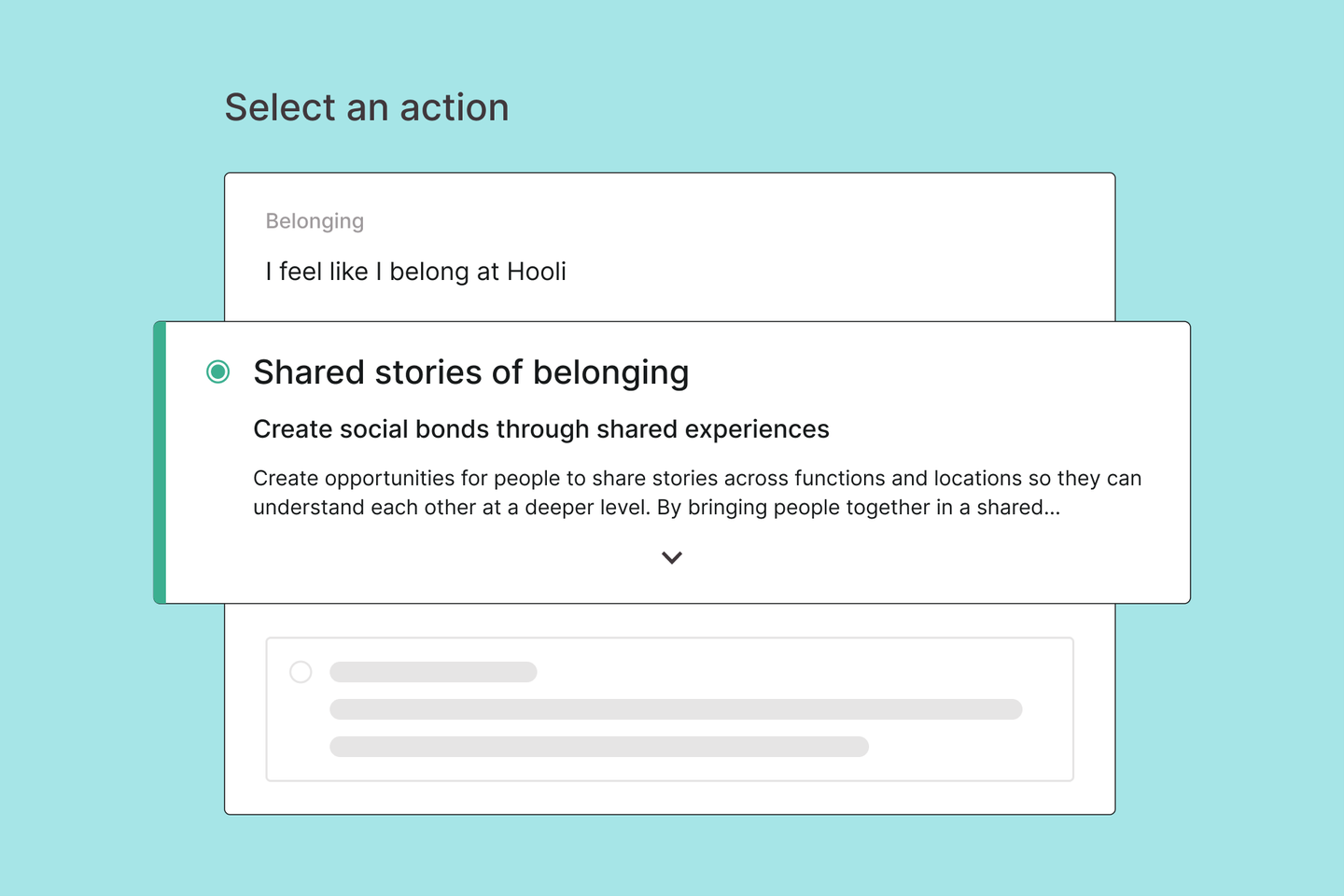 As the Head of Global Diversity and Inclusion at Mozilla, Larissa Shapiro has been using the Culture Amp platform to support its diversity and inclusion initiatives for their 1,000-plus employees.
At Mozilla, inclusion is as important as diversity, and we believe in measuring our progress. Culture Amp helped us to create a numeric baseline for multiple dimensions of inclusion. Since the platform allows us to look at many demographics and identify gaps, it has proven to be an excellent measure. From this, we've been able to substantially narrow the gap in women's versus men's experiences on key questions of inclusion.
— Larissa Shapiro
Head of Global Diversity and Inclusion at Mozilla
The Diversity & Inclusion survey is available on the Culture Amp platform, where it's easy to collect, understand, and act on feedback across the entire employee experience.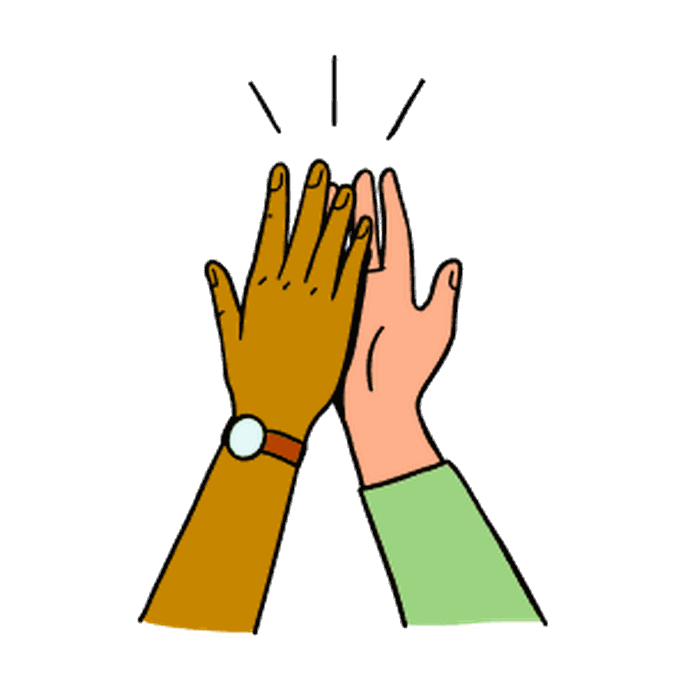 Launch your first Inclusion survey today
Learn more
Build a world-class employee experience today