Introducing Develop: Grow and retain your people
Roughly 47 million people quit their jobs last year – a phenomenon popularly known as the Great Resignation. A year later, employees continue to leave. Knowing this, how can organizations better retain talent and navigate future disruptions?
The answer is simple: Develop your people. Culture Amp's team of people scientists crunched the numbers from millions of survey responses and found that development is the number one reason an employee stays or leaves a company, as well as the second-most influential driver of engagement. Further, an employee is 43% more likely to leave if their manager doesn't show any interest in their career aspirations.
"Getting development right is the biggest lever you have to retain your people and to drive engagement," explains Didier Elzinga, CEO of Culture Amp. If you want to retain your people, you have to give them an environment where they feel engaged and motivated at every step of their career journey.
Getting development right is the biggest lever you have to retain your people and to drive engagement.
— Didier Elzinga
CEO of Culture Amp
Investing in your employee's professional growth is also key to future-proofing your organization. According to the World Economic Forum, 50% of all employees around the world need to upskill or reskill by 2025. By enabling your employees to develop critical skills for the future, you can ensure that both your people and your business are equipped to navigate future disruptions.
To succeed in today's ever-changing world of work, designing a better employee development experience is non-negotiable. That's why we created Develop, the employee development solution built for the future.
Introducing Develop
After speaking with HR leaders around the world, it's clear that the old ways of employee development aren't working. Manual individual development plans (IDPs), relying on unsupported managers, static learning libraries, and linear career paths are bogging processes down, lowering engagement, and ultimately driving talent out and toward other opportunities. By and large, traditional approaches to L&D present three major issues:
Employees can't see motivating development opportunities at their organization.
Managers struggle to have meaningful growth conversations with their direct reports.
HR teams don't have enough visibility into development activities, making it difficult for them to help either managers or employees, or demonstrate L&D effectiveness to leadership.
With Develop, you'll have the right tools to make these three problems a thing of the past. You can shift from conventional, prescriptive development approaches to a more human conversation that explores your employee's personal motivators. You'll understand how their needs and the company's needs can align over time, resulting in employee development that works.
Why employee development should be HR's top priority
Access key insights about employee development from our People Science team.
Download the eBook
How to use Develop: 4 key use cases
Backed by rigorous people science, Develop makes it easy for you to unlock measurable, scalable, and easy professional development. Here are four key ways to use Develop to grow both your people and your company.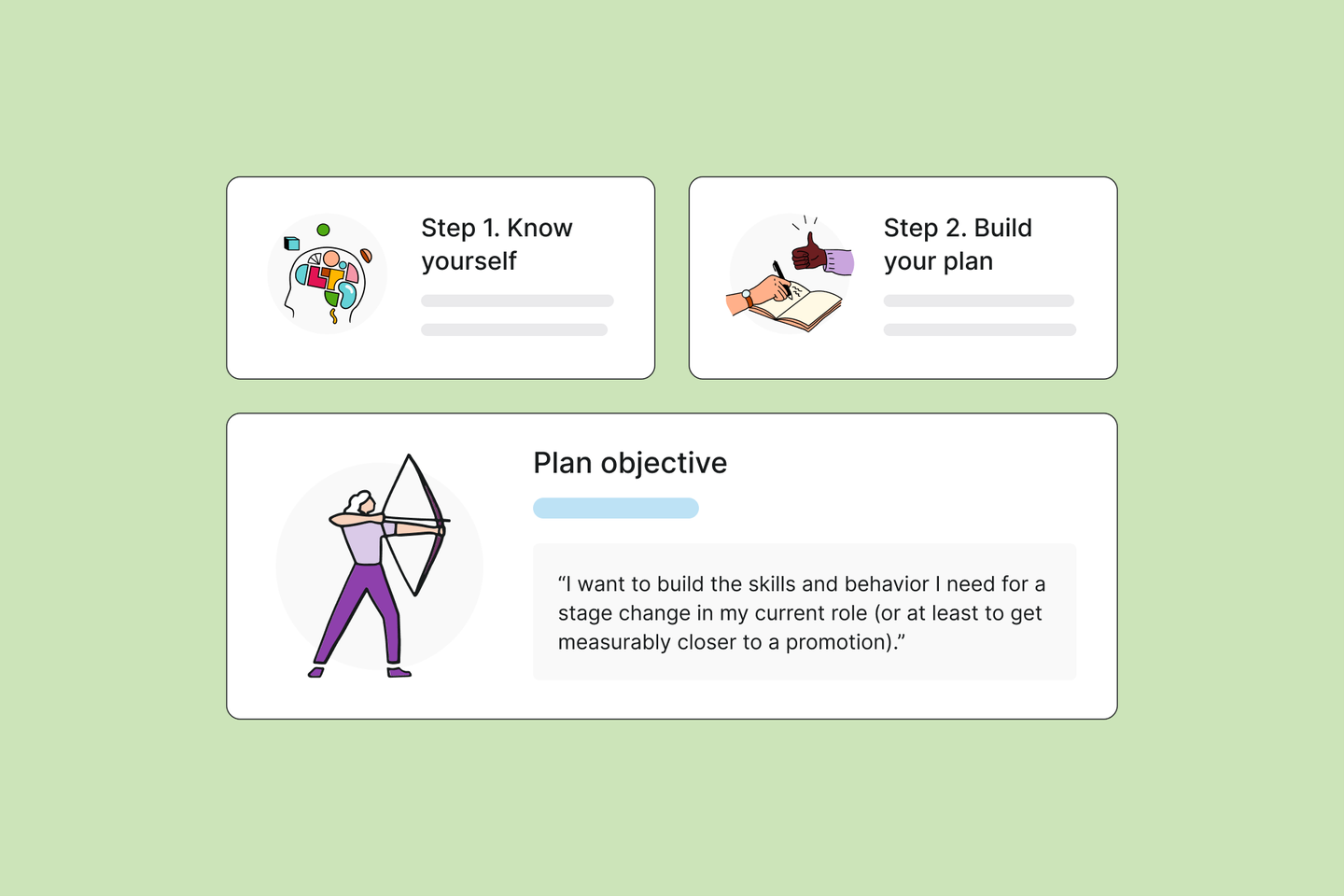 1. Paint a motivating future for your employees
Ensure that lack of growth doesn't drive your talent away. With Develop, you can grow, retain, and upskill your people with personalized development plans and goal setting for ongoing growth. Genuinely motivate your employees by helping your people identify their "3 E's of Development":
Experience: The on-the-job experiences that help them grow (e.g., stretch tasks, special products, mentoring others, etc.)
Exposure: Learning through observation (e.g., working with a coach, seeking feedback, shadowing, networking, etc.)
Education: Structured learning (e.g., courses, books, conferences)
Having all three provides a holistic path to growth, resulting in well-rounded, successful development.
Plus, Develop's intuitive, science-backed workflows streamline employee and manager adoption – making it a tool your people will actually want to use. Employees can set and update development goals right in the platform and managers can celebrate their progress in performance reviews. By making growth clear, actionable, and rewarding, you can help employees and their managers paint a clear future for growth at your company.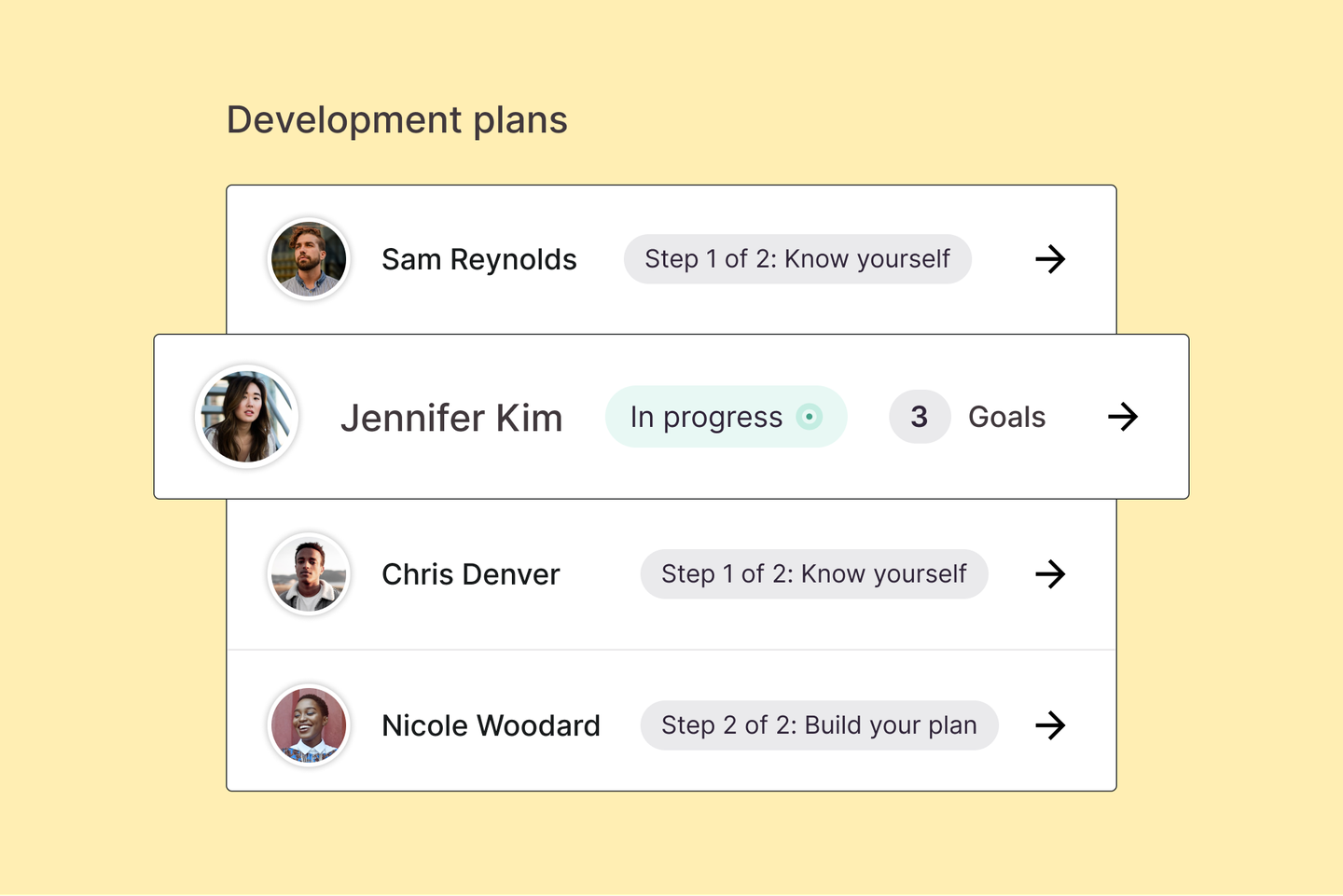 2. Empower managers to support employee development
Managers are expected to support their direct reports' growth, but they often lack adequate time or guidance to do so effectively.
With Develop, you can support managers with an easy, guided approach to more meaningful and frequent growth discussions. They will have the guidance and tools they need to better understand what motivates their direct reports and effectively identify key development opportunities. Moreover, managers and employees can easily access the development plan, which means it's simple to revisit and adapt as times and priorities change.
By upskilling your managers on the skills they need to help their direct reports and ensuring a consistent development planning experience, you enable both parties to meaningfully grow.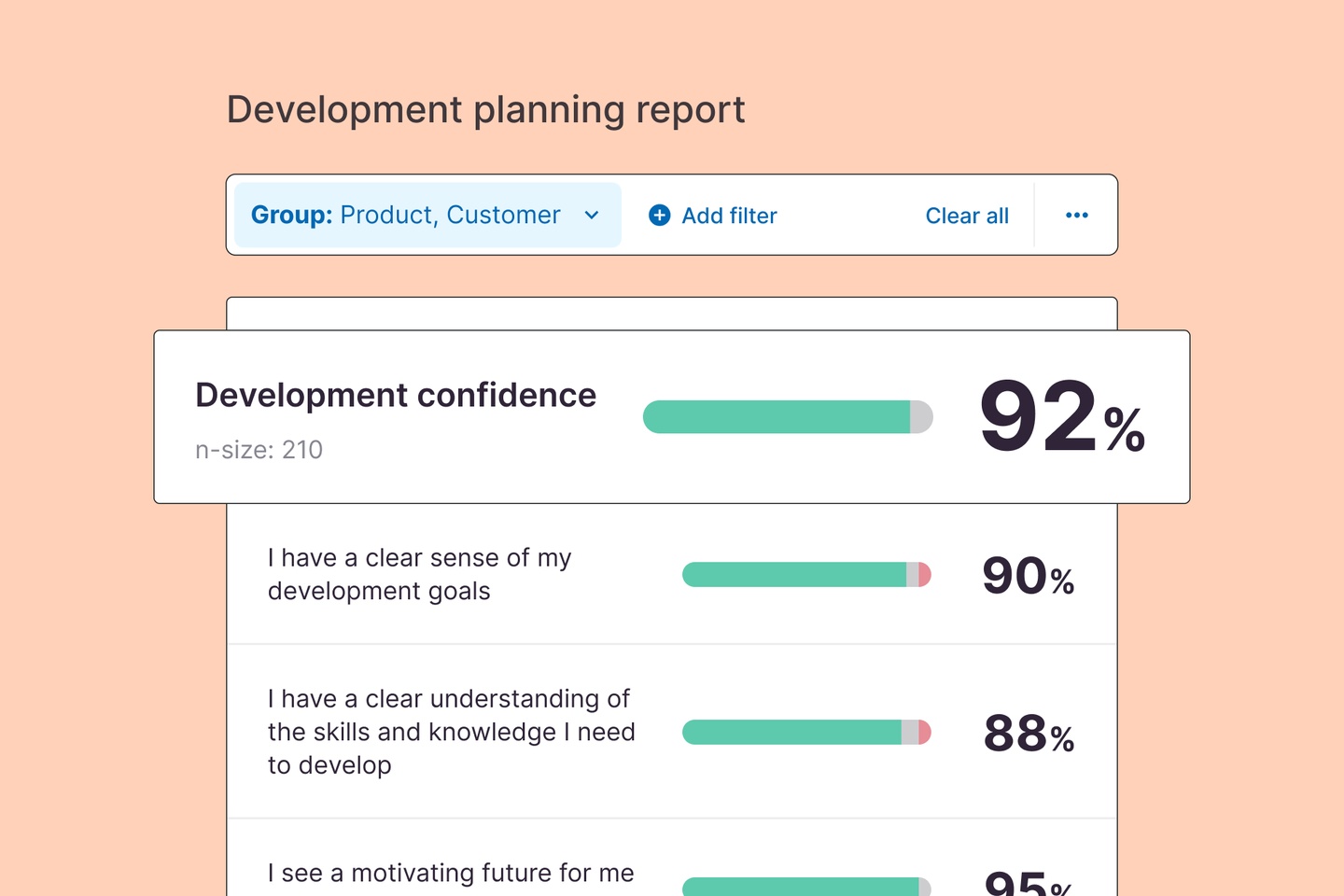 3. Demonstrate the effectiveness of L&D
You can't manage what you can't measure. Develop makes it possible to track development initiatives and show positive impact – all in one central dashboard.
Using Develop, you will be able to access a consolidated view of:
Development activity: Track plan completions, views, updates, and more.
Development impact: Measure the impact of development conversations and planning on your employees' attitudes and behavior.
Development insights: Identify the most pressing development needs across your business to prioritize L&D initiatives.
Armed with these insights, gain leadership buy-in, determine the most valuable initiatives to invest in, and ultimately take a more strategic and thoughtful approach to employee development.
Haley Hammond, the L&D Manager at M1, a US-based financial technology company, agrees. "[Develop's structured development workflow] was helpful to guide the growth conversation, but also for thinking about a good plan to leave on," she says. "It felt really actionable and that was really helpful. Now we can go back to the plan and keep moving forward."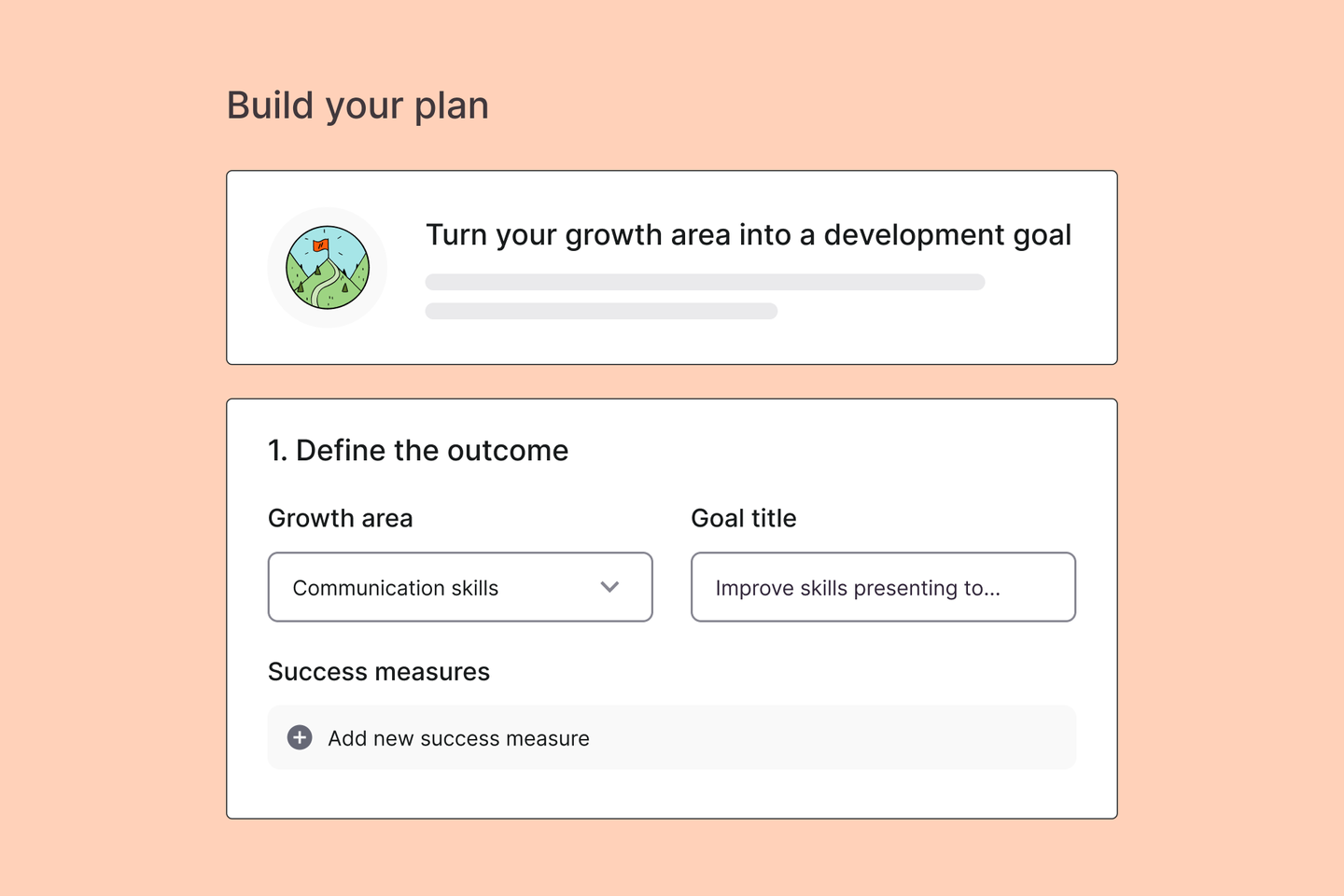 4. Supercharge the entire employee experience
An investment in employee development is an investment into the entire employee experience.
When an employee has the right development opportunities, they are more likely to be motivated, committed, and proud to work at their organization – all of which are key drivers of engagement. As a matter of fact, our team of people scientists found that companies that focus on providing L&D opportunities have employees that are 14.6% points more engaged.
By approaching employee development thoughtfully, you also improve the performance management process. Employees can use performance feedback to uncover key growth areas for their development plan. And in turn, employees can set development goals that help them reach their performance goals.
Managers can use Develop's trackable development goals to fuel richer performance conversations that enable them to better understand employees' motivations, celebrate learning and growth, and make more informed talent decisions. Further, Develop allows managers to easily separate performance and development conversations, which is proven to boost the quality of both and increase employee motivation.
Unlock measurable, scalable, and easy employee development
Develop by Culture Amp makes tapping into the above benefits simple. Plus, when you use Develop, you can rest assured that you're benefiting from the research and expertise of our in-house People Science team. What are you waiting for? Start mapping a holistic and well-rounded path to growth today.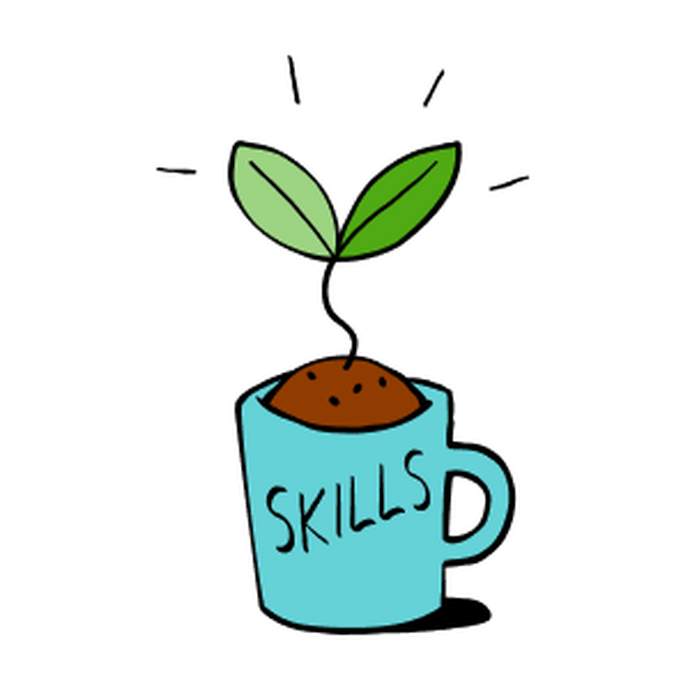 Grow and retain your people
Learn more about how Develop can help you improve retention and accelerate business growth.
Watch the demo
Build a world-class employee experience today