Employee feedback strategy: Your guide to success
When people receive ongoing feedback – no matter their level of seniority at a company – they're able to grow and develop faster. We've previously talked about how one-on-one employee feedback is most effective when it happens more than once a year and what it means to build a culture of feedback within a company.
It's this broad view – building a culture of feedback – that we're covering in this article. A culture of feedback is built on a comprehensive employee feedback strategy. This strategy encompasses many components: company-wide feedback, developmental feedback, and employee experience feedback.
Whether you're just exploring what it means to create an employee feedback strategy, looking to experiment with something new, or you've been collecting employee feedback for a while, this guide can help you.
What is feedback?
Before we dive into the overall strategy, let's look at the specific definition of feedback and what makes it most effective.
We define feedback as:
Information about past actions that is given to a person (or group) to be used as a guide for future improvement.
What matters when giving feedback?
It's given to the person or entity (e.g., organization or team) that can utilize the feedback in a timely manner
It's used for improvement (I.e. to modify a future action)
It's part of a process
These three factors apply within any context of feedback - workplace or otherwise.
So, why is the concept of feedback becoming so important at work? Simply put, it helps people and organizations improve. Companies that adopt a culture of feedback are agile – they can learn faster and do more for their customers. The backbone of building that culture is a solid employee feedback strategy that utilizes employee surveys.
Basic employee feedback strategy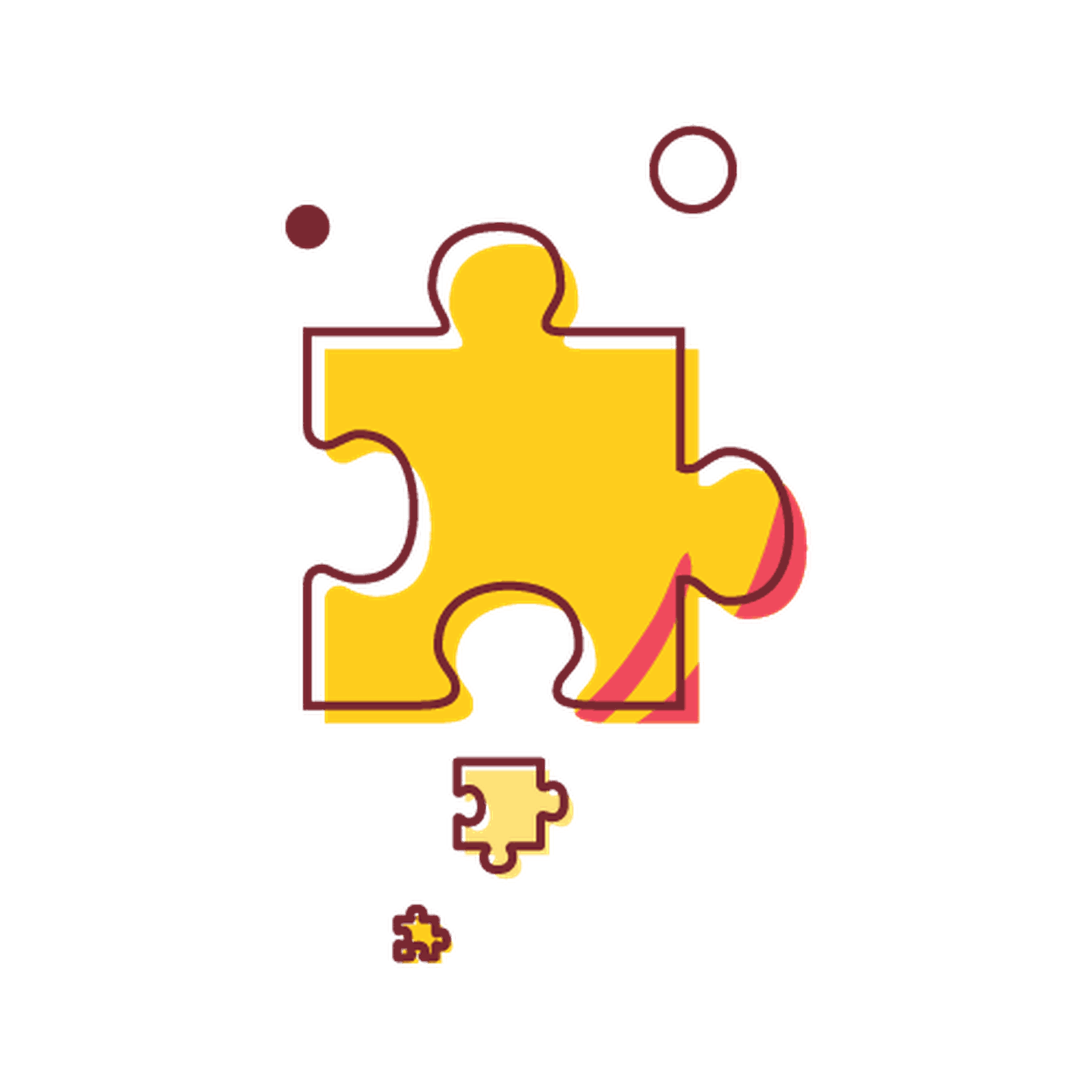 There are many different types of employee surveys you can use to build your employee feedback strategy.
That's why we've put together a basic employee feedback strategy (including recommended surveys) any organization can implement in six simple steps. We'll go through each, and later on, you'll learn more about how to customize this strategy for your organization's unique needs.
For a basic feedback strategy, we suggest these six steps:
1. Gather baseline data through an employee engagement survey
Identify the key drivers of employee engagement in your organization, and see how you compare to other companies overall through relevant benchmarks.
Understanding what drives engagement at your company will help you make the biggest impact. In Culture Amp's 2018 benchmark, we saw that the following five questions were the most significant drivers of employee engagement across the companies we work with.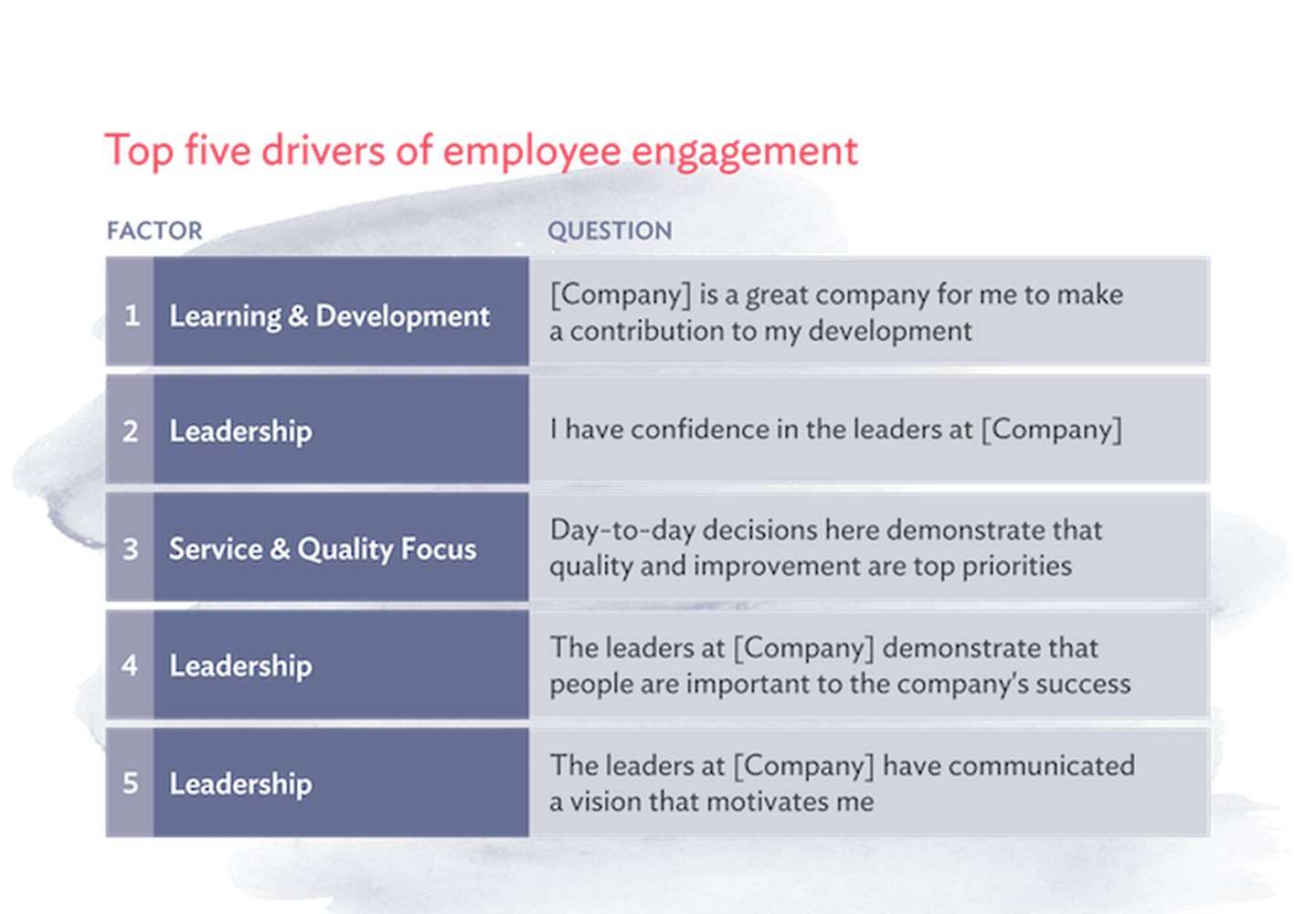 In 2023, Culture Amp's data indicated that the top drivers of employee engagement were:
Leadership
Learning & Development
By comparing your scores to the benchmark scores, you can get an idea of how well your company is doing relative to other companies in your industry and/or region.
Once you understand the data, create a plan of action for areas of improvement. To make the most out of post-survey action planning, make sure you:
Identify owners of the actions
Align actions to business needs and goals
Clearly define the resources needed
Then, communicate these actions and the overall survey results with your company. Often, survey results are communicated by tier.
For example:
Company results: Present to all employees in an inclusive forum like an all-company meeting.
Leader-level reports: Share with senior leaders early on and provide company (and external, if possible) benchmarking
Manager: When available, leaders are asked to trickle results down to managers, including manager feedback from their direct reports.
2. Connect the employee journey
Understand how people perceive their workplace at various stages of the employee journey through experience surveys such as candidate, onboarding, and exit surveys.
Candidate Survey. Collecting candidate feedback will help you understand their experience during recruitment and their feelings about the organization so far. You can also share engagement data during the recruiting process to show potential hires that you value feedback.
Onboarding survey. Creating a great onboarding experience for employees is incredibly important, and an onboarding survey is an important piece of that experience. Onboarding feedback will provide information on how employees feel about the company and their role so far.
Exit Survey. With an exit survey, you'll know more about why people are leaving, where they're headed, and their experience. Exit surveys provide you with quantitative data that can be used for comparison over time, and you can use survey results to guide the in-person exit interview process.
Employee experience surveys will help you:
Understand how candidates perceive your recruitment approach
Identify any gaps in your onboarding process
See trends in the perceptions of people leaving your organization
Gain an overall view of the experience of employees throughout their time at your organization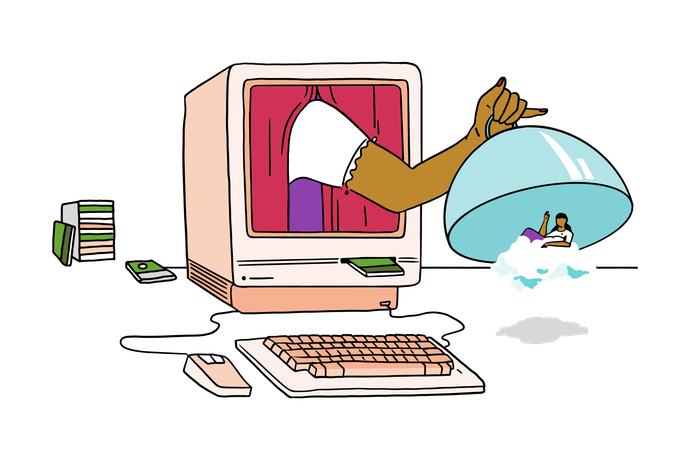 Ready to get started on your employee feedback strategy?
Contact us
3. Track progress
Review any actions taken from your baseline engagement survey, and use employee experience feedback collected to improve processes like recruiting and onboarding. You can also link your engagement and experience surveys together to see what's impacting retention or attrition.
Remember: how often you should survey is based on how quickly your organization can take action on the results.
4. Develop your people and teams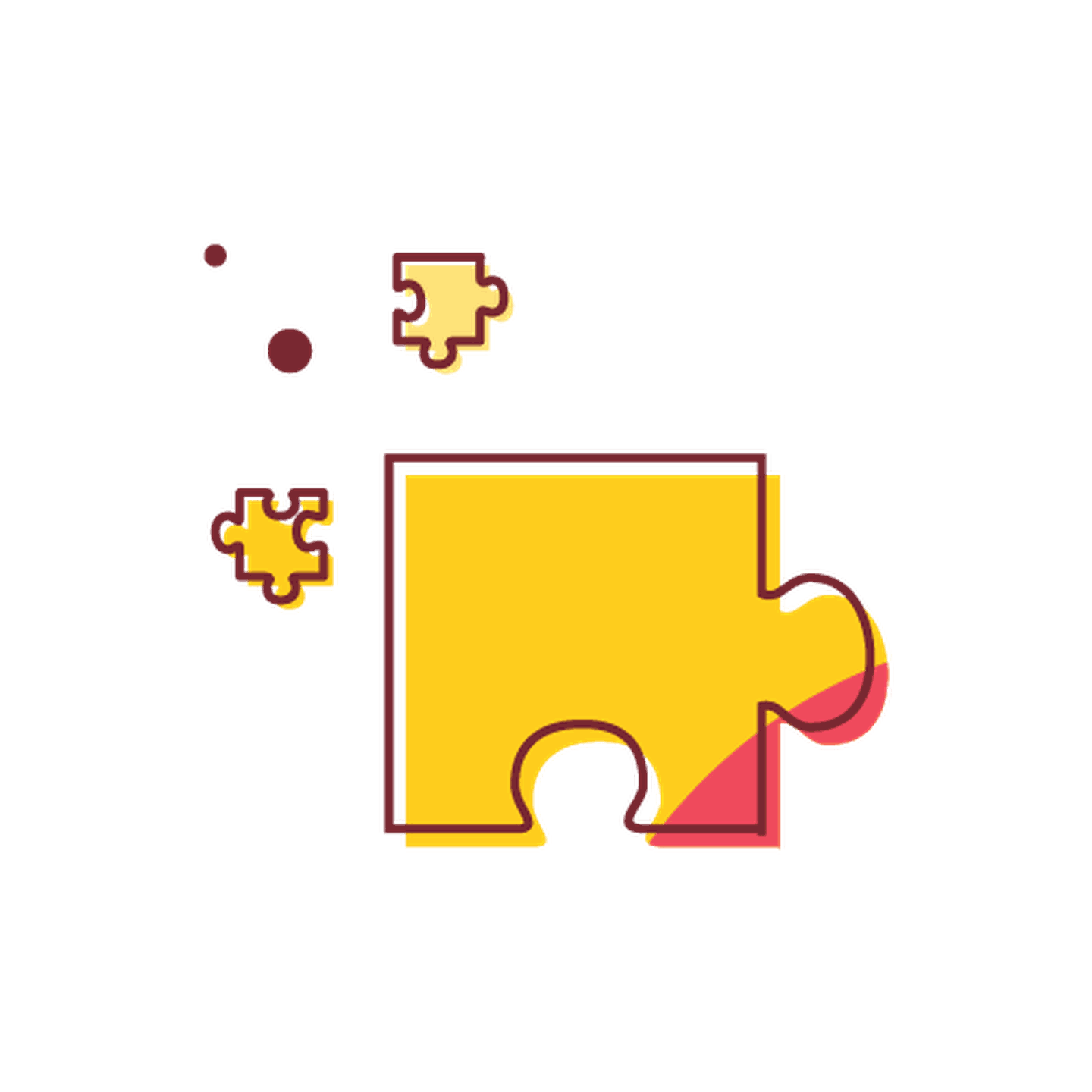 Move deeper from organizational feedback to the team, manager, and individual levels. Once people at your organization have had experience with employee surveys as part of their onboarding and participating in company-wide surveys like engagement, they're primed to participate in surveys for individual and team development.
Individual Feedback (360 Feedback). People want to know how they're performing at work, and gathering feedback from peers and managers is a great way for people to learn and grow. When employees participate in their own 360 feedback surveys, they can compare their self-assessment with the feedback and perceptions of their peers.
Team Effectiveness. Team-based projects and flatter workplace structures leading to more teams make gathering this type of feedback incredibly important. When teams participate in effectiveness surveys, they gain a deeper understanding of how productivity, cohesion, and alignment are driving their success.
Manager Effectiveness. Manager feedback surveys are similar to individual feedback and should allow managers to participate in a self-assessment. They can provide organizational-wide context when viewed in the aggregate, showcasing the strengths and areas for improvement across your company.
Developmental feedback surveys will help you:
Understand how effective each of your managers is in their roles and how you can support their development
Help individual employees understand the areas where they're doing great and identify opportunities for improvement
Streamline your approach to learning and development, so your activities have the greatest impact possible
5. Go deeper into an issue
Now that you've collected company-wide, employee experience, and developmental feedback, take the time to go deeper on a particular issue. This could be by running another company-wide survey, like a benefits survey, or perhaps a survey related to one of your drivers of engagement, like learning and development. This can give you insight into how to best direct your resources and tackle more complex issues.
Inclusion surveys. Diversity, equity, and inclusion (DEI) are essential to building a world-class company. However, DEI can be difficult to measure. This challenge hasn't stopped companies from trying (which is a good thing), but often we find that traditional diversity metrics don't work. A well-made inclusion survey measures the employee experience of all groups and identifies areas for action to improve that experience.
Values surveys. Company values guide day-to-day behaviors and differentiate one company from the next. A values survey is used to assess if employees see the stated values being lived in practice and what values matter most to people.
Benefits surveys. We know that perks (like ping pong tables or free lunches) aren't the end-all-be-all, but core benefits (like health care) do matter. A benefits survey collects feedback on how people feel about existing benefits while also asking about preferences for future benefits (from 401ks to medical benefits).
6. Repeat!
After your first year or so of building out your employee feedback strategy, take a step back to see how the pieces fit together. Decide if you want to survey more often, introduce more individual surveys, or perhaps scale back or regroup on a certain element.
Create an employee feedback strategy that is sustainable for your organization, and don't be afraid to redefine what that looks like over time. This leads to one of the biggest considerations when crafting your strategy - survey cadence.
Employee survey cadence
When to launch your first survey
The right time to gather employee feedback depends on your resources and capabilities and the level of support for your employee feedback strategy throughout the organization. You likely already have a full calendar of people programs, so use that plan for the next year to build out your survey timings.
Consider the following for choosing the timing of your surveys:
Management or leadership training. Are these all taking place at the same time of the year? Perhaps plan your manager and individual effectiveness surveys to take place at a different time. You could also choose to survey pre and post-training to measure any changes.
Seasonal hiring. Does your organization bring on many people at a specific time of year? Ensure that your onboarding survey is set up to gather feedback before this time so that you can provide the best experience possible. Run your full engagement survey once people have time to settle in.
Performance reviews. Ensure that performance reviews aren't happening simultaneously as developmental conversations. Salary conversations should be separate from developmental feedback.
When to survey again
As Culture Amp CEO Didier Elzinga says, "People don't get survey fatigue; they get lack of action fatigue." This is another way of saying - create a survey cadence that fits how quickly your organization can take action on the results of the previous survey.
When it's time to plan your next surveys, think about:
The way you action plan. Centralized action planning (like when your HR team creates an action plan), can often be executed more quickly than decentralized action planning (involving a larger group). Decide whether speed in an action plan is the most important factor and if so, whether there are ways you can still involve your employees in the process.
Your focus area. Some focus areas can be acted on quickly, while others take longer. For example, an unlimited leave policy can be implemented almost immediately, while improving managers' and employees' feedback could take months to move the needle.
Your resources. The fewer people that you have on your team, the longer action will take. Additionally, the more concurrent initiatives you have going on, the longer action will take.
Your readiness to receive and act. You shouldn't survey until you're ready to do it all over again.
Expectations. Overarching all of this is the cadence you've used in the past because it sets expectations for employees. It doesn't mean you can't change your cadence, but it will require a bit more communication upfront around why.
Craft a culture of feedback
Your employee feedback strategy is the backbone of a culture of feedback. Employee surveys allow you to collect feedback at scale so you can learn fast and take action. This process occurs at the individual, team, and company levels throughout many types of surveys.
That said, a successful employee feedback strategy also depends on candid in-person conversations between people. Anonymous feedback shouldn't replace these meaningful firsthand conversations but can be used to guide those conversations. When employees see that their feedback is heard through surveys and they also find a receptive audience among their peers and leaders – a true culture of feedback is created.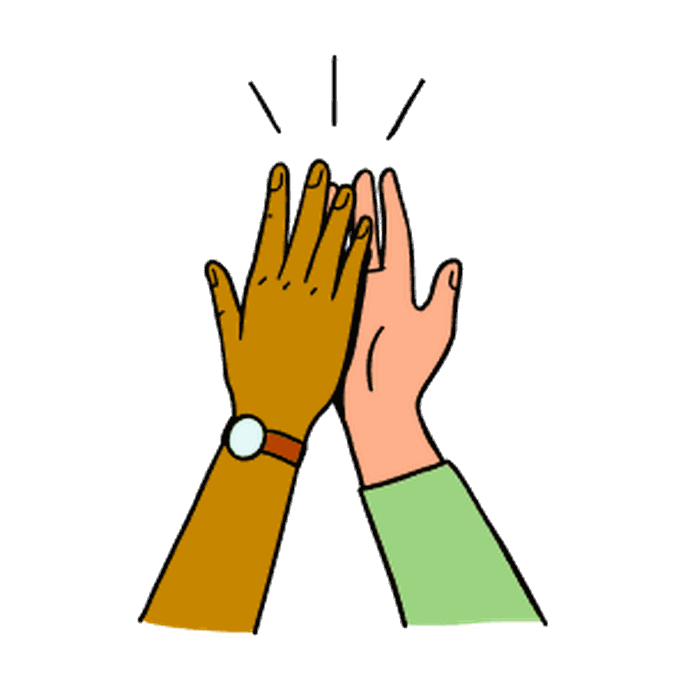 Enable your people to do their best work
Empower your people to better understand their skills and behaviors with valuable, continuous feedback from the people they actually work with.
Learn more
Build a world-class employee experience today