How to communicate engagement survey results to your team
Selecting the right questions and administering your employee engagement survey is only half the battle. It's not until your survey closes that the real work begins. On top of identifying opportunities for improvement and taking appropriate action, one of the biggest challenges of employee engagement surveys is knowing how to deliver results in a timely and insightful way to your employees and leaders. 
Surveys are a great way to learn about and improve your employee experience, but to make the most out of them, you need to keep your three main stakeholders in mind:
Your executive team
Your department heads
Your employees.
After all, you need buy-in from each of these groups to collect feedback, execute improvements, and foster trust. 
If you're stuck wondering what your next move post-engagement survey is, here's how we suggest communicating employee engagement survey results to your entire organization.
7 steps for effective employee engagement score communication
1. Thank employees for their participation
Engagement surveys are meaningless without employee feedback. Once your survey closes, acknowledge their feedback by sharing a quick note from your CEO, CHRO, or HR team to thank your employees for their participation. After all, they took the time to fill out the survey, share their thoughtful feedback, and help make your company a better place to work. In the email or an all-hands meeting, share your participation rate, some high-level metrics, or preliminary findings. In addition, remind your employees of the survey's goals: improving your employee experience, building a more inclusive workplace, and keeping your team happy and fulfilled at work. 
Lastly, the key to any employee engagement results communication strategy is to share a timeline of when your HR team will share a more detailed breakdown of company-wide employee engagement scores, key findings, and, most importantly, your action plan. 
2. Share high-level company results
Once you've had time to dive deeper into your company-wide results, share them with your employees in your next all-company meeting. This should be done within 1-2 weeks after the survey closes to keep up the momentum and show your employees you're taking swift action to improve life at your organization. In your presentation, review participation rates and overall company scores, share any high-level themes you noticed in the free-response section, and give context by comparing current figures to past survey results. 
Just remember, transparency is key. When it comes to executing your employee engagement results communication strategy, you don't want to paint too rosy of a picture, or employees will find your report disingenuous. Find a balance by sharing strengths or what employees think your organization does well, on top of addressing areas of improvement. Lastly, you want to share any actions you've already taken as a result of the survey, as well as a detailed action plan that addresses what the company plans to put in place to resolve or alleviate any issues raised by employee feedback. This will hold you and your team accountable and communicate how your business works to improve known issues.
3. Share high-level findings with your executive team
Your senior leadership team should be some of the first people you discuss engagement survey results. Share key metrics and company-wide takeaways – both positive and negative – and compare them to past survey results or benchmark data so they have context and can get a quick, high-level pulse on organizational health. 
Next, highlight your key takeaways and recommended action items. For example, a key finding might be, "Based on free-response comments, our employees are unclear about how and when they can work from home," while your proposed response might be, "To give employees clarity, we need to create a detailed telecommuting policy in Q1." Aim to share 2-4 suggestions on how your company should react to issues brought up by the survey and open them up for discussion with your executive team. This is when you want to hear their concerns, feedback, and, most importantly, earn their buy-in.
4. Review results with department heads
The next step in your employee engagement survey communication plan should be giving your department heads a more detailed breakdown of the overall health of their department and specific teams. Start by sharing context into how their department's performance has changed over time and where they stand compared to the rest of the org. Have an open dialogue around any strengths and weaknesses revealed by the survey – especially around manager satisfaction scores.
Similar to your conversation with your executive leadership team, have an open dialogue with your department leaders and come up with a few suggestions on improving the employee experience on their teams. For example, if employees feel unmotivated and unclear on goals, you can suggest that the department head improves their goal-setting process. Another suggestion could be to speak more regularly about departmental and company goals and progress during team meetings. As always, leave with a detailed action plan on what your company or department head can do to improve on the issues raised by the survey.
5. Review team-specific feedback with people leaders
Once you've reviewed findings at the executive- and department-head levels, it's time to talk to your managers. This review level is arguably the most important, as your managers have the most influence over day-to-day employee experiences at your company. Follow the same strategy as before: review key findings and employee engagement scores and share your suggestions for improvement. You might also want to take this time to coach managers on how to present the survey results to their teams and facilitate open, productive conversations. 
Depending on your company's size, some teams will be too small to anonymously conduct this level of analysis. If that's the case, share high-level findings but don't drill down to that level of detail for these more intimate teams.
6. Have people leaders review results with teams
Encourage your managers to review team-specific data with their employees. You want to ensure every team has an opportunity for an open, productive discussion around the results and leaves with a better understanding of what positive changes will be implemented. To have effective conversations, managers must create a safe space that encourages employees to share their opinions and experiences.
Getting the conversation started around any positive survey results is a great way to warm up the crowd before moving into more constructive feedback. Remind managers to be objective, future-focused, and results-oriented so they can leave with a better understanding of employee pain points. That can help involve managers in taking action on survey results.
7. Follow up on progress and action plans
It can be easy to forget about surveys after completing them, but you can't just report on your employee engagement scores once and then abandon your action plan. To prove to employees their feedback and experience are top priorities for the company, you need to update your team on ongoing initiatives and progress continuously. This helps build credibility and trust with your employees. And, when your company knows you take engagement surveys seriously, they'll be more willing to participate and share feedback on future surveys. 
Looking to the future
Engagement surveys can be a lot of work, but they are influential in strengthening your culture and building a better workplace experience. That's why getting your employees on board is essential as communicating why and when an employee engagement survey will be held. If there's one thing 2023 has taught us, businesses need to find and invest in new ways to stay connected to their employees, and engagement surveys can help you do just that.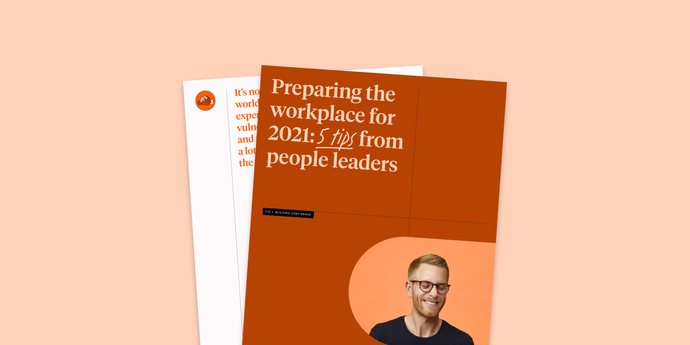 Prioritizing employee experience this year and beyond
Learn what engagement trends are shaping 2021
Download the ebook
Build a world-class employee experience today