Insights from Culture Amp's 2018 employee benchmarks
When it comes to getting the most out of your employee feedback data, benchmarks for comparison are an important tool. External industry benchmarks provide valuable, relevant, and timely context that empowers People and HR teams to make more informed decisions.
We're delighted to share that Culture Amp's 2018 Employee Engagement benchmarks are now available. These datasets are powered by our entire community's collective intelligence, allowing you to tap into the experience of employees working at 1200+ companies across more than 120 industries.
What's new for our 2018 employee engagement benchmarks
With a significant increase in the number of customers using our platform to measure employee engagement, we've doubled the number of benchmarks available to our customers this year.
Benchmarks range from our traditional specialty benchmarks like New Tech through to Retail, Healthcare, Finance, and geographic locations around the world. If you're interested in seeing a full list of 2018 benchmarks available within our platform, you can see them on our Customer Academy.
A few insights for People Geeks
It's our goal to share the collective workplace experience of Culture Amp customers with our broader people geek community.
What follows are initial insights from this year's benchmark data – covering what's impacting engagement, where employees are most engaged, what employees are talking about, and how to choose the right benchmark for you.
What's impacting employee engagement across all companies?
When we look across all companies, learning and development, leadership, and service quality are the most common factors impacting employee engagement. Perceptions of learning and development opportunities and leadership have been top drivers of employee engagement since we started creating these benchmarks for our customers in 2011.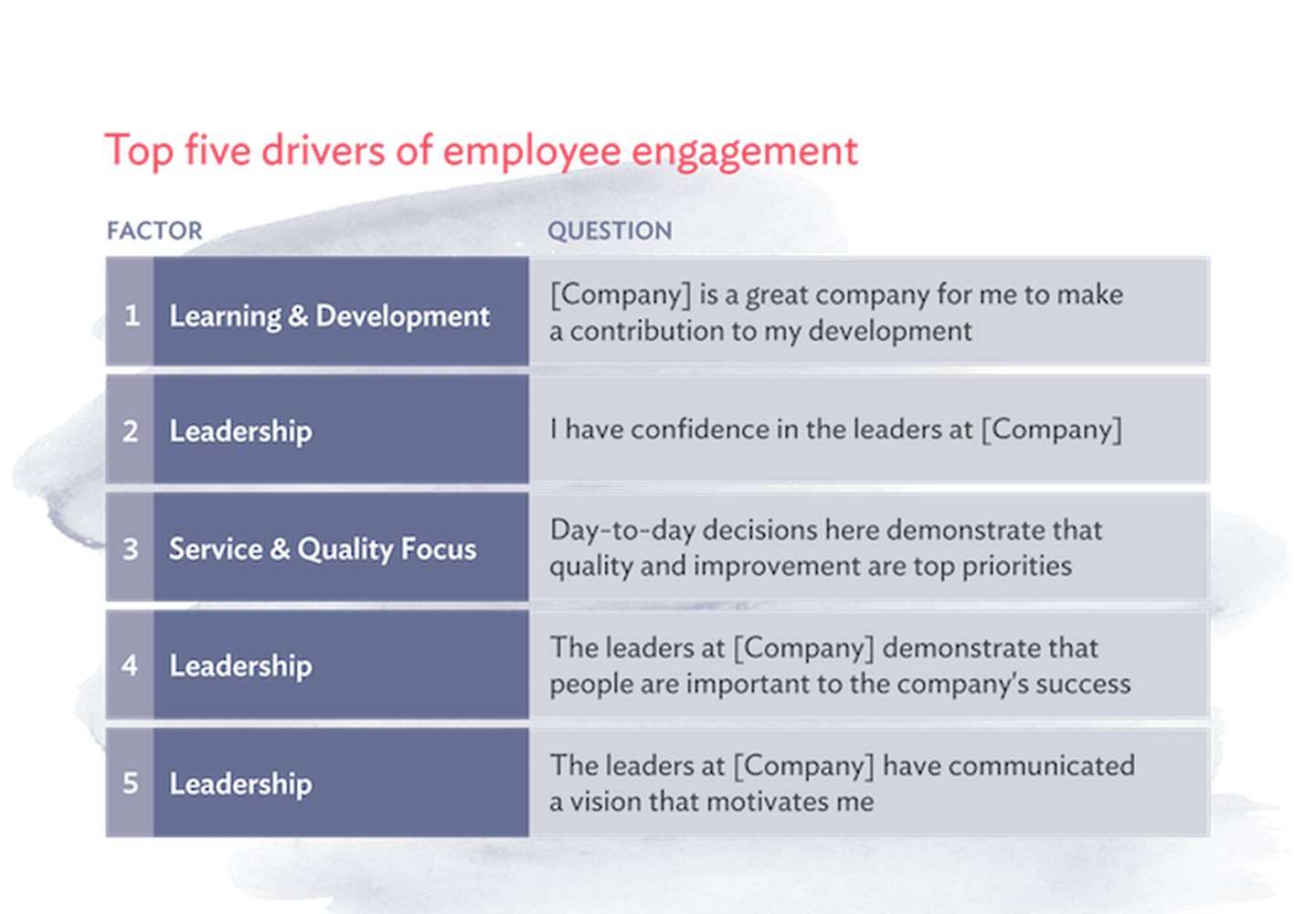 Where are employees most engaged?
Regional insight
Employees in Asia are notably more engaged than employees in other regions. This is mostly driven by their intention to stay with their company for the longer term.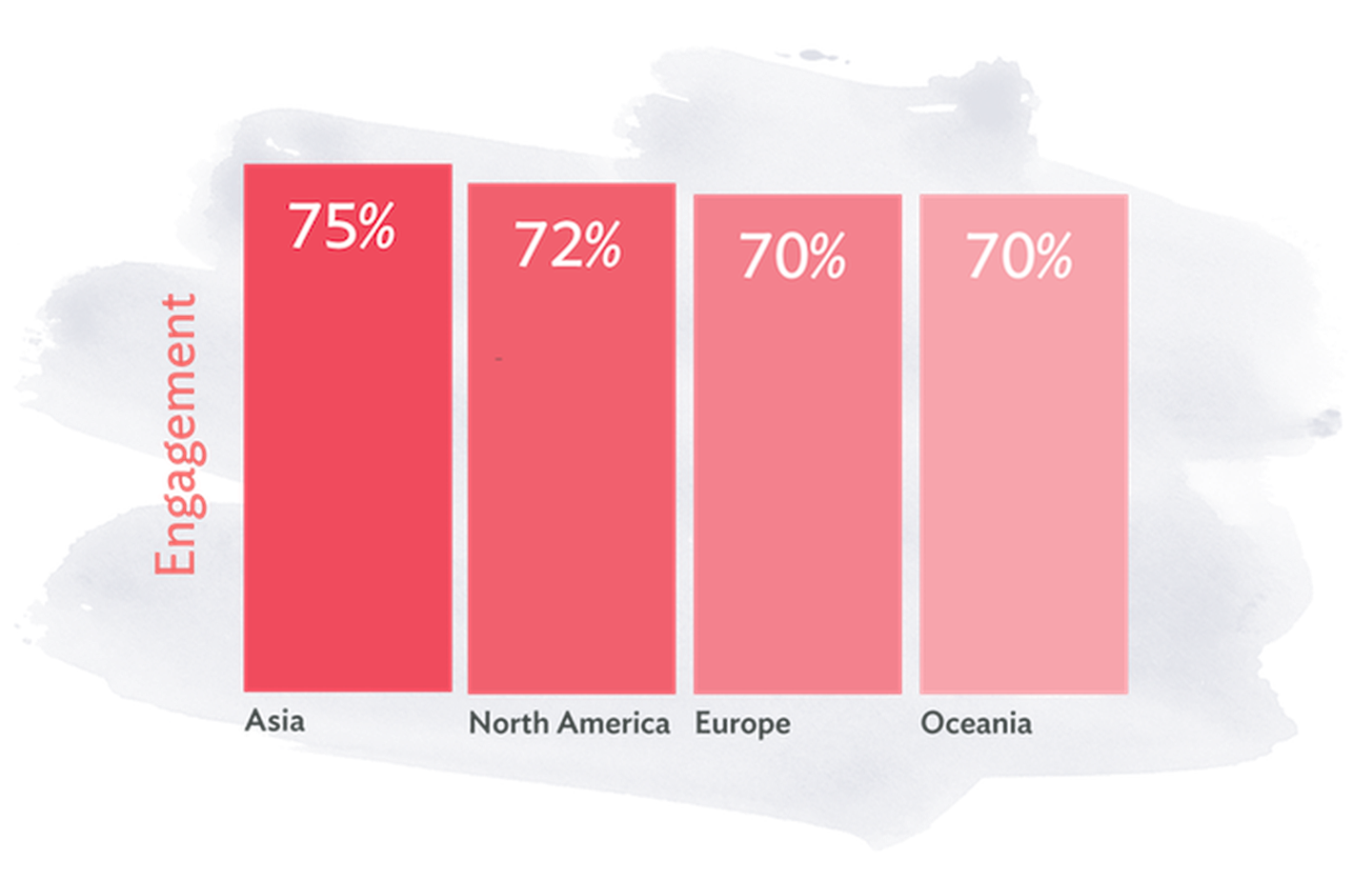 Industry insight
There is a relatively low variation in employee engagement scores across industries. While the gap in employee engagement between the lowest-scoring industries and those with the highest levels of engagement is less than 10% points it is still valuable to understand the workplace norms in your industry.
Finance, New Tech, and Professional Services industries are among those industries with slightly higher engagement scores. Take a look at engagement levels within your industry here.
What are employees talking about?
Using Culture Amp's advanced text analytics features available to customers, we're able to look across all employee comments over the past year. We organized the comments into themes/topics and differentiated them by sentiment (see below).
Just as we see in most individual company datasets, there are slightly more negative comments on the whole. People tend to use comments more for talking about things they are unhappy with. The most-commented topics overall were collaboration, work-life balance/imbalance, and recognition.
Comments around systems and resources and compensation tend to be most negative, and leadership and learning and development most favorable. The small green bubble over to the right is the small percentage of people who just report feeling good about things.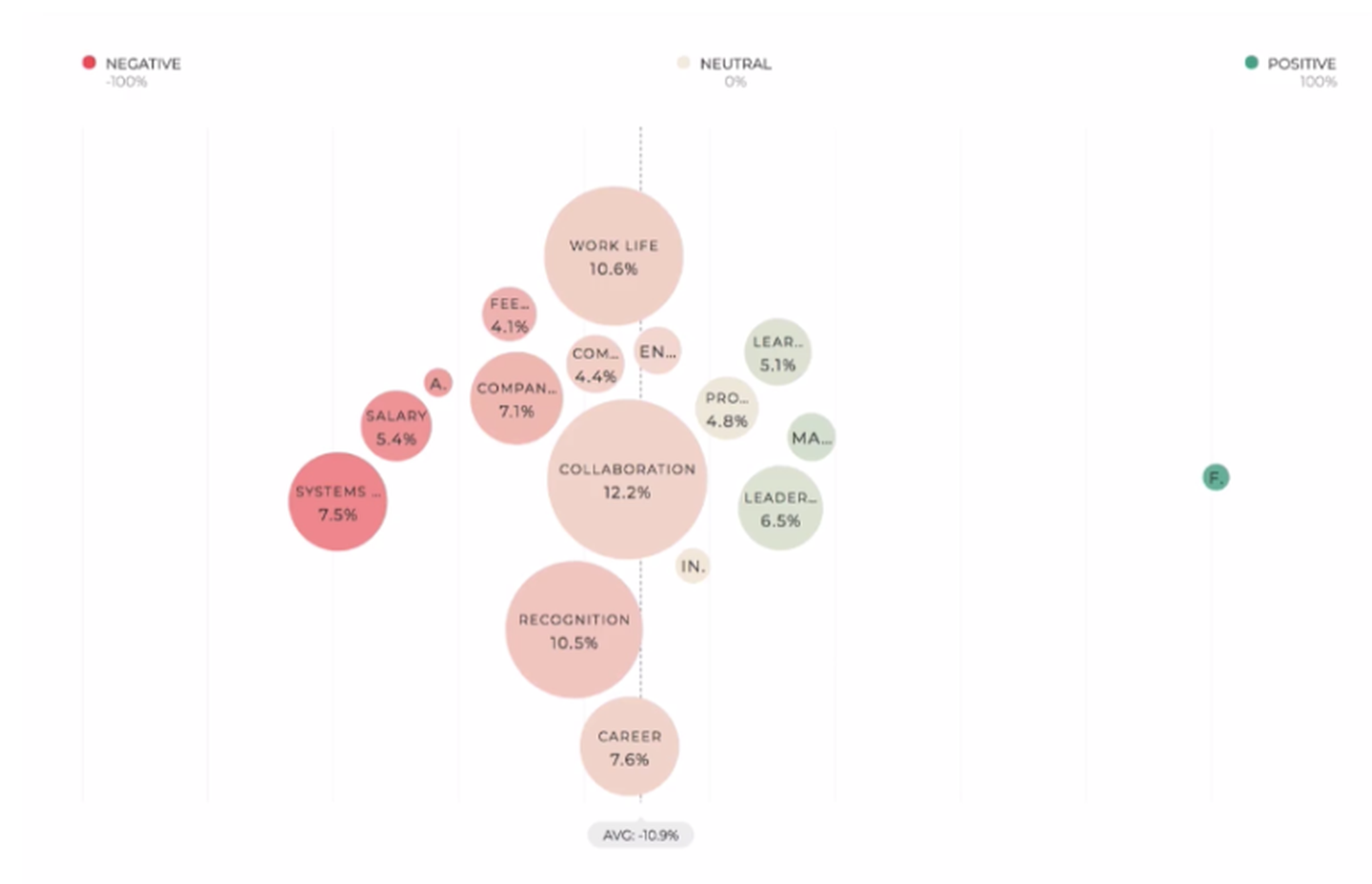 How to choose the right benchmark
When choosing a benchmark for comparison, look for one with references to your talent pool (where your people are coming from and going to). For organizations looking to compete against the companies that attract the best talent and create the most successful work environments, our Engaging Growth benchmark is a great fit.
The Engaging Growth benchmark consists of companies from a range of industries that are growing quickly but are also maintaining high levels of engagement and retention. They're showing they can attract and retain talent and they are often the main competition for your best people.
Not surprisingly, these companies enjoy more positive employee feedback across most workplace factors. They get most of the basics right and differentiate within factors such as leadership, teamwork, and learning and development.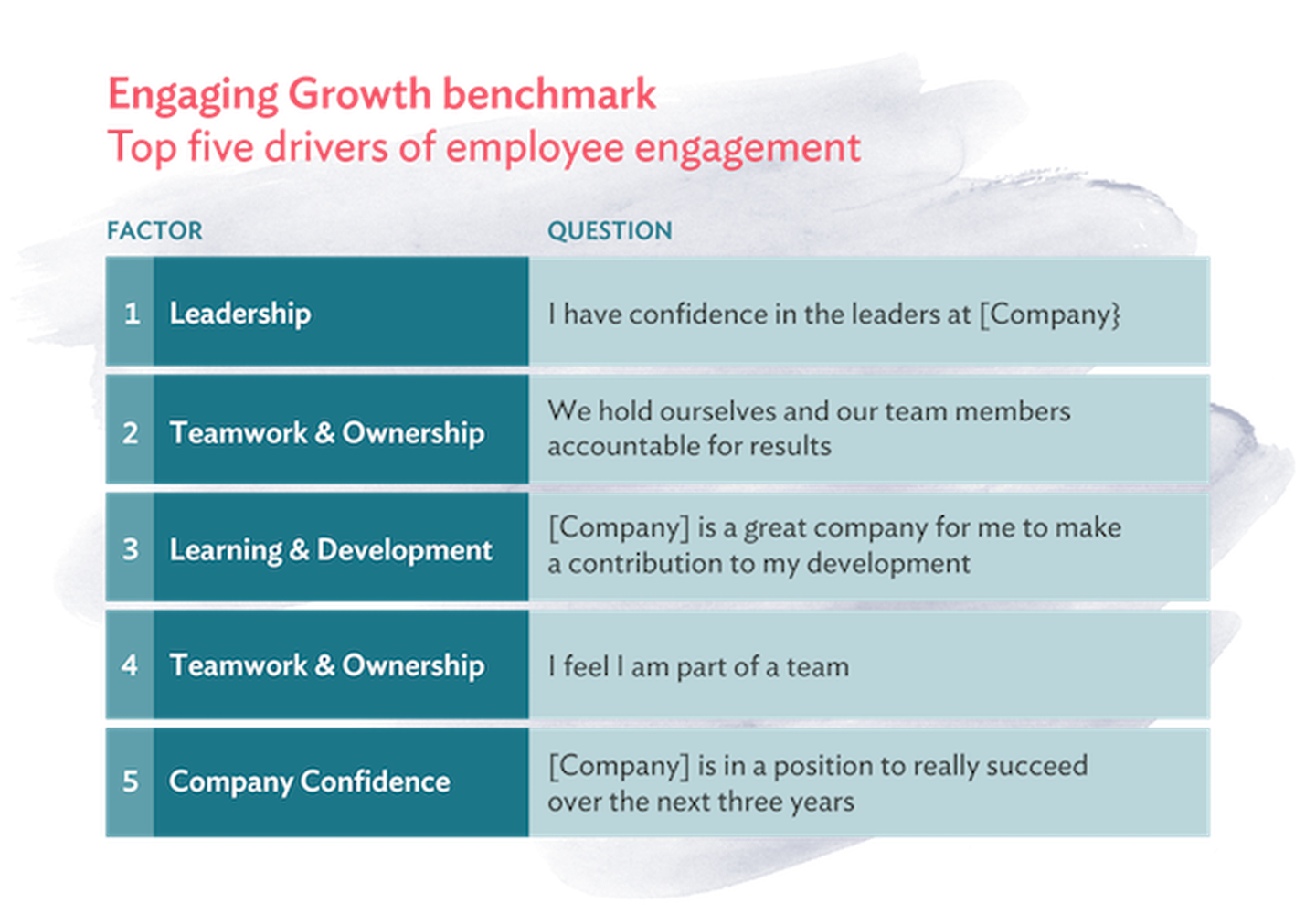 So, if you want to step up to compete against these companies, teamwork, leadership capabilities, and contributing to employee learning and development are great places to start.
Where to go to learn more
If you're a Culture Amp customer who'd like to get access to the latest Culture Amp benchmarks for your employee surveys, reach out to support@cultureamp.com. You can also connect with us to learn how we make it easy for culture-focused companies to collect, understand and act on employee feedback.
Build a world-class employee experience today