Four HR trends that are gaining momentum in 2018
In 2017 we predicted HR trends like implementing learning and development programs, measuring diversity and inclusion, employer brand strategy, and more. Every year brings new and exciting challenges to HR teams, and we're here to support you through each one. 
At our last Geekup of 2017 in Sydney, Australia, Kelly Kirby of Atlassian, Megan Bromley of HotelsCombined, Jennifer Mumford of SafetyCulture and Jason McPherson of Culture Amp, shared their views on HR trends for 2018.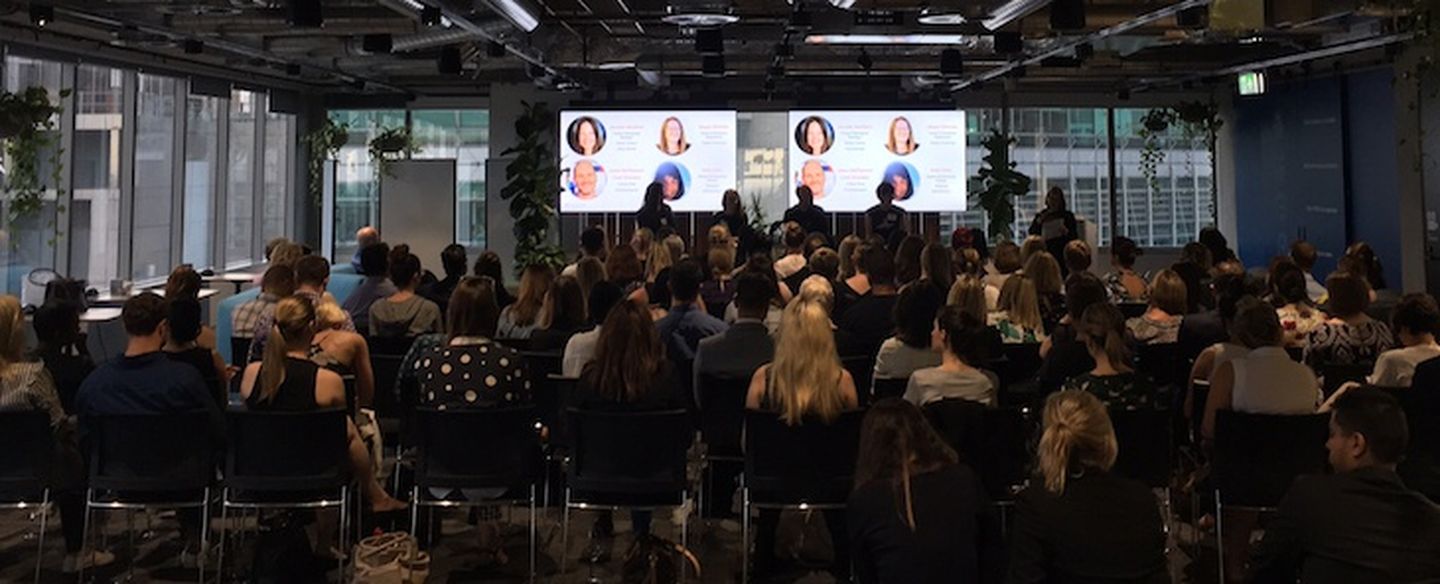 What HR trends are top of mind for these people geeks?
---
As Kelly Kirby, Global HR Business Partner at Atlassian points out, diversity and inclusion is not just a tech industry issue, and it goes deeper than visible demographics.
So how does the global tech giant approach diversity?
"We don't think it's just about the diversity numbers or one certain representation. It's about what the makeup of a team looks like that will lead to high-performing teams," says Kelly. "Research shows that cognitive diversity – diversity of thought – within teams leads to high performance. One of the things that we do is track diversity in teams, and we are also focusing on fostering a sense of belonging on teams, as it is a strong indicator of the quality of an Atlassian's experience at work."
Atlassian has had amazing success in increasing the rate of gender diversity for interns and graduates, and is also making strong progress with female technical hires. Atlassian's approach is evolving to a scalable consulting model, where the Atlassian D&I principles are being woven through all of the HR programs that are being built and delivered, instead of only focusing on building specific D&I programs.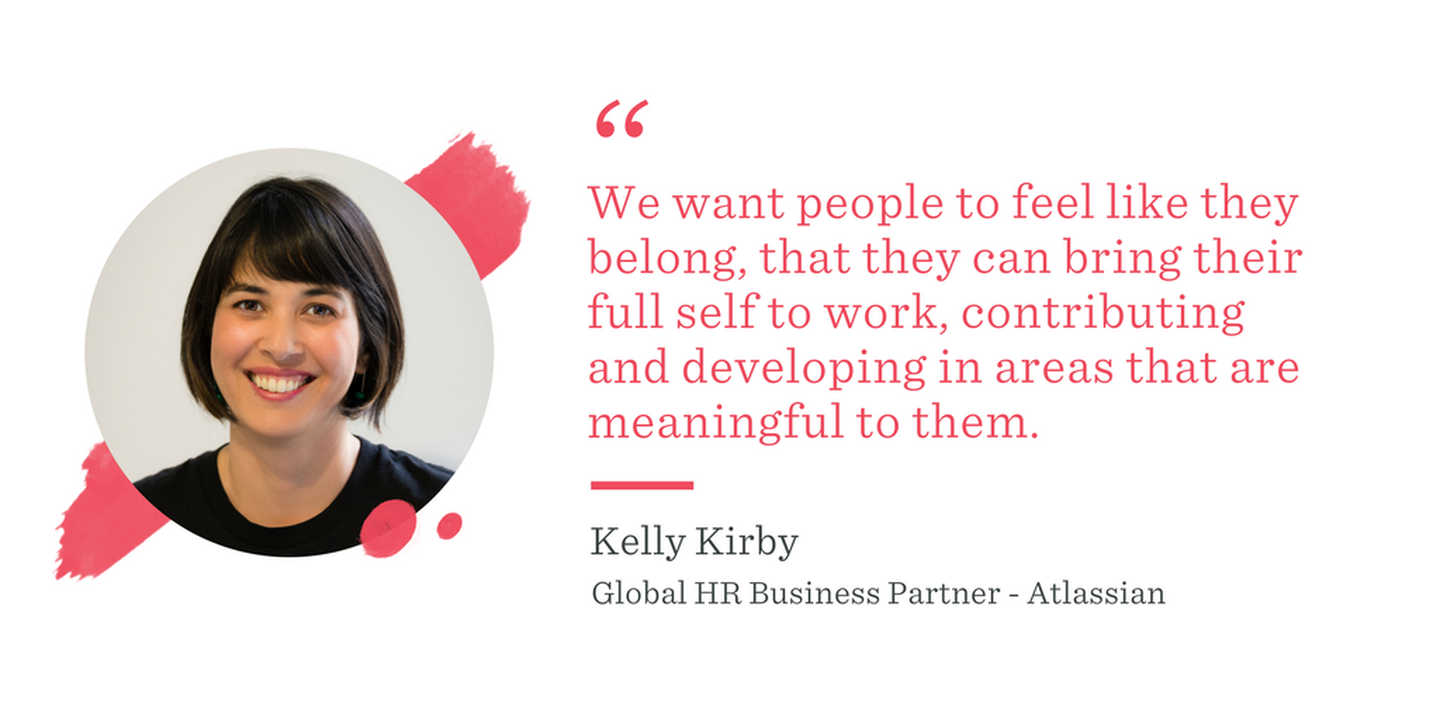 "We want people to feel like they belong, that they can bring their full self to work, contributing and developing in areas that are meaningful to them. So alongside the focus on diversity, we are looking at it from an angle of 'growth'. We will be looking at what motivates and fulfills individuals and how they can bring that into play in the organisation," says Kelly. 
Another example of the scale of change occurring in this space is SafetyCulture's persona for their 2020 product vision, 'Sophisticated Sophie.' Sophisticated Sophie is who the company predicts will be the key decision-maker in 2020, insight-driven, tech-savvy, performance-focused and female.
In 2017, we saw several organizations go completely remote. Some excel at it. Some try it only to bring everyone back to their desks. Megan Bromley, Head of Employee Experience at HotelsCombined, outlines the potential problems of remote work and how they can be overcome:
"It can be really challenging, however it's also about looking for the opportunity - finding the right balance, acknowledging that it's different, and not looking for a one-size-fits-all approach. I've been a remote employee and I've been a remote manager, and they're both challenging – but I believe the glue that sticks it all together is ongoing, real-time communication. We have a number of success stories of people working remotely in Australia and across the world and ultimately we have the philosophy that we're all remote."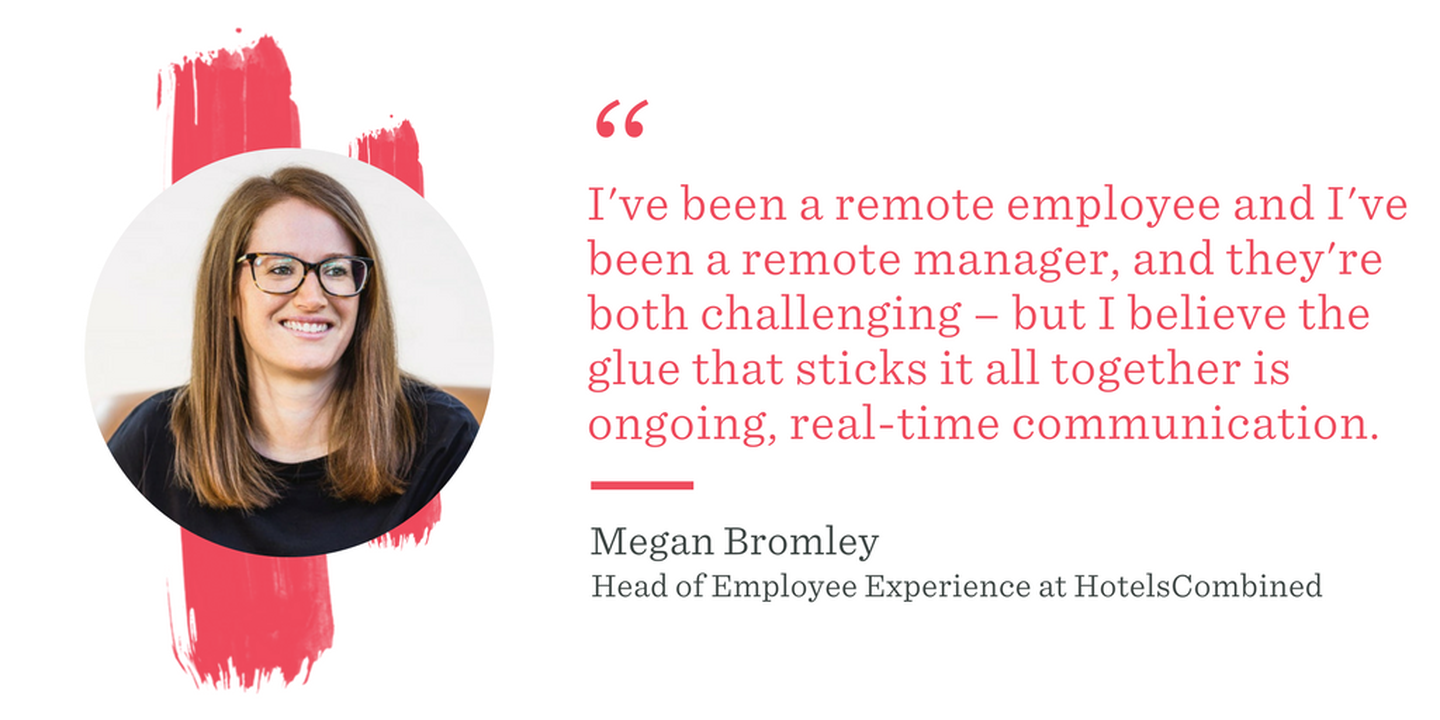 So how you treat your remote workers is part of the diversity and inclusiveness of your organization, where balancing the feelings and needs of all employee types, through effective communication is the secret sauce.
HotelsCombined has offices in Bangkok, Barcelona, Dubai, London, Seoul, Sydney, Taiwan, Tokyo and remote teams working in the US and across Europe. When trying to coordinate deep dive sessions, sprint planning / reviews, team meetings and more across multiple time zones, employees use various communication channels, such as Slack, Skype, GoToMeeting or Wiki and they create moments of one-on-one connection for teams at MeetUps whenever they can. 
Referencing Culture Amp's own experience with remote workers, Chief Scientist Jason McPherson was keen to point to the difference in suitability of remote workers, for example, between an engineering or product team and marketing or sales talent: 
"As a team, are you ready for remote workers? And are you going to make a commitment to making that work? One of the interesting things from the data is that you see when you let a group go remote, they're super happy. Then all the other teams around them ask why they can't work from home. Giving everyone similar experiences, like saying 'Everyone works remote, even if they're sitting a few feet from each other,' makes a huge difference and you can see that in the data." 
Jennifer Mumford, People Operations Manager at SafetyCulture, points out that for growing companies, it's about achieving the balance between allowing employees such independence and building a desirable in-office culture:
"In the last nine months we've doubled in size to an 150 person mission-obsessed team. We were so small and naturally had people working remotely. Now we have a number of offices around the world, in Australia, UK, US and Manila, so in a way we all have to work remotely and learn how best to leverage collaboration technology (Slack, Google product suite, VC and WhatsApp etc.) to stay connected. At this stage we're empowering our people managers and teams by leaving it to their discretion, however we're trying to make our workplace and space one that people actually want to come to work in."
Knowing your people has always been important in the corporate world, but too often it's limited to the snapshot of an employee's an annual review. In 2017, performance reviews saw a bit of a shake up, with more companies moving towards a culture of ongoing feedback. 
As SafetyCulture grew to 150 people (and with a headcount of 250 SafetyGeeks forecast for June 2018) the company was ready to introduce approaches to performance, but in a new way. Jennifer explains where they drew inspiration from, 
"We didn't just look at what large tech companies are doing. We learned from start-ups, as well as the big end of town, different industries and companies who are mission-driven like Patagonia and the United Nations. We looked at athletes like Roger Federer and his continuous improvement mindset, and the All Blacks, who are so much more than just a team. How can we build that into what we're doing for our approach to high performance?"
SafetyCulture is also introducing OKRs (Objectives and Key Results) to drive focus throughout the business as they rapidly scale. This will be coupled with performance snapshots and effective 1:1s to build a culture of Radical Candor, encouraging in the moment feedback, as well as providing visibility of performance and areas for development.
At HotelsCombined, where OKRs and similar corporate acronyms are not the norm, Megan sees a big opportunity in the concept of ongoing real-time feedback. "Each team will have their own approach to find the rhythm of the conversations that they want to have. Across the whole company, we really just want to make sure that people feel aligned to our strategic focuses," she says. 
Megan argues that annual reviews are often what you make of them, and that for fast-moving companies, they offer a much needed opportunity to breathe and reflect. Groundwork laid during the year through regular ongoing conversations and feedback is vital to making any review (annual or otherwise) effective. 
"If you can enable a strengths-based learning culture where you help people to be the best versions of themselves, I think that's where annual reviews have more power and people actually want to turn up for those conversations. And if we can stop focusing on people's weaknesses and trying to fix them… just imagine the possibility of what the world of work could become," says Megan. 
And if you're worried that the salary side of annual performance reviews may be holding your team back, Jason McPherson confirms your suspicions.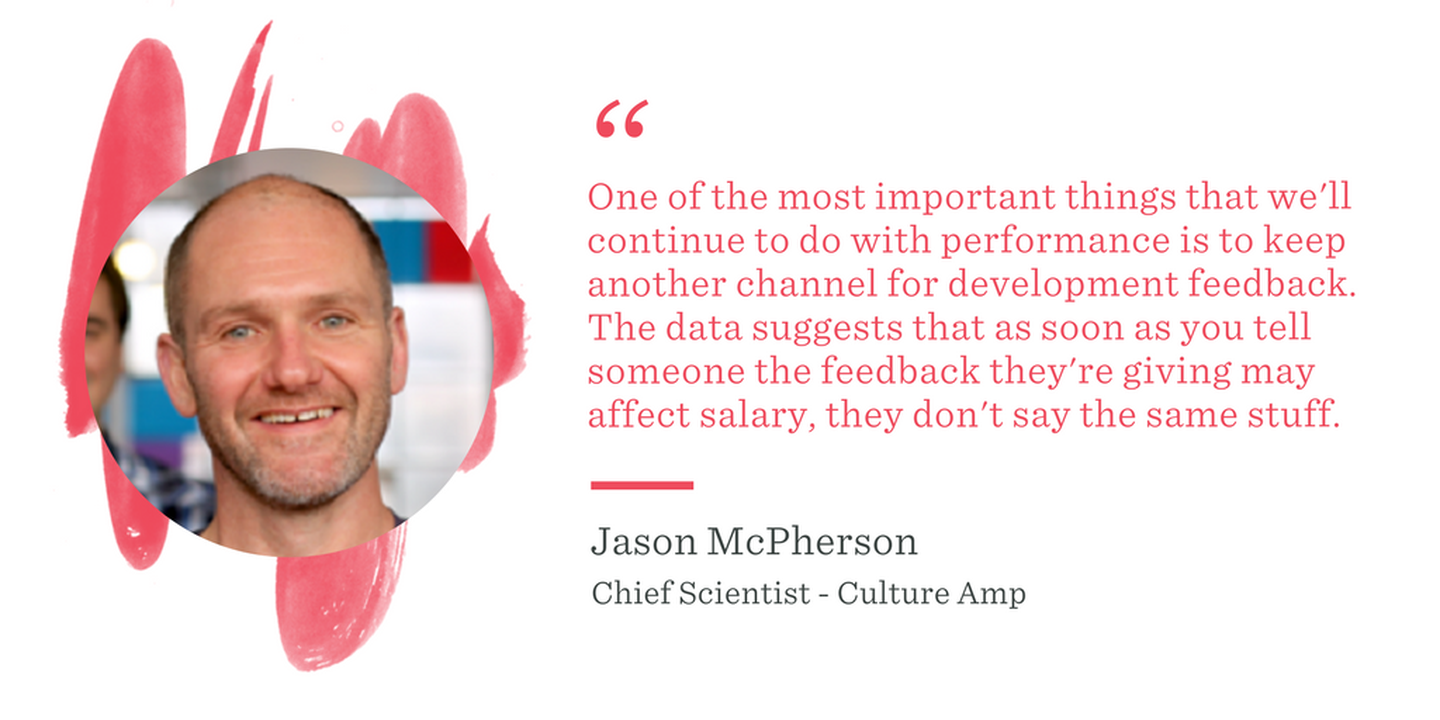 "One of the most important things that we'll continue to do with performance is to keep another channel for development feedback. The data suggests that as soon as you tell someone the feedback they're giving may affect salary, they don't say the same stuff – you instantly close down a channel for feedback. So we keep those separate and have both channels open." 
HR leaders are relying more than ever on technology to assist in the everyday aspects of the job (think payroll, benefits, and hiring - the HR stack). But with diversity and inclusion, remote workers, and a culture of feedback to foster, there's a lot still to juggle.
A big trend that we're seeing in the US is more investment into in-house people analytics functions and other ways of getting deeper insights into people data. For some, like Jennifer and SafetyCulture, combining disparate people analytics efforts into a more formal function with the right technology is on their 2018 wish-list: 
"I would love an internal people analytics function. We currently have an Internal Analytics team that operates as a centre of excellence, training people across the business, including our People & Culture team. We now just need to start leveraging the right tools in a focused manner to collect the right data, which we can start building into our decision-making." 
Atlassian created its in-house people analytics team back in 2016 to collect data and validate assumptions about culture, inclusion and engagement. And according to Kelly, it's working:
"One of the things we were weak at was understanding the problem that we were trying to solve for our customers, Atlassians. Whenever we start a new program or project, we work to really identify the problem we are trying to solve. We then we go back to the analytics team and understand the data and insights related to the problem - which data points validate or contradict the problem we're trying to solve? It's really powerful."
This year, Atlassian's HR team plans to bring together the data of various sources, from engagement, people leader feedback, surveys, new hire, 90-day and hiring manager surveys to attrition and exit feedback, and working to create a system that allows for a better insight into the holistic organisational health of Atlassian.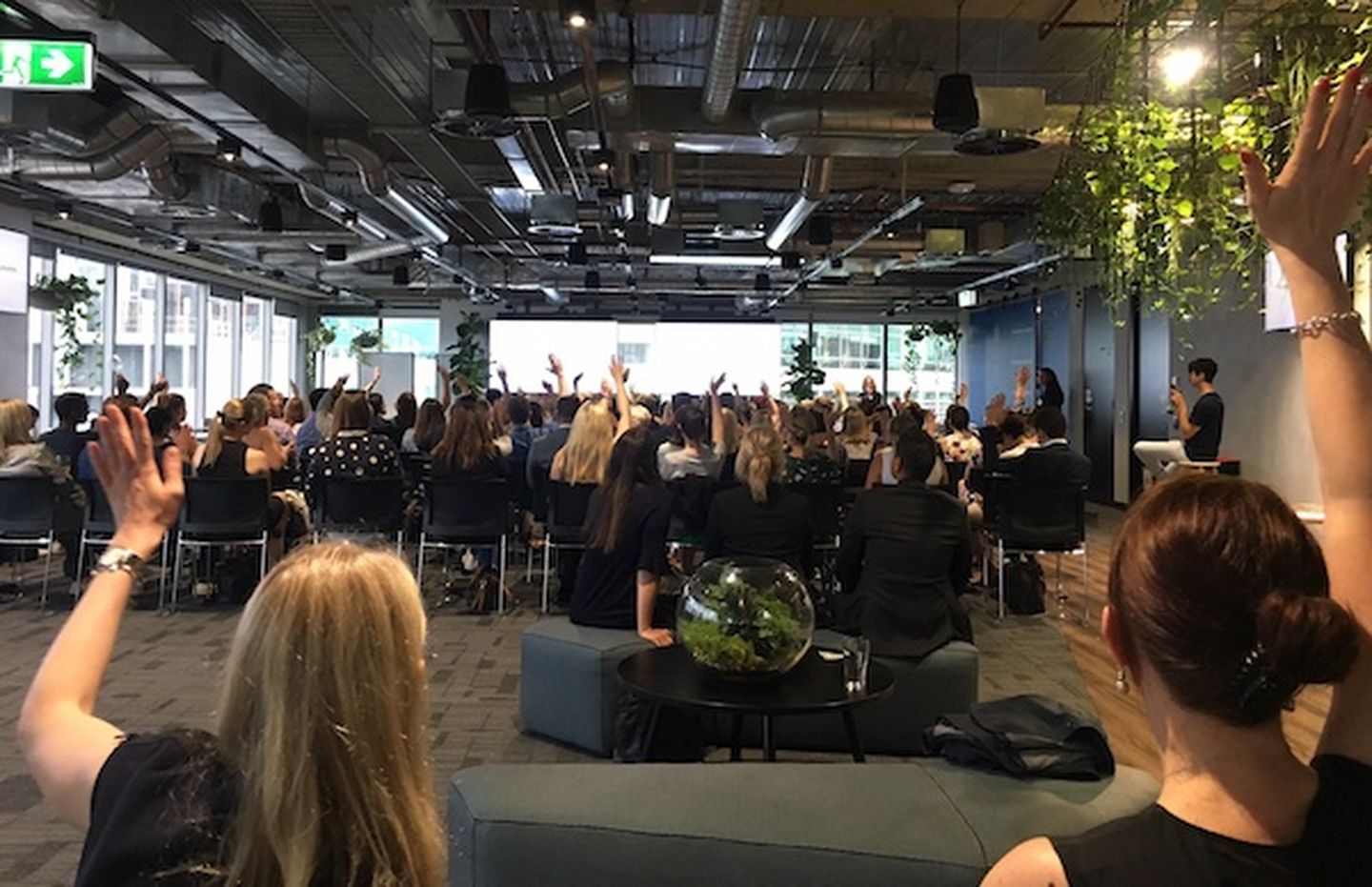 When Jason McPherson asked the People Geek crowd, by a show of hands, who felt pressure from leadership to manage data and gain insights from that data, the Sydney audience confirmed what we have seen in the U.S. (and no doubt you have, too). 
"There's a lot of pressure on people to not just use data – data doesn't change anything itself – but to apply insights you gain from it. Sometimes people find things that don't match what they're expecting and that can create a lot of friction. There's always a conversation starter within your data," he shares. 
If you're looking for a platform that allows you to collect, understand and act on employee feedback, Culture Amp is the tool for you. Schedule a demo with one of our People Geeks to kick off 2018.