Cultivating meaningful change for Black people in the workplace
Over the past 18 months, we've heard stories about Black employees and how their lives have been impacted by corporate policies, statements, and the lack thereof. Ongoing racial injustice and resulting protests in 2020 brought attention to the insufficient support and opportunities for Black employees around the globe – both outside of and within the workplace.
According to a survey conducted by Slack earlier this year, only 3% of Black employees want to return to an in-person work environment compared to 21% of White employees. So what, if anything, has truly changed beyond an influx of broad and ambiguous company statements? Some organizations have delivered on their promises through donation efforts and implemented real changes within their company. Many others still can't show evidence they've acted on their company statements.
Currently, organizations are pushing the importance of mental health and wellbeing, even though the needs of the Black community have still yet to be addressed. During the 2020 COVID-19 crisis, Black workers experienced the highest unemployment rate and slowest recovery out of all ethnic groups. So while it's refreshing to see a renewed commitment to diversity, equity, and inclusion (DEI), delivering on those promises through meaningful action is something many organizations are struggling to make progress on. For example, many workplaces say they want to cultivate inclusive and equitable environments but still haven't acted to address the unconscious biases and microaggressions affecting Black employees.
In this article, we will explore the experience of Black employees in corporate environments, and what organizations can and should be doing to support them.
Why you should listen to your Black employees
Keeping the lines of communications open with your Black employees is essential to not only ensuring that they're engaged but also to building a stronger relationship between the individual and the organization. If your leaders and senior managers are only reaching out during catastrophic events, that is not genuine support. In fact, for many Black employees, it can be seen as a bandage to a wound that is already cut too deep. Companies and people leaders have no excuse for not keeping a constant pulse on the challenges experienced by marginalized groups and providing a safe space for these conversations to occur in the workplace.
"Checking in" should be more than a one-time survey looking at the Black experience in the workplace. Both equality and equity must be present to build a truly inclusive work environment, but many leaders don't understand the difference. Equity recognizes that different employees have different needs, while equality is typically defined as treating everyone the same and giving everyone access to the same opportunities.
This is hugely important because Black employees continuously face a different experience at work than White employees, regardless of industry. This matter only gets more complex when considering intersectionality, and how the experiences of a Black man, for example, differ from that of a Black woman. During the height of the pandemic, studies have shown that Black women have seen a 26% increase in housework, making it increasingly difficult for Black women to maintain career goals while keeping their home life afloat. DEI initiatives focused on helping Black employees must recognize and account for the differences that emerge from intersecting identities.
Accomplishing this requires the effort of every employee. Minda Harts – bestselling author and CEO of The Memo LLC – spoke about how organizations should be building inclusive, diverse, and equitable cultures during our Culture First Global conference. "It's not just the role of the CEO, it's not just the role of Chief Diversity Officer or the People Officer to make the workplace more equitable. That should be in all of our job descriptions – it's up to all of us to activate that."
It's not just the role of the CEO, it's not just the role of Chief Diversity Officer or the People Officer to make the workplace more equitable. That should be in all of our job descriptions – it's up to all of us to activate that.
— Minda Harts
CEO of The Memo LLC
Promoting equity at your organization thus requires recognizing the gaps and making space to recognize the uniqueness of the Black employee experience. Let's face it, at nearly every organization, White employees outnumber other ethnic groups. It's about time we start paying attention to those experiences and taking meaningful action.
Not sure where to start? Consider the following tips to kickstart your DEI strategy:
Take a deep dive into your employee data to understand the current state of DEI in your organization
Conduct routine surveys to understand sentiment among underrepresented groups
Hold DEI training for employees at all levels of the organization
Review your organization's workplace policies to ensure that diversity, equity, and inclusion are integrated.
Introduce employee resource groups to foster a sense of community.
Performative behavior is not genuine allyship
When we think back to last summer, there were a number of news headlines, social media posts, and petitions floating around expressing the need for change and sharing ways to help uplift the Black community. A year later, it is evident that some of this was simply reactive, and an attempt to join a "trend."
Performative behavior is defined as an action taken specifically with an audience in mind to elicit a response or reaction. Performative behavior often looks like:
Blanket statements and social posts during Black holidays
#BlackoutTuesday posts on Instagram
Vague company promises to support the Black community
Highlighting superficial DEI efforts by White employees rather than amplifying Black voices within the company
Performative actions are not genuine allyship. Progress is hard-won, and simply sharing something on Twitter or an Instagram story is hardly helpful. In order to create meaningful change that can be sustained, every individual at an organization must do their part.
During the height of the Black Lives Matter movement in 2020, Culture Amp hosted a webinar that explored how companies should show support for Black employees beyond a simple statement broadcasted to the masses. Dr. Zoya McCants, a Counselor at McCants Training & Consultation, explains:
"We need companies that are screaming from the rooftops and sending out statements and posting on their windows or wherever that you know, Black Lives Matter, we value black employees in tandem with changes in policy, changes in their practices, and working harder than ever before to ensure equity and inclusion in their specific workplace."
Genuine allyship is active instead of reactive. It requires non-Black employees to hold space for their Black coworkers even when trending hashtags aren't visible. When allies make a point to educate themselves on issues that aren't making headlines, that's allyship. For example, if organizations released statements about ongoing eco-friendly efforts, yet never had results or programs to show for it, where would this leave them? It simply speaks to how much importance and value the issue actually holds for them. All in all, allies need to make sure they're not just talking about the issue but are exemplifying genuine allyship through their everyday actions, words, and decisions.
Finally, it's important for allies to be vulnerable about what one does or doesn't know. Learning is imperative, but keep in mind that underrepresented individuals aren't responsible for educating you.
The importance of advocacy and diversity in leadership
When leaders openly understand, address, and advocate for the importance of BLM and other social justice movements, underrepresented employees can start believing that there really is a light at the end of the tunnel.
This is especially true if leadership includes people from diverse backgrounds. When senior leadership is not just a group of White men, Black and other underrepresented employees are able to feel a glimmer of hope that their opinions and voices are not just heard, but understood. To see people that look like themselves or come from a similar background helps individuals to reflect on the possibilities and build trust in their organization.
Pivoting from words to action
Company statements may be appreciated in the moment, but the work that happens after is of the essence. Taking initiative looks different at every organization, but taking intentionally and genuinely, even small steps can demonstrate a sincere commitment to DEI. Every organization looks forward to making progress on DEI, but it's impossible to do so without supporting Black employees.
What does this look like? Well, non-Black colleagues should continue to educate themselves and lean on available resources if they are struggling to discern the appropriate ways to support their Black coworkers. It may be uncomfortable, but every person needs to reflect on and understand how they positively or negatively impact the experience of Black employees at work. On the company side, organizations must understand that when they release company statements, they're committing themselves to support their Black employees. They are responsible for inspiring more than just awareness but driving pivotal actions. Supporting Black employees will not only drive progress in the workplace, but also unlock a better world of work for every employee.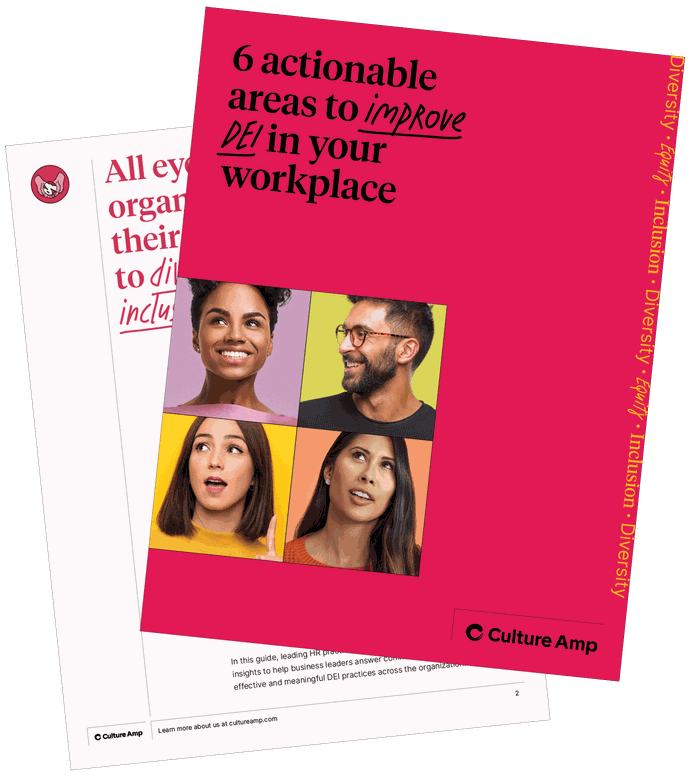 Create a workplace where everyone can thrive
Get 6 actionable areas for improving DEi at your workplace
Download the ebook
Build a world-class employee experience today