The Great Resignation: 4 ways to prepare & reduce turnover
The pandemic has redefined - or revealed - what really matters to many people. And for a good number of Americans, the uncertainty binding them to unfulfilling work or toxic corporate culture has receded alongside (hopefully) the worst of the pandemic. People have had months to rethink what work means to them, what it means to be valued, and how they want to create value in the world. As the country and companies push ahead with their reopenings, millions of workers are taking the leap and leaving their jobs.
Below, we'll take a look at the phenomenon now known as the "The Great Resignation" and offer explanations for why it's happening and what companies can do to retain remaining talent and reduce the impact of potential turnover.
What is the "Great Resignation?"
Anthony Klotz coined the term "The Great Resignation" to refer to the idea that a significant number of people will leave their jobs post-pandemic.
In an article, Anthony explains:
"Due to the uncertainty caused by the pandemic, many employees who would have otherwise quit their jobs stayed put … As the pandemic subsides, these would-be quitters who 'sheltered in place' last year will likely enact their plans to leave."
Put another way - there was (and still is) a backlog of employees who are ready and raring to quit their job for a new opportunity. His prediction appears to ring true - the U.S. Department of Labor reported that a record 4 million people left their jobs in April 2021 alone - the highest number since they started collecting the data.
Likewise, a Microsoft report found that 41% of employees were likely to consider leaving their current employer within the next year, with 46% planning to make a significant pivot or career transition. In consideration of this, employers shouldn't expect the wave of resignations to end anytime soon. According to the latest data, 3.6 million people quit their jobs in May 2021, a level of churn that is lower than was experienced in April 2021, but a high number nonetheless.
Turnover brings with it emotional stress for current employees and high operational costs for companies. Given that the "Great Resignation" is already sweeping the world of work, how badly should you expect turnover to impact your workforce? Well, the answer depends on both your past and future actions and decisions.
What factors are fueling the "Great Resignation?"
There are several reasons why people have been leaving their jobs. Some of these factors have been recontextualized during the pandemic, while others have emerged due to the pandemic. Here are just some of the factors fueling this period of extreme turnover:
Looking forward: What organizations can do to retain talent and reduce turnover
Chances are your organization has already experienced or is currently experiencing higher-than-usual levels of turnover. And although it's too late to change the minds of employees who've already left, you can still improve the experiences of employees who've chosen to stick around.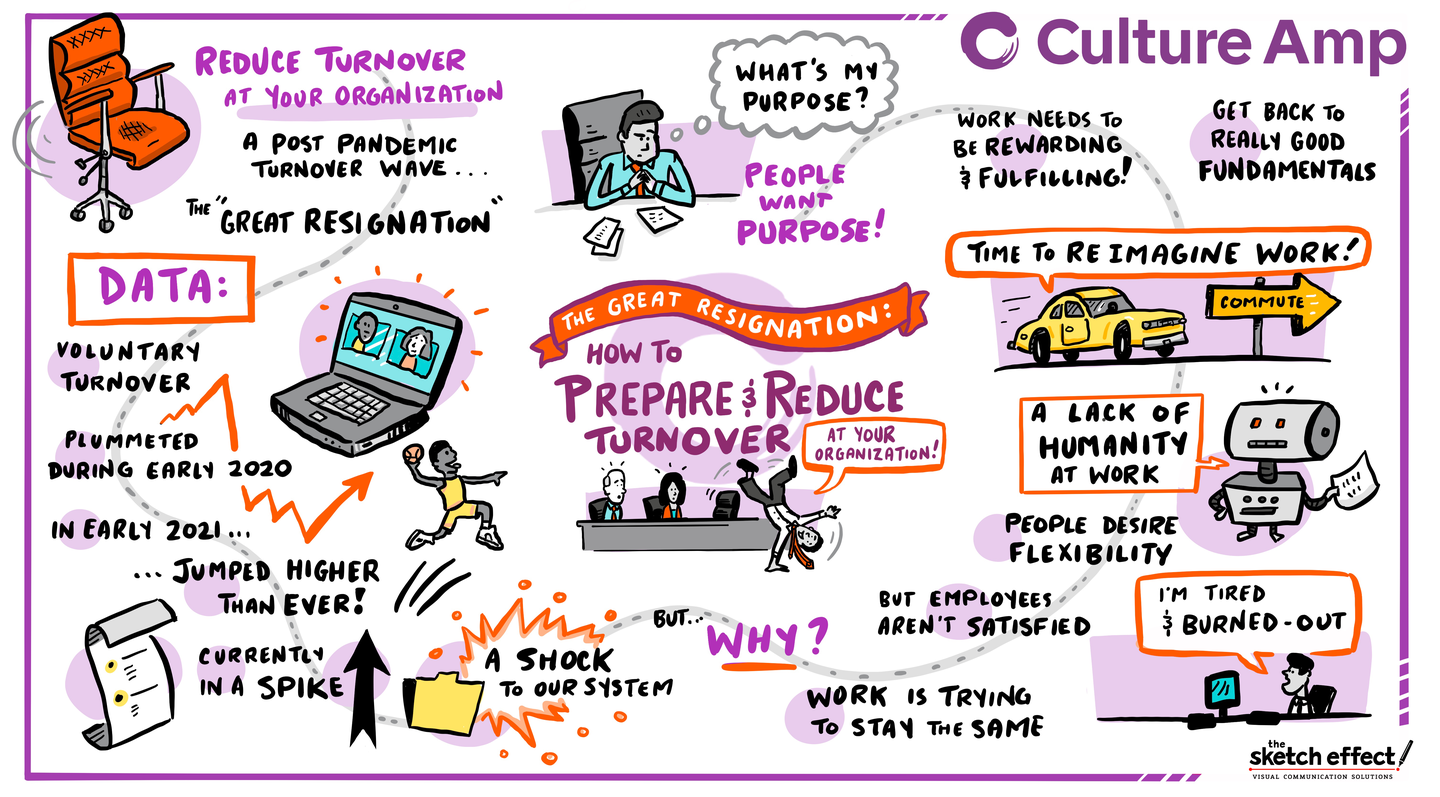 Here are a few ways you can retain talent and reduce future attrition:
Last but not least, put company culture first. We may be biased on this front, but we sincerely believe that companies can ward off the worst of "The Great Resignation" by holistically focusing on employees' experiences at work. People choose to join a company for various reasons, but company culture is why people ultimately decide to stay.
As our CEO Didier Elzinga wrote, "If you don't deliver on your culture in a crisis, then your culture meant nothing to start with. And when you stand successful on the other side, your culture will be why."
Build a world-class employee experience today