Top 5 moments from Culture First EMEA 2021
On the heels of a fruitful Culture First Americas, we were thrilled to host another Culture First virtual experience, this time for the EMEA region. While many HR challenges are location-agnostic, this year's Culture First EMEA focused especially on wellbeing and mental health.
According to the Organisation for Economic Co-operation and Development (OECD), around 39% of workers in the OECD suddenly shifted to remote work due to the pandemic. While remote work offers various benefits, such as flexibility, it has also led to extended hours, burnout, and feeling detached from the workplace – all of which negatively impact mental health.
Over the course of the pandemic, many organizations have had to juggle additional challenges on top of wellbeing and mental health, such as transitioning to hybrid work and developing employees remotely. Our speakers – HR thought leaders from across Europe – shared tips and frameworks for moving forward. We hope you can take some of these learnings and use them to create a better world of work. With that in mind, here are our top 5 moments from Culture First EMEA 2021.
#5 Creating high-performing cultures starts with mental health
Over the past year, mental health became more prevalent as employees struggled to make time for wellbeing amidst uncertainty. Even before the pandemic, the European Commission reported that mental health problems affected 84 million people across the EU, with stress contributing to approximately half of all lost working days.
In a session called "Create high-performing cultures: What's the real impact of employee mental health on performance?," Dr. Nick Taylor, the Co-Founder and CEO of Unmind, Megan Kille, Head of People at Unmind, and Sonja Montague Mackay, the founder of The More Human Company discussed how the pandemic changed the way organizations think about wellbeing and the overall employee experience.
Dr. Taylor reflects that "Everybody has been under unprecedented pressure during this period whether they are an essential worker, an office worker at home, a parent, or a caretaker. As a result, organizations have had to become more in tune with the wellbeing of their people." In fact, studies have found that organizations that invest in their employees' mental wellbeing experience higher employee performance and productivity, and better organizational culture overall.
While employee mental health may sometimes feel outside the scope of an organization's responsibility, there is a clear connection to engagement, performance, and retention. By breaking away from a rigid view of mental health, organizations can incorporate wellbeing into the many touchpoints across the employee experience to foster a greater sense of belonging among their employees.
Need help getting started? Learn how to build out a comprehensive wellbeing strategy, or check out our guide to building high-performing teams.
#4 Understanding your employees unlocks company culture
A clear understanding of employee engagement helps organizations gain insight into what's working and what can be improved. However, as organizations scale and grow, it can be challenging to gauge employee sentiment. In an early keynote called "Understand your employees: 164 years of listening," Sonal Chauhan – Customer Success Coach at Culture Amp, Julian Sykes – Group Talent Director at PZ Cussons, and Merel Briët – Talent Development Manager at Vanmoof, discussed what it takes to be successful in a constantly shifting global world of work.
Both PZ Cussons and Vanmoof attributed much of their successes to listening to their employees. Merel reflects, "When an organization is growing fast, the lines become more complex. For example, things are happening in the culture that [an organization] may want to maintain, but there are also areas [the organization] needs to develop and grow with the team." One great way to give your employees a voice is through employee engagement surveys. By benchmarking the results internally and against industry peers, companies can source ideas for improvement and track improvements over time.
When an organization is growing fast, the lines become more complex. For example, things are happening in the culture that [an organization] may want to maintain, but there are also areas [the organization] needs to develop and grow with the team.
— Merel Briët
Talent Development Manager at Vanmoof
Wherever you're starting from, it's important to get a baseline understanding of employee engagement. Consider the following survey questions to measure employee engagement. By striving to understand your employees – especially through crises – your organization can play a powerful part in building a more human world of work.
#3 Developing your employees in a hybrid world
As vaccines gradually roll out in the EMEA region, various people leaders are grappling with the question of what employee development will look like in a hybrid work environment. In the session "Develop your people: What can leaders do now to survive and thrive in a hybrid world?," Jessica Brannigan, Lead People Scientist at Culture Amp, and Charlotte Mosley, Senior People Scientist at Culture Amp, discussed what leaders can do to survive and thrive in a hybrid world.
The Chartered Institute of Personnel and Development (CIPD), a professional organization of HR management professionals based in the United Kingdom, has found that before the pandemic, 46% of employees did not have flexible working arrangements in their current role. However, this is dramatically shifting. Charlotte predicts, "half [of organizations] will continue to have the majority of the workforce remote after the lockdown. Even global organizations with a small number of employees who worked remotely before COVID are considering making this the new norm."
So, how does an organization develop its employees in a hybrid world? According to Jennifer, "Employees need an injection of positivity and the hope and confidence from the people overseeing them. You can help them set goals that are optimistic and achievable. These goals should take into account where employees need further resources or help to navigate roadblocks." It can be overwhelming to figure out how to help your employees improve and grow, but even starting with a few quick wins can embed development into everyday interactions with your team and establish a culture of continuous learning and development.
#2 Reframing trust to build culture first organizations
Building trust in the workplace can be tricky, but it's essential for creating a positive employee experience. In their session on building trust, Jessica Brannigan, Lead People Scientist at Culture Amp, and Rachel Botsman, Lecturer at Oxford University, discussed how organizations can build a solid foundation of trust with their employees.
Trust is the foundation for the employee-manager relationship, which is arguably one of the most important pieces of any employees' day-to-day experience. Employees generally feel supported when their managers provide them with the resources they need to do their job effectively, offer development opportunities, and foster a culture that makes them feel valued. So what traits should a manager have to be successful?
Rachel believes that "a trustworthy leader should have integrity because if you do not believe that person's intentions are aligned with your best interest, it's very hard to build trust." Solid and consistent communication is integral to employee morale and demonstrates a genuine concern for their wellbeing and development. Trust can't be built overnight, but it is an investment that will pay dividends over time throughout the organization.
#1 Rethinking humanity at work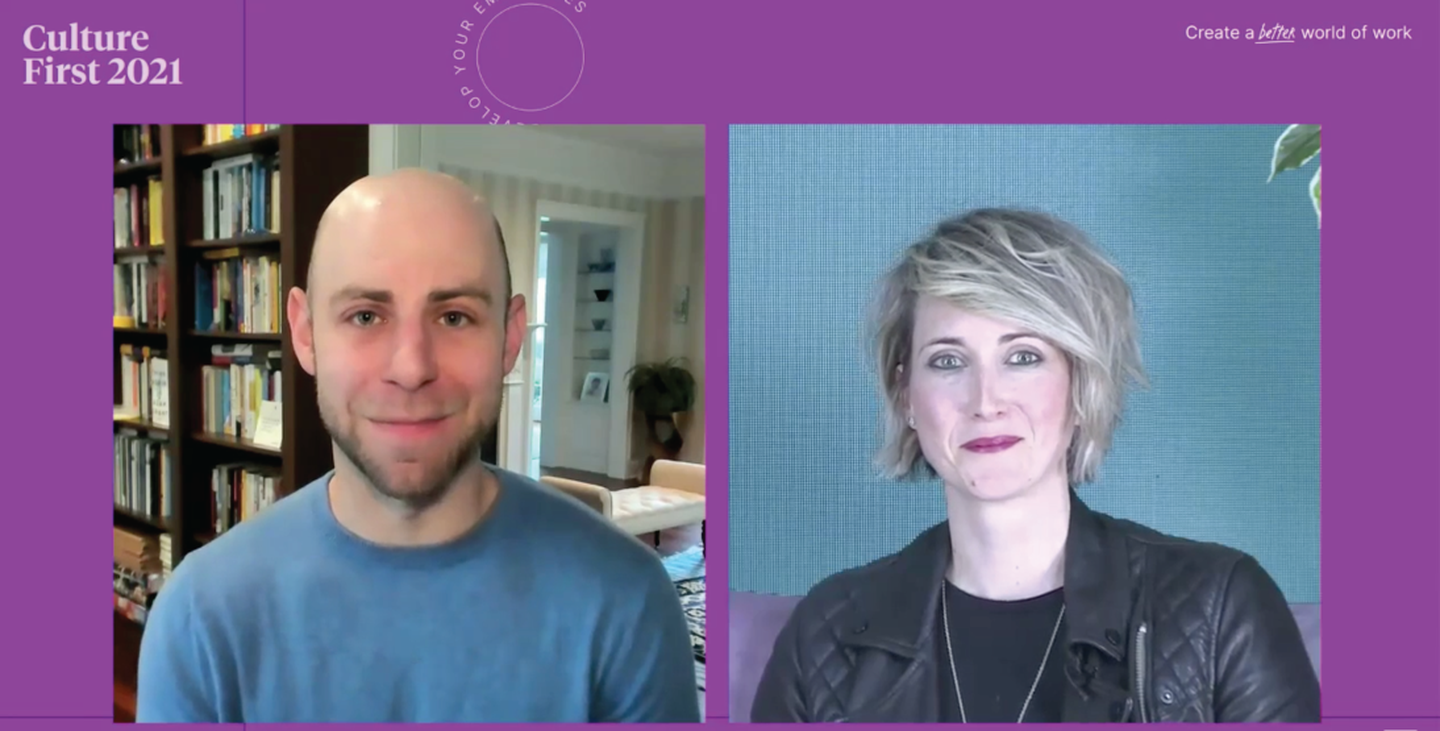 Though organizations around the world are still working through the challenges brought on by the pandemic, many are also starting to look forward. Adam Grant, renowned organizational psychologist, and bestselling author, and Jessica Brook, People Scientist for Business Operations at Culture Amp, discussed how organizations can plan for the future of work.
Around the world, organizations have learned to embrace the unknown and reframe their mindsets. As a result, there is more room for organizations to experiment with their current processes and evolve their practices through a process Adam calls "rethinking." Adam clarifies that "rethinking doesn't mean you have to change your mind. It just means being open to reconsidering and reevaluating." By ensuring that your goals are flexible, your organization can be more adaptable, more agile, and more responsive to unforeseen but inevitable changes.
Understanding and applying the lessons
As global organizations start to rethink their approach to the constantly changing landscape of work, employee wellbeing should be a guiding light. Prioritizing mental health enables organizations to fully engage and understand their employees, which ultimately empowers them to maximize their full potential. This, in turn, builds trust between organizations and their employees. With this mindset, your organization will be well on its way to building a culture-first organization that gives employees a voice.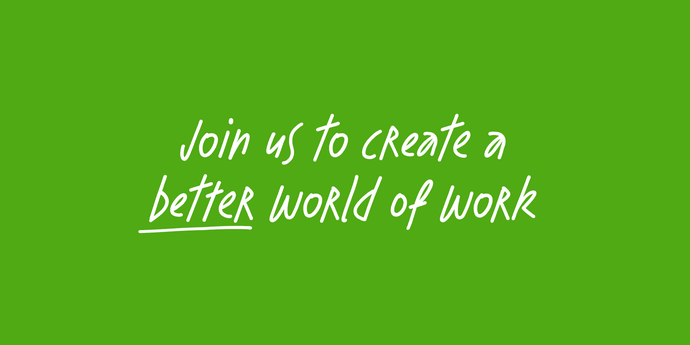 Access Culture First Global on demand
Watch your favorite sessions from our first-ever virtual Culture First conference.
Discover more
Build a world-class employee experience today