Your guide to a successful employee wellbeing strategy
Employee wellbeing isn't just a nice-to-have. It's a must-have for companies with their sights set on success. However, employee wellbeing and workplace wellness were dismissed as useless or "fluffy" initiatives for a long time. Yoga classes were paid for, gym memberships compensated, and the program was considered complete. Employee wellbeing today is much more than physical wellness.
Wellbeing is a holistic understanding of someone's physical, emotional, mental, and social state. When people are in a state of wellbeing at work, they can develop their potential, work productively and creatively, build positive relationships with others, cope with the normal stresses of life, and make a meaningful contribution. Thanks to ongoing research, we can see how focusing on employee wellbeing reverses employee burnout and reduces stress, turnover, and absenteeism.
It's one thing to recognize that employee and workplace wellbeing is important. It's another to take action strategically, and we know that's not easy. This is why we created Your guide to a successful employee wellbeing strategy: Practical tips for the modern workplace.
This comprehensive guide is packed with statistics, real-world advice from Human Resources and People Operations practitioners, and concrete steps to prove wellbeing's impact at work and successfully create a wellbeing strategy.
Here's a preview of what you'll learn.
Chapter 1: Why you need to focus on employee wellbeing now
Did you know that, according to the World Health Organization, "Depression and anxiety have a significant economic impact; the estimated cost to the global economy is US $1 trillion per year in lost productivity." The Centers for Disease Control and Prevention cites work-related stress as the leading workplace health problem and a significant occupational health risk that outranks physical inactivity and obesity. In addition to supporting employees' physical and mental health, wellbeing programs can help you tackle employee burnout, stress, turnover, and absenteeism.
Chapter 2: What wellbeing at work means today
The aspects of wellbeing at work can be grouped into five core areas: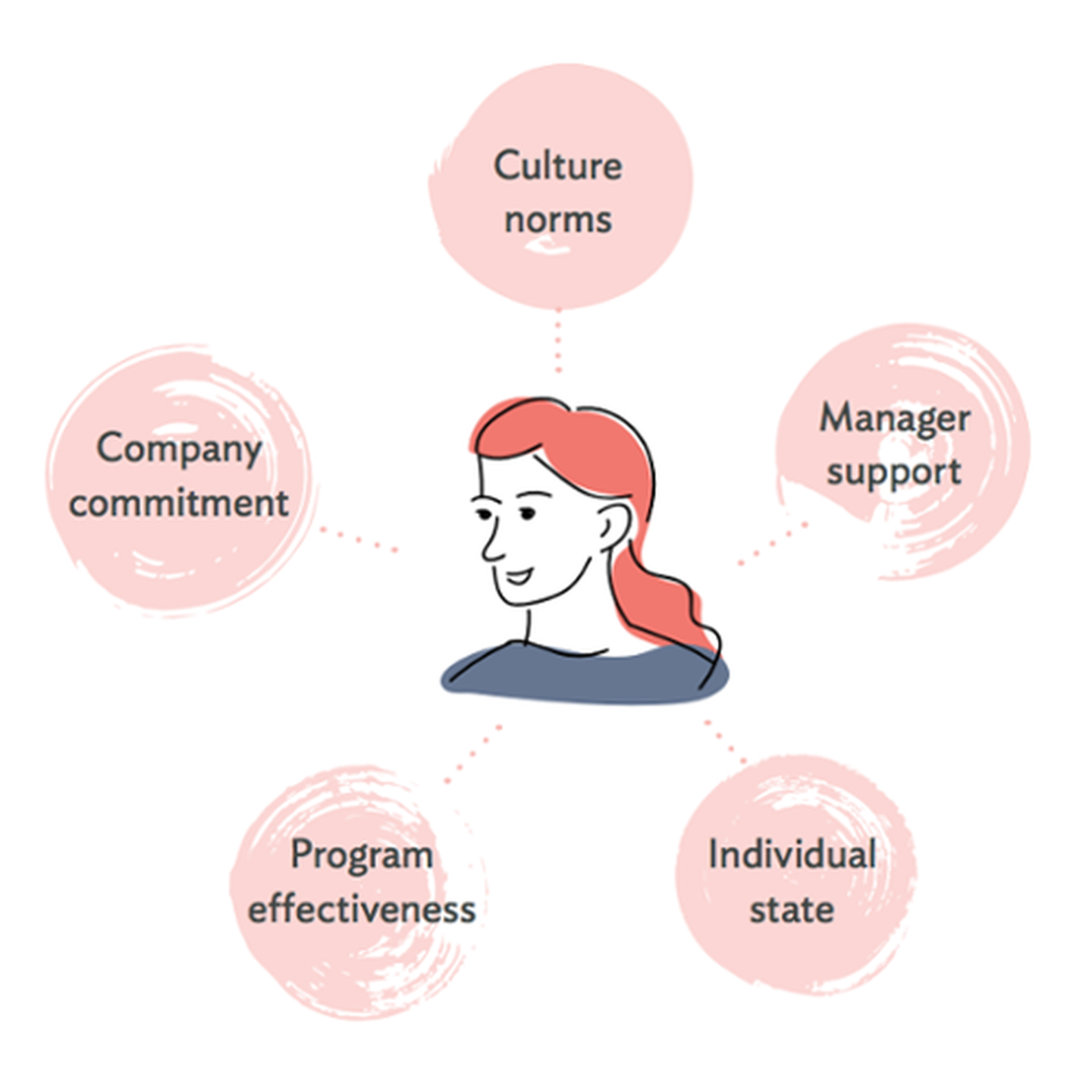 In the guide, you'll learn how to act on each.
Chapter 3: Overcoming challenges to creating an effective employee wellbeing strategy
Learn how to overcome the top four challenges to creating a successful strategy, including being reactive, not proactive, providing bolt-on solutions instead of a comprehensive strategy, making it all about productivity, and having cultural norms that don't support wellbeing.
Chapter 4: Three steps to planning your wellbeing strategy
Our panel of practitioners shares how you can get executive buy-in and secure budget, establish your baseline, and develop goals. Learn from Stacey Nordwall, Senior People Operations Manager at Culture Amp, Clair Cameron, and Sarah Zaccari from the Performance Reward team at Vicinity Centres, and more. You'll also get the preliminary results from Culture Amp's wellbeing data.
Chapter 5: Launching and measuring the success of your wellbeing strategy
Successfully balance an employee wellbeing strategy's launch and ongoing success with other initiatives. Learn how to best inform employees about their new wellbeing offerings, keep up the momentum for your wellbeing strategy, and measure its success through survey results and other key milestones.
Build a world-class employee experience today