How Deezer focuses on culture and community to retain talent
Music streaming app and Spotify rival Deezer has experienced a lot of change in the last few years. Like most employers, the company fought to keep talent during The Great Resignation. In July 2022, Deezer became a publicly traded company, making its people practices more visible and subject to greater regulatory oversight. And now, amid a growing number of technology layoffs and talk of a recession, the company has had to shift its focus towards employee engagement and helping its team through uncertain times.
Through it all, Nayomi Lardier, Deezer's Talent Director and D&I Lead, has helped make the company an inclusive workplace where employees can grow and make an impact every day. To learn more about Deezer's current people strategy, we spoke with Nayomi at Culture First EMEA, part of Culture Amp's annual virtual event series.
Here's what she had to say about Deezer's top five priorities for 2023 and how the company empowers individuals to develop every day, positively impact their communities, and live the company's values.
Five tips for retaining talent
Below are Naomi's tips for how organizations across industries can better engage and retain their talent by putting their people and culture first.
1. Become more data-driven
Deezer has taken the first steps to becoming a more data-driven HR department. Nayomi and her team have a two-part goal:
Collect, monitor, and analyze their people data to better understand the organization's strengths and identify areas for improvement.
Share this data with employees, shareholders, and future candidates to improve organizational transparency and accountability.
As part of this journey, the company launched an employee engagement survey with Culture Amp last year. These ongoing surveys give Deezer a direct line to its employees so the company can understand what it is doing well and what aspects of the employee experience can be improved. Regarding the latter, two significant growth opportunities arose from the company's first employee survey. Employees wanted more clarity around career development opportunities and more meaningful work. In the following sections, we'll look closer at how Deezer responded to these insights.
2. Create more career and development opportunities
One key finding from Deezer's latest engagement survey was that employees craved a better understanding of career and development opportunities within the company. Employees expressed wanting more clarity around what they can do to grow, develop their skills, and reach the next level of their career with Deezer. Nayomi agrees that this is important. "I like to think that every employee brings luggage with them when they join a company. When they leave your company, you want them to have several things in their luggage that they didn't have when they joined," she says.
But since Deezer is a mid-size company with around 600 employees, it has a finite number of vertical growth opportunities for employees. That's why Nayomi and her team are working to raise awareness of other ways employees can grow personally and professionally within Deezer.
"We're really focused on our learning and development plan for the next year and giving people the power and opportunity to learn every day. We want people to realize that growth opportunities are not only vertical or through external training. They're through the people, the tools, and the knowledge that we share," explains Nayomi.
The company has also made a point to create more opportunities for employees and managers to give and receive feedback. "It's not only about giving feedback on what was done in the past, but it's also about feed forward, or how I can project myself in my career, in my next project, etc., to evolve. This year, we are putting a lot of emphasis on feed forward conversation and making sure managers are having these important conversations with their employees," says Nayomi.
Deezer encourages its employees and managers to have ongoing career conversations – not just in performance reviews but also in weekly 1-on-1 meetings. This continuous feedback helps identify the areas in which they've already grown, where they still have room to grow, and what actions they can take today to advance in their career.
3. Help employees find purpose in their work
The survey also revealed that many Deezer employees want to positively impact their community, society, and the planet. While Deezer's mission is to bring audiences and artists together, the company also wanted to ensure employees feel their work contributes to a larger mission.
Luckily, Nayomi and her team already had a few initiatives that aligned nicely with this survey finding. "We were already moving in that direction, but because this was so loud and clear from the data, it was easy for us to double down on it," she says. "There are lots of things we can do through music. Music can be soothing, it can heal, and it can be your companion in hard times. Out of this learning, we actually launched a task force on how to use music for good and to leave a positive impact on society."
Employees can find the meaningful work they crave by joining this new task force.
4. Invest in leaders
At Deezer, leadership is crucial in bringing culture to life and developing employee talents. To include people leaders in the company's efforts to become more data-driven, Nayomi and her team love how easily they can share engagement survey data and findings with managers using Culture Amp.
With this data in hand, managers can better understand the specific issues facing their teams, facilitate meaningful discussions with their employees, and take swift action on the findings. "It's all about giving back the mic to our leaders. We want them to share their results and problems with their team rather than having HR do it," Nayomi explains. "This is giving them the opportunity to discuss what's working and what isn't, which is quite new for us."
Managers have the most influence over employees' day-to-day lives. With access to engagement survey results, people leaders can gain actionable insights into becoming better people leaders and career coaches to their teams. "Sometimes, we only focus on HR improving all things around culture, feedback, and development, but if you don't bring senior leadership into the process, these changes don't trickle down the organization," says Nayomi. "We're making sure that we embark everybody on this journey. Collecting employee feedback and communicating those results to the entire organization can help involve employees of all levels."
5. Focus on culture
Lastly, the biggest focus for the Deezer HR team this year has been company culture. Nayomi's current strategy is to "retain people who are engaged, happy, and performing in their roles." With five offices and a hybrid remote work policy, Deezer can't rely on face-to-face time to carry their culture. That's why the company has doubled down on its values and ensured employees have purposeful and impactful projects.
"Post-COVID, it's all the more important that culture brings people together in a company when we're away from one another and chatting behind screens. That social connection is super important," says Nayomi. "In times of uncertainty and adversity, it's so important to focus on the purpose of our company, our values, and what brings us together to dream of a better world."
In times of uncertainty and adversity, it's so important to focus on the purpose of our company, our values, and what brings us together to dream of a better world.
— Nayomi Lardier
Talent Director and D&I Lead, Deezer
Nayomi has stepped into a new role guiding culture and diversity, equity, and inclusion. She says the renewed focus on culture has already helped her company spread joy in uncertain times. It has also helped her appreciate the sheer strength of Deezer's culture. While the company is now 16 years old, key elements of the culture have been with the company since day one.
"It's only in identifying those things and cheering them on internally that we can build on making things better for the future. We've got music. We've got care. We've got well-being. We've got lots of things that we can build on," she shares.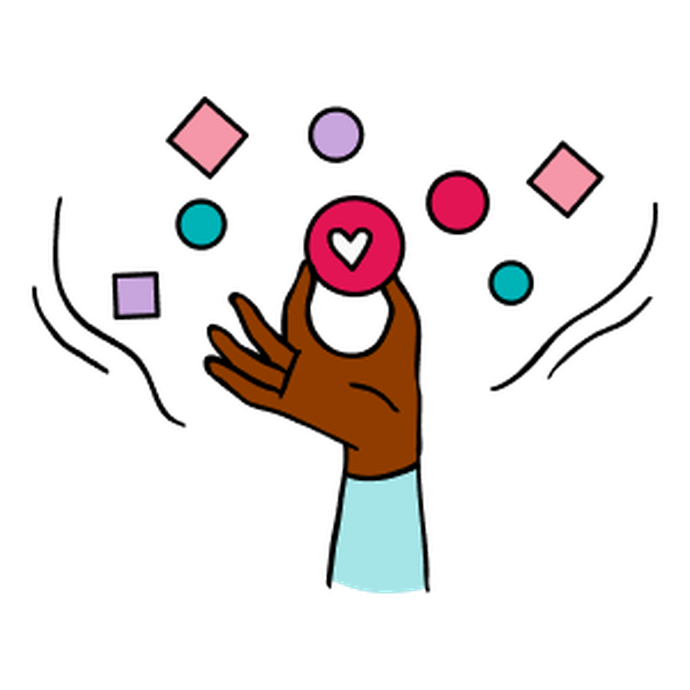 Wondering how other top companies like Deezer are designing impactful employee experiences?
Learn how Deezer is buliding an employee development program that benefits everybody.
Watch the full session
Build a world-class employee experience today