Building an employee experience for a hybrid workforce
Every HR team strives to create the best employee experience for their employees. But perfecting the employee experience is easier said than done, especially now that employees aren't necessarily in the office. Every employee is different and has unique challenges and issues, which, unfortunately, your company can't always solve. Plus, this is often made worse because your staff is no longer in the same place. However, you can leverage your people data to learn how to better serve and support your employees wherever they may be.  
Today's businesses are made up of a hybrid workforce. According to the Society for Human Resource Management's (SHRM) 2019 Annual Benefits Survey, only 27% of companies allowed full-time remote work. In 2020, almost overnight, 42% of office workers in the U.S. became full-time telecommuters. While some employees are counting down the days until the office reopens, many embrace the newfound flexibility and comfort of working from home. A recent Pricewaterhouse Coopers survey found that 89% of executives expect more than 30% of employees will continue to work remotely at least one day a week post-pandemic, while 55% expect more than 60% of the workforce to do so. Clearly, the hybrid workforce is here to stay. 
So, how can HR teams maintain a cohesive employee experience for a distributed workforce? By asking employees what they want and need. That's where employee surveys come in.
The importance of employee surveys in a hybrid workforce
The right survey tool lets you look at data by employee demographics, job information, or other defining characteristics, like commute length or parental status. This lets you filter feedback from in-office or remote employees to help you cater to your hybrid workforce's needs. Regular employee engagement surveys allow HR teams to keep a pulse on their employees and identify growth opportunities.
To help you connect the concept of employee engagement and experience, here are a few ways your survey findings could help you refine the employee experience of your distributed, hybrid workforce: 
Remote employees
Many remote employees often feel out of sight, out of mind. But they are as much a part of your company as any other employee and deserve the same experience as the in-office team – with a few at-home tweaks, of course. Because their experience is so unique, the best course of action is to ask how your company can help them. Using Culture Amp's heatmap feature, you can compare your remote team's engagement survey results to the results of in-office employees and gain powerful insights into what areas of the remote experience you're nailing and which can be improved.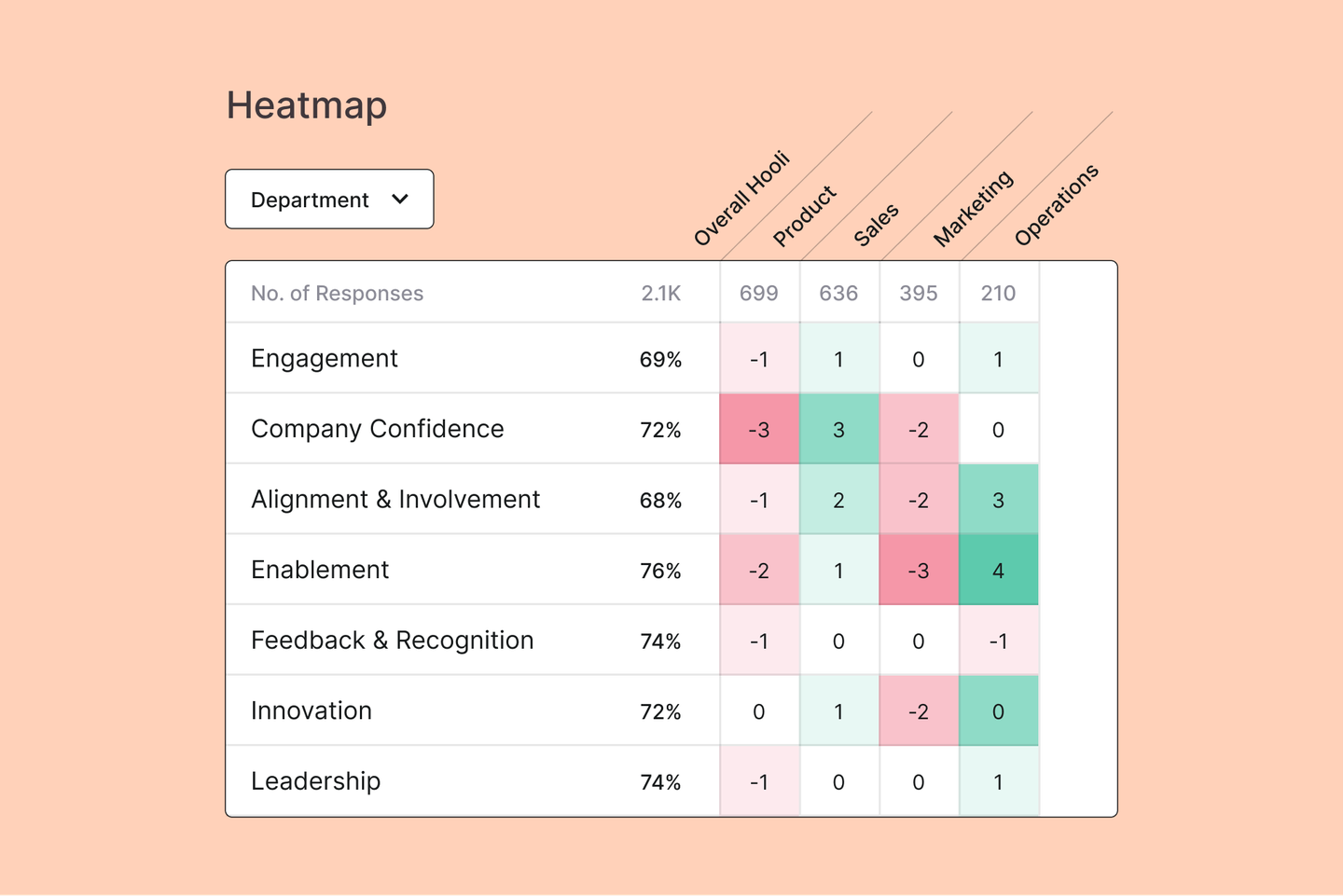 Another way to ensure you're offering a fair and inclusive employee experience is to offer parallel perks for in-office and remote employees. This could be a corporate wellness program, company swag, an online learning solution, or career development opportunities. You could also help employees set up their home office by subsidizing the costs of faster WiFi, office supplies, or a coworking membership.
Remote workers often miss out on in-office bonding and company events. Encouraging managers to spend the first few minutes of every meeting to shoot the breeze with remote employees or schedule "just to connect" meetings can help recreate the office banter remote teams often miss out on and give everyone time to connect socially. When you have a scheduled team event, sending your remote staff a care package or gift card so they can have their own celebration can go a long way. Here at Culture Amp, we give all our employees a quarterly stipend to have dinner with a coworker. This lets our employees meet up (safely) with other coworkers in their city and allows them to meet someone new or develop an existing relationship further.
It can be a challenge to keep engagement high when employees are working in a hybrid workforce. Here are 25 fun ideas for virtual team building activities.
In-office employees
Thanks to proximity, HR teams often feel like they have the best pulse on how their in-office employees are doing. Still, it doesn't hurt to regularly ask their opinion on improving the in-office experience. This can be as simple as adding questions to your existing employee engagement survey about snack selection, office technology, and office design. You might be surprised to learn your employees want more healthy food options or more alternative workspaces so they can step away from their desks.   
While meeting new people in the office is often easier, it's also easy to get caught in your team or department bubble. Planning in-office activities lets your employees meet new coworkers and develop existing relationships. Think of creative ways to get them involved, like office food or clothing drives, movie or game nights, ping pong tournaments, or happy hours – just be sure you're hosting a variety of inclusive events and following proper social distancing measures. These events can give employees something to look forward to and let them get to know their colleagues better outside of a work setting.
Finding team-building activities to suit people with different interests and passions can be a challenge. We've compiled 50 office games to help you out.
Hybrid employees
To some people, this arrangement might seem like the best of both worlds, but alternating between home and the office can be mentally taxing in its own way. Wherever they're working on any given day, an employee should feel connected to and supported by your organization. 
To help ensure they feel a sense of belonging at work, start by making sure it's easy for them to find a place to work when they're in the office. If you can't give them a designated desk, try to find a space they can use near the rest of the team, so they don't feel cut off. Or, if you use a hot-desking system, be sure to reserve them a spot on days they come into the office.  
You can also support your hybrid (and remote) employees by having enough conference and call rooms. Employees working from home often miss out on casual desk-side conversations and can easily be left out of the loop when plans change. Ensuring your company has enough private areas where in-office employees can call or video chat remote employees and get them caught up can help bridge those communication gaps and keep everyone on the same page. 
How to accommodate all employees in a hybrid workforce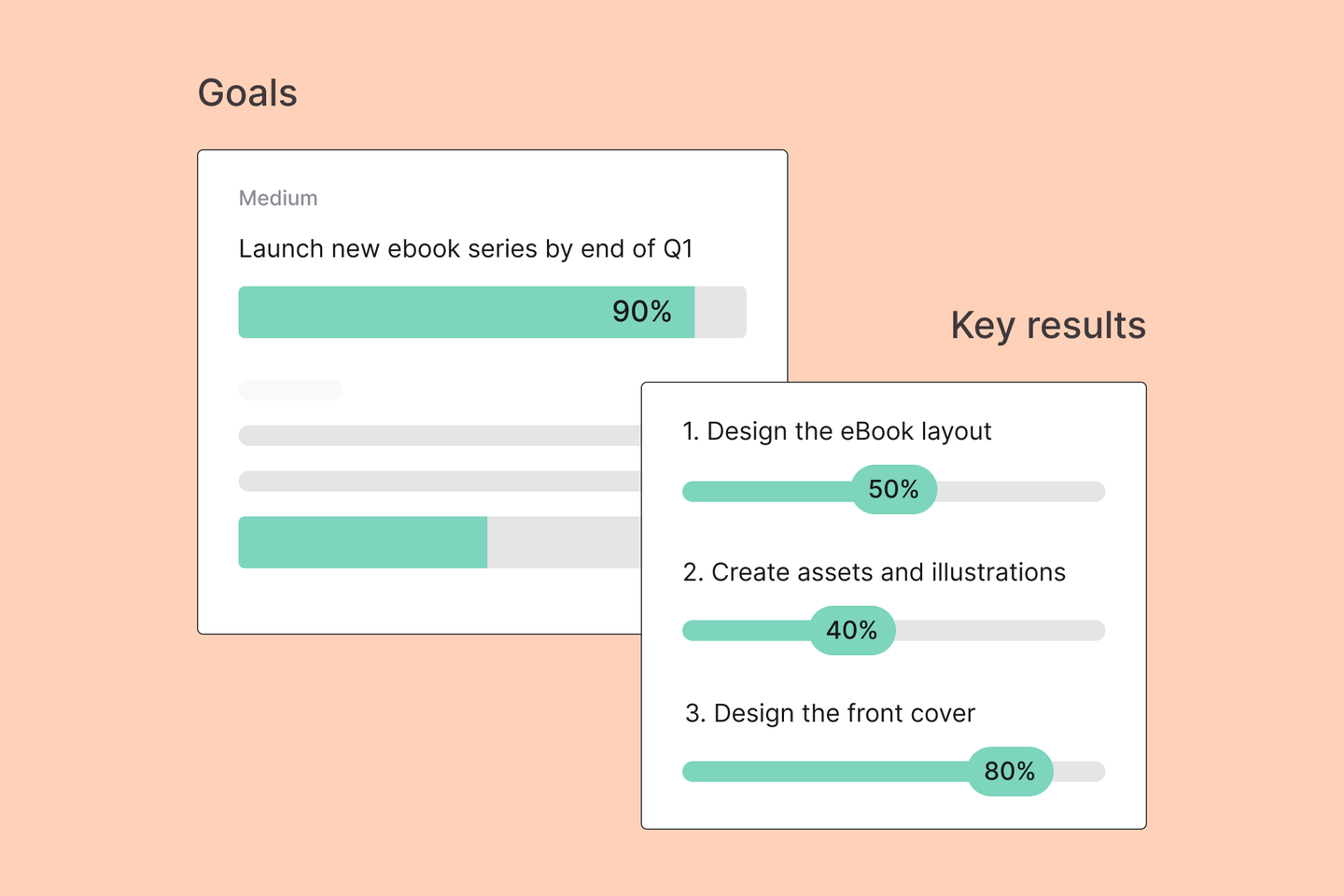 Regardless of whether your employees are remote, in-office, or a mix of both, there are a few overarching ways you can ensure everyone has a great experience working for your company: 
Cascading goals: Having employees' individual goals tie back to larger organizational goals lets your workers know exactly how their day-to-day contributions help the business stay on track. 
Collaboration and communication tools: Having the right technology in place so everyone can do their jobs, track project progress, and collaborate are essential to organizational and team success. 
Security and IT: Ensuring you have strong IT and security measures in place will allow employees to get the tech support they need and keep your corporate secrets safe.
Communication: Prioritizing communication and hosting regular all-hands meetings ensures all your employees are aligned and up-to-date on company news. 
When figuring out how to best serve your hybrid workforce, it's crucial to segment it and figure out how to best serve different types of employees. Looking at your employees by work location is just one way you learn more about their needs. You might also want to look at employee experience data by employee demographics, such as age, parental status, tenure, or seniority, to determine those groups' unique needs and how you can improve their experience working at your company.
While there's no one-size-fits-all in employee experience, Culture Amp makes surveying your team and analyzing employee feedback easy. So you can spend more time catering to your employees' needs and optimizing your workplace experience.
Build a world-class employee experience today