How to involve managers in taking action on survey results
Casey Ashenhurst, Senior People Ops Manager at Stack Overflow says, "Driving change for the whole company isn't a one-person job. You have to get people on board." After three years of using the Culture Amp platform, they've found a great way to make sure that managers are involved in the employee feedback process. Learn from Stack Overflow why it's important to get managers involved and how to empower them to take action.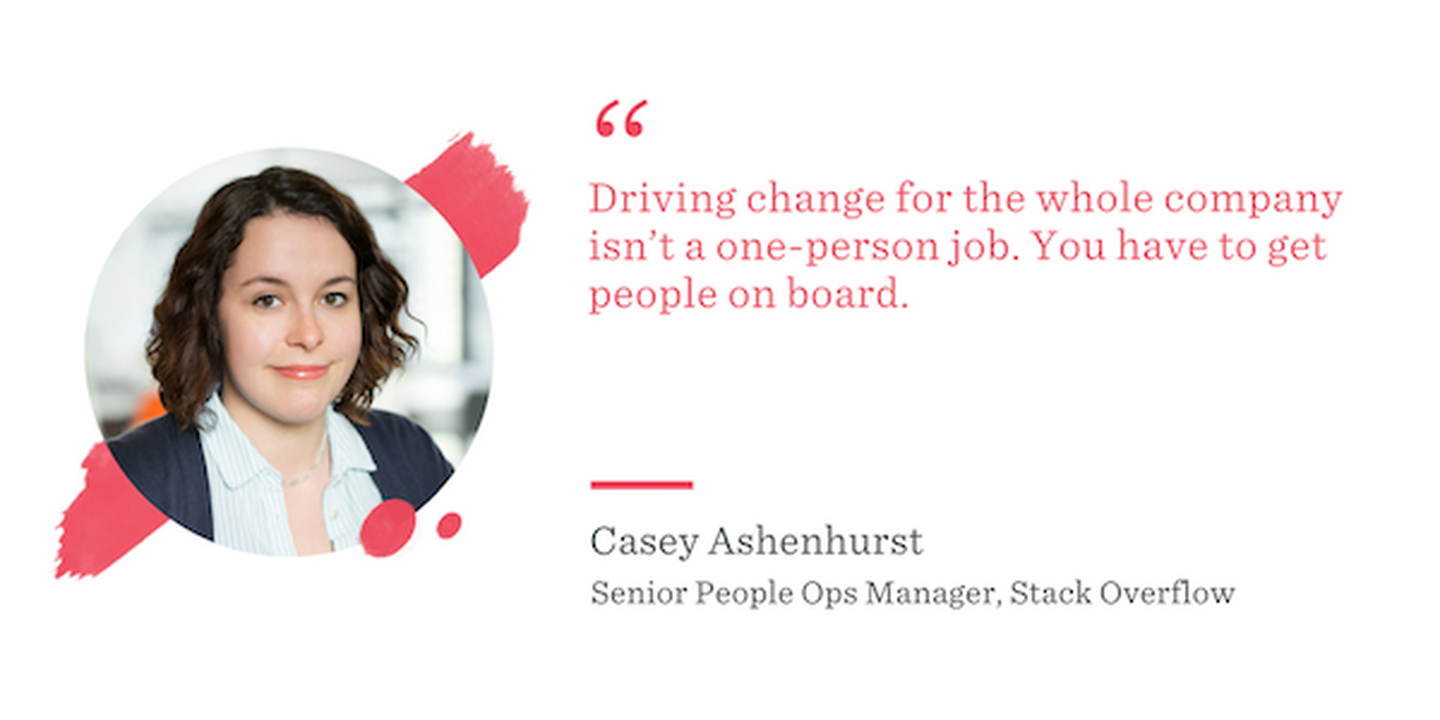 What's ahead:
If you're looking to get managers more involved in the survey process, use these tips from Stack Overflow:
Nurture the idea that a survey is the beginning of a conversation, not the end
Make sure managers have actionable steps to take post-survey
Position employee feedback data as a resource for managers to work better with their teams
Give managers access to their team and department's survey results
Help managers interpret survey results into action items
Empower managers to learn from positive engagement survey results
Use surveys insights to uncover what managers need as a group
How Stack Overflow's People Team gets managers excited about employee feedback
They nurture the idea that a survey is the beginning of a conversation, not the end. David Fullerton, CTO says, "At first, the survey process was frustrating to some managers because they didn't know what people meant by some answers. The key for us was giving managers the tools to go back to their team and say, 'I noticed that a lot of us are feeling this way, let's talk about that.'"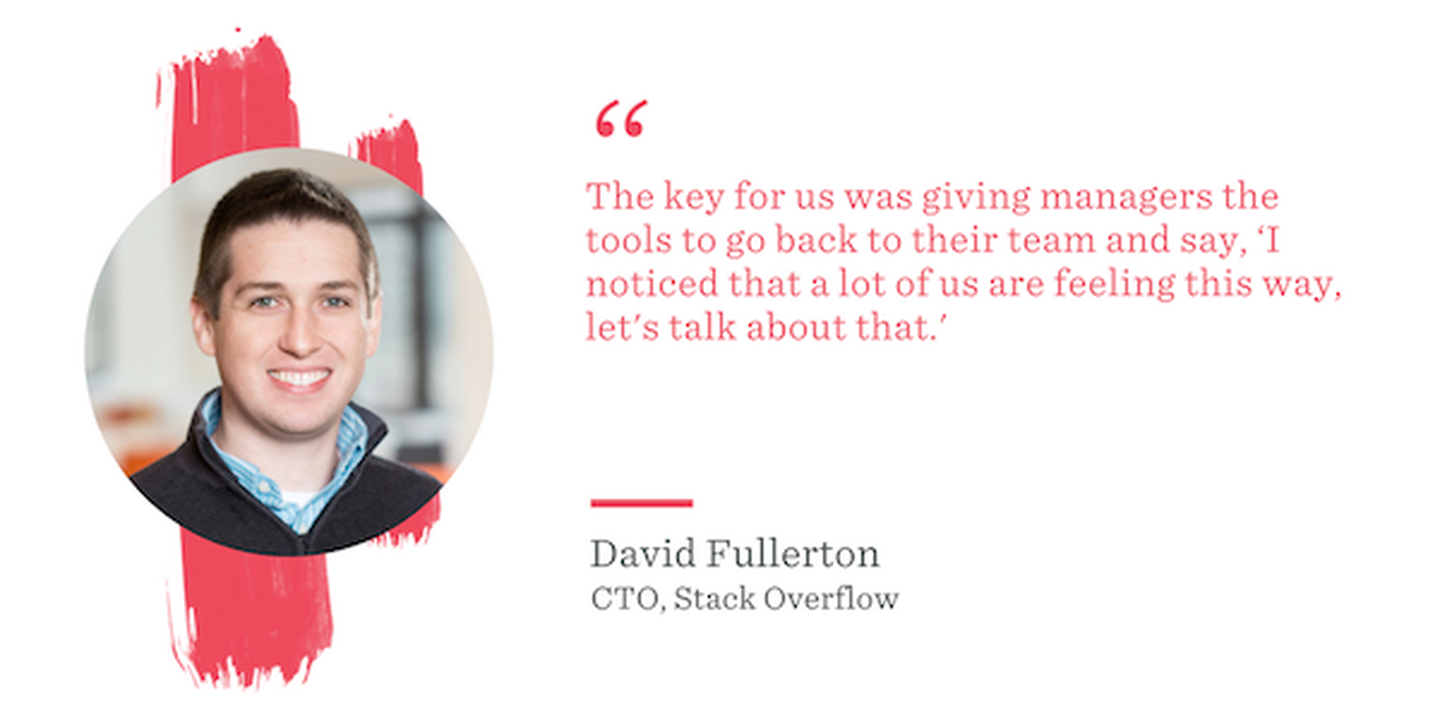 They also learned that giving managers actionable next steps really helps. Post-engagement survey, each manager identifies two or three areas to focus on and take back to their team. "That also helped people feel like the survey was meaningful because something came out of it," says David.
They position employee feedback data as a resource to help managers work better with their teams. Casey says, "We didn't want surveys to feel like more work for managers or just, 'Here are all the things you're doing wrong.' We want to show employees that we care about their feedback, and sometimes people are comfortable doing that in person, and sometimes they're not. So it's good to have a way to anonymously collect feedback from employees."
When managers are involved in the survey process, they can demonstrate to employees that leadership is listening to their feedback, and they can directly impact survey results by taking action.
How Stack Overflow empowers managers to take action on employee feedback
They give managers access to their team's employee engagement survey results, and their overall department's results. Casey says this helps everyone focus on their areas for action. The People Team also runs focus groups with managers to review results. Oftentimes this is done when a team needs extra guidance with difficult or surprising results, or they're looking to brainstorm how to improve.  
They help managers interpret the results to action items. One team at Stack Overflow scored slightly lower on engagement than the rest of the company, and decided they wanted to make an improvement. With help from the People Team in interpreting the results, they chose learning and development and management as their focus, and went on to increase their engagement score by 8% in one year.  
Their specific Learning and Development score went up by an impressive 16% and their Management score went up by an astounding 39%. This team also reached 100% agreement across the board for all of the Action factor questions. These engagement survey questions reveal if people feel like action has been taken as a result of their feedback.  
"Culture Amp's platform has been an incredibly useful tool for us. Every part of the experience provides a smart, simple 'we got this for you' out-of-the box solution and the ability to easily customize things when you want or need to. Many products tend to nail one or the other, but from survey design to report output, it feels like every feature has a fantastic default approach while being simple to adjust to match your company's specific needs." 
- Jay Hanlon,  EVP of Culture and Experience, Stack Overflow
They empower managers to learn from positive engagement survey results.  As Casey says, even if a team's results are that 95% of people are engaged, it's still important for managers to discuss with their team. They can learn what's going well, can coach other teams who want to improve on that area, and can simply take a moment celebrate their success.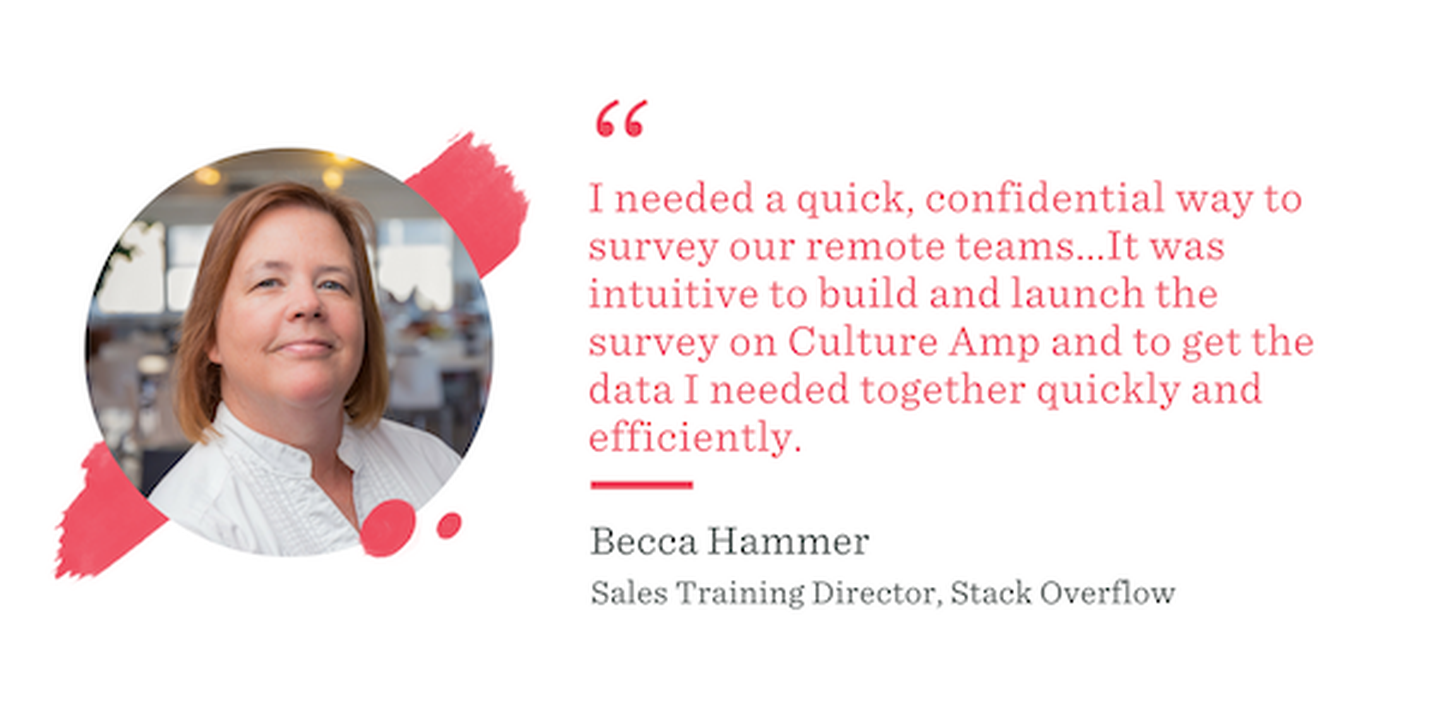 They provide managers with additional benefits - using surveys insights to uncover what they need as a group. Beyond getting managers involved directly in action planning, surveys can provide insight into what your company's managers need as a group. For example, Becca Hammer, Sales Training Director uses survey results to help improve training for remote teams. "I needed a quick, confidential way to survey our remote teams to help managers know where they are doing well and where they needed more focus. It was intuitive to build and launch the survey on Culture Amp and to get the data I needed together quickly and efficiently."
Build a world-class employee experience today