4 innovative ways to use employee engagement survey results
Many of you are likely familiar with the engagement survey drill, which goes like this:
Once you feel like you've made progress, do it all over again. We've found this process to be effective in designing a purposeful culture.
However, sometimes the feedback process can feel removed from your larger business objectives and even your other people's processes. Here are a few examples of how you can incorporate employee feedback, particularly engagement survey results, into other processes to make them even more efficient and effective.
Request a personalized demo of Culture Amp
Let's chat
Why incorporate feedback into other processes?
Incorporating employee feedback data into other processes is a great way to showcase the utility of feedback to new stakeholders. It helps elevate the reputation and perceived usefulness of your feedback program. It also improves visibility for those not interacting with employee feedback data in their day-to-day work. They might not even know that they have access to this data or how it relates.
Instead of launching another survey, and fearing the dreaded survey fatigue (though we haven't found fatigue to be an issue if you are taking action), you can find new ways to make the survey data you already have do more for you.
1. Annual planning
We've found being responsive to what your organization needs is the best way to set your survey cadence, so we wouldn't recommend rigidly setting your survey to an annual timeframe. However, sometimes gathering employee feedback aligns with your annual planning.
When this happens, use employee perceptions of alignment, enablement, and company confidence as inputs to that plan. Below, we'll look at examples of using employee feedback data in your annual planning process. Where benchmark scores are provided, they are the average percentage that responds "Agree" or "Strongly Agree" on a 5-point scale to this question on a Culture Amp Survey. 
Use responses to workload items to identify hotspots for capacity issues that need to be considered for resourcing.
Example question: "Generally, I believe my workload is reasonable for my role."

Benchmarks for this item have a wide range from 65 to 80%. However, what's more important is how roles/teams score relative to one another. If you have a role scoring much below the company overall, this is a sign to determine if teams have the resources needed to meet next year's objectives.
Use responses to commitment items to get an idea of turnover you can expect in the coming year.
Example question: "I see myself still working at [Company] in two years' time."

The benchmark for this item is between 60 and 65%. If you're below the benchmark, this is an indicator that turnover will need to be factored into your annual plan. Again, differences between demographics are equally, if not more, important as an indicator of roles you may need to backfill in the coming year.
Use responses to alignment and company confidence items to identify if your OKR/goal-setting process needs to be revamped.
Example question: "I know how my work contributes to the goals of [Company]."

This item ranges from around 85-90%. If you're scoring below the benchmark, this may indicate that your goal-setting process needs to be restructured to facilitate cascading goals. Differences across teams can also show you where a specific misalignment needs to be adjusted in the coming cycle.

Example question: "[Company] effectively directs resources (funding, people, and effort) towards company goals."

This item has a wide range from around 50-70% depending on the industry you're in. A lower score on this item would indicate more time should be spent communicating the annual planning process and building transparency around decisions.
2. Team offsites
One way to use feedback at micro-levels of the organization is by utilizing results to plan the agenda (and exercises) for team offsites. While the annual planning examples apply to teams as well, some concepts might be even more relevant to teams.
Workload sharing. If items on workload sharing are unfavorable compared to other teams, an interaction map may help your team understand how roles work together while identifying and squashing bottlenecks.

Example question: "Workloads are divided fairly among people where I work."

For reference, our benchmark ranges from around 55-65%.
Role Clarity. If items on role clarity are low, having each individual write their own job description, share it with the group, and discuss any discrepancies, can be an illuminating experience.

Example question: "I know what I need to do to be successful in my role."

For reference, benchmarks for this item are quite high, from around 80-90%.
Team Cohesion. If items about team cohesion are low, devoting time to typical team-building exercises that allow team members to get to know each other on a personal level may help. One we've found works at Culture Amp is a User Manual.

Example question: "I feel I am part of a team."

Benchmarks on this item are also quite high around 80-85%.
3. Assessing programs
As a People Operations function, you likely have multiple programs running concurrently. While employee feedback data shouldn't replace how you currently assess these programs' effectiveness, it can be a quick way to see if a program has the expected effect.
This can be accomplished by creating program participation (see 360 feedback example below) or program rating (see manager effectiveness example below) as a demographic or filter so that the results can be sliced and diced accordingly. 
Compare responses on Management items for those whose manager has completed a manager training program.
Compare responses on Enablement items for those that had a positive or negative onboarding experience.
Compare responses on Social Responsibility items for those participating in a volunteering program. 
Compare responses on perceptions of Learning and Development for those that recently completed training or received 360 feedback. For example, the screenshot below shows that people who completed 360 feedback are more engaged.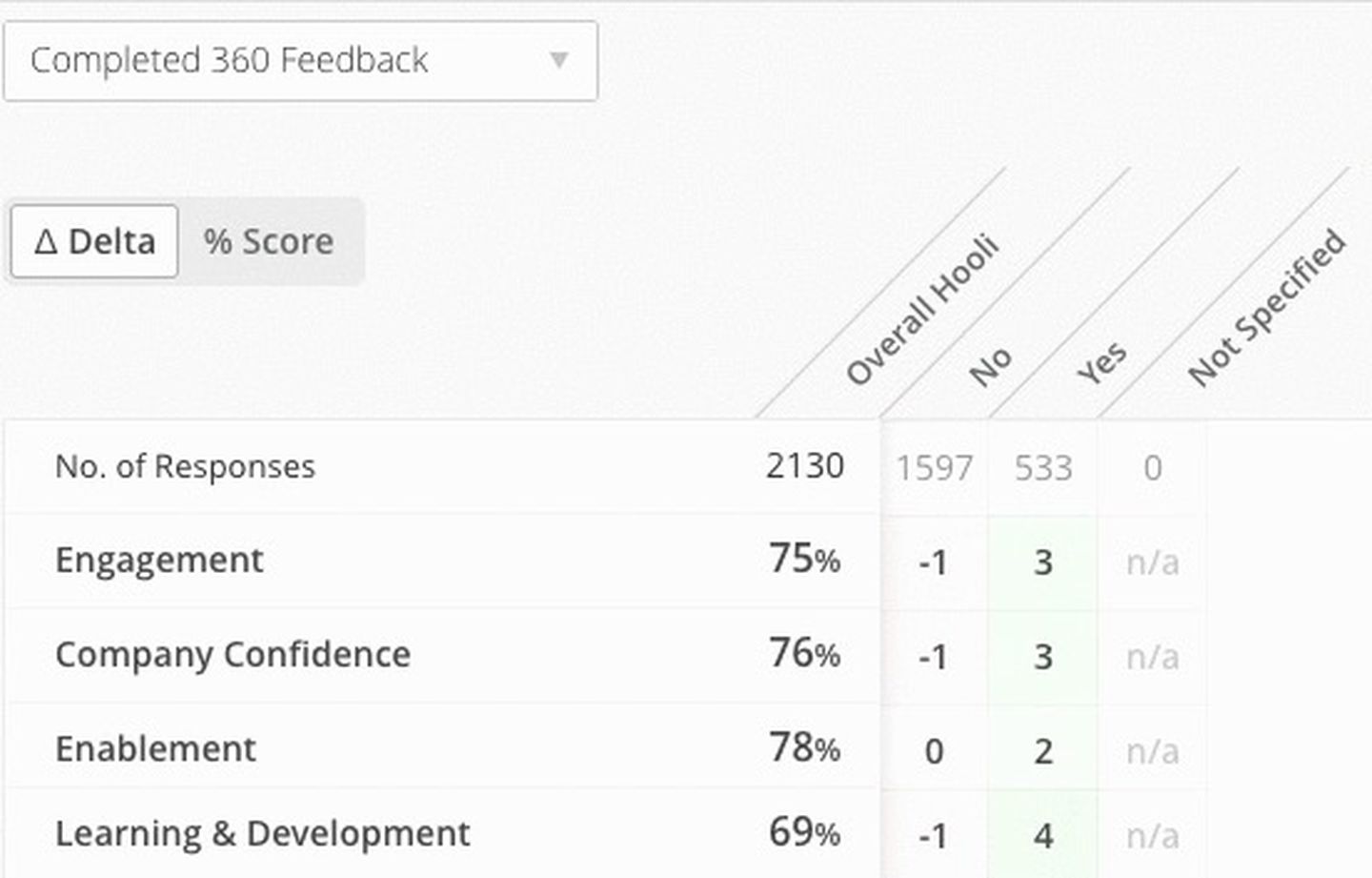 4. Hiring processes
Hiring is one of the most important processes the people function (and all employees) are tasked with. Employee feedback can be used at multiple steps in the process, but it's a good idea to start with recruiting.
During the selection process, employee feedback data can be used to give candidates a realistic job preview. For example, have employees said it's challenging to maintain a healthy work/life blend at your organization? Or are tried and true methods favored over innovating? Candidates should know these things to help them decide if your organization is the place for them to thrive.
You can use an onboarding survey optimized to receive feedback on your onboarding program. We've written about how at Culture Amp we've taken a phased approach to onboarding and feedback. Outside of a specific onboarding survey, you can use employee feedback from engagement surveys on factors like Enablement to identify where the onboarding program may need to be improved for particular roles.
How will you use employee feedback next?
What feedback data you have access to and what programs you have in place will affect which of the above ideas you can implement. Hopefully, our ideas can spur your own on how to embed employee feedback into other people (and overall business) initiatives.
Using your data to guide other processes will breathe new life into it. Remember, if you use employee feedback in new ways, let people know! Making the connection of how employee feedback is used helps employees feel like their voices have been heard and can ensure the feedback continues. 
Build a world-class employee experience today