Making it easier to collect and act on employee feedback
At Culture Amp, we believe in the power of learning faster through feedback, so much so that it's one of our core values. While we enable our customers to collect, understand and act on feedback to make their companies better places to work, we do the same by listening and learning from our customers to build a better platform. You spoke, we listened, and we've taken action with an exciting set of updates.
Whether you're using Employee Engagement to strengthen your company culture, Employee Experience to create remarkable employee experiences, or Employee Effectiveness to empower your people through personal development, we've focused on streamlining administrative tasks so you can focus on driving change within your company.
Collecting employee feedback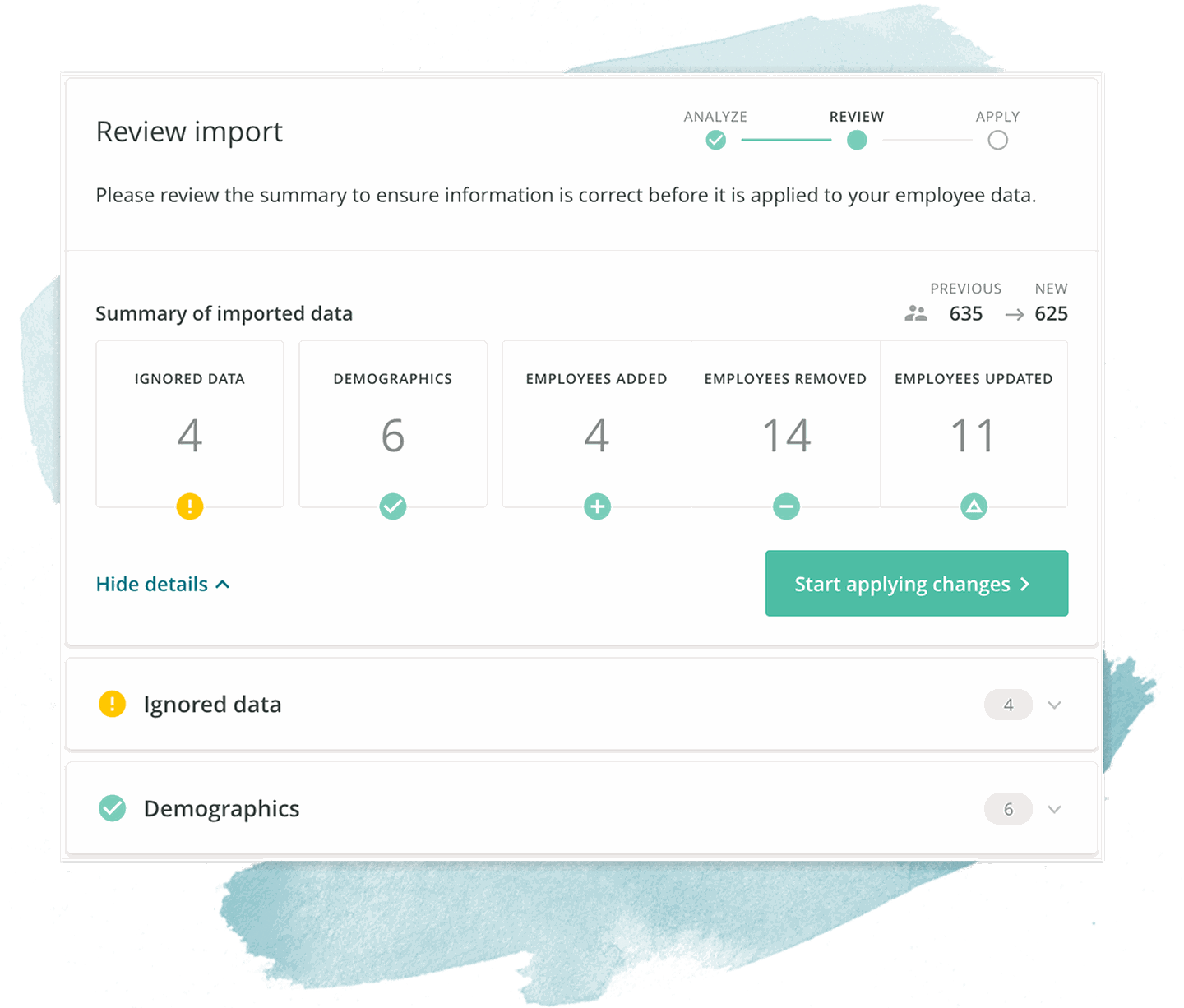 Save time and gain peace of mind with a redesigned import wizard
We've taken a people-first approach to how you manage your employee data in the Culture Amp platform. We want to help you focus your efforts on learning faster through feedback instead of battling spreadsheets full of employee demographics. The import wizard points out who and what is being imported and provides the opportunity to remedy any issues. This feature is generally available. 
Make changes to your employee data with partial imports
Your employee data is changing all of the time. With partial imports, you can update a handful of your employees while the rest of your employee data remains unchanged. You could quickly add new hires for an onboarding survey or launch a targeted pulse survey. This update will be available for all customers in the first quarter of 2018. 
Keep your employee data fresh with automatic syncs to your HRIS
We're improving our integrations with BambooHR, Namely, and Workday so that the syncs happen automatically on a daily or weekly basis—in the background—so your employee data is always up-to-date. This update will be available to all customers shortly after the release of partial imports. 
Tailor your individual effectiveness questions for self-reviews
When sending out your Individual Effectiveness surveys, you can now create a version of a question so the wording is tailored to each employee's self-review. This update is available now for Employee Effectiveness. 
Save time administering your 360° feedback with bulk actions
We want to help reduce the time you spend administering employee feedback, and with bulk actions, you can update multiple processes in a couple of clicks. For example, you can launch, complete, change due dates, send reminders, delete processes, and share 360° results with others in the company. This feature is available now for Employee Effectiveness.
Understanding employee feedback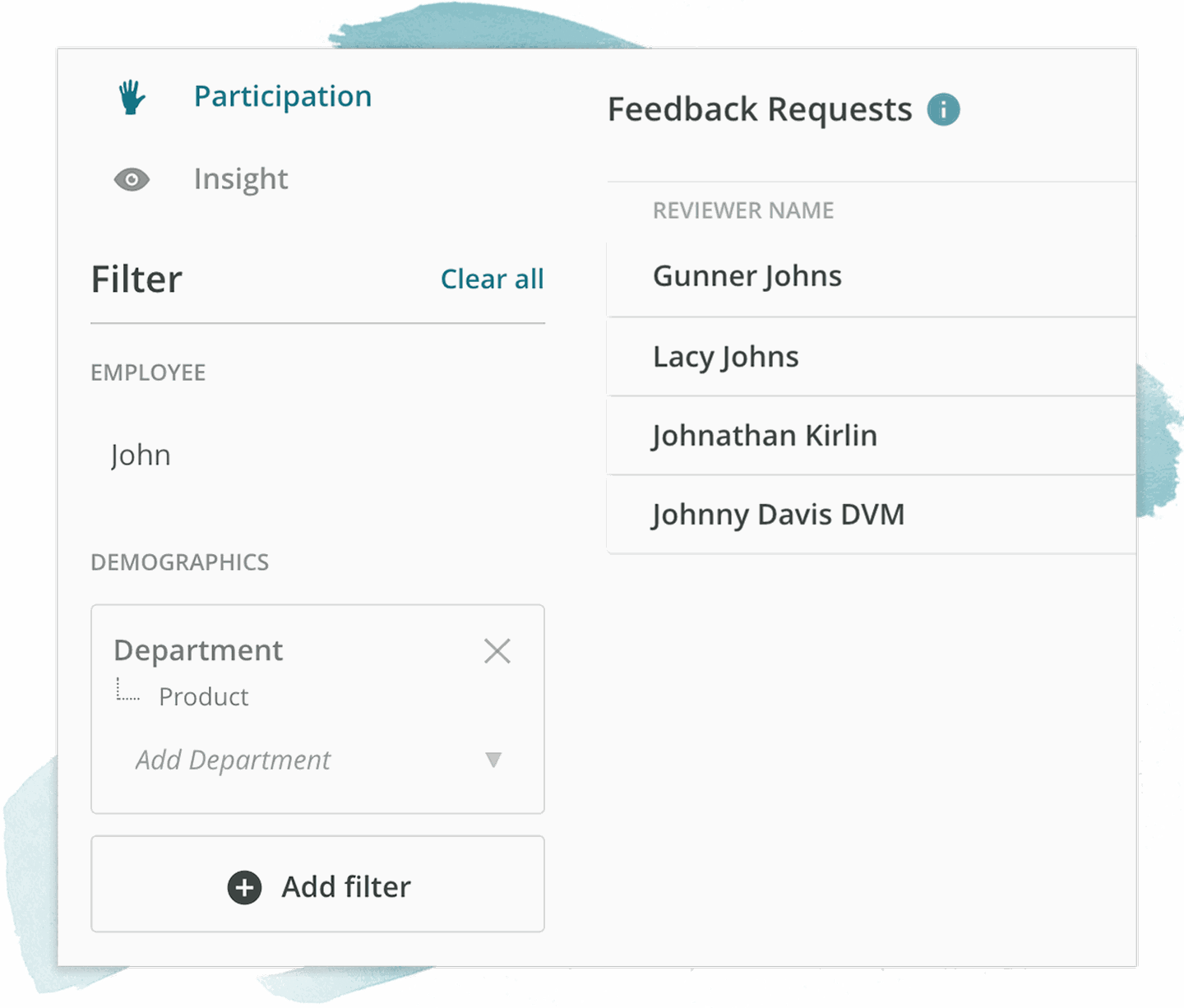 Unlock insights with the new filters for Individual Effectiveness reports
We're bringing demographic filters to the Insight and Participation reports. In the Participation report, you can identify participation trends, such as reviewers who are overloaded with requests, or the employees who need more responses. For the Insights report, you can apply the demographic filters to understand how strengths and opportunities vary by location, department, or team. These reports are available in Employee Effectiveness.
Acting on employee feedback

Guide employees through their personal development with new reports for managers
Managers can now see reports for the employees they are coaching. This takes the load off administrators and empowers coaches to own their teams' feedback and development process. These reports are available in Employee Effectiveness.
We have more updates in the pipeline which we think you're going to love. In the meantime, dive into these updates and let us know what you think. We hope the updates make it even easier for you to collect, understand, and act on your employee feedback.
Build a world-class employee experience today