Choosing the right performance management tool
Establishing a high-performance team doesn't happen overnight. Instead, it's a steady process that takes time and effort.
Performance management plays a huge role in that process by allowing teams to communicate regularly and honestly about goals, progress, performance, and areas of improvement.
Choosing the right tool to support performance can mean the difference between frustratingly disorganized efforts and efficient, effective, and collaborative performance management.
Choosing the right performance management tool: 4 capabilities to look for
With so many HR platforms to choose from, the first step is determining which one is best for your company. Ask yourself: What do you actually need? We recommend looking for the following capabilities.
1. Allows setting and managing goals at all levels
One of the major benefits of a performance management solution is the ability to help your company set and track goals. This not only includes the individual goals that employees discuss with their managers but also larger team goals and even company-wide objectives. With the right performance management tool, you can connect the dots between what the company aims to achieve and what teams and individuals are working toward.
Look for a performance management tool that makes setting and tracking goals as easy as pulling in a template, inputting a goal and the steps to achieve it, and updating the progress. This gives managers and leadership a clear view of goals and their current status anytime they need insight.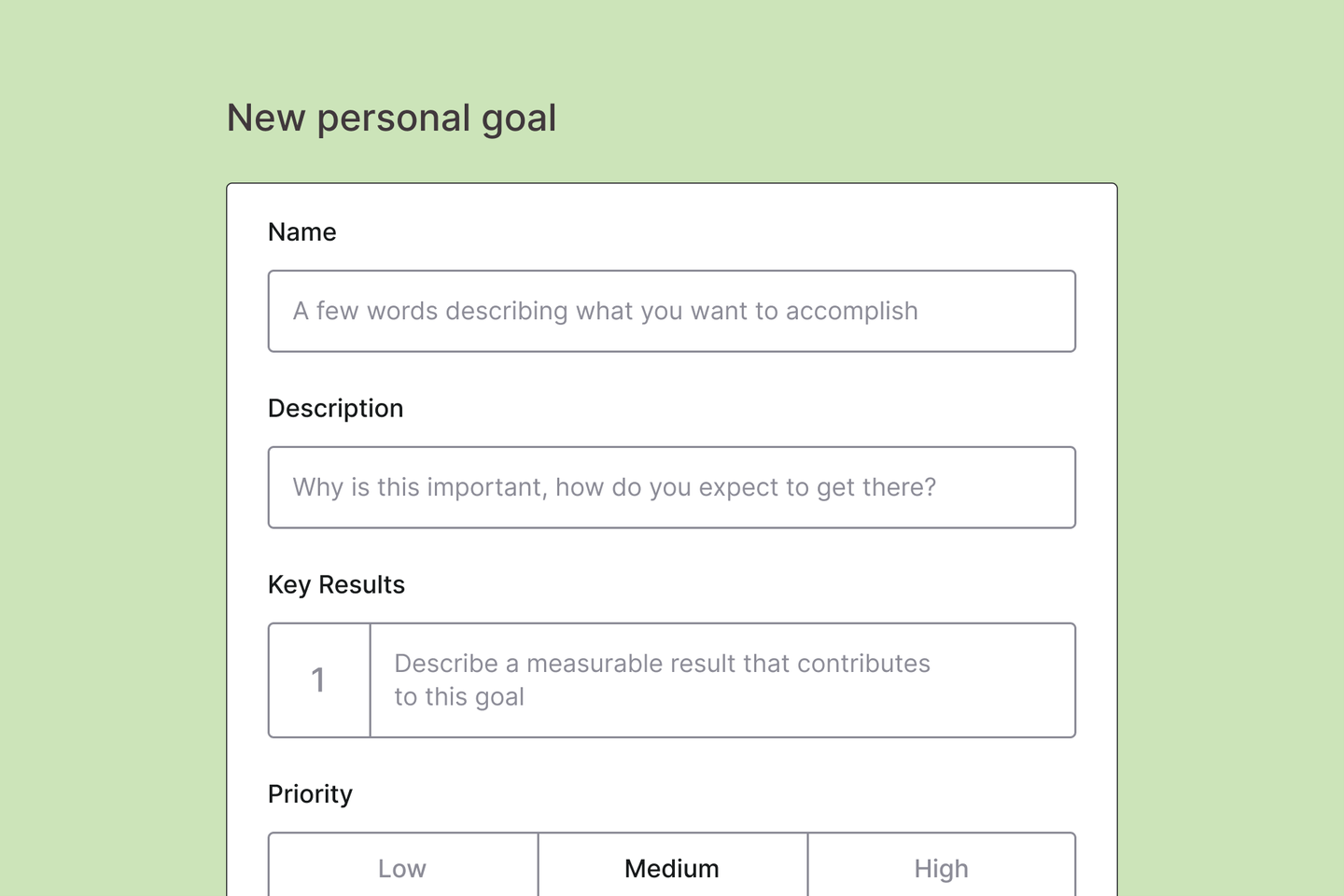 This type of simple goal tracking also helps to increase transparency throughout an organization. For example, leadership teams can share larger company goals in the system for managers and their teams to access and review. This allows them to better plan their activities to support high-priority objectives.
Employees appreciate this additional transparency. According to a report from Harvard Business Review that surveyed over 500 company leaders, 69% of respondents noted that company-wide communication and understanding of business goals has a high impact on employee engagement. This means that the right performance management tool will not only make it easier for your company to track goals but will also have a positive impact on other areas of the business, such as retention of top talent and overall business revenue.
2. Enables improved performance reviews
Performance review processes can be tricky to get right. They have to be quick and easy enough that they don't burden employees and managers, but they also need to be detailed enough to offer actionable feedback for employees. Another hurdle? Review criteria must be cohesive to avoid bias or inaccuracies and to fairly evaluate performance.
Employees have expectations around performance reviews as well. Employees seek review processes that are consistent, transparent, and respectful. They also expect an opportunity to voice their input. Make sure the tool you're considering has these capabilities, which contribute to employee engagement as well as retention.
To meet the expectations of direct reports and make reviewing a painless process for managers, look for a performance management tool that simplifies performance review workflows with easy-to-use technology. Solutions that use templates help with consistency and improve fairness, transparency, and accuracy. Templates also make it easier to complete reviews and keep them organized so that you can reference them in the future.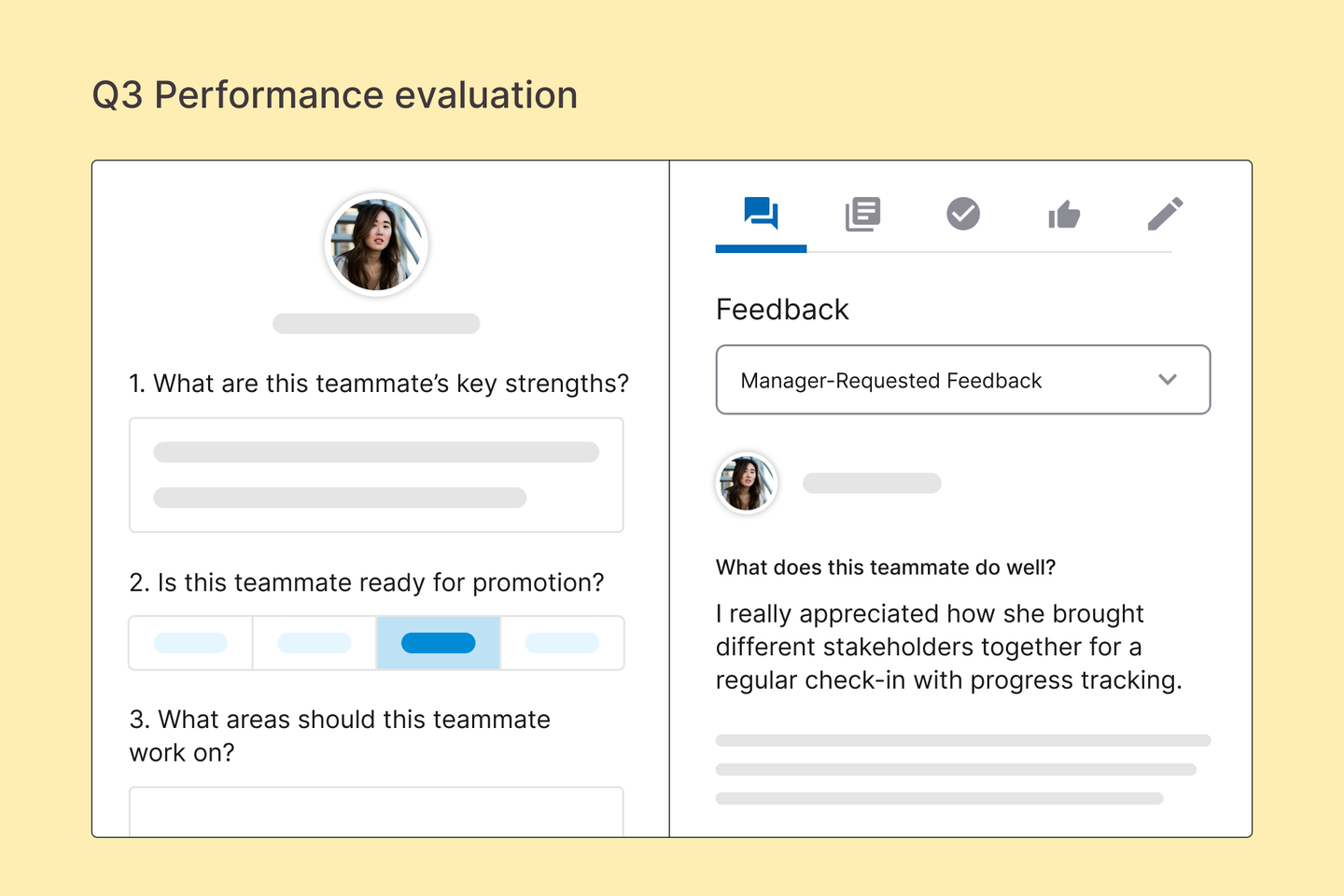 The best performance management tools also provide managers with a high-level view of performance. For instance, review data should be easy to calibrate so managers can identify performance trends across the company, determine top performers who may be suited for additional responsibilities, and look for opportunities to better align performance across teams.
3. Makes growth a year-round focus
Performance reviews are important, but in most companies, they only happen once a year. Without follow-up, important discussions about performance and goal setting may be forgotten until it's time for another round of reviews. If employees don't receive the support they need to act on the feedback they're given during reviews, they're unlikely to succeed.
Regularly meeting with employees throughout the year and providing feedback has a much higher impact on performance than yearly reviews alone. 1-on-1 meetings build connections between managers and their direct reports, and they offer an opportunity to check in about progress toward goals. This supports continuous feedback, which is a building block for successful team operations. Continuous feedback is also crucial for providing additional support to team members who are missing the mark.
Employees at every level benefit from a performance management solution that supports 1-on-1's, agenda-setting, reporting, and coaching through a unified platform. When looking for a performance management solution, also look for a tool that supports a wider feedback loop than just manager/direct report feedback, including peer feedback and self-reflection. Logging this data gives a more holistic and fair look at performance that will ultimately better support employees as they grow at the company.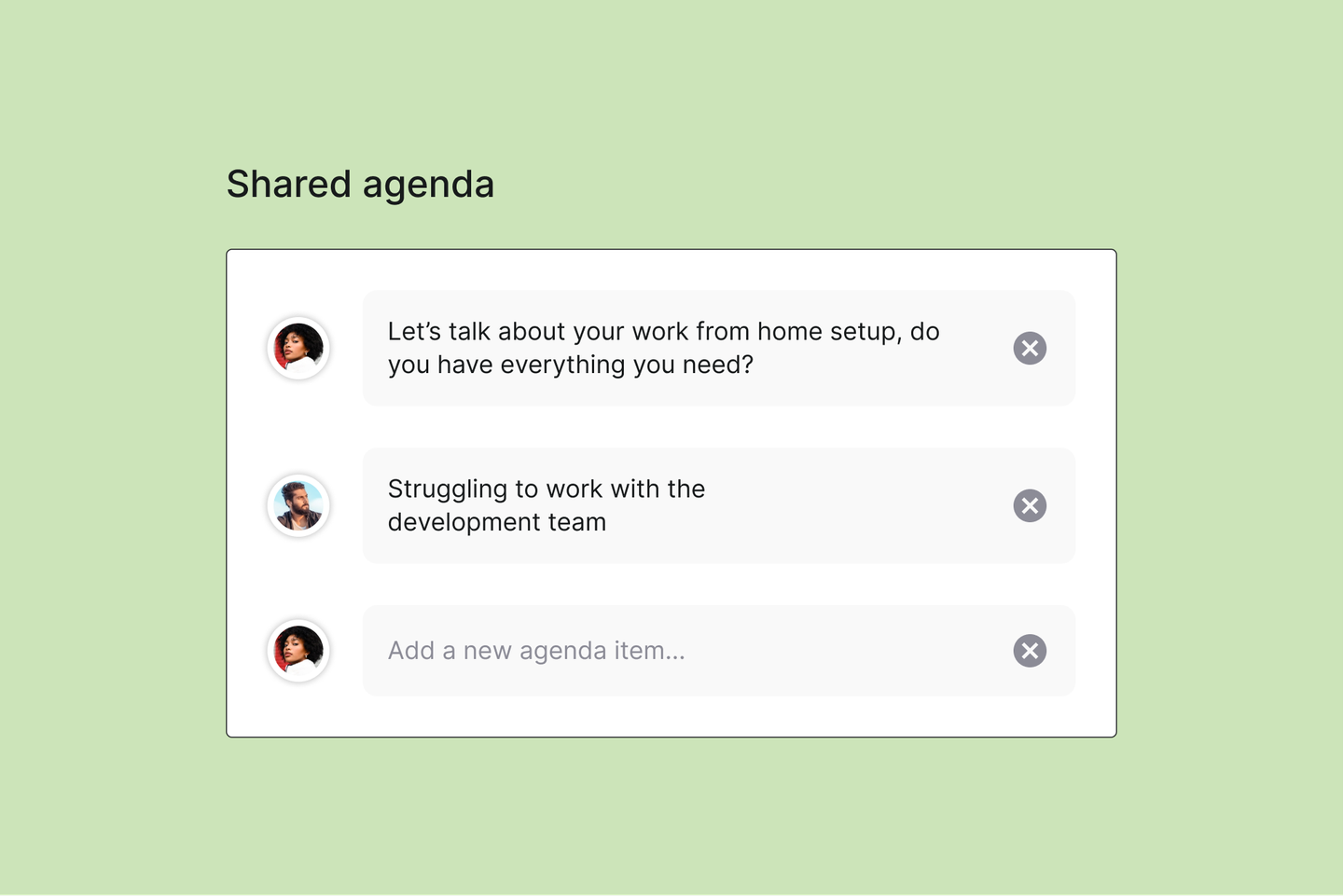 4. Integrates with your existing tech stack
It's likely that your company already uses technology for managing HR data or goal tracking. You might also be using project management tools to handle some of the performance management responsibilities. The benefit of a performance management system is that it allows you to centralize your technology stack so that you use fewer products to achieve better results at a lower cost.
The ideal performance management solution integrates with outside tools like project management software or an HRIS. This means that it won't stand in the way of your operations if you choose to keep other tools online or phase them out slowly while implementing a performance management solution. You can still get the quick and easy-to-use technology that you're looking for without disrupting the work of teams dependent on tools like Slack, Microsoft Teams, BambooHR, and Workday.
When comparing performance management tools, consider the integrations that you'll need. Take note of any overlap between the capabilities of the new performance management tool and your existing technology stack, and look for opportunities to phase out older technology.
Prioritize performance management with the right tool
When performance management is done right, it's simple, straightforward, and supports your company's success. With the right solution, you can bring your performance data into one centralized place, provide a platform that's easy for team members to work with across the company, and turn growth and goal-setting into continuous processes instead of a one-off yearly activity.
Remember, technology should support your performance management processes – not make them feel more difficult or cumbersome. Once you find the solution that's the best fit for your company, you're on the right track.
Build a world-class employee experience today