How management has changed: 4 key learnings from the pandemic
In an increasingly distributed world of work, managers are the tether that connects each employee to the organization. They can truly make or break the employee experience, especially amidst so many new ways of working. Managers must not only adapt to the changing landscape themselves but also guide their teams through this uncertain and unpredictable transition. Not to mention, they have to do all this while balancing the importance of team progress with consideration for ever-changing individual circumstances and ensuring that their direct reports are treated fairly and compassionately.
With this growing pressure on managers in mind, our people scientists dug into Culture Amp's data to understand what skills managers need to develop. We also looked into the role of identity in how a manager is perceived. Our latest study drew from a pool of almost 150,000 managers with ratings from over 2.5 million employees across 2,700 different companies.
This first article will start with the basics, including:
What are managers' strengths and opportunities?
How have these strengths and opportunities changed since COVID-19?
How can managers help during The Great Resignation?
How has the manager experience changed throughout the pandemic?
Our methodology
To answer these questions, we looked at results from Culture Amp's Manager Effectiveness survey, which is designed to assess manager strengths and opportunities. It covers ten factors ranging from communication and coaching to results orientation and technical capability. These factors are assessed by direct reports as statements (e.g., "My manager helps me understand potential career paths at [Company]") using a 5-point Likert scale ranging from "strongly disagree" to "strongly agree." If the direct report agrees or strongly agrees, they are considered favorable, and we average this number across their direct reports.
Below, we'll share four key takeaways from our findings.
1. Managers provide care and resilience but struggle with development
Across different industries, regions, and company sizes, we found that managers are generally quite good at:
Showing they care through considering their direct report's wellbeing (89% favorable), making time for 1-on-1 meetings (87%), and taking time to get to know their direct report (86%)
Being resilient by remaining calm and productive under pressure (88%) and coping well in a changing environment (86%)
But there are also opportunities for improvement. In particular, managers struggle to give their direct reports the development they crave.
Only 54% of direct reports agree with the statement "My manager helps me understand potential career paths at [Company]"
62% believe their manager has a good understanding of their longer-term career aspirations (not necessarily just within [Company])
And 63% of managers help their direct reports find things in their work and career that really inspire them
💡Insight: As organizations become more agile and dynamic, they should, in theory, be creating more potential career paths and opportunities to develop their people. But it also means development becomes more personalized, and as a result, more challenging - especially for managers who are expected to guide their direct reports.
Previously, when companies used time-bound guidelines (e.g., "You have to be in the role for two years before getting a promotion"), it was much simpler for a manager to support the career growth of their team. Now, people teams need to guide managers on how to have more free-flowing development conversations that genuinely focus on how the direct report wants to develop and identify projects (or even lateral pathways) that could get them there.
Even if there aren't higher-level roles open, initiating conversations with direct reports on how their role responsibility has expanded is a simple way to highlight development.
2. Managers doubled down on their strengths during COVID-19
When comparing manager results from before March 2020 to after, we found that, generally, managers have risen to the occasion with skills improving in 32 of 34 areas. However, we also saw something surprising - the most significant improvements have been in interpersonal skills, like caring, where managers were already doing reasonably well. Meanwhile, the skills that were already the lowest scoring before the pandemic - like developing direct reports - have generally stayed the same.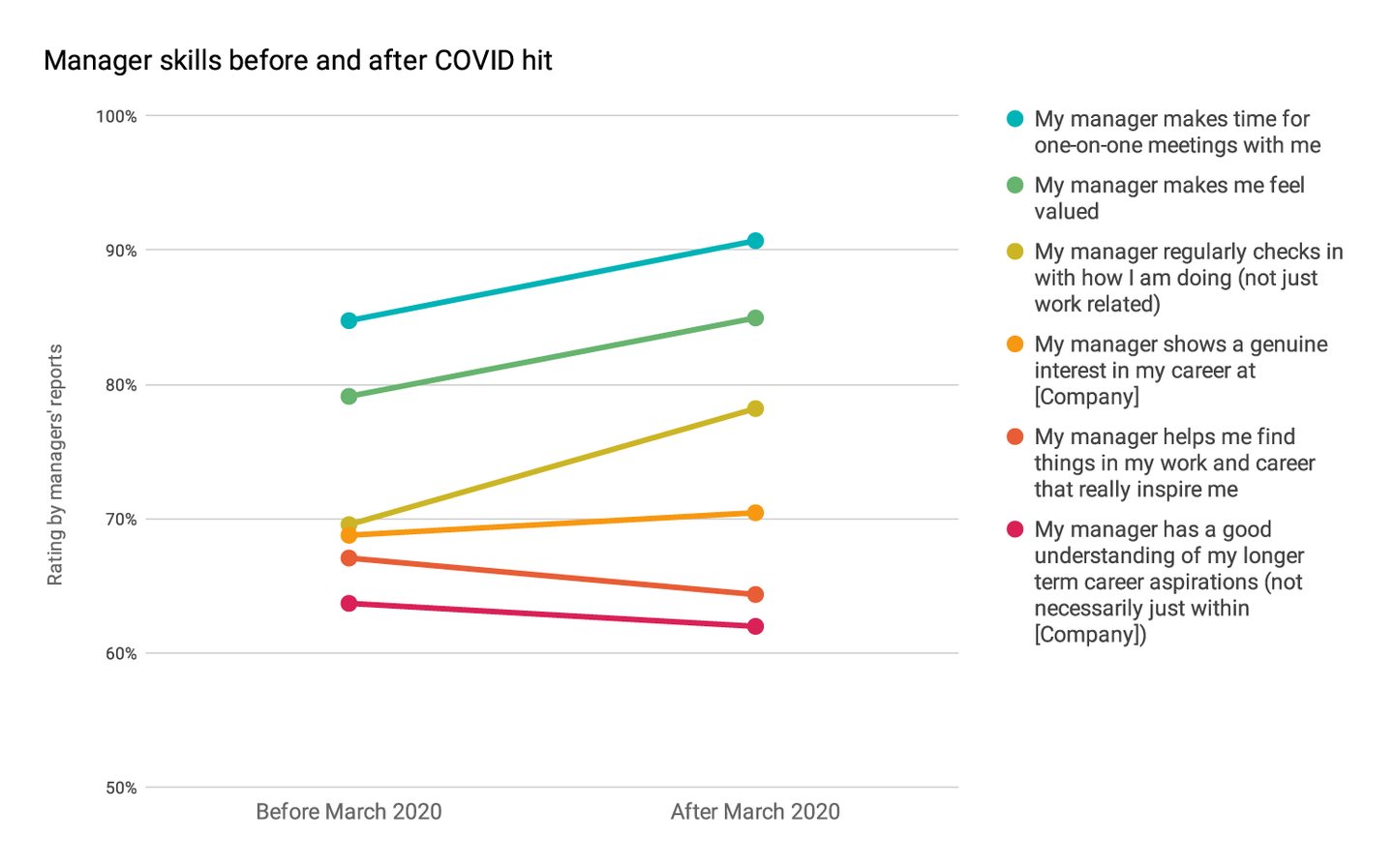 💡Insight: In some ways, this indicates that managers are trying desperately to do what's in their control. The pandemic highlighted that what's going on in the world and at home affects how an employee shows up at work. Each experience was unique - from whole families working and schooling under the same roof to a single employee quarantining alone. Taking the time to get to know their direct reports personally and understand their needs was critical to get through each day.
However, especially in the face of The Great Resignation, it seems the one thing that employees would most like to see from their managers is a clear and compelling vision of what their role within the organization could be and how to get there. From our previous study on attrition, we know that companies and managers that focus on development conversations are best positioned to retain more employees during this time.
3. Managers are the first line of defense…
In response to The Great Resignation, managers can act as the first line of defense by identifying employees that may be at risk of leaving and working with the organization to retain them. In a previous version of our survey, we asked "I would speak to my manager if I were thinking about leaving [Company]." From this question, we found that the three most important things that will make a direct report more likely to come to their manager if they're thinking about leaving are:
The manager showing a genuine interest in their career
The manager providing regular feedback on how they're performing
The manager genuinely caring about their wellbeing
💡Insight: Organizations can be better equipped to proactively identify and retain at-risk employees by training and improving these basic managerial skills.
4. ...But we need to take care of them
As we reported in our COVID-19 study, employee engagement and favorability have increased overall since the start of COVID-19. Across engagement questions, managers have seen a roughly 3.5% increase in favorability, with the largest improvements in (1) the company taking action based on survey results and (2) the company making a positive difference in the world. Out of over 50 questions, there were only two that decreased for managers:
Generally, I believe my workload is reasonable for my role
I am able to arrange time out from work when I need to
Importantly, these only decreased for managers, not the entire employee population (i.e., managers and individual contributors).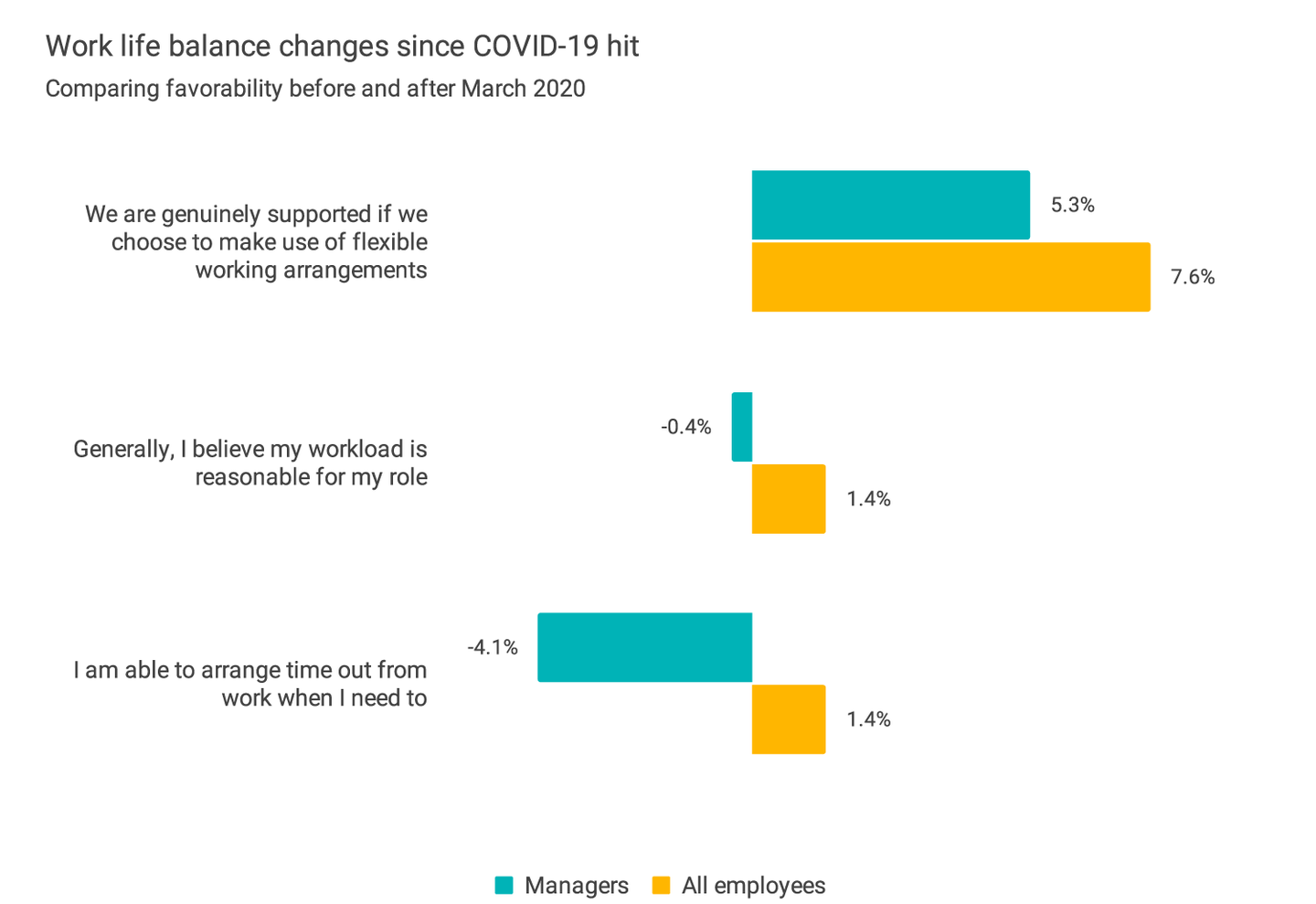 💡Insight: These findings indicate that managers are at risk of burning out. As the front line of defense and a direct line to the broader workforce, it's critical to ensure managers feel supported and able to recharge.
Employee development is the key to engagement and retention
While the last 18 months have been difficult, direct reports have generally seen an improvement in their manager's skills. The one exception was how much managers were (or weren't) helping them with their development, which was already an opportunity for many managers and a key driver of attrition. But we need to be careful not to ask too much of managers and provide them with the support and resources they need to support their teams.
Check out the next blog in this three-part series focusing on the factors that impact managerial effectiveness.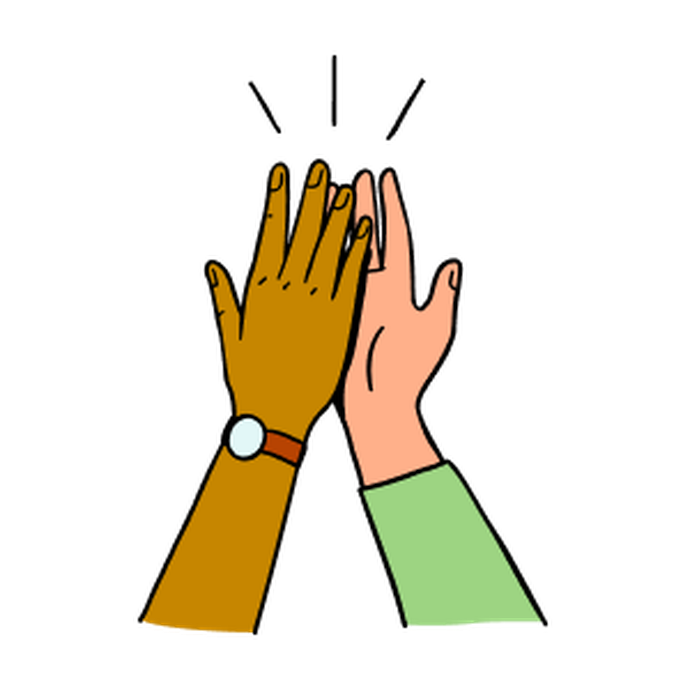 Engage your workforce with Develop
Embed learning and development into the employee experience.
Get a demo
Build a world-class employee experience today