4 learnings from our 2023 State of the manager report
The same way the world of work has changed, the role of a manager has also evolved. Today, managers are expected to focus more on empowerment and mentorship as opposed to mere supervision. As leaders, they've been tasked with creating an environment where employees can thrive, innovate, and contribute effectively to the success of an organization.
Managers are now responsible for aligning their team's efforts with the organization's strategic goals, guiding individuals on their personal and professional development, and providing regular feedback to improve performance. However, it's unclear whether managers feel properly equipped to succeed in these myriad roles.
In our latest research report, our people scientists dug into the data around the manager experience to better understand whether we're successfully supporting our managers – and in what ways we're letting them down.
Culture Amp's people scientists analyzed data covering 257,234 managers from 3,304 companies. Collected between July 2022 and July 2023, this data is comprised of feedback from 1,035,223 employees. Here's what they found:
1. Managers are getting mixed messages
Managers are expected to balance the wants and needs of their direct reports with those of their higher-ups. Unfortunately, this means they are often receiving mixed messages on where to focus their efforts. While the managers of managers want them to focus on leadership skills like strategy, their direct reports seek more support on things like growth and development.
According to our findings, the top area managers think they should focus on communication and strategy, followed by growing others. These responses align fairly well with what their managers and their peers say they should focus on – meaning these are likely also areas that lead to promotion.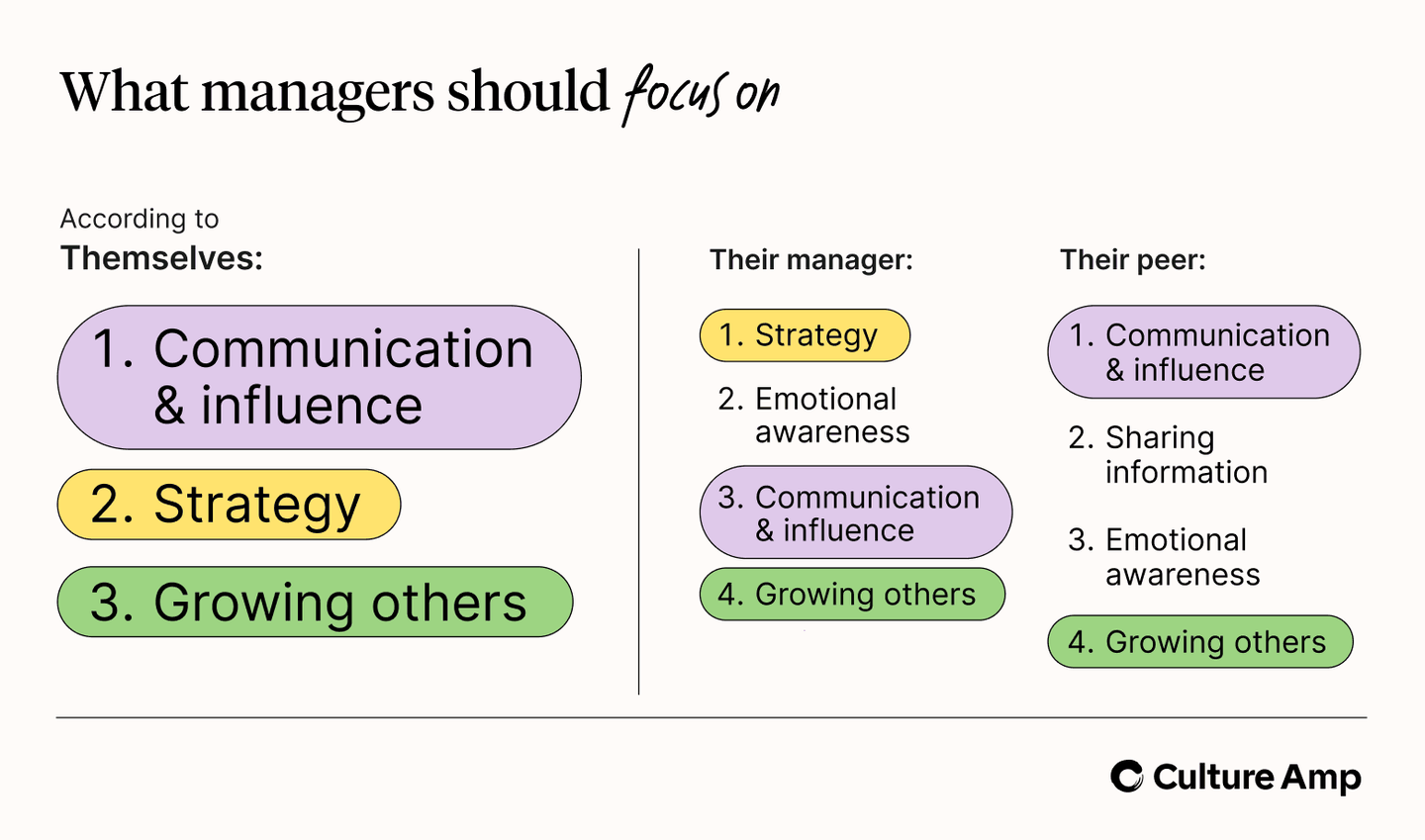 However, our results indicate that managers and their direct reports are not on the same page. When we look at what their direct reports say their managers should be focusing on, we see an interesting crossover pattern where the manager's top focus areas are the least important to their direct reports and vice versa.
For example, direct reports don't care about strategy nearly as much as accessibility to information. Ultimately, this puts managers in an uncomfortable bind between what their manager tells them to do and what their direct reports desire. Managers are told they need to focus on leadership skills and productivity, but their direct reports are saying they need more development and growth.
💡Insight: Choosing to cater to one's their own manager can be rewarding, which is why so many managers prioritize their managers' priorities. We found 1 out of 13 managers received a glowing performance review despite being rated in the bottom quartile of manager effectiveness by their direct reports.

Pro tip: Make sure to include feedback from a manager's direct reports in performance reviews to get a holistic picture.
Learn more about how 360° reviews can benefit the individuals, teams, and managers at your organization.
2. New managers experience a growth spurt in their first 2 years
Becoming a first-time manager comes with a steep learning curve. Many new managers who were superstar individual contributors in their previous roles quickly find that management requires an entirely different skill set. But, as a result, most new managers put a lot of effort into getting it right.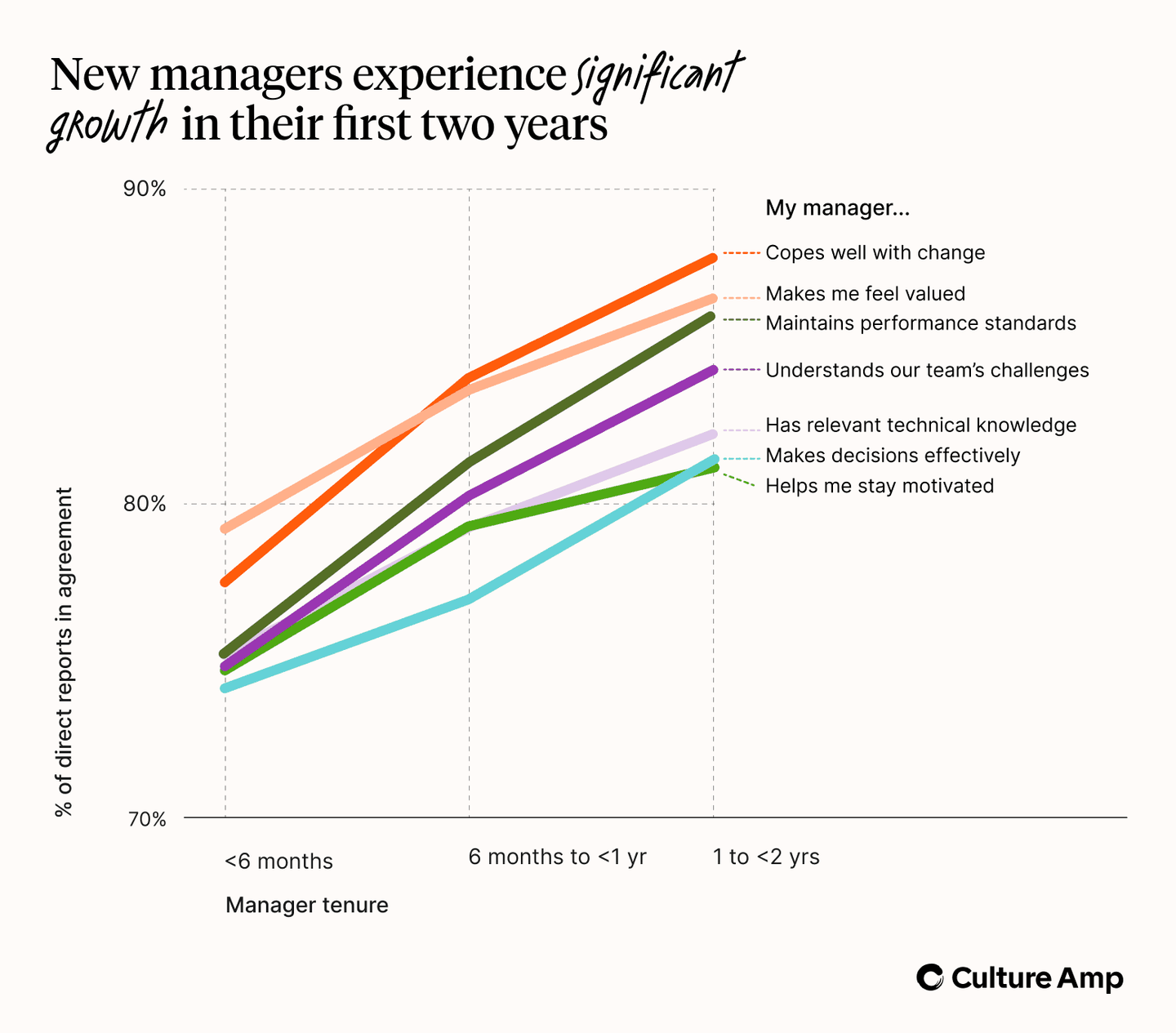 This growth spurt is likely driven by the desire to excel and prove they earned the promotion. They want to make improvements in processes that they now oversee and earn the respect of their teams and leaders.
3. Unfortunately, manager effectiveness plateaus after the first two years
However, this upward trend of improvement doesn't last forever. After an initial spurt of growth, our data shows that manager ratings plateau after two years of tenure.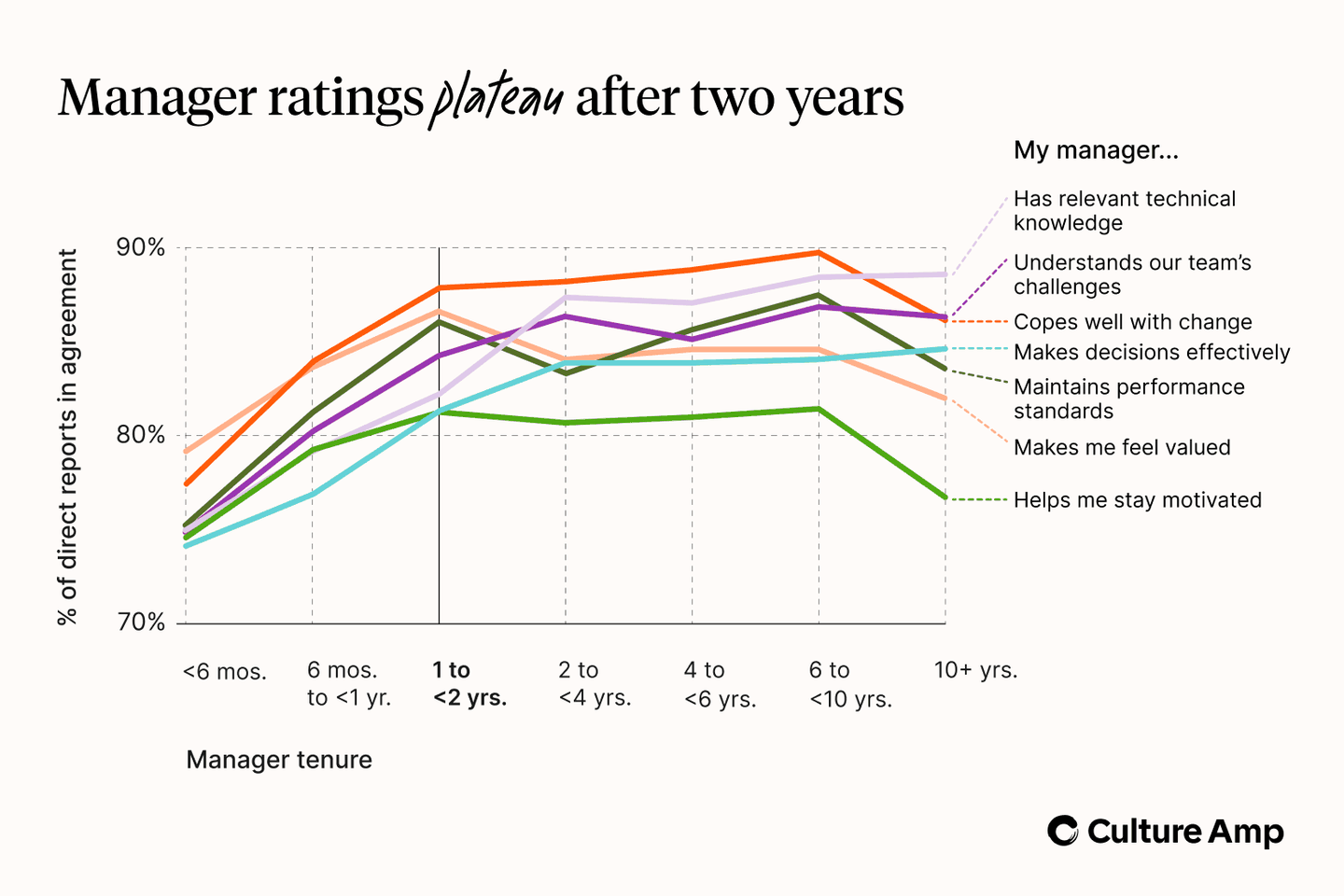 What causes this decline? Read the full report to find out.
4. Great managers have a measurably positive impact on the workplace
Equipping your managers with the tools and resources to reach their full potential has a measurable and virtually immediate positive impact on the workplace. We found that when an employee has a great manager, one whom they see as a role model, they score 27% points higher on motivation. This means that great managers help organizations get the best out of their employees.
Managers have the power to drive motivation and commitment among their direct reports. While a manager has a direct effect on their direct report's experience, senior leaders are also managers – and their effectiveness affects the whole organization.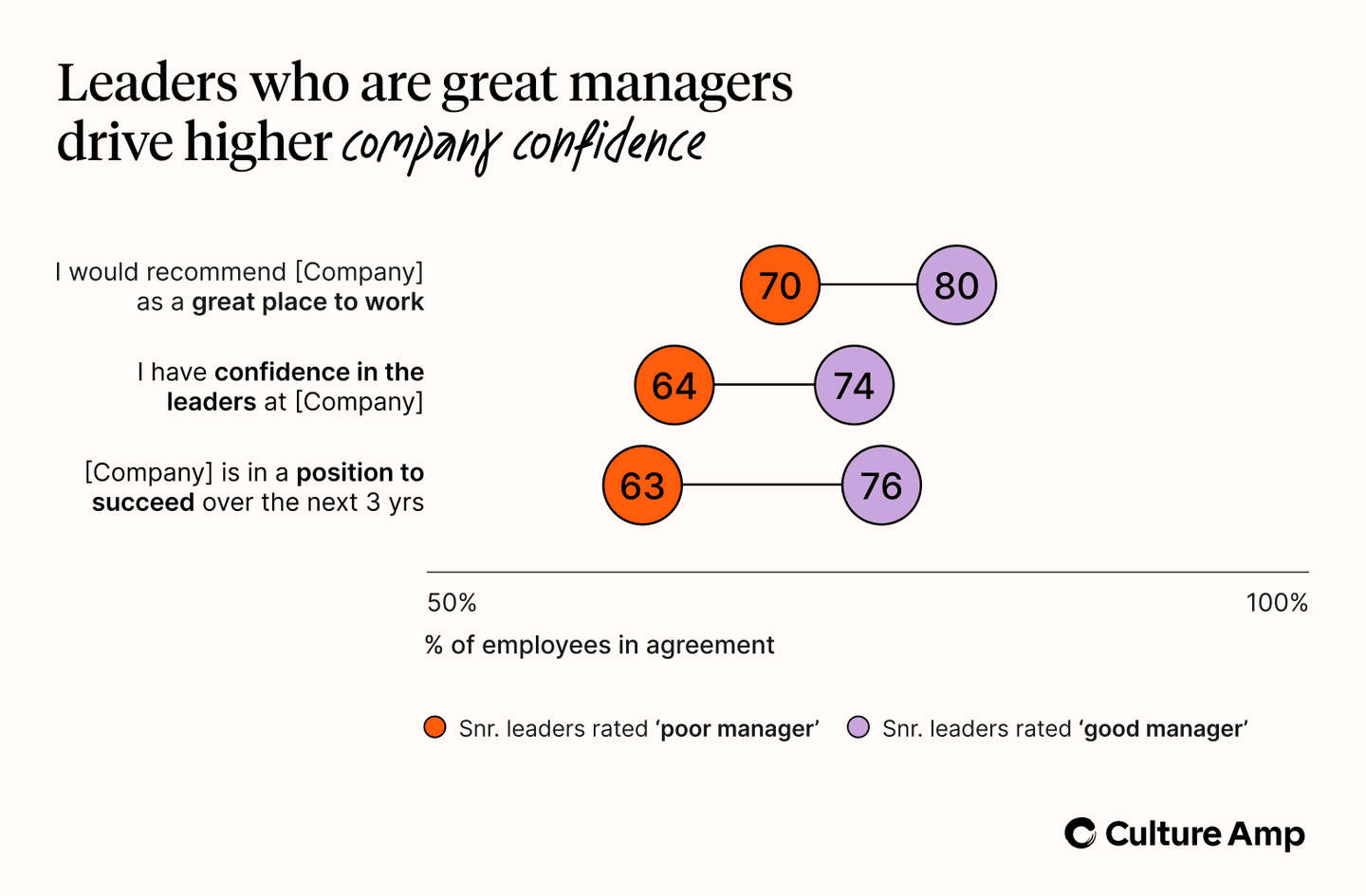 The entire organization benefits when senior leaders are also great managers (scoring in the top quartile of our manager effectiveness survey). We found that such organizations experience higher net promoter scores (NPS), more positive perceptions of leadership, and greater company confidence.
Likewise, senior leaders who score in the bottom quartile have a negative impact across the entire organization. What this means is that leaders who slack on their management skills set up their entire chain of command to be less effective, ultimately impacting how all employees perceive senior leadership.
Improving the manager experience
Investing in managers impacts both employee engagement and motivation, which in turn leads to improvements in employee performance and retention.
We found that managers who focus on behaviors such as 1-on-1s, goal setting, development planning, recognition, or continuous feedback see a significant increase in direct report motivation. This impact is cumulative. We found that while 1-on-1s create a modest difference of about 4% in motivation and goals, similarly at 4.5% on their own, doing them together creates a more than 7% difference in motivation.
Ultimately, the only wrong action to take is no action at all. The key is to use the multiplier effect to your advantage. Choose one new behavior you want to instill, focus on your senior leaders, and watch it cascade. While you can't give managers more time, you can give them more structure, tools, and resources to empower more impactful management.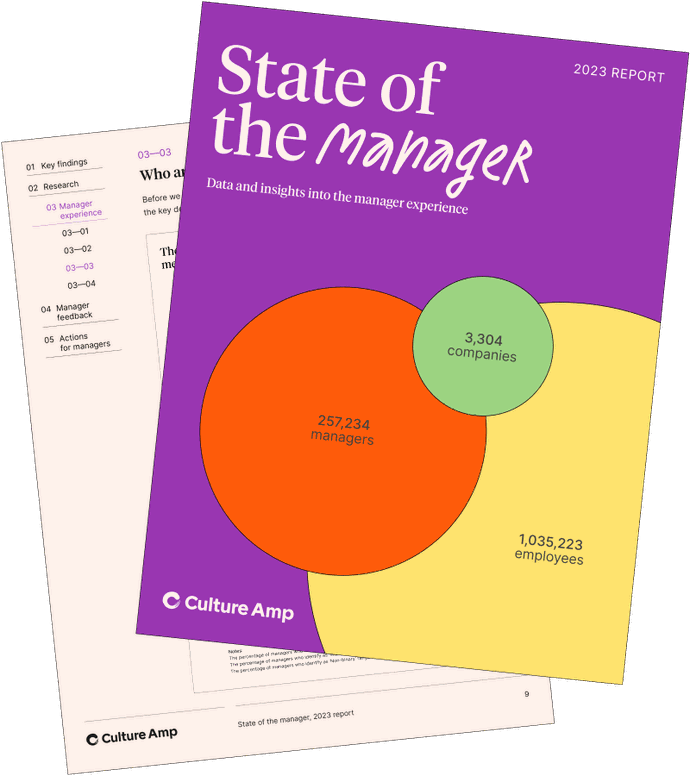 Amplify the impact of your managers
Read the full report for the latest data and insights into the manager experience.
Download the report
Build a world-class employee experience today