How to use OKRs to tie individual goals to business success
When it comes to moving your business forward and motivating your staff, effective employee goals are the key to success. Unfortunately, only 2 in 10 employees strongly agree that their performance is managed in a way that motivates them to do outstanding work.
That's in part because ineffective goals can do more harm than good. When goals are inconsistent, ambiguous, or unambitious, they can actually hinder business results and lower employee morale by wasting time, effort, and money. Thankfully, using a strong goal-setting framework can ensure your employees are challenged in all the right ways.
While you can use any framework that works best for your business, the one we love at Culture Amp is objective and key results (OKRs). OKRs start with a high-level objective, like "Launch a new product feature in Q1," and then list out a few key results that evaluate success. For this example, our key results might look like this:
Schedule ongoing user tests with top clients and power users
Partner with marketing to ensure successful internal and external launch
See product adoption rates of 30% in the first 30-days post-launch
You want to aim for two to five key results per objective to get a more holistic view of success and to gauge the extent to which you achieved your goals.
In this article, we'll look closer at how you can use OKRs tie individual goals up to top-level business success to increase organizational alignment, workplace agility, and employee motivation. Don't worry if your company doesn't use OKRs, as these tips are also applicable to other goal-setting frameworks.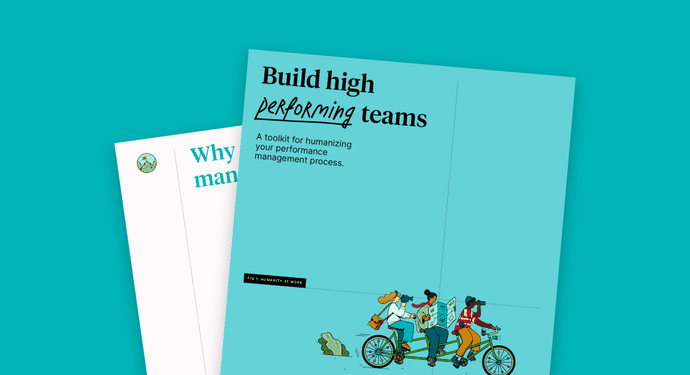 Build high performing teams
Unlock the full potential of your employees by building a performance management process that listens and speaks to your company's unique culture and people.
Download now
How to use OKRs to create cascading alignment
While OKRs can be written at the company, department, team, and individual contributor levels, they are most effective when they cascade down and up through an organization. At the top, you want your senior leaders to set the direction for the company and strategize how to keep the business successful this year and in the years to come. But, it's also important for your employees to have a say in these goals as well, as they're closest to your customers and most in tune with the areas of opportunity for your business. That's why you need goals that move in both directions.
Further, employees are 3.6x more engaged when they have a voice in setting their own goals and aligning them to company initiatives. Employee productivity increases by 56% when managers help employees align their goals with the organization's needs, so starting with a top-down approach to goal-setting is a win-win for your business and your employees.
Employee ownership of goals increases accountability and improves transparency, so everyone can see what their colleagues are working on and towards. It's easier to get employee goal buy-in by having them set their own objectives with manager approval.
While setting, tracking, and reporting on goals might seem like an administrative headache, it doesn't have to be. Our user-friendly, science-backed goal management platform makes creating, tracking, and updating goals easy for everyone. Your employees and people leaders can easily ensure that results and feedback are shared with the right people and that individual and team OKRs consistently align with bigger picture goals. That helps keep everyone aligned while freeing up more time for your team to do the work that drives the needle forwards.
OKRs help create an agile workplace
Things change, so your goals should remain flexible. Sometimes, goals set at the start of the year might not be relevant a few weeks, months, or quarters later as business priorities shift and the world changes. Revisiting employee goals quarterly, if not monthly, can help your business create a more agile workplace to be a contender in today's fast-paced world.
Goals can be especially effective when partnered with continuous feedback. Managers and their direct reports can check in on goal progress weekly and adjust and change goals as needed. For example, "Drive in-store visits increased by 30% in March" might have seemed like a solid goal for a retailer in January of 2020 until the pandemic shut down shopping centers that month. In this case, a manager and individual contributor could discuss alternative goals to achieve similar success, like: "Update online website with the latest store merchandise," "Launch virtual styling sessions for customers," or "Increase social media shopping conversions by 5%."
If your employee's goals do have to change, weekly 1-on-1s are the perfect time and place to have these discussions. Our 1-on-1's tool helps you empower managers to have more meaningful conversations with their teams, keeping everyone aligned, engaged, and working toward the same goals. From prompting periodic goal check-ins to tracking OKR updates, you can record any goal changes and ensure everyone is on the same page.
Goals motivate employees
Goals act as a North Star. Without it, your employees are forced to wander aimlessly, looking for an undefined destination. The majority of people in that situation would get frustrated, give up, and, ultimately, look for employment elsewhere – and who can blame them?
Giving employees a purpose directs their day-to-day contributions, which can do wonders for employee motivation and productivity. By explicitly defining success, effective goals can push employees to do their best work.
The right goals motivate employees because they help your team members understand how their role impacts the business's overall success and make them feel more connected to your company's mission. Not only that, goals provide natural checkpoints, so employees can track their achievements and contributions over time or even adjust their goals as business priorities change. Instead of just completing one-off tasks, goals help workers feel a sense of progress and accomplishment that can push them to do their best work day in and day out.
Alternative ways to build high performing teams
While goals and OKRs certainly help, they aren't the only way to build high-performing teams. In our newest toolkit, "Build High Performing Teams," we look at how to humanize your performance management process. You'll learn how to create a performance management strategy that caters to your organization's unique needs and improves your overall employee experience.
Build a world-class employee experience today