Why employee experience strategies must go beyond engagement
If your organization is committed to building a better workplace for your employees, make sure you're taking advantage of all the tools available to you. Many organizations focus only on the feedback they receive from employee engagement surveys. However, engagement surveys don't give your business everything it needs to take effective action to improve the employee experience. Surveys can help you identify where to direct your efforts, but they don't give you a holistic view of the employee experience.

Collecting engagement data is important, but data alone won't improve the employee experience. There's more to it. After all, employee experience is shaped by every touchpoint an employee has with your organization, from their first day on the job to their last. The innumerable factors that influence each individual's experience include everything from their direct manager's leadership skills to offering the right perks.

One significant factor that businesses often overlook in their employee experience strategy is enablement, which is the act of providing your employees with the tools and resources they need to be successful in their roles. Enablement is a crucial element that influences the employee experience at your business. When your employees have everything they need to perform their jobs well, odds are they'll have a better experience at your company.
While some companies lean solely on engagement survey data to direct their employee experience strategy, that data only reveals half of the picture. In this article, we explain why addressing both engagement and enablement improves the overall employee experience.
The employee experience equation
At Culture Amp, we define employee experience (EX) as what people encounter and observe over the course of their tenure at an organization. This article introduces a new framework for thinking about EX: the employee experience equation.
The employee experience equation is relatively simple and consists of two key elements: engagement and enablement. Here's how we think of it:
Employee engagement + employee enablement = employee experience
As you can see, the employee experience equation brings together the two focus areas (engagement and enablement) that allow companies to drive meaningful changes to the employee experience. By making improvements in one or both areas, you can make a significant impact on your employees' experiences at work.
Improving the employee experience through engagement and enablement
Let's explore the exact role of employee engagement and employee enablement in the employee experience – and how you can effectively take action to make improvements in both areas.
Employee engagement
What is the role of employee engagement?
At Culture Amp, we define employee engagement as the levels of enthusiasm and connection employees have with their organization. Improving employee engagement is necessary for improving the employee experience because it cultivates a sense of connection and commitment in the workforce, which in turn reduces turnover, increases profitability, and drives productivity.
For example, say your employees feel lost and unmotivated because they don't have clear objectives and a definition of what success looks like for their role. This lack of clarity creates a poor employee experience for your team, one that hurts morale and causes your employees to feel disconnected from your organization's overarching mission.
How can companies improve employee engagement?
Improving employee engagement first and foremost requires the ability to measure employee engagement. Typically, this is achieved through engagement surveys or employee satisfaction surveys. If your company isn't already measuring employee engagement, consider this your starting point.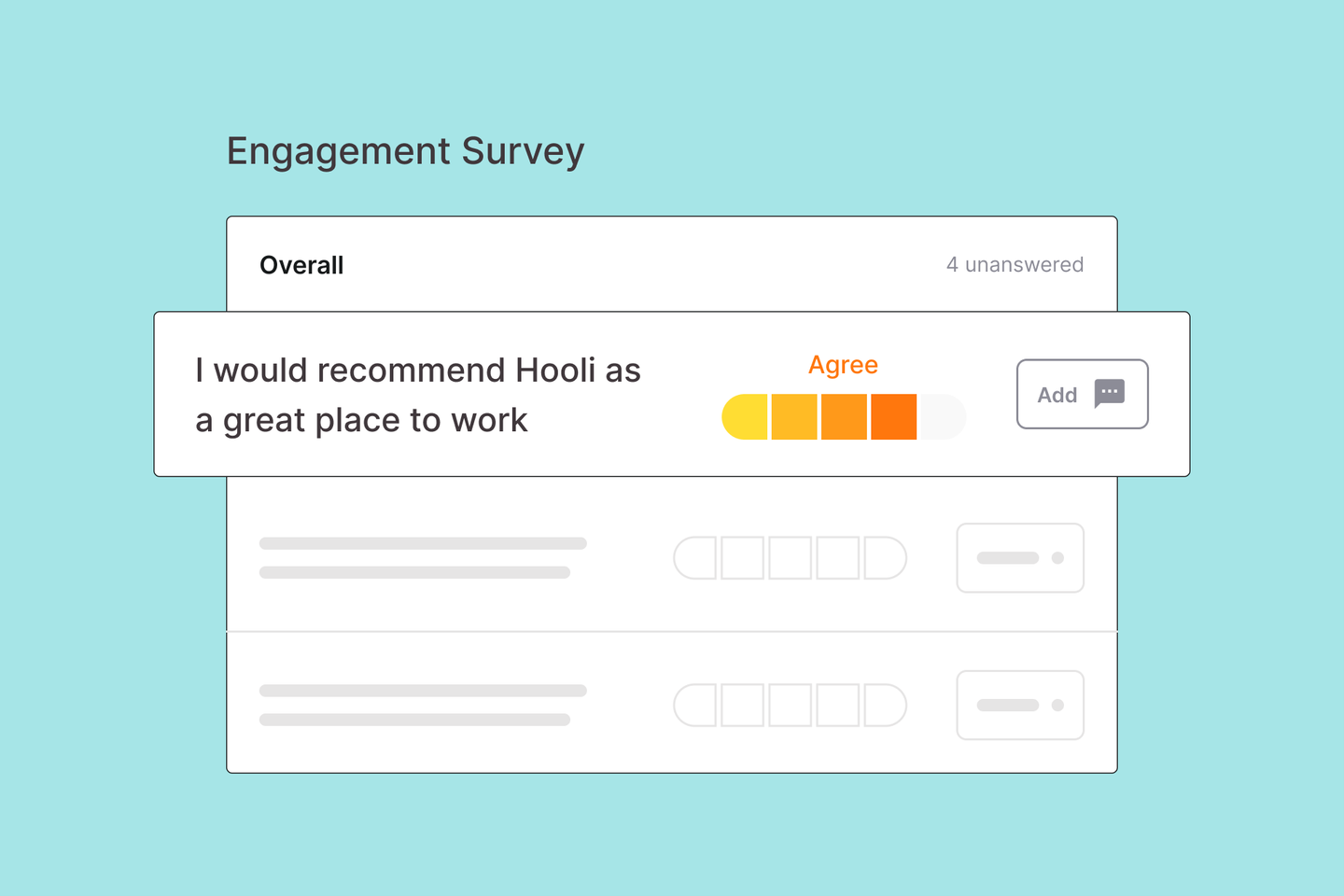 Simply administering engagement surveys doesn't improve employee engagement, but the data you gather will inform your employee engagement strategy. While surveys can surface policies and areas of your organization that need to be improved, the real impact of these surveys lies in the action(s) your business takes as a result. Unfortunately, this is an area where we see many companies fall short, as they expect change without ever taking action or establishing the necessary programs.
On the other hand, if your company is serious about improving the employee experience, you can use your engagement survey findings to incrementally build a better workplace experience for your employees. Whether it's rolling out a new inclusive parental leave policy or working to increase transparency around business performance, your HR team can listen directly to employees to identify areas of the organization where new initiatives and changes are likely to have a high impact. You can do your part to take action and keep engagement high, all while building a stellar employee experience.
Employee enablement
What is the role of employee enablement?
As described earlier, employee enablement refers to the act of providing employees with autonomy and access to the right resources, tools, and environment to perform their jobs effectively. In addition to engagement survey findings, enablement is another area where HR can take action to improve the employee experience.
How can enablement shape the employee experience? Say your employees are working on a complex project and using Google Drive to store their documents, timelines, templates, presentations, and any other assets they need. Odds are things will get messy quickly, especially if this project involves many teams. That mess can cause crucial project pieces to fall through the cracks, frustrating employees.
Now, say your HR team listens to employees and realizes a better solution is needed. Your company rolls out a project management solution, which helps employees stay organized, streamline communication, and complete the project successfully, if not ahead of schedule. The proper resources can empower employees to succeed in their roles and enjoy their time with your company that much more.
How can companies use enablement to improve the employee experience?
To build an employee experience that helps develop and retain your workforce for the future, HR leaders must set the business and its employees up to succeed. That means ensuring employees have everything they need to do their jobs well.
Here are several key areas where enablement can drive huge improvements in the employee experience.
Performance management
Performance management is no longer just a time to offer feedback and dole out raises. It's a valuable process that keeps teams aligned, keeps employees focused and agile, and ensures that everyone is equipped with the right tools and resources to succeed. The right performance management tool incorporates goal-tracking, the ability to easily receive and give feedback, calibrations, and more.
Employee development
You can enable your workforce to grow their existing skills and develop new skills with an employee development solution. Capabilities to look out for include the ability to chart a path for future development, share ongoing feedback, and check progress against core competencies and skills. For example, with Culture Amp's 1-on-1s, skill tracking, and 180° and 360° feedback surveys, employees own their performance and career growth, all in one platform.
Team effectiveness
Hybrid and remote workforces have created new ways of working at many companies. Whether a company has a hybrid team or takes a remote-first approach, new solutions make it easier to keep everyone connected. Team effectiveness solutions, which may include capabilities like 1-on-1 functionality and skill coaching, can help managers and individual employees be more effective in their roles. For example, using Culture Amp's employee experience platform, managers can easily improve their leadership and communication skills with daily, two‑minute interactive exercises to drive new behaviors and form healthy habits. The tool, Skills Coach, uses behavioral science and spaced repetition to drive real change, in a bite-sized format that fits into any manager's busy day.
An important thing to keep in mind: enablement is more than just providing more tools and technologies. Make sure that the tool you are picking is easy-to-use, and that your workforce is equipped to effectively utilize the capabilities being offered to them. For example, do your managers know how to talk to their direct reports on how to use the company's employee development tool to chart their personal career paths? Is the information on how to use the tool clear and accessible? Do existing workflows support the existence and utility of the tool? By proactively identifying roadblocks, you can ensure that your technology is empowering your people – not just bogging them down with yet another piece of software they need to learn.
A comprehensive view of the employee experience
A high-performing workforce is both engaged and enabled. Moving beyond engagement metrics to incorporate enablement into your employee experience strategy will help prepare your workforce for the future and retain top talent – with the right technology, of course. Together, engagement and enablement allow you to take a more holistic approach to elevate employees' experiences at work.
Build a world-class employee experience today