Case study
How Edge Delta scales company culture with Culture Amp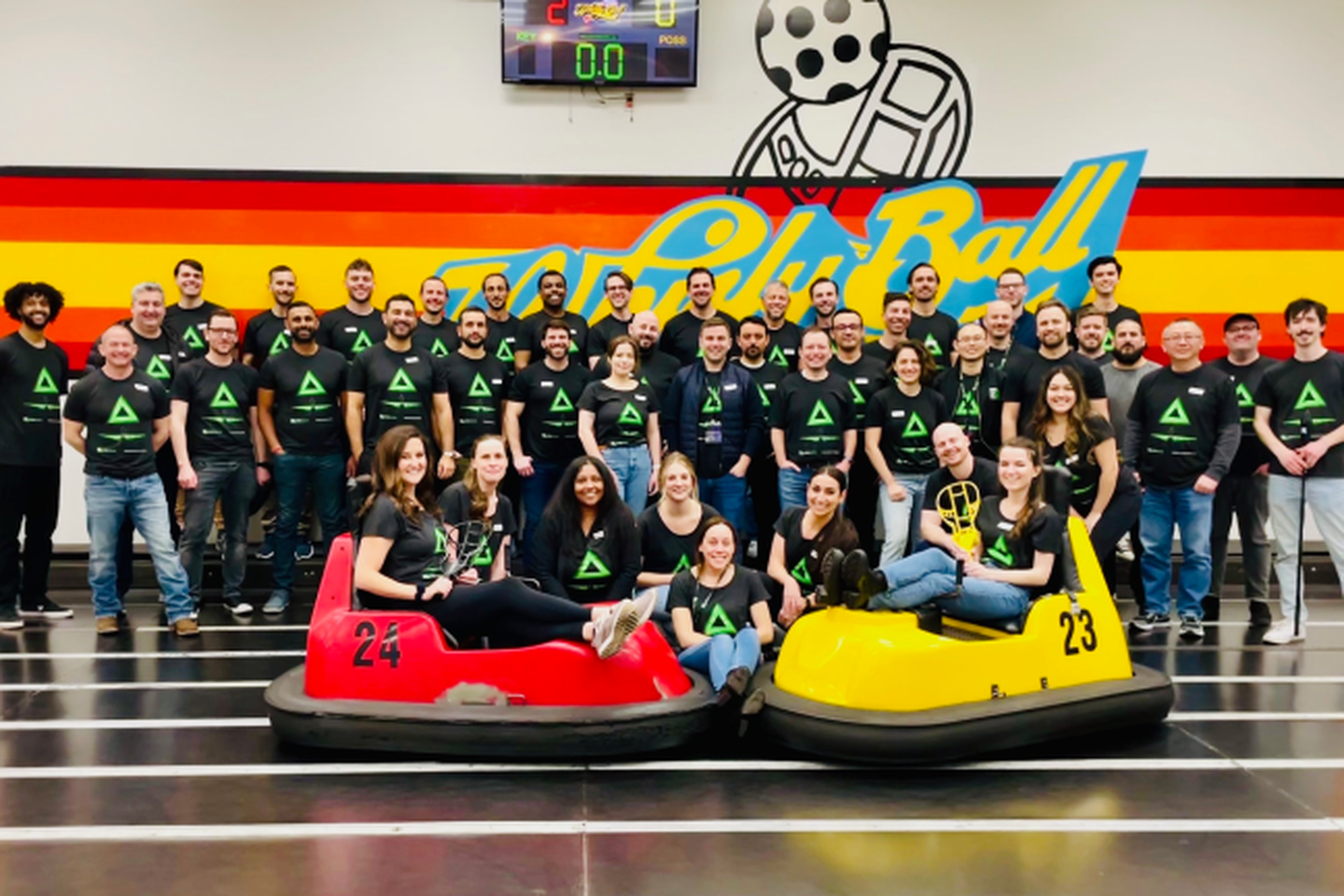 Statistics
80+full-time employees and growing

100%participation in performance management review

94%positive scores for teamwork and collaboration

80%Employee engagement score
Edge Delta is a software startup that helps enterprise customers analyze, optimize, and route data straight from the source. To provide the most rewarding employee experience from start to finish, Edge Delta used Culture Amp to enhance its employee engagement efforts, improve interoffice communications, validate employee satisfaction, and scale the employee experience.
Edge Delta is an observability automation platform based in Seattle, Washington. Founded in 2018, its cloud-first pipelines empower development and operations teams to control observability data, simplify log management, and expedite troubleshooting in real time.
Ash Mathew is the Director of Employee Experience at Edge Delta. She leads the employee journey through every touchpoint – from new hire onboarding through to the exit of the company. Her mission is to connect the dots from employee engagement to development and performance.
Since joining Edge Delta in May 2022, Ash established three pillars of employee engagement: new hire onboarding, equitable employee engagement, and Edge Delta Cares – a charitable giving program that encourages employees to give back to their communities. To bolster these efforts, Edge Delta needed a consistent, universal employee experience platform.
Challenge: Create a unified employee experience that could scale alongside company growth
Prior to implementing Culture Amp, each department at Edge Delta was using its own Google forms to distribute, collect, and evaluate employee input. Without a formal platform in place, team leaders worked in silos, which created inconsistencies in how they conducted 1-on-1s and generated employee feedback.
Ash had to start from scratch to create more efficient and intentional employee experience workflows that allowed for employee input to be collected in a centralized location and analyzed. She also knew that Edge Delta needed a platform that would support better communication between managers and their direct reports.
"As a startup, when we're hiring and building our culture, we know a lot of people will be wearing a lot of different hats. So, what are we doing to maximize employee retention? My goal was to find a really great employee engagement performance and development tool, and so I did a ton of research. I remembered using Culture Amp as an employee at different organizations, and I thought it would be the perfect fit," said Ash.
Solution: Launch employee feedback surveys and utilize performance management tools to institute goal-tracking
Getting buy-in from leadership was simple thanks to the clear business case Ash was able to make for Culture Amp. At a previous company, Ash had used Culture Amp as an employee and found it very easy to navigate. She started to explore it from an administrative perspective and liked that she could build whole initiatives end-to-end all within Culture Amp, including timelines and reminders.
Edge Delta also wanted an employee experience platform that offered both the ability to compare to external benchmarks and create their own internal benchmarks to help identify areas of strength and top priorities as the organization continued to evolve.
"Because we had a demo and a deck from our first meeting with Culture Amp, I was able to customize and share the information with our leaders so they could understand the platform and its use cases, and confirm that it served all our purposes," she said.
From start to finish, implementing Culture Amp only took 30 days. Edge Delta was able to introduce the platform to all of its employees in June 2022. With Culture Amp, Edge Delta was able to:
Collect, analyze, and share employee engagement data
Conduct highly personalized performance reviews
Build stronger bonds with employees across all departments
Improve communication between leadership teams and employees
Determine actionable steps toward continued success
Edge Delta also launched its first company-wide employee engagement survey by the end of 2022. In spring 2023, the company rolled out Culture Amp's performance management tools to equip all team leaders to align employee goal-tracking with annual reviews and formalize and standardize their 1-on-1 processes. Ash was able to use Culture Amp's Live Chat feature throughout the set-up processes to access quick, comprehensive answers to her customization questions.
Once employee feedback was received, Ash could quickly pull information, filter it, and share it with the executive team and department managers. Features like Culture Amp's heatmap displayed the data visually, which helped team leaders understand and explain survey results.
"I really love that Culture Amp is a science-backed platform. I know that all the templates, reviews, and calibrations have proven results to help us achieve our goals," said Ash.
Results: Benchmarks for employee engagement, streamlined 1-on-1s, and actionable goals for performance reviews
The first employee engagement survey yielded the following results:
77% participation rate
84% employee engagement score
95% positive score for "I know how my work contributes to the goals of Edge Delta."
93% positive score for "I feel I'm part of a team."
Ash was able to leverage Culture Amp's benchmarking tool to compare Edge Delta's inaugural employee engagement score against the industry standard of 70-75% and validate that the company's employee engagement efforts were producing excellent results.
Building stronger employee relationships
With the performance management tools in place, every Edge Delta employee completed their annual review process, for a remarkable 100% participation.
"It's so nice to see more of our team members understanding that each role is part of the bigger puzzle. We're starting to put all those pieces together, and our leaders and employees can see what we should prioritize as we evolve," said Ash.
Now, managers are using 1-on-1s to have more meaningful conversations, inspire better performance on their teams, and build out roles with more intention.
"The 1-on-1 tool integrates with our email system, so managers can sync up their schedules alongside conversations with their team members. It's so important to have those critical check-ins. Being able to plan and prepare conversations helps us support the entire employee experience. We'll be able to sustain better relationships for longer periods of time," she said.
Using Culture Amp, Ash can also filter the survey reports, pull specific data on certain teams or departments, and then easily share that information with leaders and managers in different visual formats to help support their employee check-ins and overall goals – an ability she would not have if Edge Delta used Google Forms.
Looking ahead
Since implementing Culture Amp, Edge Delta has saved time with the easy-to-use platform and also been able to add more data and meaning to their monthly all-hands meetings.
"Now that we have the metrics to support our initiatives, we bring it to our entire team. There's so much value in talking about participation, talking about our score, and talking about what we're doing well. It helps us prioritize what we need to share and then discuss what we need to prioritize for the next quarter or upcoming year. With Culture Amp, employees know we're really listening," said Ash.
Edge Delta is also planning to bolster its employee engagement efforts with Culture Amp's 30-, 60-, and 90-day check-in surveys for new hires, pulse surveys, and employee development tools.
"From the very start, I've had a great relationship with the Culture Amp team. They made sure to bring in all the right people, so we really understood the platform's capabilities. When I started building out the surveys, I actually got to talk to a live person and ask questions, so I could get it right. Everyone I've interacted with at Culture Amp has been amazing, and that says not only a lot about the tool, but the organization and its culture as well," said Ash.
Headquarters
Seattle, Washington
INDUSTRY
Internet Software & Services
CHALLENGE
Identify a formal employee experience platform that can scale with a startup
SOLUTION
Launch Culture Amp to create consistent feedback and actionable items that help measure success
RESULTS
Internal benchmarks for employee experience, a formal and collaborative 1-on-1s process, and stronger interoffice communication
Build a world-class employee experience today