People Geek of the Month: Emma Bindbeutel
Getting hired at Choozle is akin to receiving an acceptance to Hogwarts.
When you join Choozle, a digital advertising software company, something exciting happens. You get a letter that tells you which Choozle Crew you're part of Spring, Summer, Fall, or Winter. The Crews are made of employees across teams and each boasts a unique logo flag which hangs in the company kitchen. The Crews also have quirky rituals. For example, the Fall Crew throws leaves into the air to welcome its new hires. Crews receive points for everything from wearing Choozle swag outside of headquarters to having "coffee dates" with remote employees.
All of this is done with the goal of winning the House Cup at the end of the quarter. The employees, also known as Choozlers, adore this tradition.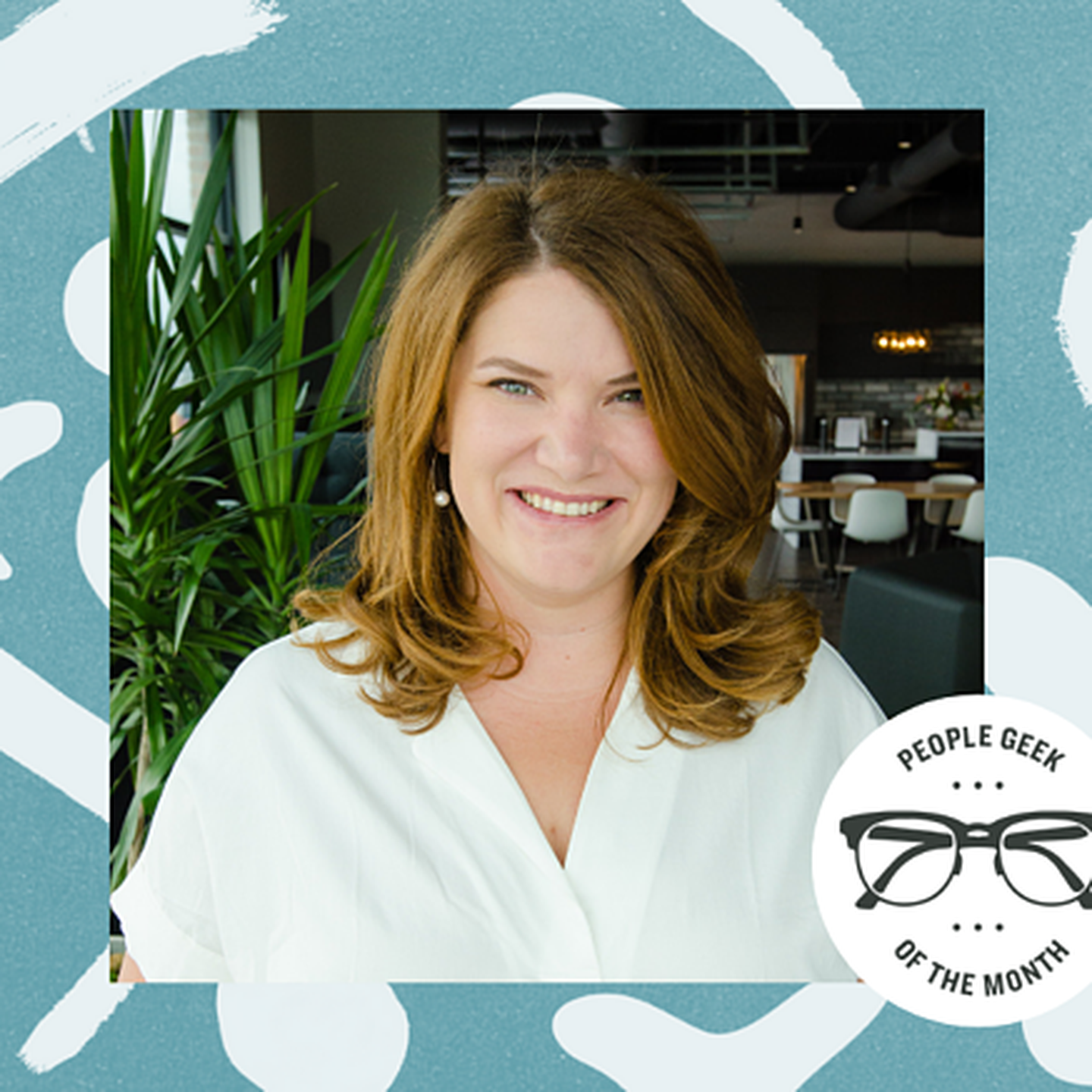 This is only one of many creative initiatives that Emma Bindbeutel, Director of People Operations, has implemented since joining Choozle a little over a year ago. Similar to many HR leaders, she didn't expect to end up in this role at the beginning of her career.
All hands on deck
Emma originally went to school for graphic design. However, after trying a few industry internships and jobs, she decided it wasn't the right fit. Fortunately, when she had this realization she was working at TOMS, which at the time was a small, 40-person team.
"That experience opened a lot of doors. We were all hands on deck, and we needed people to do everything - from responding to questions on Twitter to working events. That's when I started working with other departments and realized that I get a lot of energy from meeting with people, educating them about TOMS, and involving others in our culture activities."
So when Emma moved from Los Angeles to Denver three years later, she decided to join the scrappy team at Craftsy (now Bluprint) in a community relations role and further pursue her people-focused interests.
"I hit the jackpot in terms of finding a scrappy, but more experienced 28-person team. I took on multiple roles, from being part of interviews to building company activities to customer support. Eventually, thanks to the guidance of one of the founders - Josh Scott - I ended up as the second support to our Head of HR."
After gaining experience in recruiting at Craftsy, Emma set out to find exposure to other facets of HR. She joined Dizzion, where she familiarized herself with everything from benefits to compensation to performance reviews. This is the wealth of experience she brought into her current role at Choozle. She was an early employee tasked with refining various HR processes, introducing new initiatives, and enhancing the company culture.
"The culture was very defined when I came on board, and I didn't want to mess that up. I wanted to add to it. There needs to be a balance, where you come together to embrace change and growth, but also appreciate the history of the company without dwelling in the past," says Emma.
Hiring as a two-way street
One of the areas Emma has focused on during her time at Choozle is the new hire process. She explains the three personas that make up their company culture:
Employees looking for a fun, energetic team environment
Employees who want to drive their career forward
Employees who are in different stages of life that we can support in their work-life balance
These are the types of people Emma keeps in mind when going through the hiring process. Not only to ensure a good fit for the candidate, but also for the company.
"Hiring is a two-way street. It's just as much about the company as well as the candidates. That's why I take all interviewing teams through training. We get everyone in the same room to decide what we're hiring for, who is going to ask what questions, and to make sure everyone has reviewed the resumes and cover letters. It's been really impactful to get the whole team on the same page."
As a result of this collaboration, Emma says, it feels like a huge win for the whole team when a candidate is successfully brought into the company - not just the hiring managers.
From tribes to trust
Another area Emma has had a huge impact on is her work with the leadership team. When she first joined Choozle, the leadership team was not as structured, and there was no weekly meeting in place. When Emma suggested starting one, she found it to be challenging to get everyone in the same room.
"That's how we came up with the idea of Tribes. They were three small, cross-functional groups that involved everyone who was a manager or department head. At the tribe meetings, we got together and talked about a different tough topic every other week - from letting people go to not feeling confident during one-on-one meetings. I think a lot of people have Imposter Syndrome and don't want to say they're struggling but, in these meetings, it's ok to admit we don't know everything," says Emma.
Thanks to these tribes, people's relationships became stronger, conversations started to build, and trust was developed.
"Slowly, we got to the point where we built enough trust to sit in a room together. We met with members of different startups in Denver to learn how they run their meetings, asked department heads what information they would find valuable, and read articles from Culture Amp and other publications to figure out what makes leadership team meetings impactful. That's how we came up with our own agenda. Now, all executives sit in the same room every Monday and go through brief updates that take 20 minutes. The remaining 40 minutes are dedicated to open discussions. We've seen much more impact in communications since we started running our meetings this way."
As a result, Emma was recently able to share the results of Choozle's bi-annual employee pulse check survey with the entire leadership team for the first time. Previously, the results were only  shared with the CEO and CTO, but the trust built from the tribes made it possible for everyone to feel comfortable to sit together in a room and receive the feedback together. Now, everyone uses the results as a blueprint to guide improvement for the next six months.
"Everything really does start at the top - I can't stress that saying more. If we're having fun, the rest of the team will also have fun. If we're feeling confident in our company, the rest of the team will also be confident in our company. We have to be on the same page and use each other as support," says Emma.
Emma, thank you so much for taking the time to share your knowledge, ideas, and recommendations with us! If you have an inspiring HR leader in mind who would be great for our series, nominate them as our next People Geek of the Month.
Know another inspiring HR leader?
Nominate them to be our next People Geek of the Month
Submit your nomination
Build a world-class employee experience today