People Geek of the Month: Chelsea Johnson
Chelsea Johnson is the Director of Employee Experience at XO Group, an international media and technology company that provides resources for couples going through life milestones - such as planning a wedding, creating a home, or starting a family. The XO Group family includes well-known brands such as The Knot, The Nest, The Bump, GigMasters, and How They Asked.
After receiving a glowing nomination that praised her creative and data-driven thinking, we were excited to sit down with Chelsea to discuss her career path, expertise in HR communications, and dedication to making sure people leaders have a seat at the table.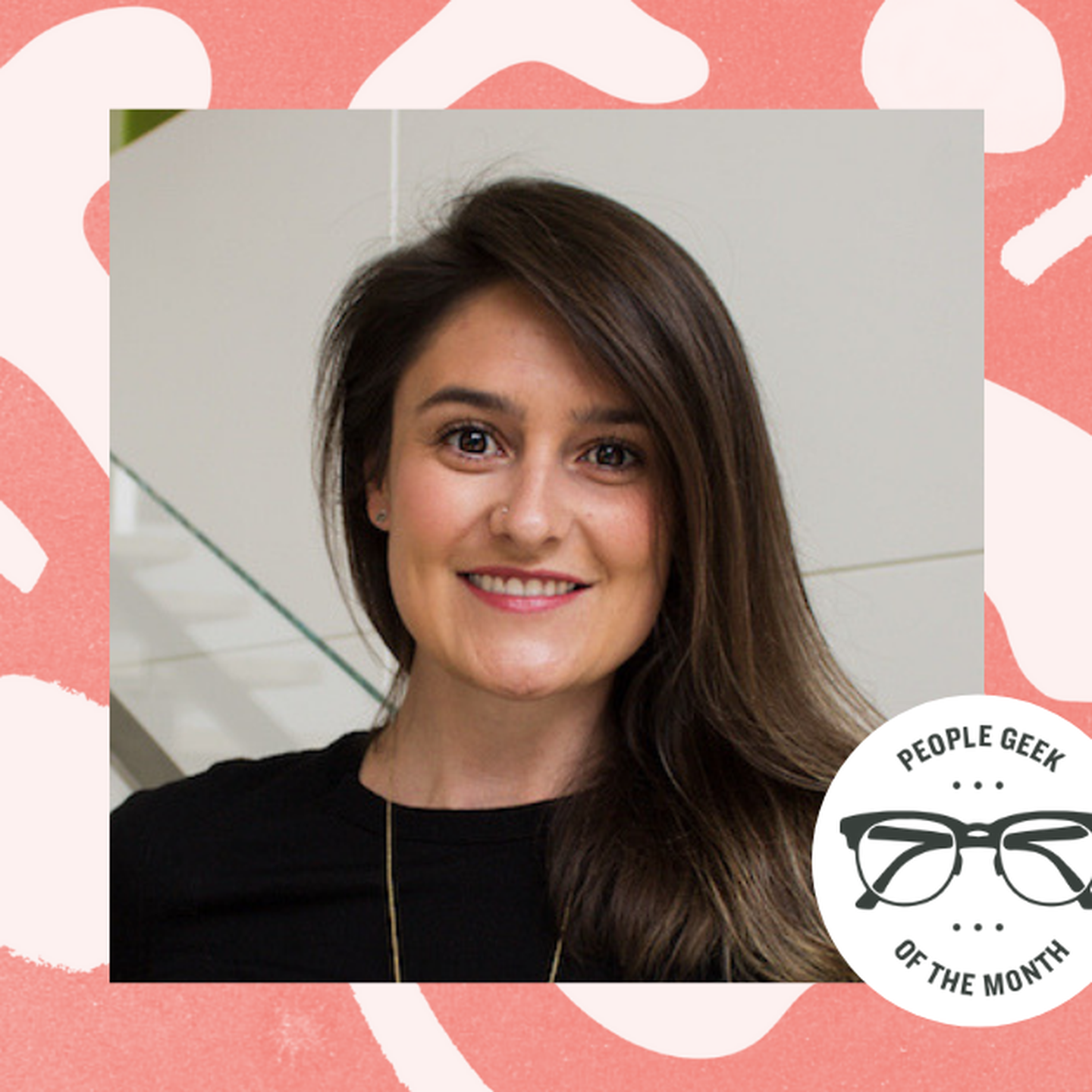 An unexpected detour into HR
A single sentence during a job interview changed the course of Chelsea's career trajectory.
After a three-year stint working ad sales at MTV in New York City, Chelsea jetted off to Australia in search of new work experience. While she wasn't exactly sure what she wanted as her next job title, she knew what she was good at - bringing ideas together and driving them forward. Chelsea secured an interview with Boeing for a role in employee training but, after a brief mention of her prior experience with PeopleSoft, was immediately redirected to the HR department.
"I used PeopleSoft when I worked in admissions back in college, but I had no idea it was an HR system. The recruiter heard that one word and threw me over to HR because they were looking for help in the project management space. Until then, I - probably like a lot of people - thought HR was just there to hire you, fire you, and pay you."
Instead, Chelsea quickly learned how much depth there was to HR and fell in love with the role. Not only did she receive a thorough crash course about the industry, but she also had the unique experience of working abroad for a large global corporation - all experiences she carried into her next role at XO Group.
Chelsea also mentioned that during her tenure at Boeing, the company was in the process of transitioning from a traditional HR model to the business-partner model. This was her first exposure to viewing HR as a key business function instead of a transactional one.
"I loved the concept of the business-partner model and having a seat at the table. While I also like the warm fuzziness of working in HR, I was excited to get to a place where people are being looked at as KPIs and business drivers. Talking about people from a strategic sense is really exciting to me."
Cracking the HR communications code
One of the most unique aspects of HR is the diversity of experiences people bring to their roles. For instance, Chelsea's background was originally in communications, and she has always had an eye for design - two skills she has used to strengthen the HR function at every company she's worked for. Her first order of business at both XO Group and Boeing was to polish everything that went out from their department.   
"It's important because, just as you wouldn't take an email with typos seriously, you wouldn't take a deck from HR seriously if it looks unprofessional. After that, I went in and addressed the other items that needed fixing."
Communications, Chelsea says, is at a particularly critical point right now. Since many companies are either transitioning to a business-partner model or pivoting from HR to people and culture, employees need to be reintroduced to what this new version of HR means.
Everything we do affects every employee. We can go to a dark room and create all these amazing programs, but if nobody knows about it, none of it matters. That's why it's so important to build out ways to get the messaging out.
Chelsea admits that HR communications are particularly tricky - especially at larger companies like XO Group, where they have just under 800 employees across the world. How do you reach hundreds of employees who care about different things, want to be spoken to in different ways, and use multiple communication channels?
"When I first came to XO Group, I was really interested in making sure everyone was getting the exact same employee experience. I quickly learned one of the greatest things about our culture is how different it is - there are microcultures everywhere. Austin is a totally different office than the Omaha office. Even within the same office, there are microcultures depending on where you sit. So instead of making things uniform, we give our people things to tether to - like our company values, which is a huge part of who we are - so that all the microcultures can thrive while still feeling connected to our company."
Chelsea's best advice is to not be afraid to make mistakes or experiment when it comes to HR communications. She says she feels lucky to have the freedom to play around in the safety of the incredibly strong brand XO Group has built.
"They let me break stuff, innovate, and experiment, which is so much fun. The company is big enough that we have tough problems to solve but small enough that I can still communicate with everybody. For instance, when I first started, I was doing a weekly email. But people told me it was too long and said they just wanted to know the top five most important things. So I created a tl;dr section and now, people message our team if there's a week that the email doesn't go out. In fact, we received an amazing email last week from one of our remote employees, who thanked us for sending the emails every week because it makes them feel like they're closer to the rest of the company."
Making data-driven business decisions
Chelsea is a self-professed data nerd, which she attributes to her research-focused education at the University of Delaware. She says this is why she's such a champion for Culture Amp at her company, where they conduct many different types of surveys - from onboarding to employee engagement to exit.  
"Data-driven business decisions are my favorite. In the past, I had to build my own charts and graphs from raw data, which was a lot of work. So when I got to play around in Culture Amp, I loved that the platform was cutting and slicing the data in ways I hadn't even thought of, and I didn't have to do the work. I'm so bought into a company that can not only help HR move  forward as a business function but also backs it up with a message I personally agree with."
Chelsea says that one of her favorite things about using Culture Amp is that it's backed by research. She shares an example of a time XO Group's Diversity & Inclusion team wanted to bring in consultants to conduct a survey. 
"I suggested using Culture Amp's D&I survey and sent the team a couple articles about it. It turned out, the company they wanted to use was the same one Culture Amp used to create their D&I survey. I feel so much more comfortable going out into the business as a subject matter expert when I'm backed by research and data."
Chelsea also explains the value she's seen of tying data back to what she calls the 'red thread' of the employee experience.
"Let's say we have people who joined our organization because they saw a career opportunity here. Then, in the employee engagement survey, we see that people aren't really getting the career development they want. And finally, in their exit interview, these employees say they're leaving because they saw more career development opportunities somewhere else. Thanks to these surveys, I can now trace the red thread throughout their entire experience and know that this is something we need to focus on."
A passion for putting people first
Ultimately, Chelsea's passion for her role boils down to the people. Her personal definition of what it means to be a Culture First company is to see employees as the most important assets to the organization and make them feel like they have a stake in the business.
"I want the people team to have a seat at the table and for organizations to understand that people are the biggest drivers of their business outcomes. We spend so much of our time at work, and we need to enable people to be part of the business so they feel like they're not just a cog in the machine."
A huge thanks to Chelsea for taking the time to share her experiences with us. Know another inspiring People Geek? Nominate them as our next People Geek of the Month.
Know another inspiring HR leader?
Nominate them to be our next People Geek of the Month
Submit your nomination
Build a world-class employee experience today