Chloe Sesta Jacobs: People Geek of the Month
If you were the first person to buy a ticket to Culture First, you're probably a People Geek. For Chloe Sesta Jacobs, this was the case. She bought the first ticket to Culture Amp's Culture First event in June 2018.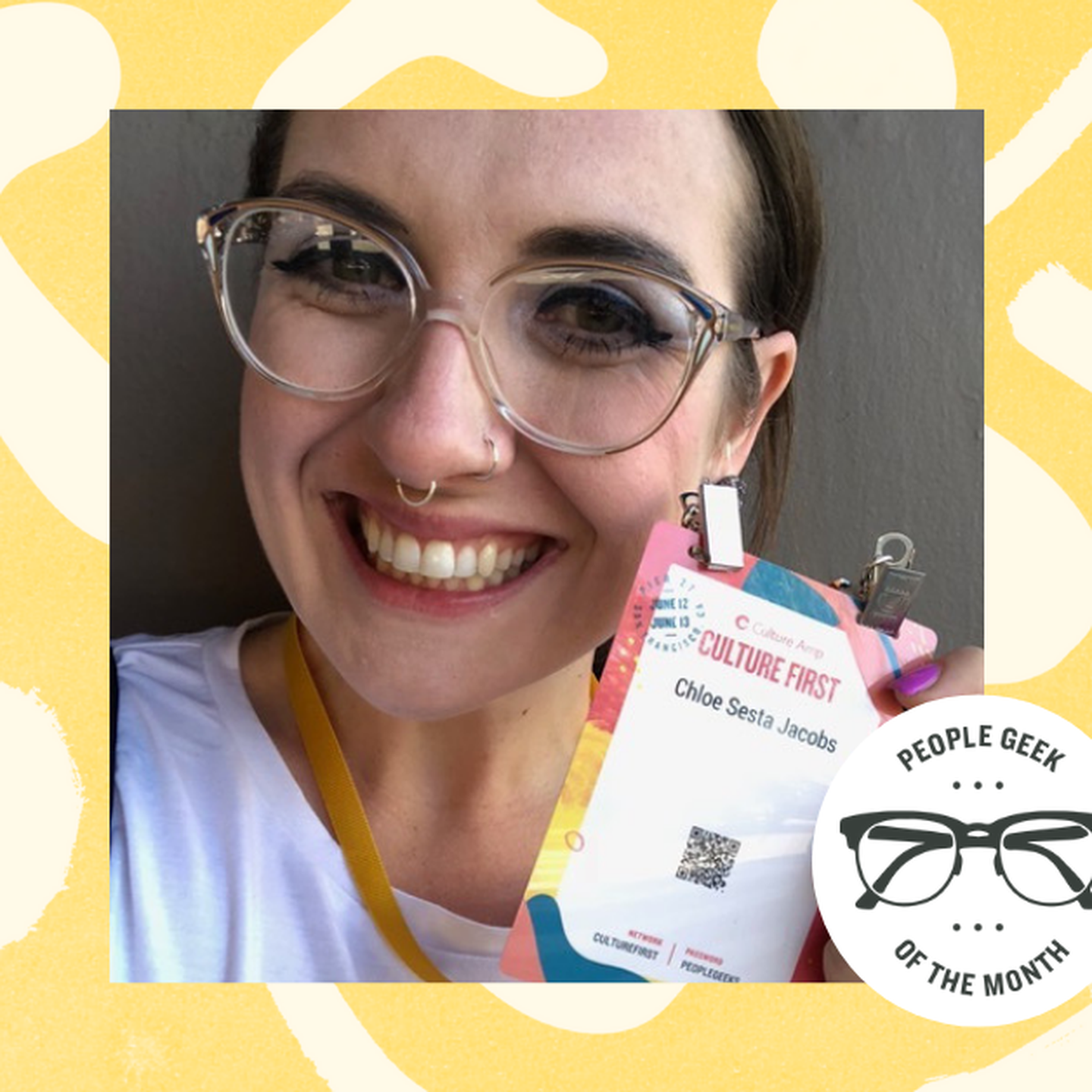 As Head of People & Culture at Rotor Studios, Chloe is responsible for creating and executing on their end-to-end people strategy. She was nominated as People Geek of the Month by seven of her coworkers, and we're delighted to share her story and expertise. As Chloe says, "For me, being a People Geek is about connecting with and looking out for those around you, and realizing that every single person is on a different journey. People Geeks recognize and celebrate what makes people unique."
Here's Chloe's take on the HR profession, the importance of learning on the job, and using people data to build a better culture.
Becoming an HR leader...or is it People & Culture?  
Many People Geeks we've interviewed at Culture Amp have something in common. None of them set out on a direct path to working in People and Culture. No one said, "I want to grow up and be an HR manager" and yet they all see how their career in HR draws on the innate strengths they knew they had from early days.
In Chloe's case, it was an interest in film and writing that led her to a receptionist role at a visual effects company, where she realized that she had an interest in working with people. "I was always that person who organizes events for friends and I felt that start to manifest in a professional environment, which was really nice," she says.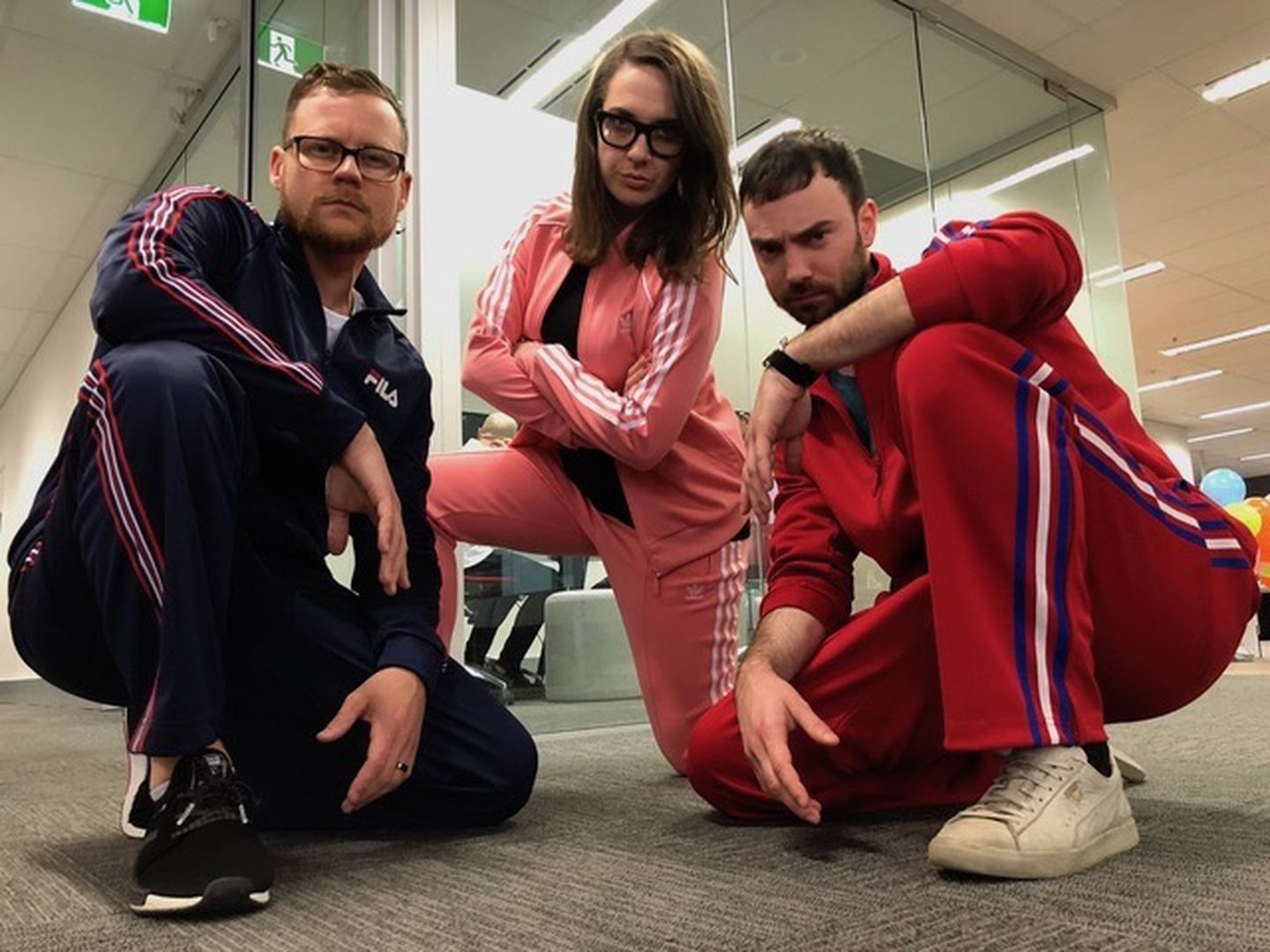 So while Chloe let go of the dream of getting paid to review movies, she found a new passion in people and culture. Chloe explains, "I realized I was interested in what makes people tick. I started to get more involved with the people side of things which led to my role at Rotor as HR coordinator."
Unique HR titles for
After a few months at Rotor, Chloe realized that her HR title wasn't suiting the needs of the company or accurately reflecting her responsibilities. "Rotor is a progressive tech company, so I felt we should drop the HR and call it People and Culture. It was really important for me because there are so many people who have been burned by indifferent HR people in the past. I know I have empathy for people, and this was an important way to show everyone I am here for them as much as I'm here for the business."
The importance of on-the-job learning
After starting as People and Culture coordinator at Rotor, Chloe got her certificate in Human Resources to build up her foundational knowledge and learn HR theory. It was also her manager, Helen Bradley, who provided Chloe with mentorship. "Helen worked in human resources for almost 20 years in the banking industry, so she has extensive corporate experience with HR. That experience is invaluable when it comes to laws and regulations which helps me since most of my experience comes from on-the-job learning," says Chloe.
Book recommendation:
Chloe sees her work as an extension of her lifestyle. This means she seeks inspiration and knowledge from any source. "I think it's important to always be on the lookout for things that will help you professionally when you're not working. I love Tuesday mornings because it's when the People Geekly newsletter comes out. Going to meetups, joining online groups, finding blogs that you like - the time you spend doing that will help you later," says Chloe.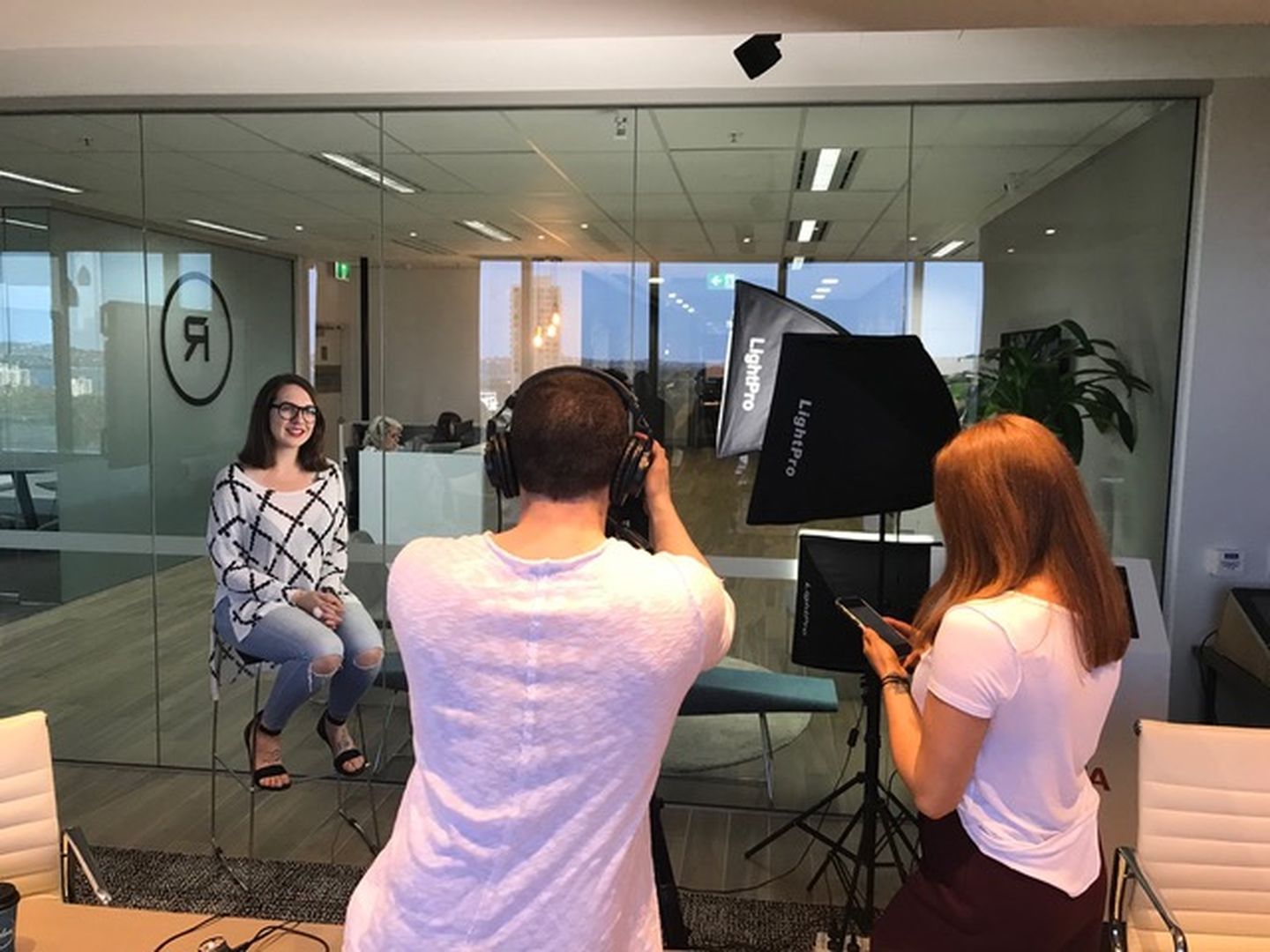 She also stresses acceptance of failure as a critical skill for working in People and Culture. "Everyone is so different, you're going to make mistakes in terms of what you say. If you try to cover up your mistakes, that's when you lose trust, and it's really hard to regain. It's better to be honest and apologize. Everyone makes mistakes, we just need to learn from them," says Chloe.
Using people data for better People and Culture
When Chloe joined Rotor, her manager Helen had just gotten Culture Amp onboard. Since then, they've done three full engagement surveys, ongoing candidate surveys, and are currently revamping onboarding surveys for each team. Chloe says, "Being able to have this information is great. We can see trends across our people and the participation rates on our engagement surveys have gone up each year. People see that we take action on those results, and they're excited to be part of the solution."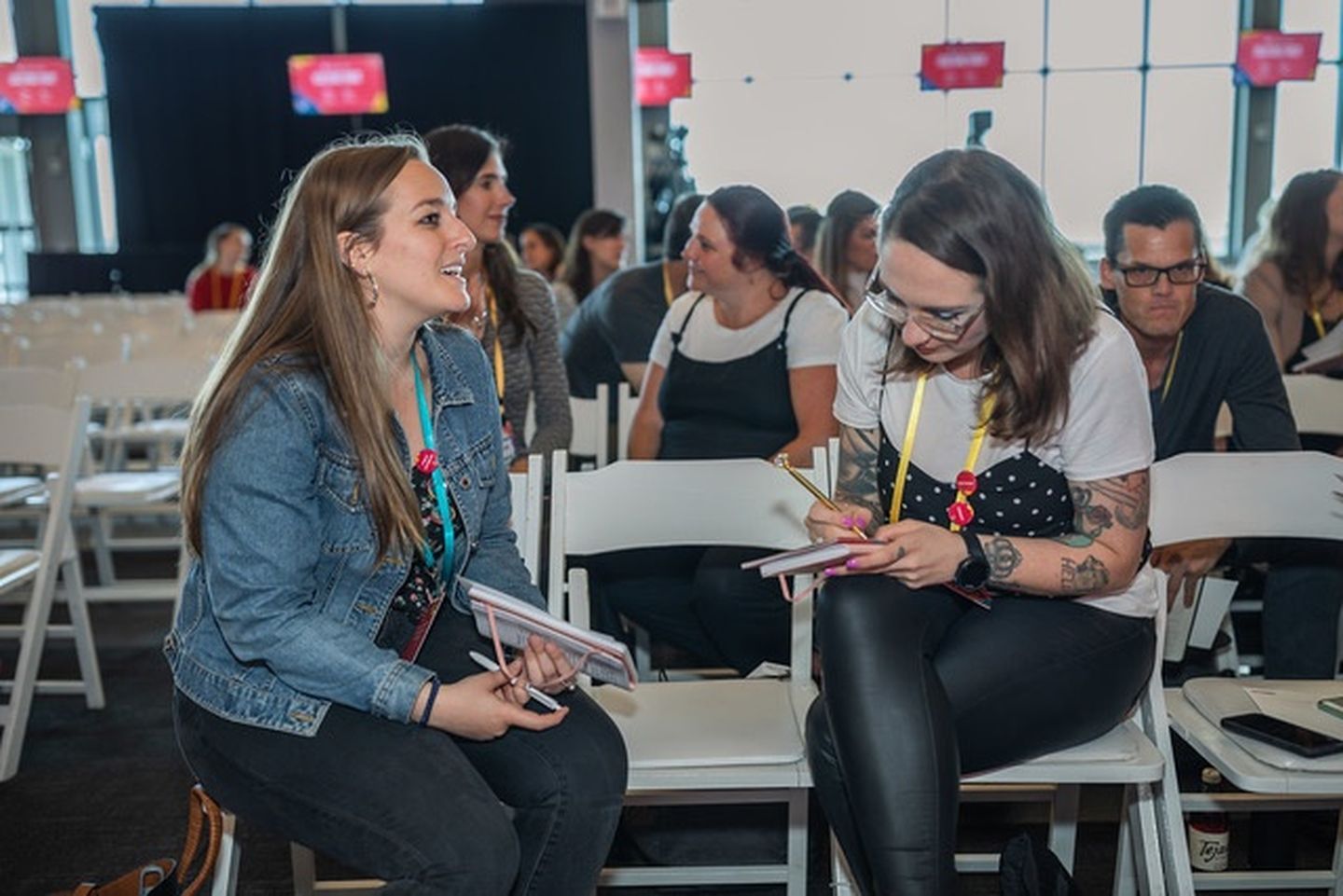 "We just closed our latest engagement survey in July. I felt that this year, people were being more honest and open in the comments section. It was great to see," says Chloe.
For each survey, Chloe and the People team share results with all groups at Rotor. Chloe is responsible for creating the presentations, so she makes use of Culture Amp's PowerPoint export feature. "Depending on the group and depending on the issues, we highlight the most important things to talk about. Then we have a roundtable discussion with the team," says Chloe.
There'll always be haters, but engagement surveys are a great way to give people a platform to be honest while remaining anonymous. There's action transparency around the results and the surveys are happening on a regular basis. They're wonderful for diving into how your teams are feeling.
Over the years Chloe has learned just how enlightening these post-survey results conversations can be. She explains, "If English is someone's second language, they could interpret a question differently. We even had really low scores for one team one year and it turned out they just interpreted the question in their own way. Having that conversation allowed us to understand where they were coming from." These discussions succeed because of the environment of safety and trust that Chloe has helped to build over the years.
Why companies should invest in People and Culture
"To me, whether or not a company has an HR or People team speaks volumes about what that company values. People have to get paid by law, so of course, you need someone to do payroll. But when you don't have someone that's dedicated to engagement and employee wellbeing, that's a real misstep because the power is in the employee," says Chloe.
When Chloe started at Rotor they were 45 people, and now they're approaching 100. In those three years, she's been promoted three times. In the words of one of her nominators, "Chloe is a dynamic and talented leader who champions a fun and productive culture where people are given the opportunity to be the best they can be. Chloe burned the old 'HR Manual' and applies modern principles with data-driven metrics to continuously improve engagement of staff and thus enterprise performance."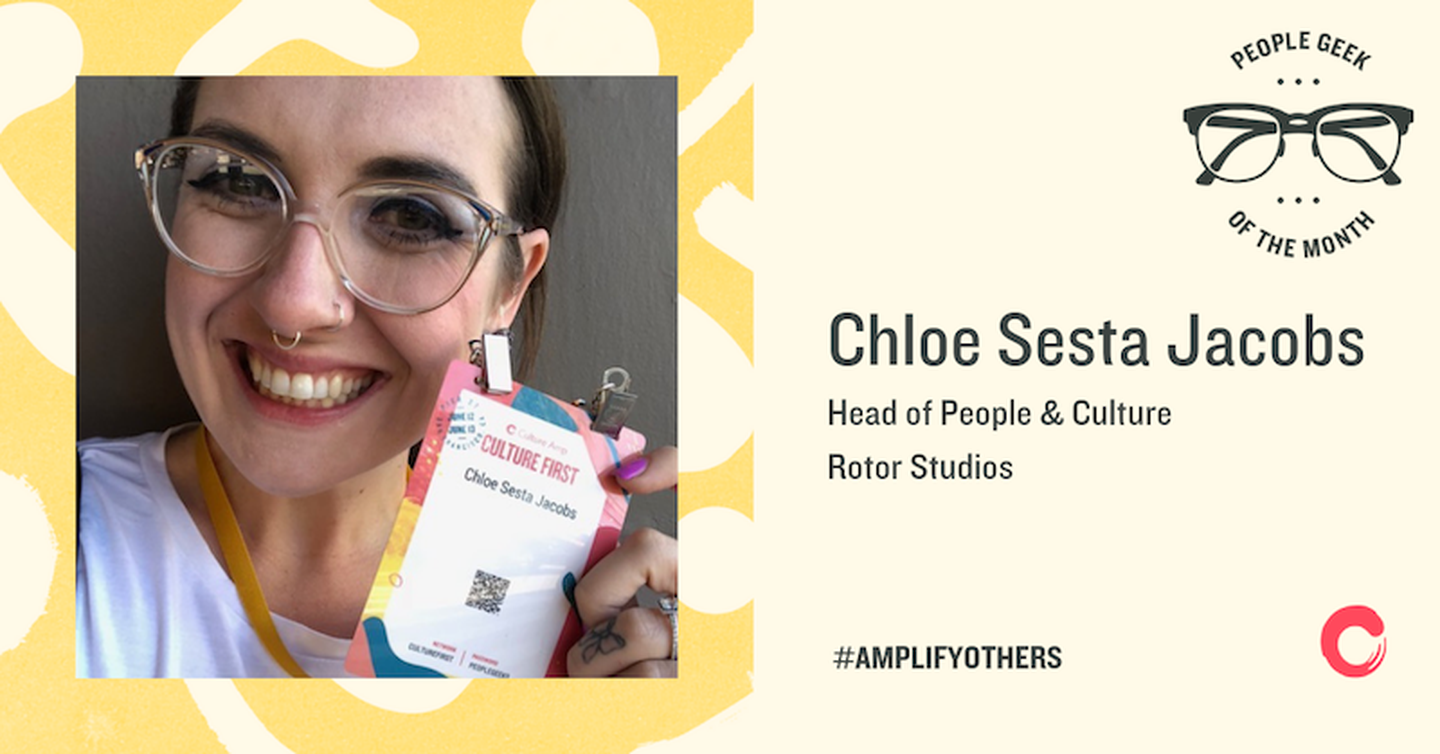 Know another inspiring HR leader?
Nominate them to be our next People Geek of the Month
Submit your nomination
We're honored to have Chloe Sesta Jacobs as part of the People Geek community. To learn more from Chloe, connect with her on LinkedIn. Congratulations to Chloe's company, Rotor Studios, are also in order as they have been listed as a finalist for the workplace of the year by Optus My Business Awards.
Build a world-class employee experience today