Scaling a Culture First company: The Culture Camp experience
At Culture Amp, we believe that being culture first is how we will succeed. When making decisions, a culture first company always considers the impact on people and culture. Rather than seeking perfection, these types of companies value continuous improvement of both the culture and the individual.
As we grow, how we live out the values of being culture first becomes more complex. However, this challenge is not unique – all startups are faced with deciding how to scale their culture as they grow. One of the ways we sustainably support our growth is by using our product. Feedback from our engagement surveys has helped us grow through milestones in employee size, through new product launches, highlighted the need to revisit our company values, and recently helped us through an acquisition.
This year, we made one of our most significant survey-powered decisions yet. For one week, we brought every Camper together at Culture Camp in Melbourne, Australia.
As we reflect on this momentous occasion we wanted to share with you, our community, how it came to be, what we've learned so far (that might help you in your offsite planning) and how our experience at Culture Camp is helping us scale a culture first company.
The data backing our decision for Culture Camp
In July 2017, when the idea for Culture Camp began, the core team used data from our recently closed engagement survey to make a case for Culture Camp. Some qualitative data in the form of employee comments showed that people were looking for more empathy and collaboration between teams and a need to understand how Culture Amp would continue to thrive.
A previous engagement survey showed that some office locations did not understand how important decisions were made at Culture Amp, and overall agreement to the question, "I understand how important decisions are made at Culture Amp," was 49% and lower than we would have liked. We had the same level of agreement with the question, "At Culture Amp, we collaborate well across organizational boundaries to get the job done." We wanted to improve both of these things, and for a good reason.
What our Culture Crunch report found
A few years ago, we analyzed engagement trends at startups throughout growth stages and published our Culture Crunch report. In 2018, we transitioned from a Series C company to a Series D company. According to our research, Series C can be a difficult period. It's typically when companies are scaling rapidly, looking to be acquired or enter new markets. Transparency and communication, though necessary at all stages of growth, are vital during this period.
Entering Series D (considered late-stage growth), companies are starting to prove their place in the market. Many companies start to plan for IPOs and concentrate their focus on metrics crucial to valuations. Our research showed that, again, a focus on communication is essential. Additionally, a vision for the future of all employees is paramount.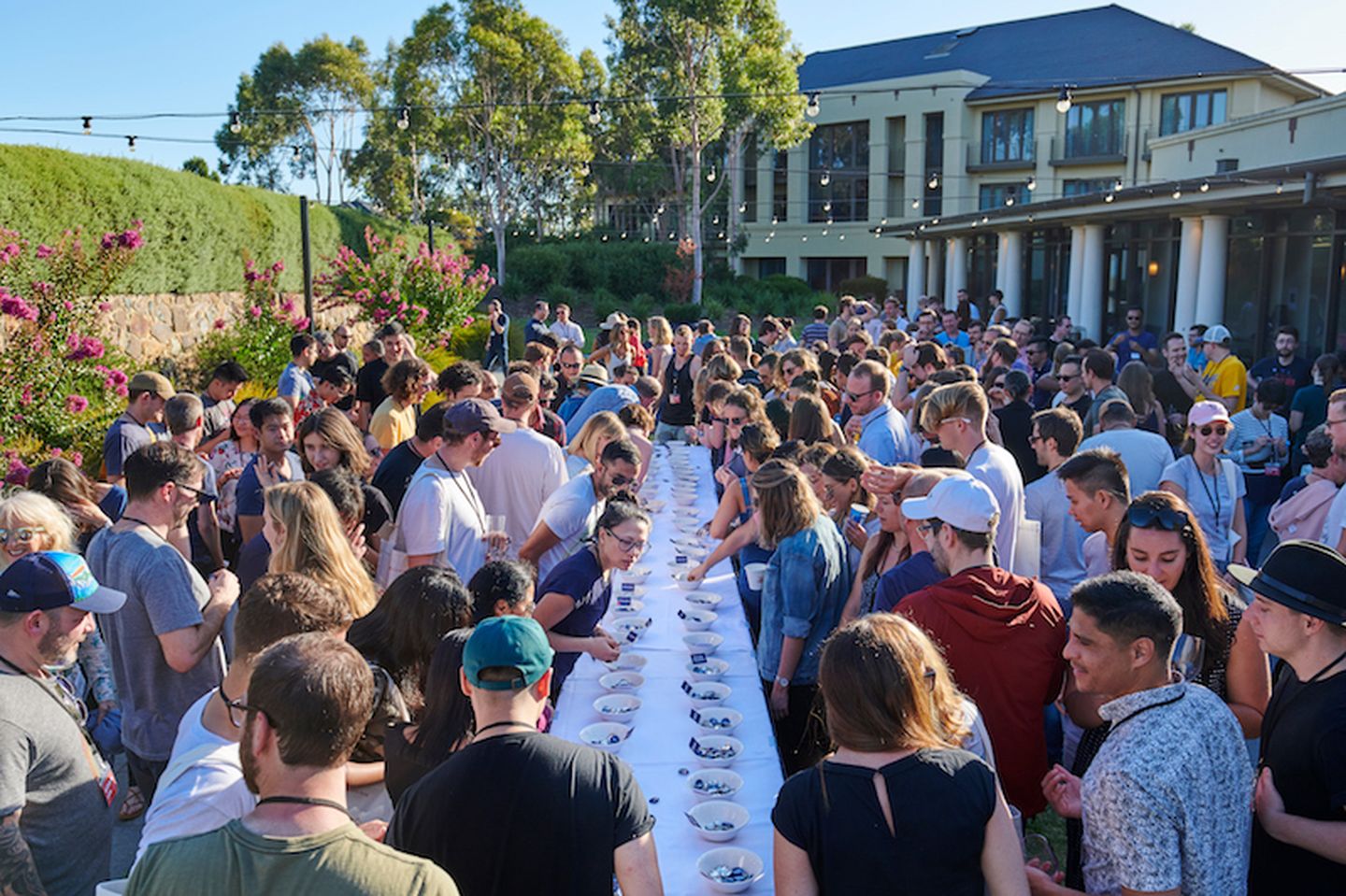 We're growing fast as a company. Last year alone, we added 125 Campers to our organization, bringing our total to 310. We also raised Series D, putting us firmly where we know, from the findings above, that one of the most significant issues we would face in continuing to grow and achieve our mission would be to continue fostering a culture of transparency and collaboration across geographic boundaries.
Ultimately, now was the right time for an event like this. Thanks to our thousands of pioneering and outstanding customers, Culture Amp is the leading platform for employee experience globally. And we're not done yet. There is more to do to realize our vision for the future – a platform that empowers companies to build a better world of work. Bringing everyone together for a week at this point in our growth as a company was a powerful way to discuss that vision, ask questions about what the journey of the coming years will likely bring us as a group, and then celebrate together as we embark upon that trek.
The experience: What we did at Culture Camp
Before we jumped into the day-by-day itinerary, we wanted everyone at Culture Amp to know the overall goals for the end of the week. We had four desired outcomes for the Culture Camp experience:
Culture: Increased belonging, empathy, and inspiration among campers
Vision: A clearer understanding of the company vision and 2019 priorities
Leadership: Knowledge of our executive team
Revenue generation: Generate and action ideas that accelerate growth
With these goals in mind, we set out to accomplish our action-packed week.
Direction Setting
We started with direction-setting sessions, led by Didier Elzinga, Rod Hamilton, and Doug English, with other executive team members taking a look back over the last few years. Part of what we shared were some of the origin stories of Culture Amp – like why Craig David's name pops up all over the place – and what sorts of products we iterated on before becoming the platform we see today. We also looked forward to what's ahead and finding our True North as a company.
On the second day, we divided into our Groups (Org, Customer, and Product) and spent time bonding with some of the people we work with regularly but may not be physically co-located with.
Campfires
On the third day, we broke off into Unconference sessions, planned on the day by Campers who have something to share, Employee Resource Groups who want to get together, or any other groups who want to spend the time connecting, sharing, and learning. A grid was set up with times, and people put up sessions for others to attend. Activities ranged from our ERG, Women of Culture Amp (WoCA), leading a session on stories of belonging and authenticity, improv games, and learning how to give one-on-one feedback.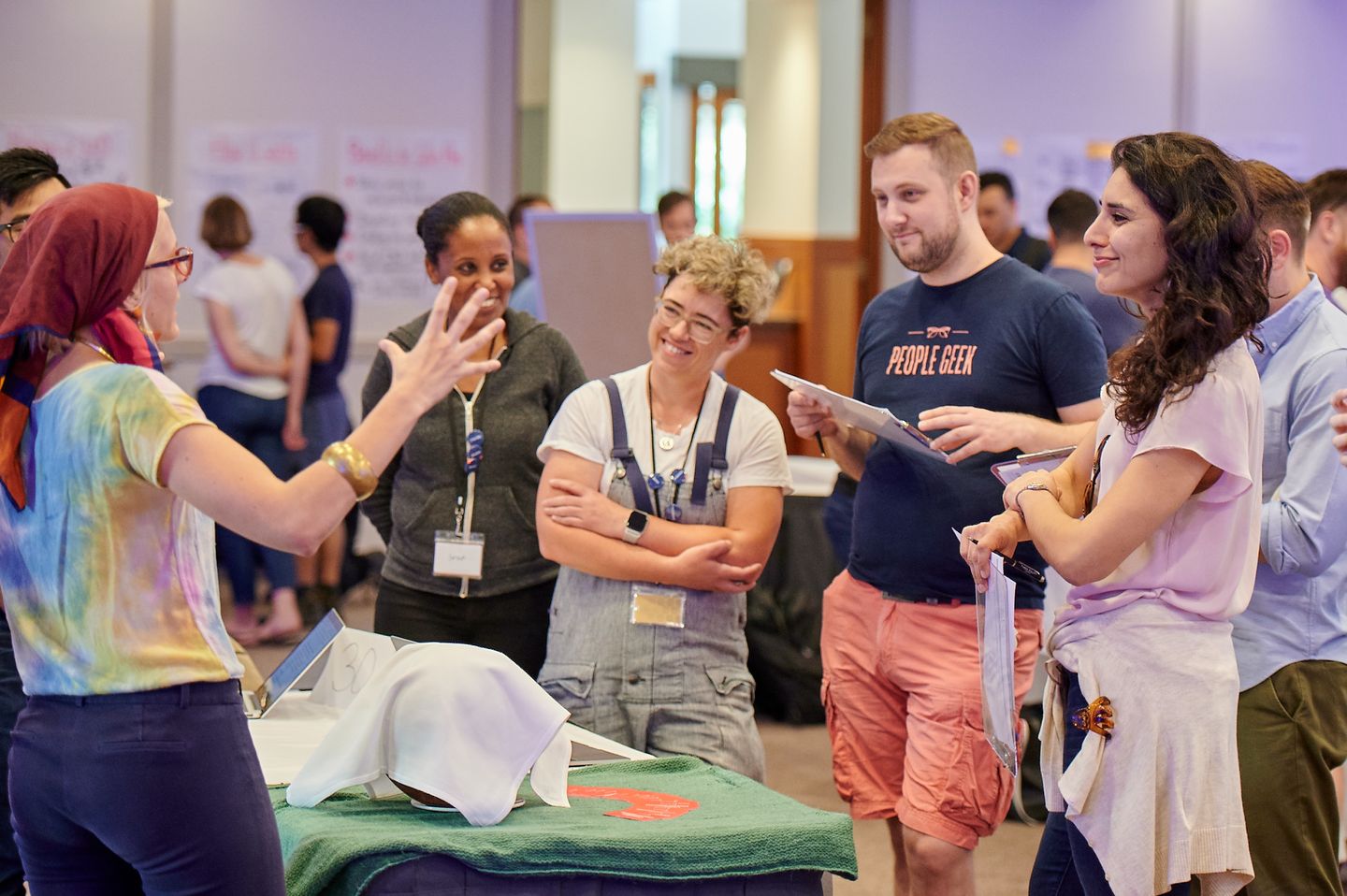 Later on Wednesday, we started planning our Expeditions. This was an opportunity for everybody to start taking steps on our journey by working with a group of people to explore a problem area and prototype some solutions. The problems and challenges were determined before Culture Camp by Campers submitting ideas to be workshopped.
This work continued for the next two days, with Campers working in teams with people they likely hadn't met before, focusing on a key challenge facing Culture Amp or customers of the future.
Wrap Up
On Friday afternoon, we held our marketplace, where Campers shared the results of their Expeditions, and judges scored and awarded prizes.
What we learned and acted on post-Culture Camp
One of our company values is "Learn faster through feedback." Thus, gathering feedback about the Culture Camp experience was at the top of our list once we all returned home. Through the results of our post-Culture Camp survey (which had a 92% participation rate), we could see how we measured up against our four desired outcomes. Survey feedback also helped us set post-Culture Camp actions to take.
1. Culture: Increased belonging, empathy, and inspiration among Campers
62% felt a stronger sense of belonging
82% of people formed greater connections across the company
81% felt greater empathy for fellow Campers
72% were inspired by expedition ideas
Action: Create a more robust employee resource group ecosystem to complement our People and Experience priorities and maximize opportunities for belonging and empathy.
2. Vision: A clearer understanding of company vision and 2019 priorities
82% of Campers understand Culture Amp's vision
72% are more inspired by our vision and purpose
Action: To keep people informed, finalize and cascade key results throughout the organization.
3. Leadership: Knowledge of our executive team
88% of people got to know our executive team better
Action: Build accountability among leadership by running 360 surveys for the executive team by the end of March.
4. Revenue generation: Generate and action ideas that accelerate revenue growth
72% feel like the output from expeditions could make a significant impact
Action: Moving expeditions forward! The Culture Camp team is allocating and prioritizing expeditions across our Product, Customer, and Org teams based on impact on business and feasibility by the end of March.
With feedback from those who attended, we learned what we can improve on if we attempt such an event again in the future and how to maintain the feeling of "one team" that was so special during this week.
Build a world-class employee experience today