Reading Time:
4
minutes
Culture Amp clients Reddit and SoulCycle hosted the first People Geekups of 2017. The theme of both events was cross-team collaboration, and attendees heard firsthand stories from hosts and participated in an interactive workshop led by Tania Luna from LifeLabs.
Own the note-taking: how Reddit encourages collaboration
At the first People Geekup in San Francisco, Katelin Holloway, VP of People at Reddit, presented an overview of Reddit's people and culture. Alex Le, VP of Product, took attendees through a presentation that he gives to new hires that he mentors. To best work collaboratively, Le encourages leaders to be mindful of a team's common goals while respecting an individual's divergent goals. His approach to engaging his team was to "own the note-taking" and promote healthy competition to get everyone to bring their best work to their table. By owning the note-taking, a leader or product manager can help provide clarity on which team members are responsible for different action items. These notes can also be a resource for people outside the team to see what is being worked on. Lastly, he took Reddit's mantra "what would Snoo do?" one step further by teaching an important lesson on curiosity, asking, "What would Brian McKnight do?" As McKnight sings, "If ever I believe my work is done, then I start back at one."
SoulCycle recommends clarity to support collaboration
In New York, Tyler Benjamin, VP of HR at SoulCycle, shared a new hire onboarding video created by SoulCycle's learning and development team. Employees watch this video in their first week on the job, exposing them to the company's values and enthusiastic 'Yes!' culture. Afterwards, Jason Rodriguez, VP of Product and Engineering, spoke about cross-team collaboration at SoulCycle. His advice for teams that work collaboratively is to make sure that everyone knows who the project owner is and who the key stakeholders are across departments. By keeping an open mind and staying patient, teams collaborate more efficiently and more effectively.
Break through silos with decision making models
After the hosts shared how their organizations approach cross-team collaboration, Tania Luna led a workshop on cross-team collaboration. With impressive charisma, she relayed research conducted in 1954 by Muzafer Sherif on intergroup conflict and outlined that we would be learning "what not to do" and "what to do" to improve collaboration. In small groups people thought through how silos are created within organizations. Some that were particularly interesting to hear were: decreasing access to leadership, teams creating their own "language," and creating rewards and recognition for only certain departments.
Another exercise helped people understand role clarity as it relates to collaboration. Groups were asked to think about a current project and see if they could identify the Driver, Approver, Consultant, and Informed individuals (DACI decision-making model). This is a simple exercise you can try yourself. If you can't identify the appropriate parties off the top of your head, get together with a colleague and see if working this out together could help the team function more effectively.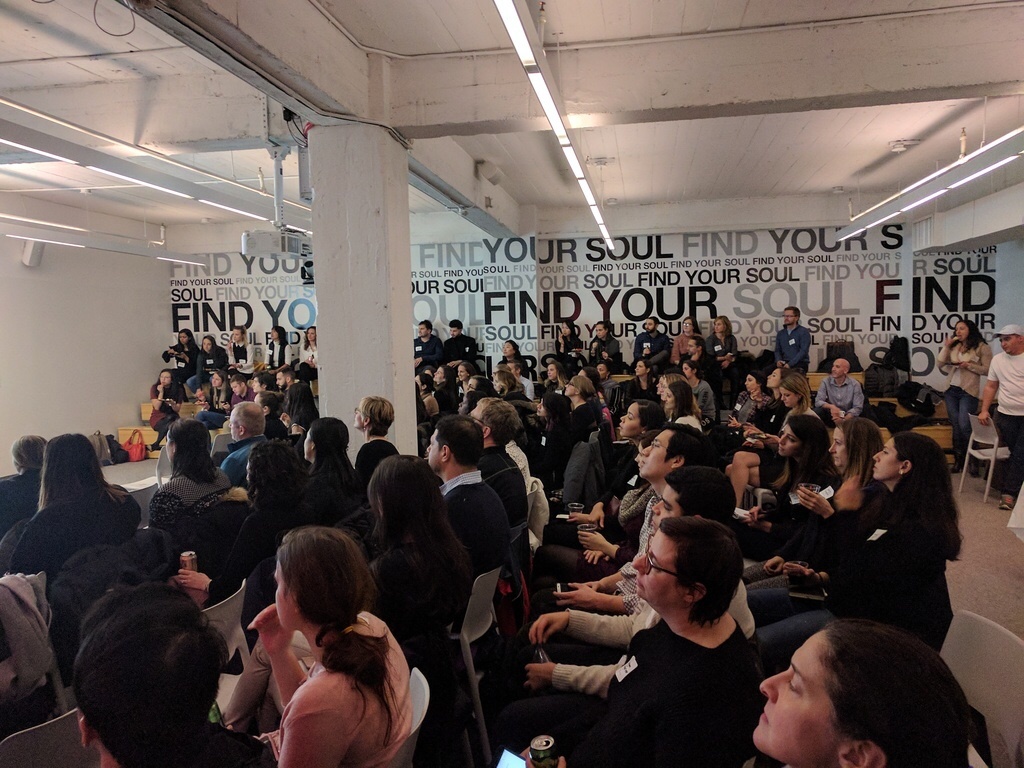 If you're looking for ways to increase cross-team collaboration at your company, take a page from Reddit or SoulCycle. Use note-taking to empower leaders to keep projects on track and increase transparency. Ensure that it's clear who project owners are and keep an open mind when collaborating. Try out Tania Luna's suggestion and use the DACI model to clarify roles as the basis for cross-team collaboration. Whatever you choose, communicate with your team about why this matters and follow up on any changes made or actions taken to see if collaboration has improved.
If you're interested in attending a People Geekup event in the future, check out www.peoplegeeks.com or subscribe to our weekly newsletter.
---
Request a personalized demo
---