Setting and tracking team goals: let's get SMARTER
The effective use and alignment of team goals is one of the most powerful ways to enhance performance and drive success at the team level.
Decades of research show the positive impact goal setting has on performance. As a result of setting goals, the typical increase in employee productivity equates to $9,200 for people with an average salary of $50,000.
Of course, when goals are implemented and aligned correctly the impact on productivity is amplified at the team level. Difficult goals produce significantly higher team performance, and team goals enhance collaboration by providing clarity on expectations, ownership, and purpose.
Further, a 2014 Stanford University study shows that having goals and a collaborative sense of purpose improves understanding of team success criteria and also enhances information flow and decision making quality.
Turning science into action
So, as a manager or team member, how can you apply the most relevant science to ensure your teams' goals are motivating, empowering, and effective? 
Collaborate with your team and use these SMARTER guidelines: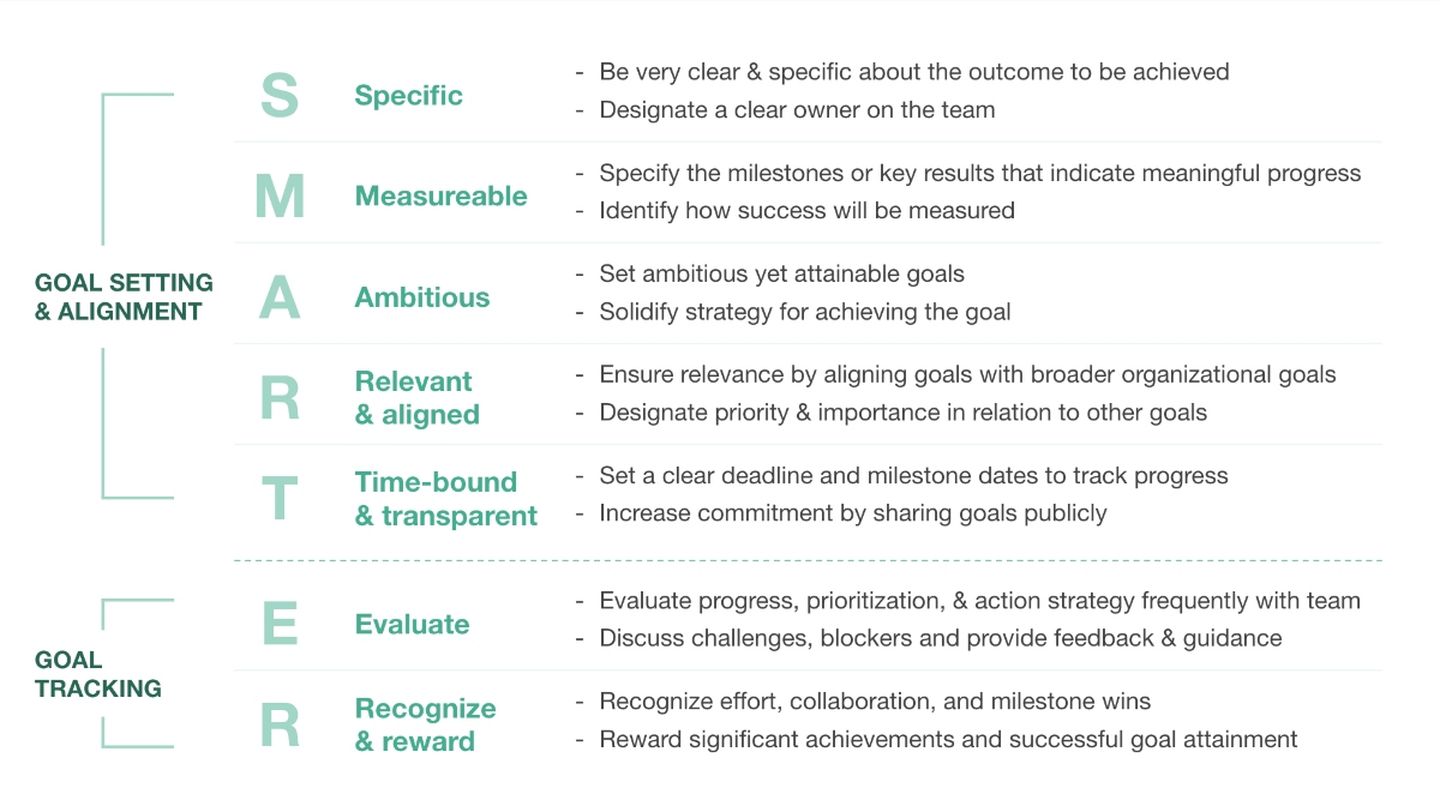 Goal setting and alignment 
Great managers empower their teams to succeed, and a core aspect of goal empowerment is collaboration. Working together as a team to establish goals, milestones, and action strategy is one of the most important components to creating meaningful, highly-motivating goals your team will rally behind.
When establishing and aligning goals, make sure the goals are: 
Specific: Clarity is the foundation of effective goals is critical in every aspect of the SMARTER model. It's necessary to be specific about the long and short-term objectives you expect to be achieved. To do this, you can spell out the strategy for how you will achieve each outcome.
Be specific about:
Who owns the goal and is personally accountable for the team's success? Who are the core contributors? 
Who will we share our goals with to get support and drive accountability? (Transparency)
What exactly are we trying to accomplish?
How will we gauge whether we succeeded? (Measurable) 
How will we recognize progress and celebrate wins? (Evaluated, Recognized, Rewarded)
When does the goal need to be completed? (Time-bound)
What are the milestone dates we need to hit along the way? (Measurable and Evaluated)
What resources are needed, where you can find them, and what dependencies could derail progress or turn into blockers? 
Why is this goal important and what impact will it have on the broader organization? (Relevant and Aligned)
Measurable: How exactly will your team know if they've succeeded in achieving the goal; what does success look like and how can that be communicated to the organization? Of equal if not greater importance: how will you measure progress along the way and evaluate if your team is moving in the right direction at the right pace? Designating specific milestones or key results is a powerful motivator and helps drive understanding around progress during evaluation and feedback sessions.
Ambitious: Goals that are difficult yet achievable produce the best results. Stretch goals can be a powerful motivator, but if there's a knowledge or skill gap that may hinder success, be sure to identify what additional training or resources may be required to set the team up to win. Further, work with the team to specify how they're going to accomplish each of the steps along the way. Team discussions on goal strategy helps drive knowledge transfer and clarity around expectations. 
Relevant and Aligned: Be sure to review organizational goals with the team as a starting point to ensure everyone understands what's important at the company level. When teams develop goals that align with organizational objectives, team members understand the importance of their work and feel a greater sense of purpose and motivation. When time and resources are constrained, alignment to broader objectives also helps identify priorities. 
Time-bound and Transparent: Setting a clear deadline for the overall goal along with milestone dates to evaluate progress helps create a sense of urgency and drives focus on the key actions which are critical for success. Also, to maximize your team's commitment to achieving the goal, make your team goals visible to leaders and colleagues. 
Goal tracking
It's imperative for leaders to track goals once goals have been set (collaboratively!) and the team has started working toward them. Progress and outcomes need to be:
Evaluated regularly: How frequently the team evaluates progress depends on the goal and how the team operates, but in most cases, goals should be reviewed at least monthly. Feedback and guidance are an absolute necessity for team engagement and development. A few questions leaders can ask in team review sessions: 
How are we progressing? 
Are we on track to hit our next milestone?
What percentage of the way to our overall goal are we? 
What contribution has each team member made? 
What wins have we had? 
What challenges or blockers are appearing? 
Are our actions and approach still appropriate or is course correction needed? 
Recognized and Rewarded: Finally, recognizing things like effort, persistence, and problem solving is essential for maintaining the team's motivation and optimism. It's invaluable to recognize small accomplishments as much as rewarding big wins along the way. Celebrating wins helps drive team confidence and motivation, which can lead to greater commitment and motivation. This produces what is known as the "high performance cycle".
First steps toward setting SMARTER goals
It's important to keep in mind that the SMARTER guidelines can be applied to essentially any goal framework, be it OKRs, tiered goals, backwards goals, etc. For your teams to truly benefit from any type of goal setting, the core aspects of SMARTER need to be addressed. If any core piece is ignored, the impact on motivation and goal achievement will be seen over time and there's a good chance teams will fail to achieve critical long-term outcomes. 
Further, goals should never just be a to-do list; rather, they should be motivational and clarifying in terms of what we want to accomplish, how we're going to get there, and what timing looks like along the way to meet the deadline. Lastly, they should detail how the outcome impacts the team and organization. The key results or 'steps to get there' may include specific tasks or "to-do's" but even at that level, they should be more focused on measurable outcomes that act as milestones.
If you'd like to get geekier and learn more about the goal-based psychological and motivational mechanisms that drive performance, check out our Science Behind Team Goals article.  
Build a world-class employee experience today