Why to prioritize employee experience during economic downturn
It's no surprise that in 2023, employees will be more stressed out than they were in 2022. They're concerned about budget cuts, worried about layoffs, and uncertain about what the future holds.
During trying times, businesses tend to place less emphasis on the employee experience, but this is when it's most important to focus on encouraging and retaining employees.
Recently, Ken Matos, our Global Director of People Science, hosted a discussion with Anna Binder, Chief People Officer of Asana and Culture Amp board member, to help companies understand that prioritizing a holistic employee experience will only help them weather economic disruption.
Find the highlights of their session below.
The effect of economic downturn on the employee experience
Before Ken and Anna started their conversation, they shared a message from Didier Elzinga, Culture Amp's Founder and CEO, about recent conversations he's been having with people leaders concerning the current economic environment.
Chief among them, according to Elzinga, are frequent reports of hiring freezes. Teams are being asked to complete more work with fewer resources. At the same, he's heard about managers and leaders struggling to maintain visibility into the employee experience; they don't have enough insight into how they can retain top performers, even though they're relying on those top performers with greater frequency.
It's also important to remember that market disruption and lack of resources have become recurring themes for the workforce. The last three years have been challenging for employees to navigate – from the COVID-19 pandemic to global, social, and political unrest and economic downturn. Their stress is reflected in lower employee engagement scores. Companies undergoing changes score significantly lower than benchmarks on their employee engagement surveys.
At the same time, HR and people leaders are in a tough spot. They know employee engagement is down and that employees are being asked to do more with less after years of pandemic burnout. In addition to those challenges, HR and people leaders face requests to consolidate their own business needs.
Didier predicts that over the course of 2023, as companies work to become faster and more resilient, culture and the employee experience will emerge as the defining factors of what determine a company's success.
Employee engagement remains essential
Culture Amp is steadfast in our belief that culture always explains the variances between different companies' success rates. In fact, the top message that emerged from Ken and Anna's talk was the importance of employee engagement – especially in trying economic times, when topics like employee retention start to take a backseat.
That's when employee engagement really matters.
Compared to less engaged employees, the impact and value of engaged employees is easy to spot. Culture Amp's research has found:
Engaged employees score 34% higher on customer satisfaction.
They bring in 43% more revenue.
They're 57% more likely to work beyond job requirements to achieve goals.
They have 20% fewer accidents on the job.
They're 27% less absent.
They're 5x times less likely to turnover.
As companies face unprecedented economic challenges, these numbers also reveal an inflection point where prioritizing employee experience could have lasting impact on an organization.
The cycle of employee experience investments
Companies that overlook this opportunity risk getting stuck in a common cycle as our economy continues to face a roller coaster of challenges. If a company's focus shifts from growth to survival and employee experience programs are cut, employees are demotivated, and productivity suffers. Then, employee experience investments are reconsidered, and the cycle begins anew: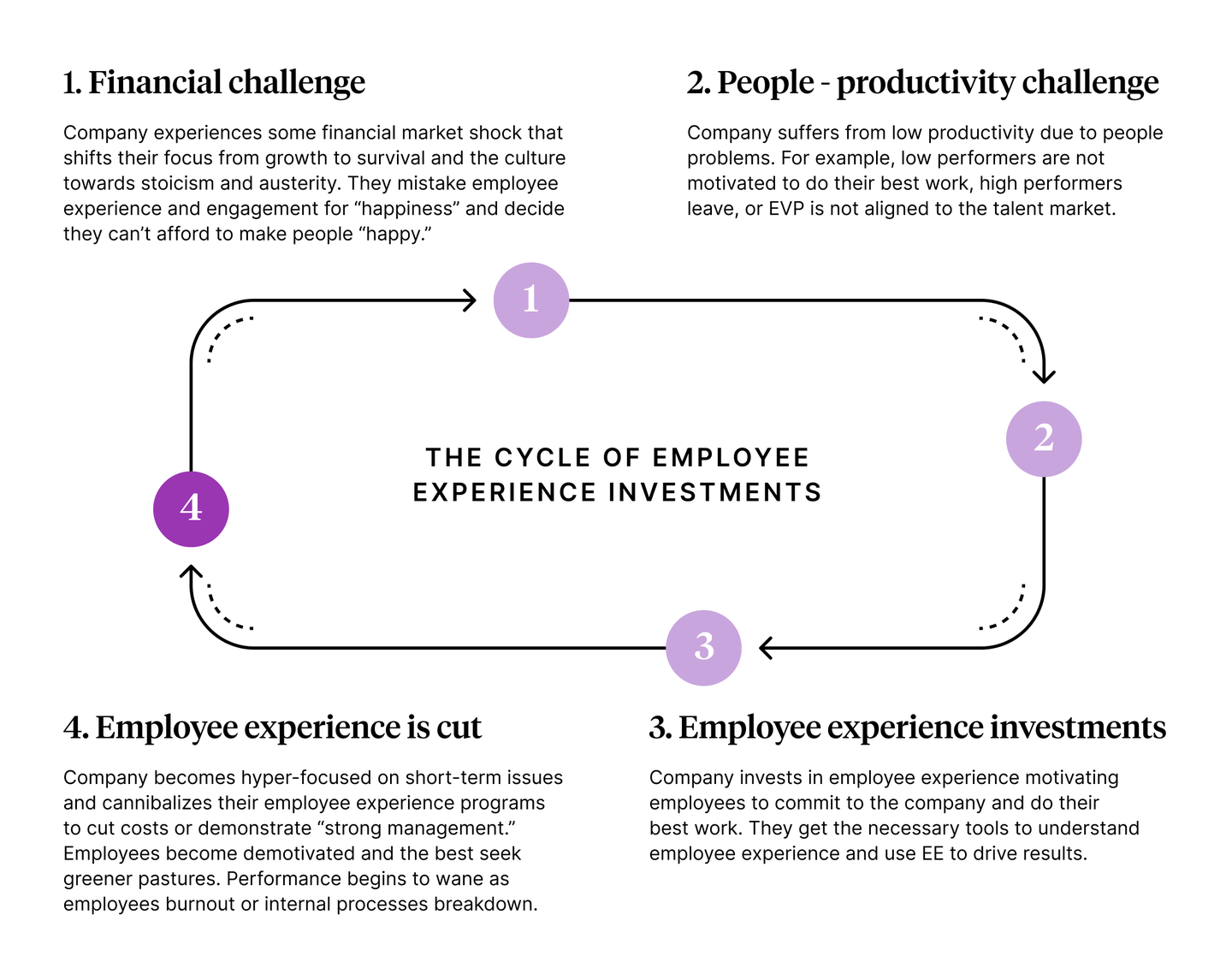 So, you have to ask – is the money you stand to save on employee experience programs in the short term worth the long-term impacts you will face when employee experience suffers?
HRIS consolidation comes with high costs
Some companies have been trying to address the loss of those employee experience programs with human resources information systems (HRIS) consolidation, which is not the answer. Looking at the statistics above, you quickly understand HRIS consolidation comes with its own costs. Yet, 84% of HR leaders don't anticipate having a proper budget for their technology needs by the end of 2023.
What's more, an HRIS will only support HR operations in the back end. It won't assist teams and employees with daily tasks like setting clear, realistic goals or tracking their progress over time.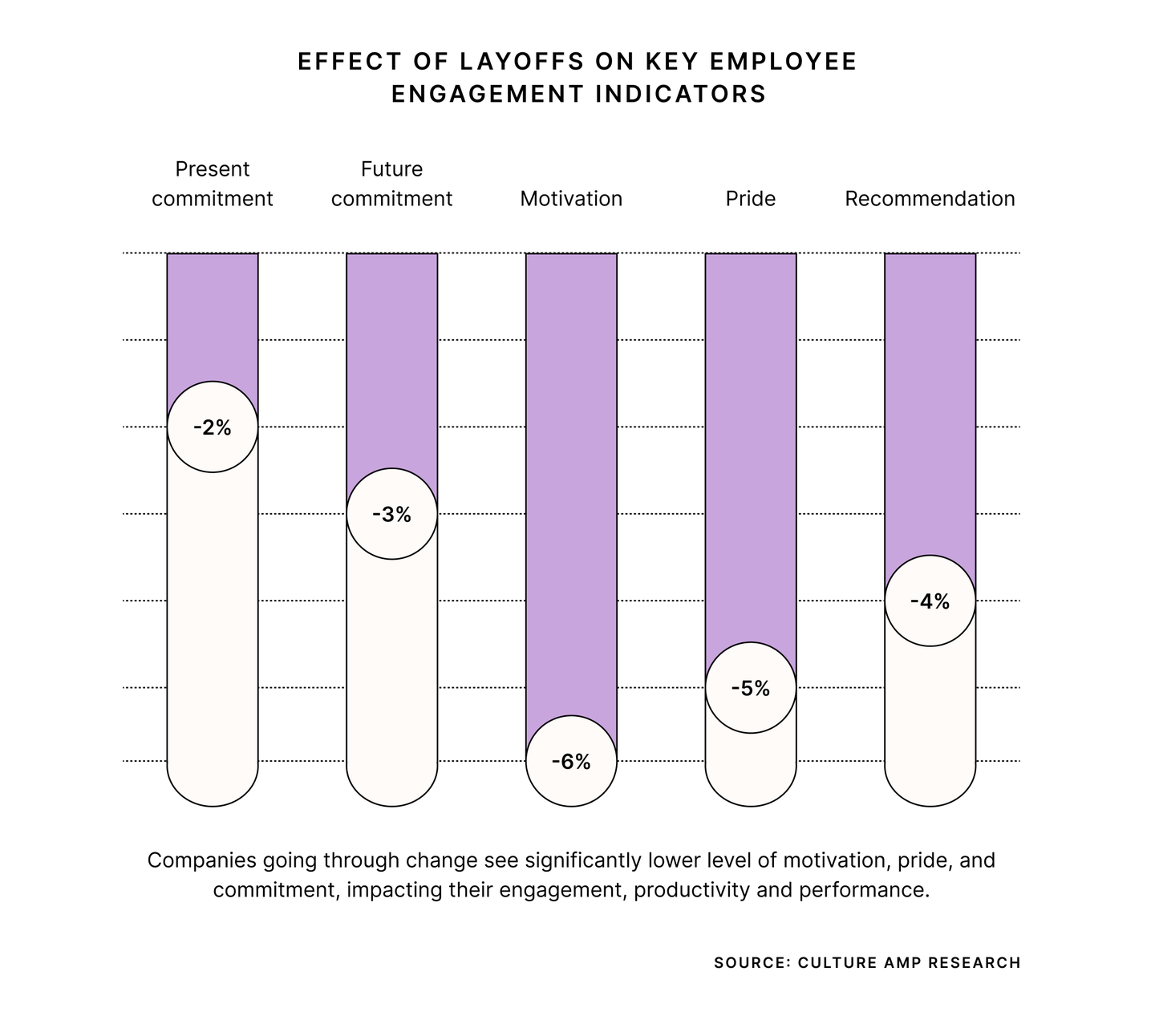 Culture Amp's benchmark data shows that when companies go through change, employee motivation, pride, and commitment decline – and engagement, productivity, and performance are negatively impacted as a result. An HRIS doesn't provide the breadth of insights and expertise HR teams need to take action and improve these outcomes, and it's not designed with diversity, equity, inclusion, and belonging (DEIB) in mind.
In other words, sole reliance on an HRIS has great potential to negatively impact employee experience.
When employee experience investments are cut or delayed, your company loses insight into what is on employees' minds and how you can improve their experiences. This puts revenue, customer satisfaction, productivity, and retention at risk.
Explore the benefits behind a dedicated employee experience software, and how you can move beyond a simple HRIS.
4 tips to help prioritize employee experience during economic downturn
1. Take a balanced approach to HR tech consolidation
If you're thoughtful about your technology and how you use it, you will ultimately save time and gain critical insights on how to best apply limited resources. This is where an all-in-one employee experience platform like Culture Amp can help maintain and continue to build a productive workforce that prioritizes a holistic employee experience.
"I need credibility to say to our employees, 'Just because our headcount isn't growing, doesn't mean your career growth has been stunted.' Rolling out the Culture Amp platform during this time helped give me that credibility," said Anna.
I need credibility to say to our employees, 'Just because our headcount isn't growing, doesn't mean your career growth has been stunted.' Rolling out the Culture Amp platform during this time helped give me that credibility,
— Anna Binder
Chief People Officer of Asana
Integrating your back-end HRIS tech stack with an all-in-one employee experience tech stack sets you up to better work through complicated times and situations: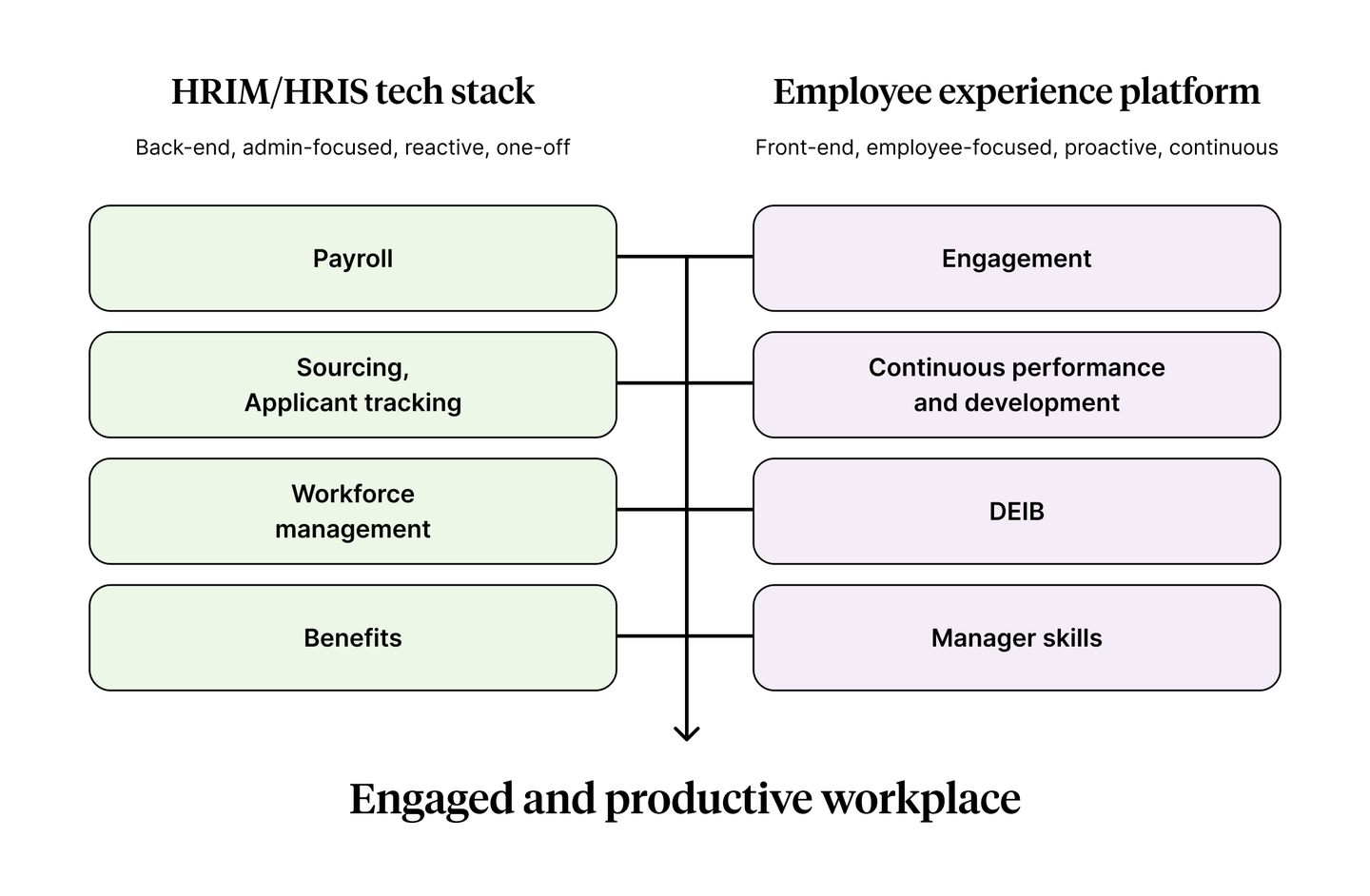 This balanced approach allows you to get the most use out of your HRIS information and grow as efficiently as possible.
For example, during an economic downturn, 1-on-1s might feel inconsequential. However, our research shows employees participating in regular 1-on-1s are 28% less likely to leave their organization. That's a much higher chance of retaining your workforce and its institutional knowledge.
"We at Asana invest in culture for one reason and one reason alone. We fundamentally believe that it drives business results. Without those business results, we can't achieve our mission. We also believe culture is a full team sport, and everyone has to participate – from our board to our receptionists to our 500 first-line and second-line managers. Investment in employee experience technology reinforces those beliefs," said Anna.
2. Support and retain your high-performing individuals
Retaining high performers helps you maintain growth. They are the engine that makes company success happen.
"Having a clear, repetitive structure for 1-on-1s, where you consistently check in with employees, especially remote employees, can help them feel more connected. You can explore situations and respond proactively, lean into sharing, explore development opportunities, or identify problems ahead of time," said Ken.
Both Ken and Anna stressed the need to remind your workforce that economic downturns don't last forever. It's imperative to reinforce this idea among the high-impact individuals at your company. Let them know that unique opportunities will continue to present themselves during this time.
"It's a tough time to be an HR person, but Culture Amp is designed for someone like me who believes in culture, cares about the attrition rates of my high-impact individuals, and knows manager empowerment can drive culture. Culture Amp allows me to align my attention with my intention. I want to focus on my high high-impact people. The Engage, Performance Management, and Development tools allow me that focus," said Anna.
3. Set clear goals to solve challenges
Clear goals are extremely valuable during economic disruption, a time when employees can easily become confused.
"Some things are getting cut, some things are getting added. One person is doing the role of three or four, and it's difficult for employees to determine where they should be spending their time, what goals they should be owning, and where they should be collaborating," said Ken.
Trust and collaboration increase when people understand company expectations and what they're being held accountable for. This is especially important for high-impact individuals who want to understand when they've been successful, so they can continue to perform at an elevated level.
Utilizing an employee experience platform continually reinforces their personal growth by allowing them to both record goals and track their progress.
4. Remember: development matters most, not money
An employee's personal growth is often the most important component of their experience with the company.
During difficult economic times, you need people to do more with less. Many leaders believe employees stop caring about work without perks and bonuses, but people science shows that money has diminishing returns in driving motivation.
Culture Amp's only compensation item – "I believe my total compensation (base salary+any bonuses+benefits+equity) is fair, relative to similar roles at other companies" – ranks 59th out of 206 benchmark questions.
While lower-income employees likely place compensation higher than peers with greater salaries, money is not a top driver of extra effort. As Anna pointed out, employee development tends to have one of the highest impacts on employee engagement.
"I argue the economy has moved from the concept of job security – where you're looking for a company or a role you can stay in – to career security. Career security is the belief that you will continuously be developing your skillset, so you will always be employable," said Ken.
An actionable development plan, consistent processes, and continuous 1-on-1s present opportunities to build trust that the company cares about employee education and will help them build their skill set.
Show your employees that they matter
Times are tough, but you can survive economic disruption without giving up on employee experience. In fact, prioritizing employee experience could see your company through the storm.
Keep motivation in mind at all times, be thoughtful about how you consolidate your tech stack, set clear goals, and focus on high performers and their learning development.
When you prioritize the employee experience, your employees will help take care of the company.
Coming soon: Culture Amp's new feature – Retention Insights
Culture Amp is building a new feature to help you retain your high-performing employees.
Our research has shown that when HR can continuously update and provide a real-time, visual narrative of people changes within the organization, senior leadership is more accepting of the data.
Our newest feature, Retention Insights, uses over 920 million data points in our employee experience data lake to help you determine which factors predict the success or failure of employee experience strategies.
Retention Insights will allow you to:
Make more accurate, data-driven predictions about future turnover, even as organizations are quickly changing
Automatically identify key risks in specific function areas
Examine the relationship between engagement and retention for the whole organization and individual groups of people
Study groups with high engagement and retention, so you can share those learnings
You will be able to locate the root causes of employee departures, while keeping individual employee sentiments confidential. And our focus agents also can recommend action items based on solutions that have been trialed and tested by thousands of customers.
We want to help you predict turnover signals with more in-depth analytics and faster insights, so you can build strong HR recommendations and programs with the buy-in and support of senior leadership.
More details will be coming soon – subscribe to the People Geekly newsletter to stay on top of the latest updates.
Build a world-class employee experience today