Why your HRIS isn't the best performance management tool
A company's performance management workflows have to walk a fine line. They need to be thorough enough for managers to provide effective feedback yet simple enough that they don't impede the momentum of a manager's daily work. Finding this balance requires choosing the right tool.
Many HR departments rely on a human resources information system (HRIS) to tackle performance management. They're already using it to manage its HR data, so why can't it also support performance management?
An HRIS is great for data management, but these platforms are missing many components needed for user-friendly and insightful performance management. Below, learn about the roadblocks businesses face when using an HRIS for performance management and how a dedicated employee experience platform can help.
How an HRIS holds back your performance management
Like every business software solution, an HRIS has its place in a company's technology stack. While this technology is great for collecting, storing, and organizing HR data, effective performance management requires more advanced functionality. If you use an HRIS for performance management, you'll quickly recognize several limitations.
Limitation #1: There's only surface-level integration
At first glance, an HRIS may seem like the perfect tool to support performance management. It can manage employee data like benefits, vacation usage, allowances, hire dates, and more. Its data management capabilities can also extend to include performance data collected from teams across an organization.
However, what a user sees as one system is often a collection of databases feeding into a single user interface. A setup that is not fully integrated on the backend can lead to data errors, slower results, and breakdowns in the system that can hinder a company's progress when it's time to review performance data and determine progress toward goals.
Limitation #2: It's difficult to unearth insights
Successful performance management relies on a combination of performance measurement and performance development.
Since an HRIS primarily serves as a data management tool, it likely won't have the analytics and reporting capabilities needed for either area. While creating analytics reports will certainly be possible, it can require a substantial manual effort to export and view data and build a report to share with others.
Limitation #3: Administration can be cumbersome
Because an HRIS often runs on multiple back-end systems, it can be a complex tool to manage. Be prepared to bring in a professional services team for updates, hire dedicated in-house staff to administer and implement changes, or rely on both for a consistent experience with the HRIS.
Performance management processes that should be simple, like creating templates for collecting feedback, can become a heavy lift for your team.
Limitation #4: Innovation is driven by competitors
An unexpected challenge that accompanies using an HRIS for performance management is the lack of dedication to innovation. As a user, you might expect the challenges that you and other users face to be a priority when the provider updates their HRIS tool. Instead, your needs, such as simpler workflows and intuitive design, will take a backseat to the provider's own goals.
The driver of innovation for HRIS is often competition. Providers make changes to keep up with competitors, not to offer the best user experience. This means that addressing the challenges listed above will take time.
Overcome HRIS limitations with a dedicated employee experience platform
An HRIS can be used to support basic performance management, but it's not an ideal solution. An employee experience platform is a better choice for managing all aspects of the performance management process.
These platforms are user-friendly and can share and document feedback as part of 1-on-1 meetings or check-ins. They also integrate with task management systems to make it easy to update them without switching tools. They can house, track, and connect key components of the performance and development process, including feedback, goals, development plans, and learning resources, all in one place. Below are four key benefits of a dedicated employee experience platform.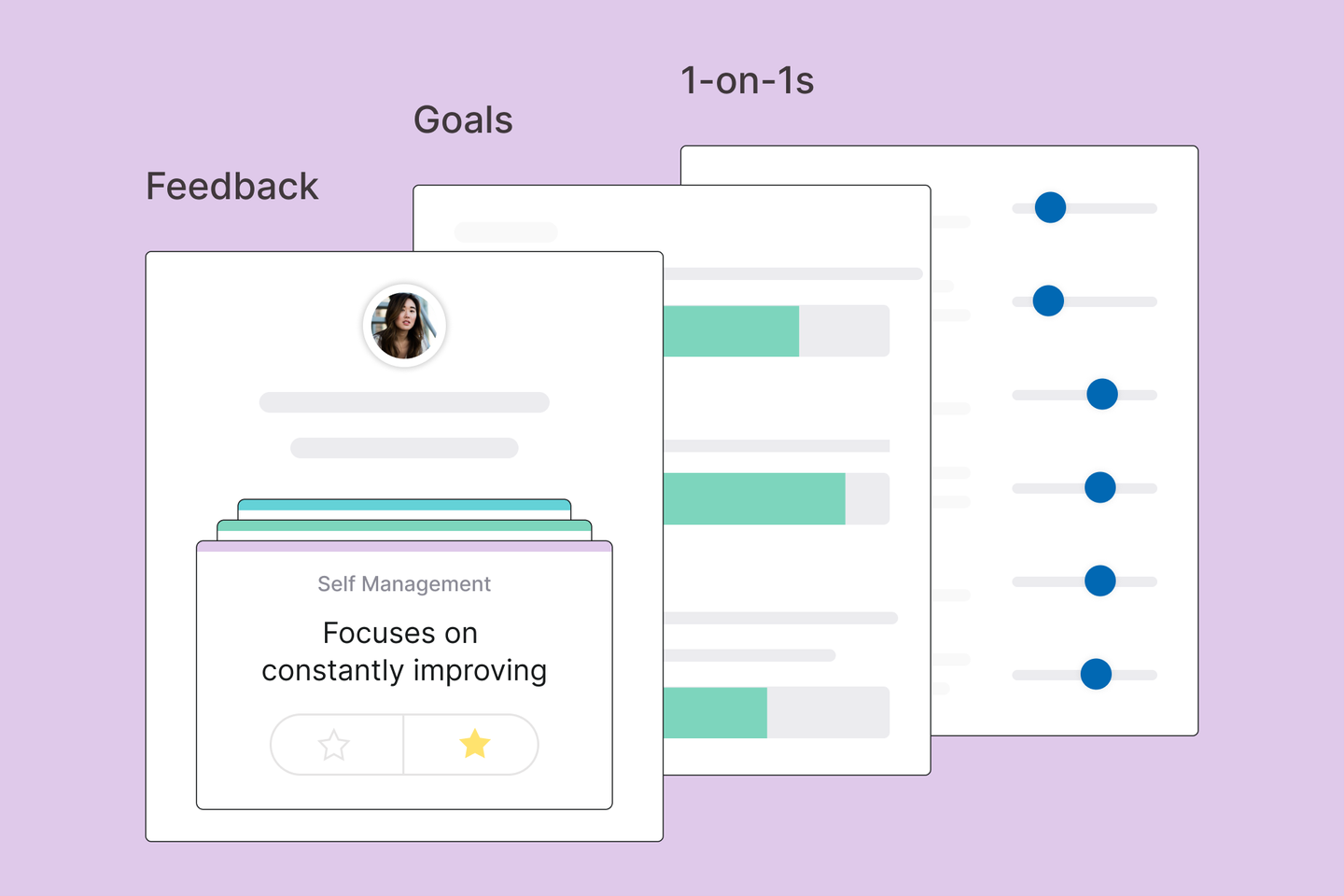 Benefit #1: Access comprehensive analytics
Employee experience platforms offer comprehensive analytics that supports the way modern managers align performance and engagement. Management processes focus on setting and measuring clear goals, giving constructive feedback, reducing bias, and establishing a follow-up cadence to discuss performance and next steps with employees. Teams can use an employee experience platform to collect and share this data as well as generate presentations that connect the dots – determining how well teams are hitting performance goals and which specific areas need improvement.
In-tool calibrations allow admins to view data groupings at a large scale, such as by department, to better understand performance or talent concerns. This is key for businesses that want to retain top talent.
Benefit #2: Experience user-friendly design
A complicated platform creates a barrier for teams, especially those busy working toward tight deadlines or high-priority projects. When employees have to choose between doing work that moves the needle for the business and fumbling with a difficult HRIS platform, they'll likely choose the former. An easy-to-use and intuitive employee experience platform benefits teams by saving them time and allowing them to scale by relying on the platform for tasks like completing surveys or evaluation forms.
Since these systems are built and updated with a focus on performance management, they're often quicker and easier to implement, meaning teams won't have to spend huge budgets setting them up or dedicating staff to making sure they run correctly. The product engineering teams behind employee experience platforms also are more likely to devote their time to providing innovative and user-requested new features and capabilities.
Benefit #3: Support a high-feedback culture
One of the keys to providing effective feedback is to make it a regular process. Creating an environment where managers have the tools they need to provide effective feedback is essential, as only 13% of employees and managers and 6% percent of CEOs think their organization's performance appraisal system is useful. An employee experience platform gives employees access to that feedback while turning it into a trackable and measurable exercise that helps managers provide realistic goals to their direct reports.
Having a system in place that facilitates the feedback process supports a high-feedback culture, where valuable input is frequently given and successfully implemented. A high-feedback culture improves the receiver's performance and provides the manager with a chance to improve their own coaching and development skills.
Benefit #4: Integrate with your HRIS to amplify its utility
Even though an HRIS isn't the optimal tool for performance management, many HR teams rely on this type of platform to manage data and support processes like payroll and benefits management.
If your company has an HRIS in place, it can also supply data to an employee experience platform. Syncing data from your HRIS to an employee experience platform can help you provide up-to-date data and helpful insights to company leaders.
Use the right tool for the job
Using an HRIS for performance management creates more work (and headaches) for HR, managers, and technical teams. A tool primarily meant for data collection won't provide performance tracking and insights as easily or effectively as a tool built with performance management at the forefront of its capabilities.
Selecting an employee experience platform will bring together the right mix of data capabilities – collection, tracking, analysis, and reporting – to empower managers as they build high-performing teams.
Build a world-class employee experience today