Rededicating ourselves as a B Corporation
At Culture Amp, we believe that being a B Corp is key to achieving our mission of building a better world of work by allowing us to be the example we want to see in the world. It brings us great pride to share that we've not only been re-certified as a B Corp, but we've also improved our score based on the investments we've made over the past 5 years.
At the same time, the process of recertification has also highlighted the progress Culture Amp still has to make to become the purpose-led business we've always striven to be – which is fundamentally why we've chosen to become a B Corp. We believe this certification provides us with an accountability mechanism to continuously grow and improve on our ambition to be a culture-first company.
Our journey to becoming a B Corp
We recognize that as a venture capital-backed tech company, our decision to become a B Corp is a unique one. The story of how we became a B Corp is really a story about one of our employees living our values. While we've always been a mission-driven company, in 2016, one of our Campers – what we call our employees at Culture Amp – challenged us to reformulate the company as a B Corp to create a framework that could help us ensure that we were meeting our aspirations.
In 2017, we received our first certification as a B Corp and took our first steps to begin improving and supporting the broader B Corp community.
How we're progressing
This year, we received a score of 92.8 (out of 200) as a part of our recertification, representing a 6.2-point increase from our initial efforts. While we're proud of all of our accomplishments, we're especially proud that our highest-scoring area – workers – aligns with our commitments to build a workplace that's equitable and evolving in an anti-racist way – both of which are a critical part of our culture-first commitment.
Over the past 3 years, we have implemented various programs that have helped us drive change and improve the experience of our employees from historically marginalized groups. We believe that by designing for and prioritizing the experiences of Campers from these groups, we help all our employees to thrive. These initiatives include:
Introducing an equity audit that is focused on our performance, promotion, and pay programs from gender, race and ethnicity, disability, LGBTQ*, caregiver, and native-English-speaker-status perspectives
Offering anti-racist leadership and management courses and beginning to provide education for all employees on disability inclusion
Building a thriving employee resource group (ERG) program (including the introduction of a compensation program for ERG leads) that represents BIPOC, disabled, queer, female, and caregiving Campers and empowering them to give back to their communities through community and philanthropic work
Culture Amp will always strive to live up to its value of amplifying others, and our commitment to doing good has extended to the way we support our customers. Some examples include:
Providing a free industry-leading DEI survey and original research used by thousands of organizations to help them drive equitable change
Offering a 10% discount for our employee experience software to for-profit companies that are certified as B Corp
Awarding registered non-profit organizations a 35% discount to help make Culture Amp more accessible to them
Recognizing the $0.38 wage gap between Black women and White men by offering a 38% discount on our software to for-profit businesses that are majority Black- or Indigenous-owned
Introducing the Kevin Wiggins Racial Justice Grant program, which provides Culture Amp free of charge to non-profit organizations working to improve the lives of Black and Indigenous people
Investing in new areas
The recertification process also highlighted the areas in which we still have substantial progress to make – namely on our environmental commitments.
It's helped us to outline what it would look like to have our equitable commitments extend to our impact on the planet, and we've already started making progress on this. As we have committed to in our 2021 Equitable Design & Impact Report:
We have a thriving community of sustainability-minded employees, and their affinity group is supported by the same structures as our ERGs.
We've expanded our Equitable Design team and resources to focus on sustainability and are currently mapping our GHG footprint to build a plan to achieve a more positive impact on the planet.
We've recently introduced new resources for our customers to help them on their sustainability journeys, including a survey that helps customers understand how sustainability initiatives drive employee engagement.
We know we're still at the beginning of our journey, but we feel privileged to be once again counted as members of the B Corp community. While the journey of building an ethical business is never done, we're proud of the changes the B Corp community has helped us make and energized for all of the exciting work ahead. We hope that what we learn in this process can help guide other Culture First organizations on their journey toward building a better, more equitable world of work.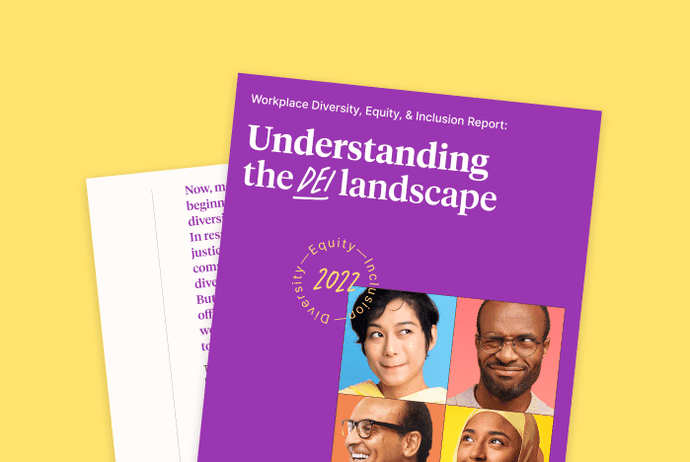 Build a better world of work with data
Equip yourself with key trends and insights so you can maximize the value of your DEI efforts.
Read the report
Build a world-class employee experience today