Celebrating Women's History Month: An intersectional lens
March is Women's History Month in the United States. It's a month intended to celebrate the often-overlooked contributions women have made to United States history, culture, and society. However, it can also evoke skepticism, criticism, and even controversy.
Kimberly A. Hamlin, historian and scholar, writes, "Women's History Month unintentionally reinforces the prevailing idea that when women do something, it is called 'women's history,' and when men do something, it is called 'history.'" History shapes every facet of our everyday life, so why do we continue to omit women – who make up half of the United States population – from the main narrative?
It's a rhetorical question, as women have been intentionally excluded from the official history of many countries and cultures. When the Founding Fathers wrote the U.S. Constitution in 1887, women's rights were not a strong consideration. Throughout U.S. history, women have had to fight for the right to vote (1920), to own property (1700s ~ 1970s), for bodily autonomy (1973 ~ today), to access equal education (1700s ~ 1980s), and much more. Although progress has undoubtedly been made, the United States still has a long way to go before achieving true gender equality.
This is especially apparent when we look at the cumulative disadvantages and erasure faced by – for example – women of color, undocumented women, women with disabilities, women with children, queer and transwomen, and women who live at the intersections of multiple identities. For example, the 19th amendment (1920) granted women (i.e., White women) the right to vote, but most Black women would remain disenfranchised for another five decades due to state laws requiring poll taxes and literacy tests.
These compounding disparities remain in play today, which is why an intersectional lens is essential for meaningfully recognizing and honoring all women and their contributions throughout history. Moreover, true progress requires a future-focused and sustained commitment to taking action on gender equity and inclusion – not just a month-long celebration that frames the fight for women's rights as a fragment of the past.

In the first part of Culture Amp's Women's History Month series, we're focusing on the disadvantages women face in the workplace today, how intersectionality affects women's experiences, and why companies looking to take effective DEI action can't treat "women" as a monolithic entity.
How women fare in today's workplace
Despite the progress that has been made, women still face numerous barriers in both accessing career opportunities and in the workplace itself. From outdated gender roles to microaggressions and unconscious biases, many women struggle to find adequate support, fair opportunities for growth, a sense of belonging, and psychological safety in their workplaces.
However, every woman is unique – and so is her career. Although some experiences are certainly more "universal," individual women face certain disadvantages, and they can overlap in distinct ways. Here are a few ways cumulative disadvantages can play out in the workplace:
Employment. Only 34.6% of working-age women with disabilities are employed in the United States, compared to 82.5% of working-age women without disabilities.

Looking at the intersection of disability and race, serious gaps in outcomes become apparent – only 28.6% of Black Americans with disabilities have jobs, compared to 36.8% of Hispanic people with disabilities and 41.2% of Asian Americans with disabilities. A woman living with a disability and from an underrepresented background is likely to have an even harder time finding employment.
Compensation. The gender wage gap is much wider for most women of color than for White women. While White, non-Hispanic women make only $0.79 for every dollar a White, non-Hispanic man makes, data shows that Black women, multiracial Black women, and Hispanic women fare even worse.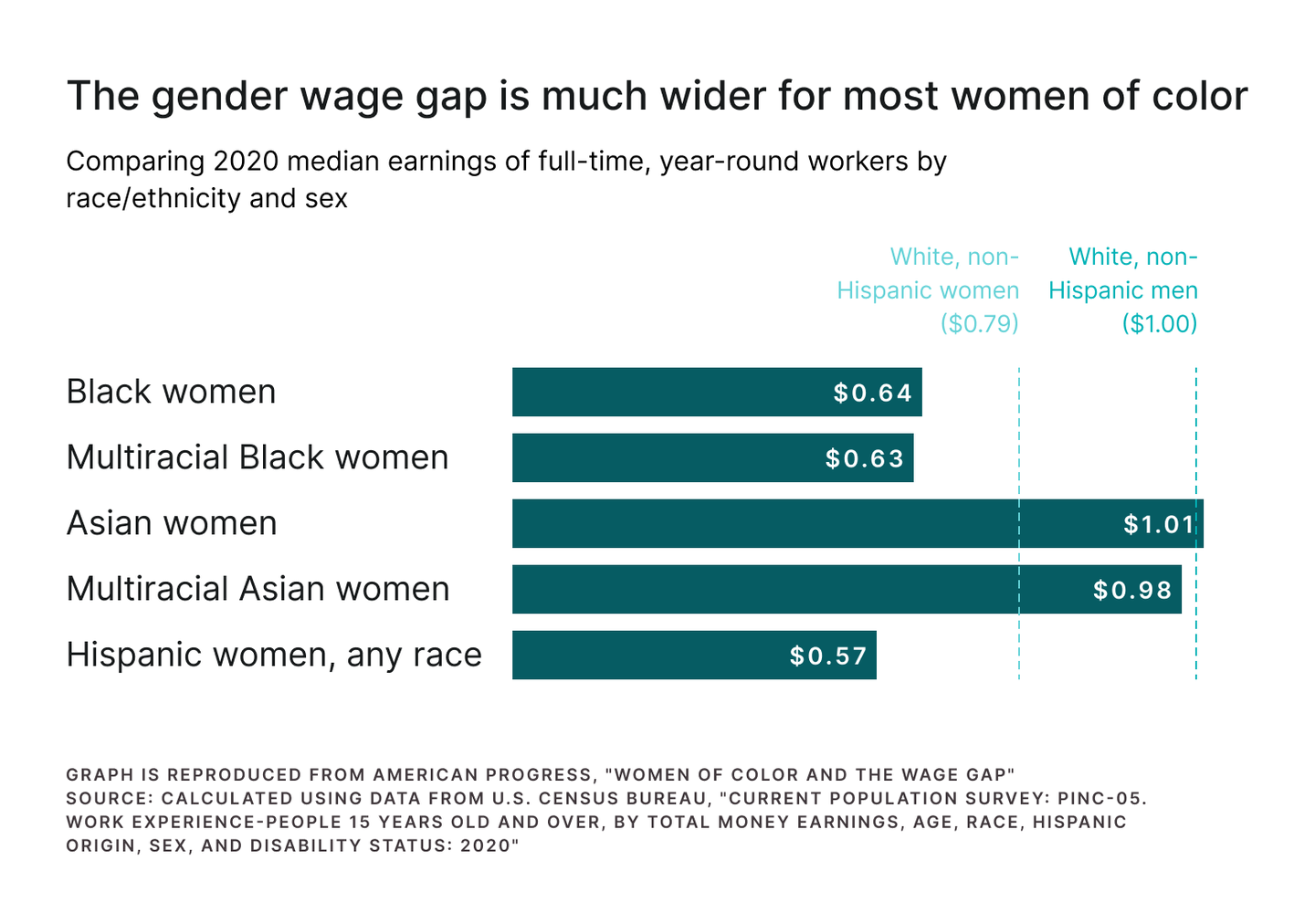 Representation. Despite overall gains in workplace representation for women in 2021, women of color are underrepresented at every level compared to White women and men of color. This disparity increases at every step of the corporate ladder.
Sense of belonging. LGBTQ* women are twice as likely as women overall to report being an "only" (the only one on a team or in a meeting with a given gender identity, sexual orientation, or race), which leads to feelings of isolation at work. Compared to straight White men, LGBTQ* women are 7x as likely to report onlyness whereas LGBTQ* women of color are 8x more likely to report onlyness.
The impact of the COVID-19 pandemic on women
The ongoing global pandemic has affected everyone, but for people from marginalized communities, COVID-19 had serious repercussions on multiple facets of their day-to-day lives. Here are a few examples of how women with intersectional identities were impacted.
Why an intersectional approach matters
The above examples represent only a tiny sliver of the larger realities and experiences of women who live at the intersection of gender and other identities. There are many other dimensions of identity that haven't been explored here, such as citizenship status, religion, language, etc. Moreover, most of the highlighted statistics are centered around work and the workplace. As work does not exist in a vacuum, it's crucial to recognize and remember that women of different backgrounds experience a range of relevant advantages and disadvantages in every aspect of their lives.
Intersectionality is why organizations, leaders, and individuals can't and shouldn't treat "women" as a single, unified group. It's also why initiatives focused on empowering "women" often fall short or fail to create equitable progress for all women. To be successful, women's empowerment initiatives must go beyond a "women-first" approach and consider other identities like race and disability status.
Culture Amp's 2022 Workplace DEI report revealed that although women's career prospects are improving, workload and work-life balance have worsened for women. Our data also showed that companies aren't adequately investing in caregiving benefits – women reported a 3% point decrease in agreement to "My workload right now feels reasonable for my role" and a 7% point decrease in agreement to "I am able to manage any caring responsibilities while transitioning back to work."
It likely comes as little surprise that unpaid caregiving responsibilities increased mainly for women during the pandemic. For single-parent families – 66 percent and 44 percent of which identify as Black and Latinx respectively – the impacts were intensified. People of color are more likely to live in multi-generational households than White people, which can result in more caregiving responsibilities for women, who are often expected to abide by traditional gender roles and provide care for their children, elderly parents, and sometimes even their extended family.
A focus on only gender lacks the nuance necessary to address the unique struggles and compounding challenges of women in these situations. Consequently, initiatives intended to create gender equity can unintentionally reproduce racial inequities. Without the critical lens of intersectionality, your DEI initiatives may end up benefiting subsets of the population who are already further ahead, such as White women, women with access to higher education, and women from higher-income backgrounds.
How to make Women's History Month more meaningful
Women's History Month deserves to be more than just a token celebration. If your organization claims to care about women, but isn't critically assessing whether its culture and processes disadvantage women, it isn't doing enough.

Do the women in your workplace feel valued and empowered, or is March the one month where they're given a platform? And if your organization does have women's empowerment programming in place, are you taking an intersectional approach to ensuring that all women – not just the most privileged –  can benefit from it?
Women's history is happening now. If you truly want to celebrate the women in your workplace, it's time to move beyond statements and towards meaningful action that eliminates disparities and paves the way forward to a truly diverse, equitable, and inclusive world.
In the next part of our Women's History Month series, we will explore the intersectional identities that often get overlooked in the workplace, and share seven Campers' thoughts on what actions organizations can take to foster a workplace where everyone can thrive.
Build a world-class employee experience today