The ROI of employee engagement and culture
At Culture Amp, we're motivated to help build culture-first companies – and that starts at home, with us. We have big ambitions and goals, but what's just as important to us is how we achieve them. We see intrinsic value in feeling good about where we come to work. 
However, sometimes we're asked if there is a proven connection between good culture and good business results. Do companies get ROI when it comes to employee engagement? 
We've previously shown the connection between good engagement and culture, higher Glassdoor scores, and retention rates. These are important and well-validated findings that we've found repeatedly over the years. We wanted to extend these findings into some arguably more tangible financial and performance outcomes to quantify the ROI of employee engagement better.
Annual share price growth and engagement  
In 2017, Culture Amp collected employee feedback from over 1,000 companies. Within that group, we identified 70+ companies that were publicly listed and had also conducted a full census engagement survey during 2017. We then compared their share price growth from January 1st, 2017, through December 31st, 2017. 
The chart below shows three key results linking Culture Amp measures to higher share price growth: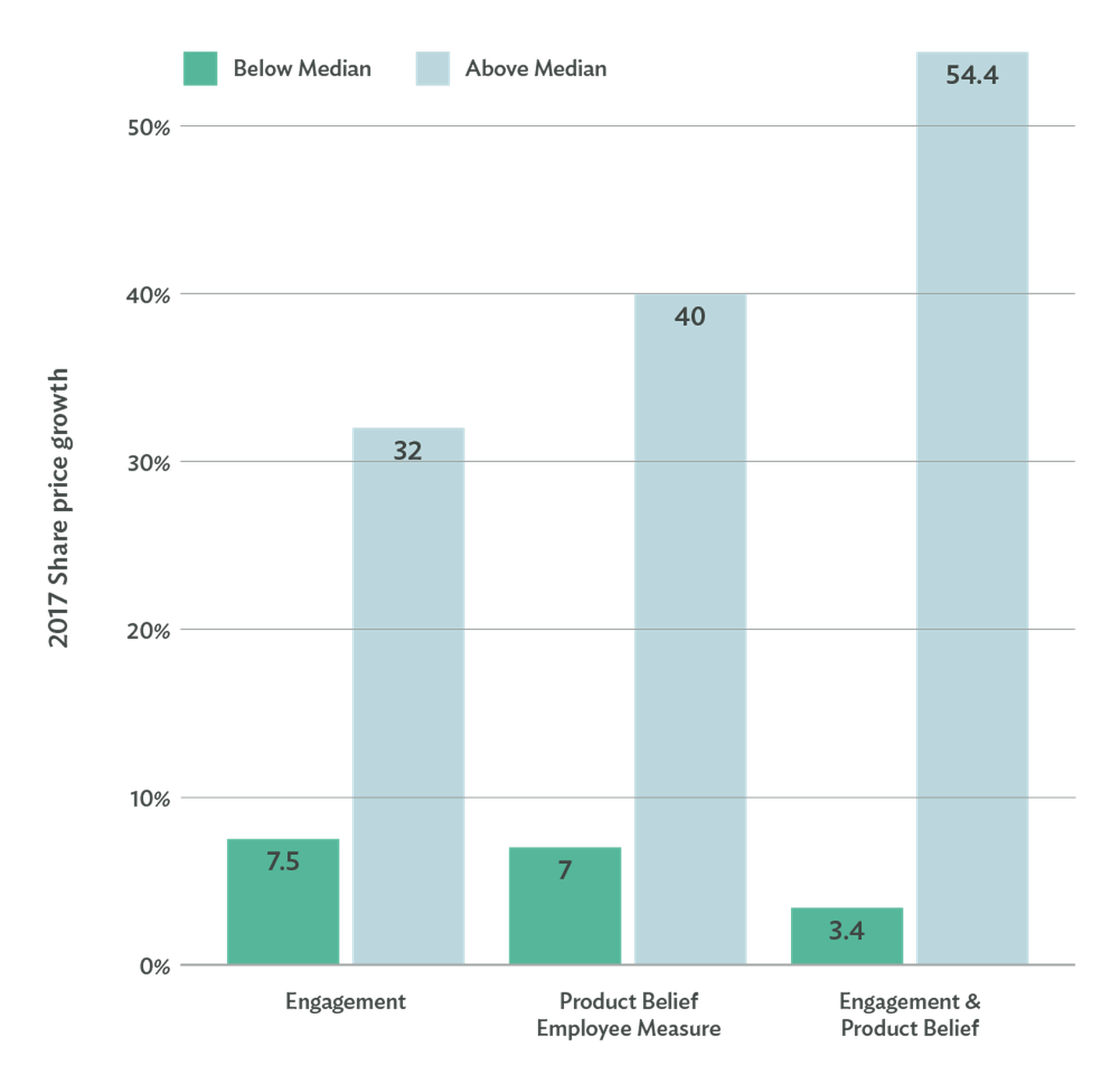 Higher engagement was associated with 24.5% higher share price growth versus lower Engagement.
Higher belief in the products and services (i.e., product belief) their company provided was associated with 33% higher share price growth
The combined effect of engagement and product belief was even stronger. Higher engagement and product belief was associated with 51% higher share price growth. 
Start taking action on employee engagement today
Contact us
Importantly, with more than 50% of the companies listed in the US, the higher-performing group (Engagement and Product Belief) gained over twice as much as Dow Jones Index (~25% in 2017).
Linking these types of measures concurrently (i.e., using employee and share price metrics for the same year) means that we may simply measure how people feel about their company's current performance.
We were more excited to find out whether employee feedback measures from 2017 would be linked to share price growth in 2018. We wanted to see whether the effect was larger than just using 2017 share price growth to predict 2018 year-to-date (YTD) growth.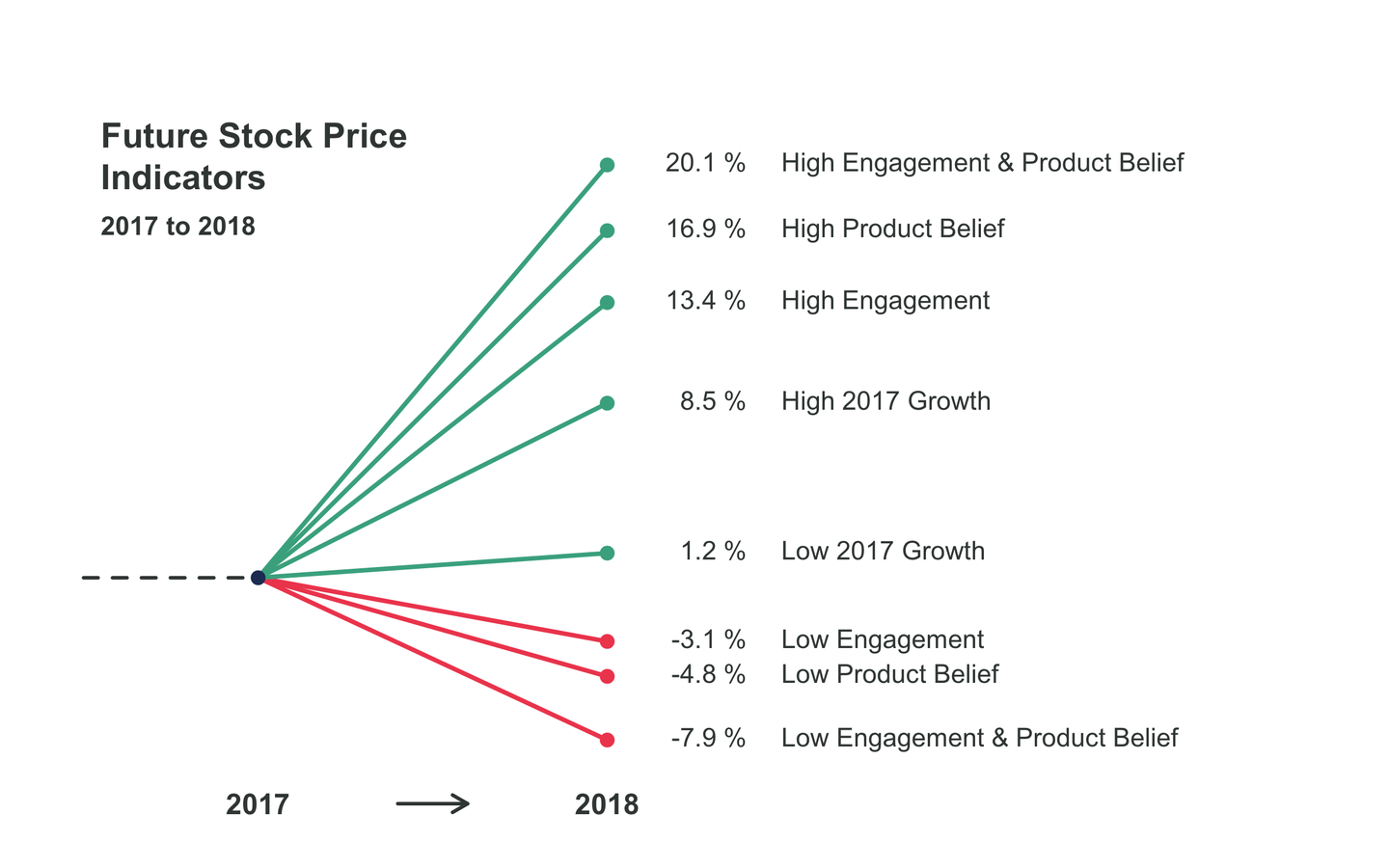 Across the 2017 measures, left to right, we see a rising gap between the higher and lower groups' YTD share price growth.
Four key findings on the ROI of employee engagement
Splitting the companies into higher and lower 2017 share price growth groups, we see a relatively small difference (7.3%) in 2018 YTD growth.
Higher 2017 engagement was associated with 16.5% higher share price growth YTD 2018.
Higher 2017 product belief was associated with 21.7% higher share price growth YTD 2018.
The combined effect of 2017 Engagement and Product Belief was again even stronger. Higher Engagement and Product Belief was associated with 27.9% higher YTD growth.
It's probably not surprising that better-performing companies will have happier people in the short term.
However, this data suggests that employee perceptions are strong lead indicators of important future outcomes. Whether they cause this or are lead indicators, or some combination of the two, is the next most interesting question. The team and I at Culture Amp look forward to solving this with our community and customers.
Build a world-class employee experience today