Building a performance management system that works for you
A well-rounded performance review process isn't only about measuring an employee's success in the past. It has the potential to be a great tool for helping them develop skills for the future.
There are performance processes that help employees both look backward and plan forward. Therefore, managers need to differentiate between the processes that simply evaluate previous performance and others that create pathways for development.
Below, we'll share an overview of the main components of a performance management process to help you define which process best suits your team's needs.
Two types of performance management systems
The traditional performance management system
When using a system that assesses where an employee has come from, you view performance as static or solely defined by what an employee has done. You're looking backward, measuring development with existing capabilities in mind, and asking, "how well did they do?" The question you're not asking is, "how well could they do?" 
The developmental performance management system
A developmental system allows managers not only to review indicators of what employees have accomplished but assess what they might be able to do in the future.
The building blocks of performance management
There are several building blocks managers can use to create a performance process architecture. Some measure performance, while others help your employee develop further, so using a combination of both can help you gain a holistic view of an employee's developmental opportunities.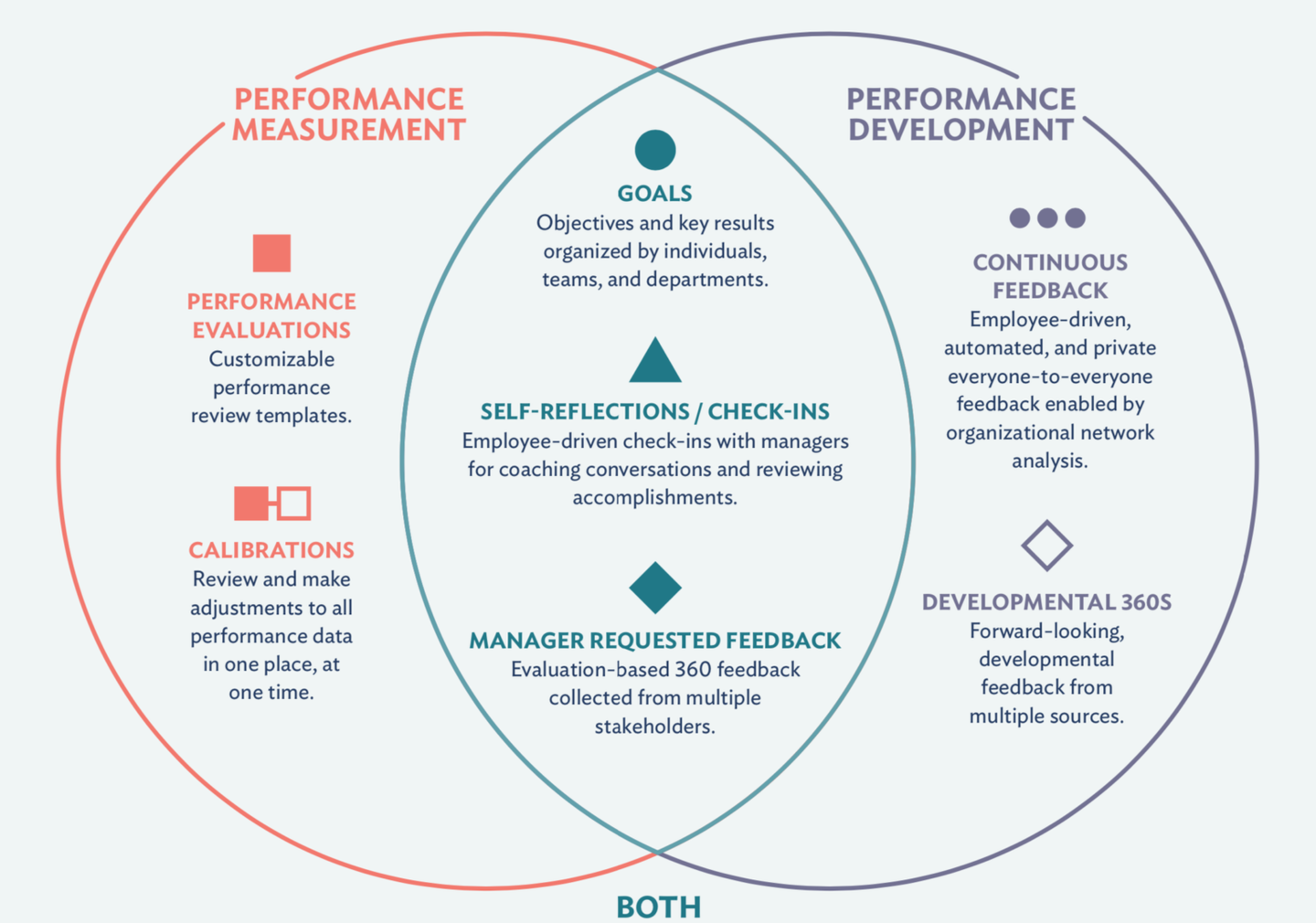 Which performance management process is best for you?
Identifying the building blocks you'll use is a great first step in building your method. Next, you'll need to arrange the blocks to create the best possible process for you and your team. 
We've identified four performance management processes:
Progressive fit
Measurement fit
Coaching fit
Traditional fit
Each differs significantly in the steps you take during an evaluation. Below is an example of how the building blocks of feedback, communication, and data collection are applied in a progressive fit.
Progressive Fit
Manager-requested feedback allows diverse groups of people to provide feedback on an employee's performance at multiple points in time.
Quarterly check-ins enable knowledge workers to keep their managers up-to-date on their progress despite working in highly matrixed organizations with project-based teams.
Collecting performance-related information and data points over time makes it easier to write evaluations at the end of a period. 
Want to find out which of the four processes is best for you and your organization? Download the ebook for additional information on Measurement Fit, Coaching Fit, and Traditional Fit.
Our guiding principles for performance management
Regardless of which process you employ, performance management isn't something you set and forget. At times you might need to adapt your process to meet the needs of individual employees or reassess how you conduct evaluations as your company grows.
In any case, here are some guiding principles we encourage managers to keep in mind as they determine what works for them at any given time. 
Performance should develop and grow your people
Review processes should be fair and objective
Performance management should be straightforward for everyone involved
Learn more about these guiding principles and why we consider them to be key in developing your performance management process in the e-book "Building a performance process that works for you."