Case study
How VanMoof has built an employee experience strategy rooted in listening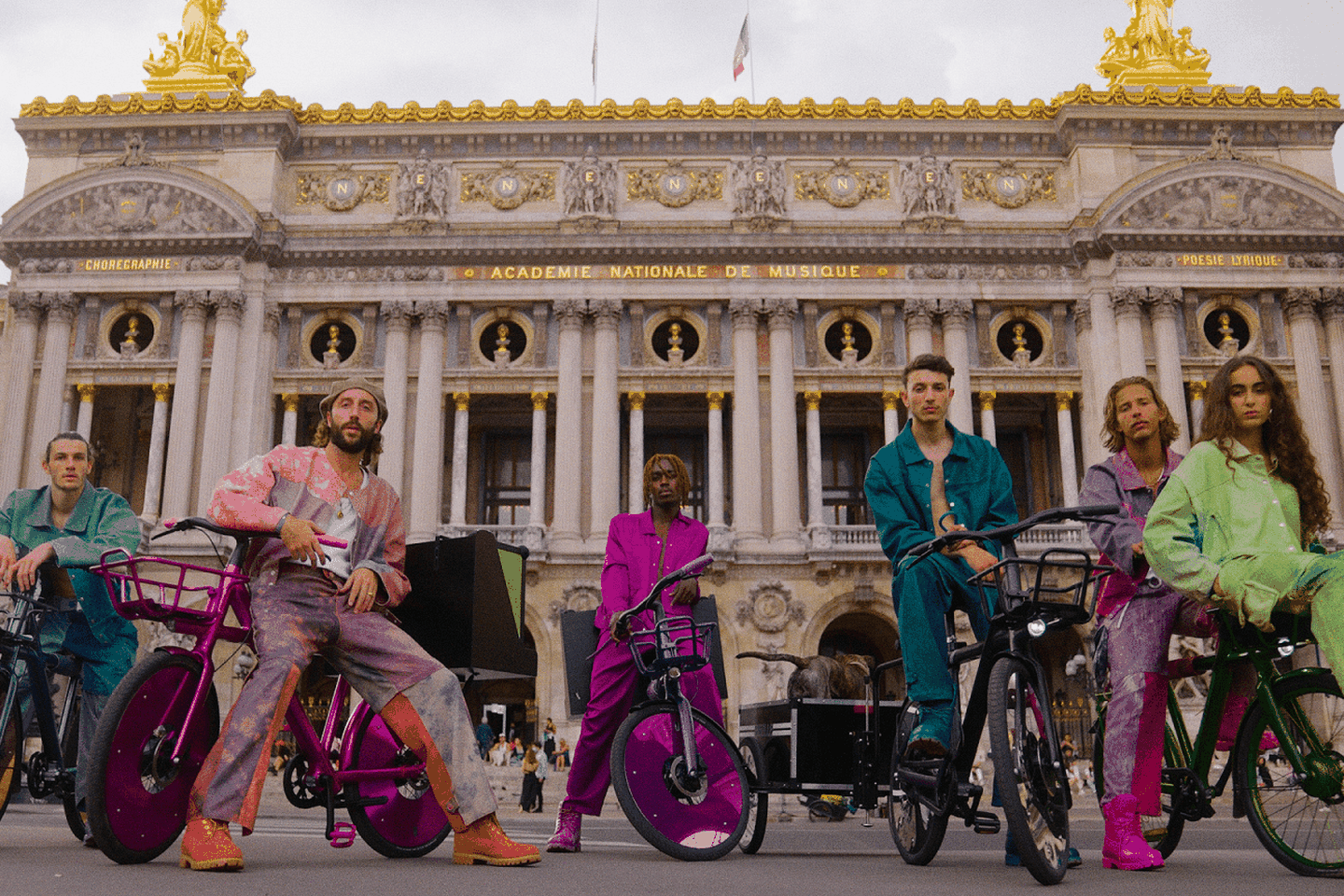 Statistics
850employees

14%uplift in feedback and recognition

97%manager performance review participation rate
VanMoof was founded in 2009 by Taco and Ties Carlier, two Dutch brothers with a vision of the perfect city bike. Now their e-bikes are redefining the future of urban mobility with a devoted worldwide community of 200,000 riders and counting.
The organisation has become one of Europe's fastest-growing companies. It employs 850 people across two headquarters in Amsterdam and Taiwan; brand stores in Berlin, London, New York, Paris, San Francisco, Seattle, and Tokyo; and a network of dedicated Service Hubs around the world.
Chief People Officer Jeranne Koekkoek joined VanMoof in 2019 when the People Team comprised of one person. In just three years, the team is now 25 people-strong, and the organisation is on track to employ 1000 VanMoofers in early 2022.
To support this rapid growth, Jeranne is always focused on attracting the best talent to VanMoof and ensuring that everyone gets the most out of their experience at the organisation.
Challenge: Creating a scalable employee listening strategy
"To engage employees, you need to understand what drives them," Jeranne says. "For example, what is the company doing well and what areas need improvement? You also need to have a fair and equal performance process across the organisation, so that everyone is being assessed in the same way, irrespective of where they are based."
As there were no HR systems in place at VanMoof when she joined, Jeranne relied on email and Google Forms to gather employee feedback and carry out performance reviews.
To help her through the process, Jeranne tapped into Culture Amp's community of people leaders and HR practitioners.
"Even though I wasn't a customer at the time, Culture Amp gave me the inspiration, confidence, and practical steps needed to carry out an engagement survey," Jeranne continues. "From communicating the survey to our people in the first place; to knowing what questions to ask; interpreting the data and presenting the findings."
Email and Google Forms, however, had their limitations, particularly when it came to gathering peer feedback. Given VanMoof's fast growth trajectory, Jeranne recognised this approach wouldn't be sustainable when she'd be surveying hundreds more people.
She wanted an employee experience platform that would keep her "two steps ahead" and could easily scale in the long term. This, Jeranne says, "would avoid the frustration of having to introduce employees to a new system every few years, keep all engagement data in the same place and connect other employee data points such as onboarding and performance."
Already familiar with Culture Amp, Jeranne liked that the company's vision for engagement and performance reflected her own. She also was impressed with the company's willingness to support her even when she wasn't a customer.
Solution: Listening and taking action
In June 2020, VanMoof embarked on its first survey using the Culture Amp platform, looking at individual effectiveness.
Jeranne explains the decision: "My email surveys flagged that people wanted a more structured way to give feedback. We positioned the individual effectiveness surveys as a feedback and development tool. People could explore how they see themselves and others, their strengths and weaknesses, and areas for improvement. It also proved to be a great conversation starter with leaders. Importantly, however, it was a means of introducing people to the Culture Amp platform and demonstrating that VanMoof was listening and acting on employee feedback."
A full employee engagement survey followed in November 2020. The survey had a participation rate of 81%, which Jeranne credits to the groundwork already done with the individual effectiveness surveys - "people could see that they were starting to be listened to."
One area that had room for improvement was that of feedback and recognition. For example, only 39% of respondents agreed that the right people were rewarded and recognised.
Responding to this, VanMoof put many actions in place, including a new performance management process and an improved compensation structure. These initiatives have clearly had a positive impact, with a phenomenal 14% uplift to 53% when the same question was repeated eight months later.
The company also invested heavily in internal communication, including 'Monthly Moofs' all-hands meetings, including an Ask-Me-Anything section (AMA). As a result, enablement has seen significant improvement at VanMoof, with 61% of people agreeing that they have the right information to do their job correctly in July 2021 compared to 48% in November 2020.
"Action on engagement is crucial," comments Jeranne. "Organisations shouldn't ask for feedback if they can't make changes happen. If people aren't seeing impactful change before the survey will be repeated, fatigue will set in, and the momentum lost."
Leaders defined their own areas for engagement because each team had its own areas to address. For example, to improve collaboration with other departments, the action was taken to implement a 'handshake meeting' at the end of the quarter, so that their goals aligned with the other teams. Elsewhere, to improve how workloads are divided fairly, action was taken to change the team structure and design.
Results: Better conversations and ability to course correct
"The numbers really help identify where action should be focused, and it's rewarding to see the positive change that's taking place when the scores increase," adds Jeranne. "Additionally, being able to interpret the data and present the findings at the touch of a button so that senior management and the wider organisation can understand what's going on makes the People Team's life so much easier than trying to do it all ourselves."
From a performance point of view, Culture Amp has allowed VanMoof to create a structured and transparent review process - 'Unravel Your Ride - which is proving more effective than the previous email and Google Forms approach. Performance conversations serve as an opportunity to explore what's going well and where improvement can be made, while the ability to have 'check-ins' and provide regular proactive feedback ensures that performance isn't neglected in between formal reviews.
Once again, the new approach has proved popular with manager review participation hitting 97%.
"I like that there's no middle ground with Culture Amp's rating system," continues Jeranne. "People are either overperforming, or there's room for improvement. By comparing data across teams or job roles, we can identify trends, such as a less engaged team or an under-performing manager, and course-correct to help keep people in the organisation."
Moving forward, VanMoof has found its survey 'rhythm'. Engagement and performance cycles occur twice a year, while focused surveys addressing areas such as diversity and inclusion, wellbeing, and returning to the office post-Covid are happening on a more ad hoc basis and the organisation is seeing a 90% favourable onboarding rate.
VanMoof is also trialling Culture Amp's goals module to set and review Objectives and Key Results (OKRs). Jeranne says that while it's still early days, Goals is already proving to help provide visibility into how teams are performing and progressing.
"Culture Amp is much more than a software tool, concludes Jeranne. "I have a knowledgeable partner who can offer me the strategic direction I need to help drive conversations with the VanMoof board and make positive change happen. Together, we're on a journey of improvement, constantly reassessing what works best for the business."
Want to learn more about how VanMoof has taken innovative approaches to build employee experience strategies rooted in listening? Tune into VanMoof Talent Development Manager Merel Briët's on-demand Culture First session.
Headquarters
Amsterdam + Taiwan
Industry
Retail, e-mobility
Challenge
Creating a scalable employee listening strategy
Solution
Listening and taking action
Results
Better conversations and ability to change direction if needed
Build a world-class employee experience today