Managing organizational culture during mergers & acquisitions
There are many reasons that companies merge with or acquire other companies – increased market share, gaining new capabilities, diversifying a product offering – the list goes on. It's also no secret that sometimes, mergers and acquisitions don't go as planned. 
What's the most common reason mergers and acquisitions fail?
The human (cultural) factor. 
According to the International Journal of Innovation and Applied Studies, the largest contributor to merger and acquisition failure is people. That is, how we cope (or not) with cultural differences and a lack of effective communication. 
"In the bid or quest to roll out various strategies in the post-M&A era, to ensure good performance, the employee must be pivotal. Any attempt to sideline the employee in all these will spell doom for the new setup," says study author Godfred Yaw Koi-Akrofi.
In the bid or quest to roll out various strategies in the post-M&A era, to ensure good performance, the employee must be pivotal. Any attempt to sideline the employee in all these will spell doom for the new setup.
— Godfred Yaw Koi-Akrofi
To ensure your merger or acquisition has the greatest chance of success, it's valuable to measure the employee experience during such a transition. We'll cover what's at risk during a merger or acquisition, why you should survey (and what to ask), how to support your employees during this time, and wisdom from some customers of Culture Amp who have gone through this transition firsthand.
Roadblocks you may encounter during a merger or acquisition
In terms of company culture, there are a few things at risk during a merger or acquisition. 
The key risk for companies during times of transition is losing employees. By surveying soon after a merger or acquisition you will gain a better understanding of which parts of the business are at the highest risk of turnover. It's inevitable that your company culture will change after such a process as well.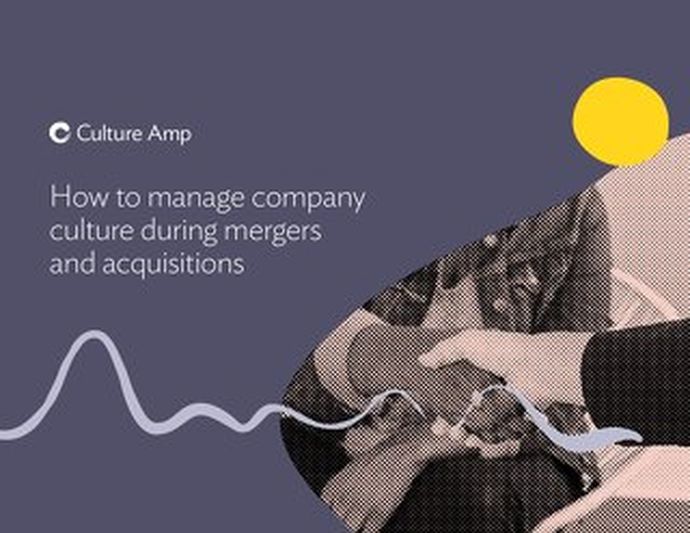 Don't risk losing employees during a merger or acquisition
Learn how to manage your culture during times of change
Download now
There are three common approaches to begin developing a company culture post-M&A:
Choose one culture to be carried on
Create a new culture that combines the best of both companies
Create a completely new culture
Each path has its pros and cons, and whichever you choose, it's essential to communicate with employees. Often during times of transition, communication becomes increasingly siloed to top-level decision-makers, and employees are left out of the loop. This disconnect causes rumors to begin and breeds distrust. A good communication plan should be established before the deal is finalized and carried on throughout the process.
Why survey after a merger or acquisition?
Including an employee survey in your post-M&A plan is another way to keep the lines of communication open and demonstrate to people that their feedback is important. It also addresses the most significant risk during this time – losing employees. 
Accurate data from employee surveys enable you to direct your focus to areas of the business with the highest risk of turnover.
You don't need to wait until things feel "complete" to start collecting feedback. Mergers and acquisitions are a time of ongoing transition, and getting feedback during the process is vital to making it as good an experience as possible.
Employee survey questions to use post-merger or acquisition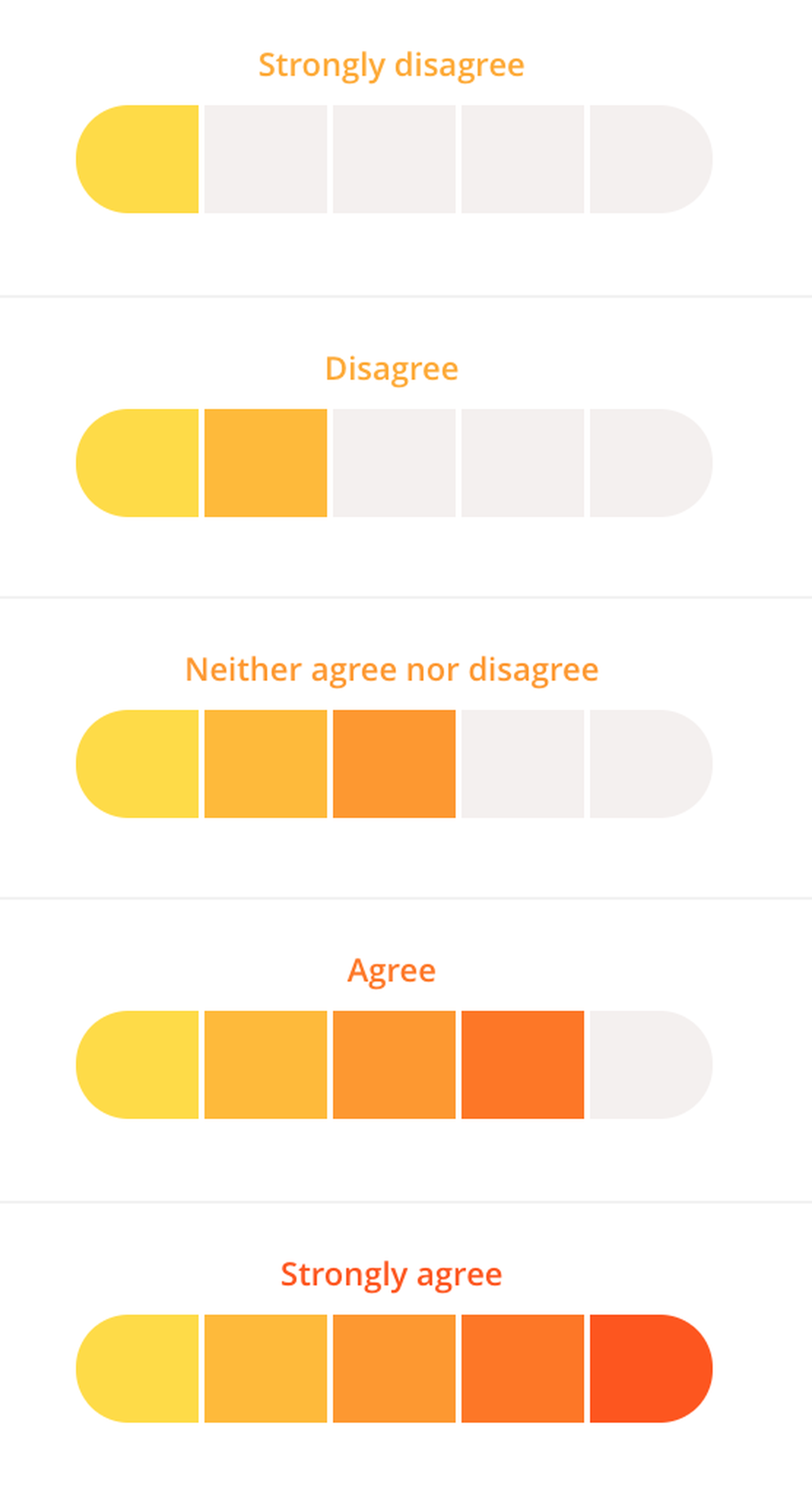 When you're ready to gather employee feedback, the next step is to determine what to ask them. Each question you ask sends a signal to people about what matters and what you might take action on. We at Culture Amp recommend using the following questions on your post-merger/acquisition survey and our employee engagement questions. Each question category targets a common pain point during times of change.
A quick note: while we refer to the following as questions, they are read as statements that we ask people to agree or disagree with on a 5-point Likert scale, as seen in the image on the right.
Communication
These questions help to address uncertainty and can give you an idea of whether or not your communication strategy is working.
The reasons for the acquisition have been communicated clearly and effectively
I know where to find additional information about the acquisition
Connection
Fostering a feeling of connection helps to buffer the possible adverse effects of a merger or acquisition. Open-text responses to these questions could reveal people or teams doing a great job who could become helpful champions and role models during this transition period.
I've seen coworkers go above and beyond to make this transition successful
Other departments at [Company] collaborate well with us to make the transition successful
Control
During times of change, people generally feel like they lack control. These questions can help you understand how employees feel about the security of their roles. It's a good idea to share the results of these questions with managers, or team leads so that they can take action.
During this transition, my workload has been reasonable for my role
I am included in decisions that affect my work
I am confident I can deliver in my role during the transition
I feel secure in my current position
Career
Get a sense of how people are feeling about the future of their role. You can also send the signal that there will be new opportunities as a result of this change. 
I understand what the acquisition will mean for my role
I'm excited about the new opportunities that will result from this transition
Confidence
Confidence questions let you know how people are feeling about the big changes that have taken place. These questions also help you understand your communication strategy and if more detail is needed.
[Company] will provide the necessary training for me to successfully adapt to any changes created by the transition.
I believe in [Company] leader's ability to make this transition be successful
Overall, I believe the acquisition will be good for our business
Read the latest research on how the employee experience changes depending on whether you're going through a merger or acquisition.
Preparing and supporting your employees
Concerns about job security are often top of mind for employees during the M&A process. Will their role still be relevant? Are their past successes going to be recognized? How will they be accepted as members of the new team?
Having career path training pre or post-M&A is a great way to prepare and support employees. This way, even if they get let go or choose to leave, they understand what their next step should be and where their strengths lie. 
Don't forget basic support like information about how you'll transition benefits, how you do performance reviews, when and how compensation is reviewed, and how the company approaches time-off. Addressing employees' basic needs is crucial to establishing a foundation of trust and confidence.
Kim Rohrer, VP of People & Culture at recently acquired Disqus, says:
"Having intentional onboarding for the newly acquired company, as you would for a new hire, is a great way to make them feel integrated and welcomed. Is there an actual orientation? Is there welcome swag? Is there written material for them to read on their own? Make them feel as welcome as you would for any new team member."
Using employee feedback surveys post-acquisition
The following three customers: Progress, JacTravel, and Aligned Leisure, have all been through a merger or acquisition in the past few years. Hear from their people and culture teams on how they navigated this time of transition.
Progress
After three acquisitions in 2014, Progress had the product portfolio it needed to be a global leader in product development. They recognized the importance of retaining the best talent for their newly formed team and looked to Culture Amp employee feedback surveys to prioritize initiatives.
The leadership team at Progress agreed that engagement and culture were top priorities post-acquisition. From their first engagement survey, they were able to hone in on teamwork as a strength, and cross-team collaboration as an area of focus. "We quickly realized that fostering cross-team collaboration moving forward was critical to bringing the organization together as one," says Ani Girgitsova, Human Capital Lab Manager at Progress.
"We set our sights on building a unified corporate culture that would help bring the teams and their individual cultures together."
JacTravel
When the tourism company JacTravel acquired TotalStay, Elaine Glass, Director of Human Resources, was already familiar with the benefits of using Culture Amp's employee surveys. 
JacTravel was able to quickly identify learning and development as a focus post-acquisition. Elaine says, "I think that our whole learning and development offering has changed significantly due to the feedback we had on that first survey."
Leadership was also key to the success of JacTravel's acquisition. Deputy Chief Executive Officer Peter Clements took on the role of engagement lead and visited employees across the globe. "What we heard from the survey was there wasn't enough explanation from the leadership of the course we're on and why we're on it," he says. In the meetings, Clements and team members would talk about what had been done, what the executive team was currently doing, and what was being planned. "It was a really constructive and informative period that helped bridge the gap between the executive team and people within the business," he shares. 
Aligned Leisure
The Richmond Football Club (RFC) acquired Aligned Leisure and its eight major recreation facilities in early 2016. As the General Manager of People, Culture & Performance for RFC, Dr. Amanda Green ensured that people were a focus during the transition. She says, "The people who joined us were already intimately connected with the recreation centers and the local community. If we didn't get the management transition right, we were potentially losing both an employee and a customer." 
Their first survey post-acquisition was used to identify focus areas and to communicate a new company priority. Less than eight weeks after taking over as new management, Aligned Leisure measured their success in elevating the importance of the customer by including a custom question on their engagement survey.
When asked, "Do day-to-day decisions here demonstrate that the customer is a top priority at Aligned Leisure?" 87% of employees agreed. 
76% of Aligned Leisure's staff also agreed that leaders had communicated a clear and motivating vision, a score that is impressively fifteen points above the industry benchmark.
Learn how Aligned Leisure used Culture Amp to improve employee engagement by surveying employees and gathering a baseline measure of engagement.
During times of transition, focus on people and organizational culture
It's especially important to focus on people and culture during times of transition. Be sure to communicate with employees, collect feedback to take targeted action for retention, and provide ongoing support.
And remember, you don't need to wait until things feel settled to collect feedback post-merger or acquisition. Surveying during times of transition will give you the data you need to take action, and ensure that people know their voice is being heard.
Build a world-class employee experience today