Don't just celebrate women in your workplace – support them
In the United States, Women's History Month is a time for celebrating and honoring the social, political, economic, and cultural achievements of those who identify as women. But although women as a group have come a long way, we must recognize that society is still very far from achieving true gender equality, especially when considering the intersections of gender and other overlapping identities. Celebrations are nice-to-have, but what women actually need is action, informed by intersectionality, that works to close disparities and eliminate inequities.
As discussed in the first part of our Women's History Month series, taking a "women-first" approach to your DEI initiatives can get in the way of real progress. Womanhood is not a universal experience, which is a reality that many women of color, women with disabilities, LGBTQIA* women, women growing up in underserved communities, etc., can attest to. Without the critical lens of intersectionality, your initiatives may unintentionally widen inequities across other dimensions of identity, like race and social class.
In this second part of our Women's History Month series, we'll take a closer look at some of the intersectional identities that are often overlooked in the workplace. We'll also feature six Campers, many of whom belong to WoCA – Culture Amp's employee resource group (ERG) for Campers who identify as women – and share what they believe organizations should do to meaningfully support all women at work.
Which identities usually get excluded from the conversation around women's empowerment?
Organizations tend to think of diversity in terms of gender and race/ethnicity representation. However, a range of visible and non-visible aspects of identity adds critical nuances to a person's experiences in and outside of work. Let's take a look at these identities in the context of their intersection with gender.
Thushyanthi (Thushy) Muruges – Equitable Design Lead, People & Experience at Culture Amp – shares just a few examples of identities that are often underrepresented, lacking data collection, and left out of DEI initiatives and programming.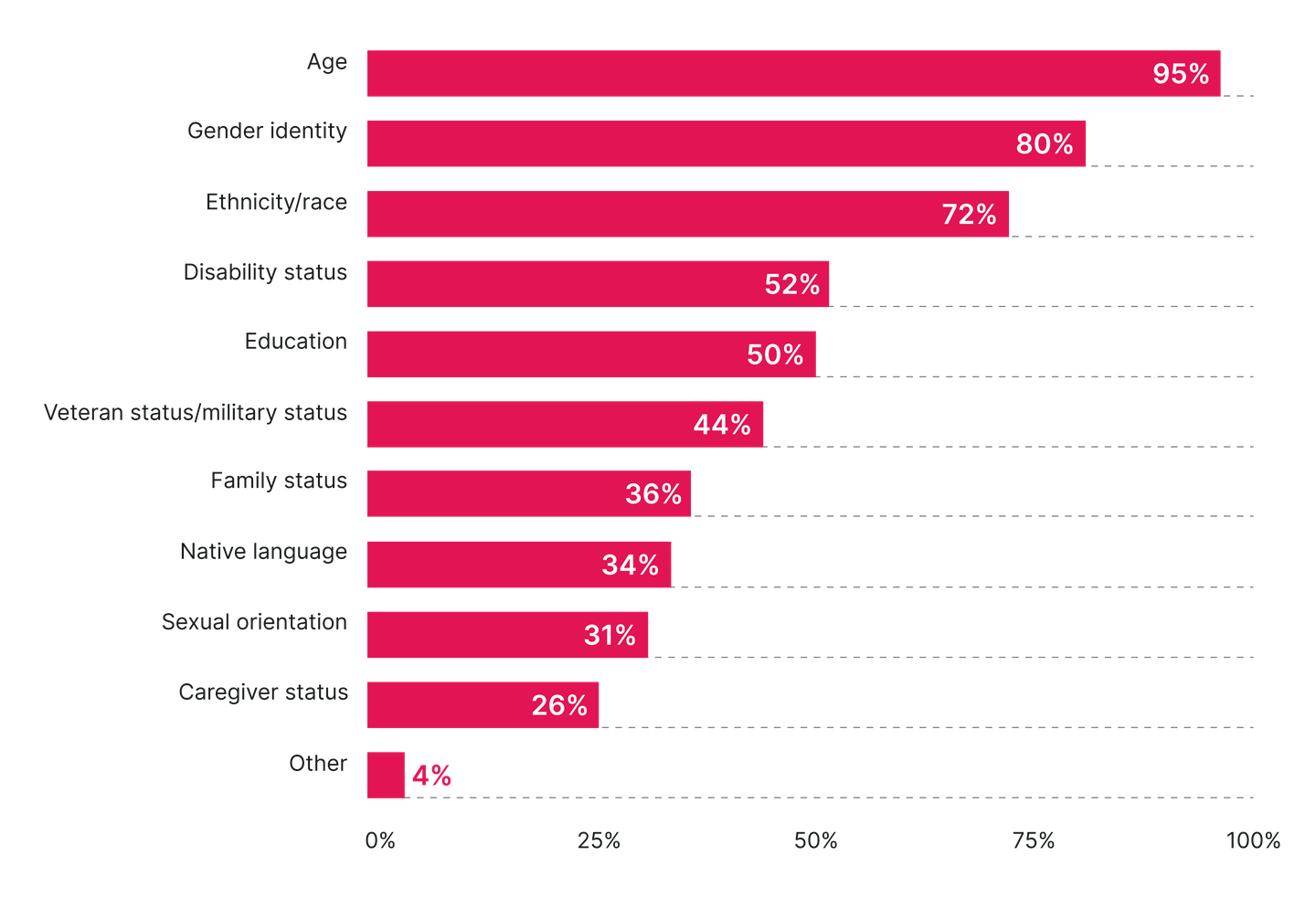 Older women. For women over 40, ageism and menopause are common struggles that rarely receive adequate support. Fertility is another consideration, as few companies offer support to older women who want to get pregnant or have a family.
LGBTQIA*. Only 31% of respondents collect information on sexual orientation, which means that the majority of companies have no way of measuring, assessing, and strategically improving the experiences of their LGBTQIA* workforce. This lack of data collection may lead to the creation of benefits that are non-inclusive of individuals, couples, and families that do not neatly conform to heterosexual and cisgender norms.
Caregivers. Only 26% of organizations say they collect information on caregiver status. Of these organizations, it is unknown what percentage consider caregivers outside of the traditional parent-child binary (i.e., caregivers of elderly parents, disabled spouses, grandchildren, etc.)

Given that caregivers are majority (66%) female, flexibility and inclusive caregiving benefits are often key to supporting women in the workplace. Although men also provide care, research has found that women may spend as much as 50% or more time caregiving than men – a time and energy commitment that can heavily impact a woman's career experience and trajectory.

The definition of "caregiver" matters, as many companies only provide employee resource groups (ERG) for parents, which can exclude caregivers of adults. Culture Amp's ERG, Camp Carebears, was intentionally designed to reflect the diverse forms caregiving can take.
Disability. People with disabilities face numerous obstacles in the workplace, and these challenges are compounded for women with disabilities. Research has shown that men with disabilities are almost twice as likely to have jobs than women with disabilities.

Moreover, as Thushy explains, "Many working women walk around with undiagnosed disabilities that affect their experience at work. There's a lack of general awareness around women's health issues, even among women. For example, people tend to undermine the impact of health conditions like endometriosis and uterine fibroids."

Unfortunately, even when an ERG does exist to support employees with disabilities, it may not be explicitly inclusive enough (i.e., someone is not aware that their health condition "counts as" a disability. To reflect the diverse nature of disability and the fact that virtually everyone will live with the personal experience of disability at some time in their life, Jesse Sanchez, the Board Chair of Culture Amp's Inclusive Disability ERG, wrote this statement: "In Camp ID, we define disability in the broadest sense and understand that disability is part of the human condition."
There are many other aspects of identity that weren't explored above, but equally deserve to be incorporated into your workplace DEI strategy. These include: first-generation status, veteran/military status, family status, native language, family's highest level of educational attainment, housing, mental health, and more.
In order to consider these aspects, you need to ask demographic questions in the first place. That way, future employee engagement and Inclusion surveys can drill into the data to understand gaps and inequities in experience between different groups and track whether progress is being made to remedy them. Moreover, the demographics you choose to include (or not) in your surveys send a strong signal to your people about the company's DEI ideology.
Take action with intersectionality in mind
We asked six Campers that identify as women, "What can organizations do to better support women from an intersectional perspective?" Below are their responses.
Lead with fair and equitable systems
Rachel Napolitano, Global Talent Operations & Enablement Lead
"Equity begins at the first step of the hiring process.
As a company that really values diversity of identity and experience, Culture Amp has to be able to support that diversity with structured processes that are built on the foundations of accurate job descriptions with explicitly listed skills and structured questions for assessing against those skills. This sets a tone of fairness and equity in the process that ensures that any candidate that has that skill can be successful, regardless of what they look like, where they came from, if they went to school, etc.
This should then be backed by the same level of fairness and equity in talent processes that follow in the employee lifecycle. As an example, is your employee's performance evaluated on the same types of skills they were assessed for in your hiring process? Have you taken measures to ensure that every employee has the same opportunity for success and growth that will carry them forward in your organization? These are the types of questions your organization needs to answer when trying to build a system that can support the success of people from different backgrounds."
Look at your data and feedback from an intersectional lens
Joni Booth, Lead Account Executive
"Organizations should ensure that any of the feedback they are collecting is looked at from an intersectional lens. There are many significant nuances when you look beyond traditional or single demographic data cuts.
For example, here at Culture Amp, specifically in our employee resource groups, we first view our employee survey data by different single demographic data cuts. In the ERG I support, the first cut is by caregiver status. But as we peel back the data further by adding filters of women versus men, for example, we find that women caregivers are actually suffering more in areas of learning and development, career opportunities, and a sense of belonging than men caregivers. The findings were the same amongst our caregivers of color.
By taking an intersectional lens, we're able to uncover those unique experiences and insights that help us drive more effective and directed strategies for supporting caregivers across our organization."
Create accountability and belonging through transparency
Jourie Palumbo, Customer Success Coach, LE
"As an LGBTQ+ identifying individual, it's so gratifying to know and see that my employer is collecting data and sharing their efforts to increase the diversity of their employee pool. Intention is everything, and representation matters.

The fact that I can look at Culture Amp's Equitable Design & Impact Report and see how many people identify as LGBTQ+ is meaningful. Even if the percentage is less than 10%, knowing that I'm working at a company where LGBTQ+ individuals can feel supported, accepted, and safe is the kind of progress needed in the workplace. I find a lot of comfort in being able to show up as my authentic self with teammates, managers, and coworkers instead of hiding who I am."
Expand your definition of caregivers
Juanita Olguin, Lead Product Marketing Manager, Enterprise
"In Hispanic culture, whether or not somebody has children, they often still play the part of a caregiver to their families. Moreover, people of color are more likely on the frontline. So, for example, when something like the shutdown happens, some of my family members can't work and thus aren't gaining wages. So in moments like that, I'd have to step in.
I know others that are also caregivers to their mothers, fathers, and so on, so I think organizations could be doing more to acknowledge and support caregivers who fall outside of the parent-child binary."
Foster a culture of empathy and psychological safety
Amparo I. Vazquez, Customer Success Coach, Enterprise
"I'm a child of immigrants who grew up in poverty in a very crime-heavy, under-resourced area with very limited political power. Nighttime shoot-outs between gangs were common, as were sounds of police sirens and helicopters. I was not allowed to exit my house at night for a stroll, for fear of being raped or kidnapped.
That is to say - I grew up in a state of constant danger. Because of these experiences and the danger I would later find myself in as an adult, psychological safety is the most important thing for me when it comes to any setting or any connection, including at work.
Psychological safety is one of the biggest factors that drove me to work at Culture Amp. I needed to feel safe, and all signs pointed to this being a very safe environment, and I was right. After a long period of feeling insufficiently safe – including at work – which led to developing C-PTSD, I realized it was a 'must-have' for me, as it is for so many women of color.
So many of us are born into circumstances where our safety is routinely and systemically challenged. And who we are when we feel unsafe is not who we are when we feel safe. This includes the type of employee we're able to be and the work we're able to accomplish. Feeling unsafe diverts mental and emotional resources towards basic psychological and physical wellbeing that could instead be used towards acts of authentic and courageous leadership and change.
How can organizations help foster psychological safety? Get to know your employees in their intersectionality. Get to know their histories, their backgrounds, their cultures, their fears, their desires, their emotional and psychological needs. Create a space for authenticity to be shown, for wholeness to be safe, and understand the impact of feeling unsafe at work: a setting where success can depend on hiding parts of one's identity or toeing careful lines to avoid aggravating ticked-off egos.
Then, create infrastructures with all of that understanding in mind. The more you seek to understand an individual, the better you can support them. And the more you make an effort to do this, the more your company will reap the rewards."
Seek to understand what specific communities most want or need
Vivian Fructuoso, Senior People Scientist
"As an Asian-American woman from an immigrant family, I was taught from a young age that success meant keeping your head down, following directions, and not questioning authority. These life lessons from my family stemmed from years of feeling 'othered.' So, in hopes of helping me avoid the same discrimination they experienced, they unintentionally taught me that my voice didn't matter.
As I entered the world of work, I brought these lessons with me; however, I didn't realize how much it was stifling my growth. I felt uncomfortable advocating for myself and assumed that others would naturally know how hard I was working. Fortunately, I've had many amazing mentors who actively advocated for me, introduced me to their networks, and helped me step outside of my comfort zone.
In a study conducted by Catalyst, they found that 50% of Asian women report not having key relationships as a major barrier to their career development. So, when it comes to lifting Asian-American women specifically, organizations and leaders can start with listening to our stories, understanding where we may be struggling, and advocating for us. This is an especially great opportunity for stronger mentorship programming that considers people's unique backgrounds, and also for managers to learn the importance of facilitating more frequent career advancement conversations with certain mentees who may be struggling more to speak up."
Shape a better world of work for every woman
This Women's History Month, do more than just reminisce – focus on taking action to build a better, more equitable future. Don't let your celebrations obscure the very real gender inequities that may exist and are being perpetuated on a day-to-day basis, especially among women who live at the intersection of multiple marginalized identities.
In this article, we shared the thoughts and experiences of several Campers at Culture Amp. However, what will work best and make the greatest impact at your specific organization can, and likely will, differ. Start by collecting feedback, asking women about their experiences, and seeking understanding through genuine listening. This will lay the groundwork for a workplace and culture that supports women not only during Women's History Month, but every month.
If you truly want to celebrate the women in your workplace, commit to taking the actions and driving the changes necessary to equip every woman – inclusive of their diverse and intersectional identities – with what they need to thrive.
Build a world-class employee experience today