Ensuring 1-on-1 meetings go beyond tactical performance
1-on-1s are the royal road to employee engagement. Studies show that employees who meet regularly with their managers are three times more likely to be engaged in their work. But when done poorly, 1-on-1s can quickly become the bane of your team's existence: draining resources one lousy meeting at a time. 
At LifeLabs Learning, the question of what makes for great 1-on-1s has been a driving force behind our research to inform our manager training. After studying thousands of managers, we found that the best ones design their 1-on-1s to meet the core engagement needs of their direct reports. 
To make these needs easier to remember and spot, we created the CAMPS Model:
Certainty 
Autonomy
Meaning 
Progress 
Social inclusion
Below are ways to ensure that your 1-on-1s go beyond tactical performance check-ins and put your direct reports in the engaged camp.
Certainty
1-on-1s are a ritualized connection point. And like all good rituals, their power is derived from their cadence and predictability. Great managers treat 1-on-1s as sacred time. They don't cancel and they stay present throughout the meeting, leading to more comfort and less anxiety for both of you.
You can also build certainty by using your 1-on-1s to align expectations. The 1-on-1 is a great opportunity to suss out where your direct reports need more information or clarity. To get the most out of your time together, don't bother asking for status updates. A goal tracking spreadsheet or kanban board is a much better solution for that. Instead, focus on areas where your direct report craves more certainty. 
Certainty question to ask in your next 1-on-1: Where do you wish you had more clarity, routine, or predictability at work?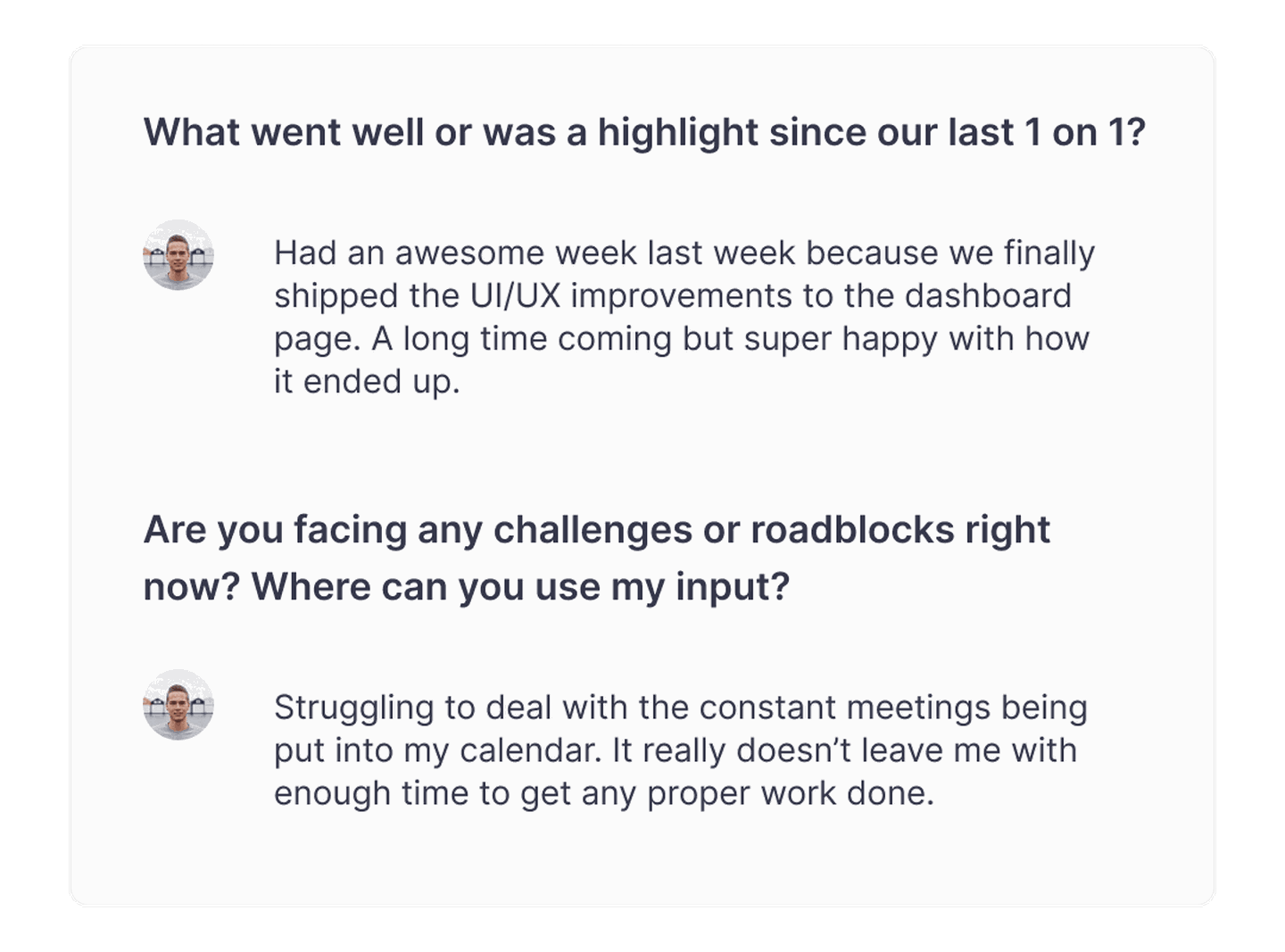 Autonomy
Research shows that autonomy at work is correlated with increased well being and job satisfaction. Yet autonomy can only have a positive impact if it matches people's skill levels. If direct reports are asked to perform tasks outside their capabilities, they will fail to make progress. Use 1-on-1s to identify where more flexibility and support are needed.
Autonomy questions to ask in your next 1-on-1: How satisfied are you with how "in charge" you feel of your work? Where would you like more or less freedom?
Meaning
Anthropologists have long known that humans are meaning-generating animals who must live in a world we understand. Research shows that connecting employees' work to concepts that matter to them increases engagement, satisfaction, and productivity. 
So, use 1-on-1s to connect the dots. Go beyond linking tasks to the company's mission. Connect each of your reports with responsibilities that matter most to them.    
Meaning questions to ask in your next 1-on-1: What aspects of your work do you find most fulfilling or rewarding? Why?
Progress
One of the greatest predictors of workplace happiness is a feeling of progress. Research shows that it's not the big wins that matter most, but a feeling of continuous achievement. 
One progress hack that great managers use is opening their 1-on-1s with small wins – asking their direct reports to share one thing that went well recently. Great managers also use their 1-on-1s to give feedback and focus on personal development. A good method is to schedule a quarterly deep-dive into professional goals, then do a short weekly check-in on progress. 
Progress questions to ask in your next 1-on-1: What would you like to get more feedback on? What's important to you about that?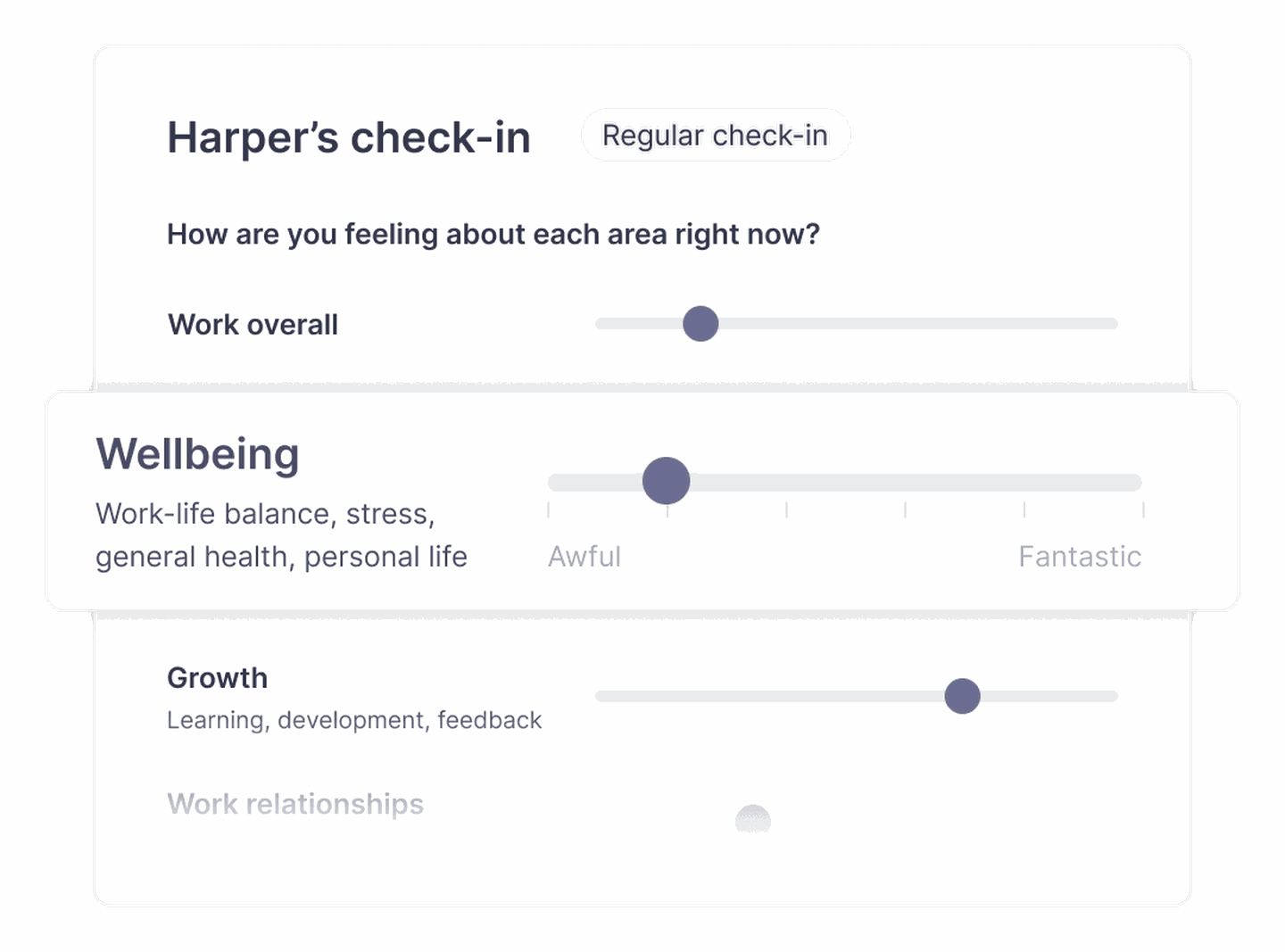 Social Inclusion
Our need to belong is so deeply ingrained within us that, whenever we feel excluded, our brains register it as physical pain. Use your 1-on-1s to ensure your direct reports feel a sense of inclusion.   
Easily enough, you can do this through small talk. While some dismiss it as a waste of time, when it comes to trust and connection, small talk is seldom small – especially when working remotely. Great managers also use 1-on-1s as an opportunity to help direct reports diversify their professional network (a major predictor of career growth) and check in on group dynamics by asking about team trust, inclusion during meetings, and interpersonal conflict.   
Social inclusion questions to ask in your next 1-on-1: On a scale of 1-10, how comfortable do you feel being your real self at work? What would move that number up by one point? 
Next steps
1-on-1s are a manager's simplest and most potent tool to diagnose and generate employee engagement. To take your 1-on-1s to the next level, we suggest that you and each of your direct reports co-create an agenda template or optimize the one you use now. Use our 101 guide for 1-on-1 conversations as a start!  
Head to LifeLabs Learning for skill building support for you and your company.
Build a world-class employee experience today