How to empower managers to take action to improve company culture
We run employee surveys, we collect data, and we know what we want to do to continue improving our cultures, driving revenue, increasing productivity, and more.
But then we find out that the hard part comes after all of that.
It's time to talk about how we can empower our managers to take action and drive organizational change.
At Culture Amp, we believe that data should be in the hands of the people who are in the position to make change. While HR and executives are often leaders of change, we can't forget the importance of managers in creating a positive company culture. Our managers are on the front lines of our organizations which puts them in the best position to drive change. They work directly with employees and can demonstrate that leadership is listening to their feedback, and take direct action on their results.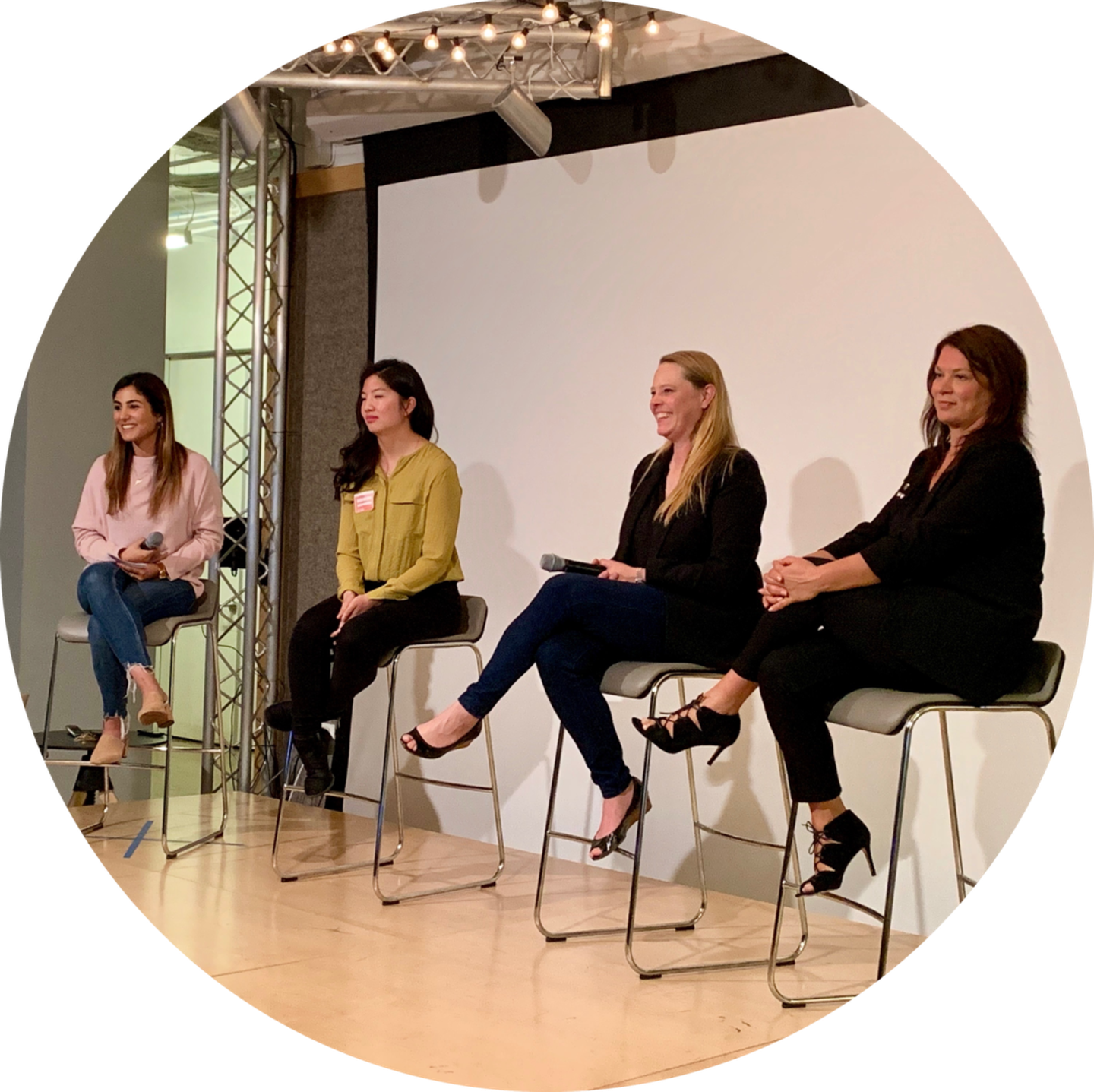 At a Geekup in San Francisco I moderated a panel discussion with leaders from diverse organizations to find out how they are addressing getting managers involved in the action planning process:
Jacquelyn Wong - People Analytics and Strategy Lead at Coinbase
Elizabeth Pierce - Global Director of Learning and Development at Eventbrite
Claudia Fulga - VP of People Operations and Leadership Development at Fivestars
While their backgrounds and organizations are diverse, I noticed several consistent key points that can be utilized to help drive change at a team-level.
Rather than simply telling our managers what to do to drive change, make sure that you T[hink], E[educate], L[isten], L[earn].
T: THINK
What role should your managers play in the action planning process?
Too often, we dive right into wanting to empower others, when in reality we need to take a step back and first think about the role we want our managers to play in the action planning process. The reality is that, if we aren't clear about what their role is, they definitely won't be clear on what they are expected to do.
Take time to really consider all realms of the action planning process, from the tactical to the philosophical. Consider some of the following questions and feel free to add your own:
How do managers access their data?
How should they submit their action plans?
Do we hold people accountable to numbers or to behaviors?
Are we taking a centralized or decentralized approach to action planning?
And remember, all of these questions should be answered before you involve managers whatsoever. Nothing is more likely to disengage someone from a process like a small technical glitch or philosophical misunderstanding. Now it is time to share our thinking with our managers.
E: EDUCATE
Educate your managers of the tactical "how-to" and the philosophical "what" and "why."
Educate, educate, educate and once you think you're finished… educate some more! And don't overthink this process; educate on the same two areas that we had to think about earlier: tactical and philosophical.
Tactical education
Tactically, we need to share the "How-To." Think of creating a training program that outlines how managers can access their reports, how do they navigate through your survey platform, how do they submit their action plans, and more. Our Results to Action Guide and Reports Navigation Academy articles are a great starting point. And in reality, this is harder than you might think. Because we are so entrenched in the survey process and the tools we are using, it can be easy to forget that not everyone has worked with data or used our tools before.
Jacquelyn Wong, People Analytics and Strategy Lead at Coinbase identified this issue early on and addressed it immediately. "At Coinbase, we had some initial challenges getting our leaders and managers bought into engagement. By sharing specific stats that Culture Amp provides (e.g. Engagement has a significant impact on employee retention -- employees strongly disagreeing or disagreeing to "I see myself working at Coinbase in two years time" are >2x as likely to churn), we were able to capture the attention of skeptics. Now, as we're running engagement manager training we use screenshots of the engagement survey to show how you can identify high-impact questions."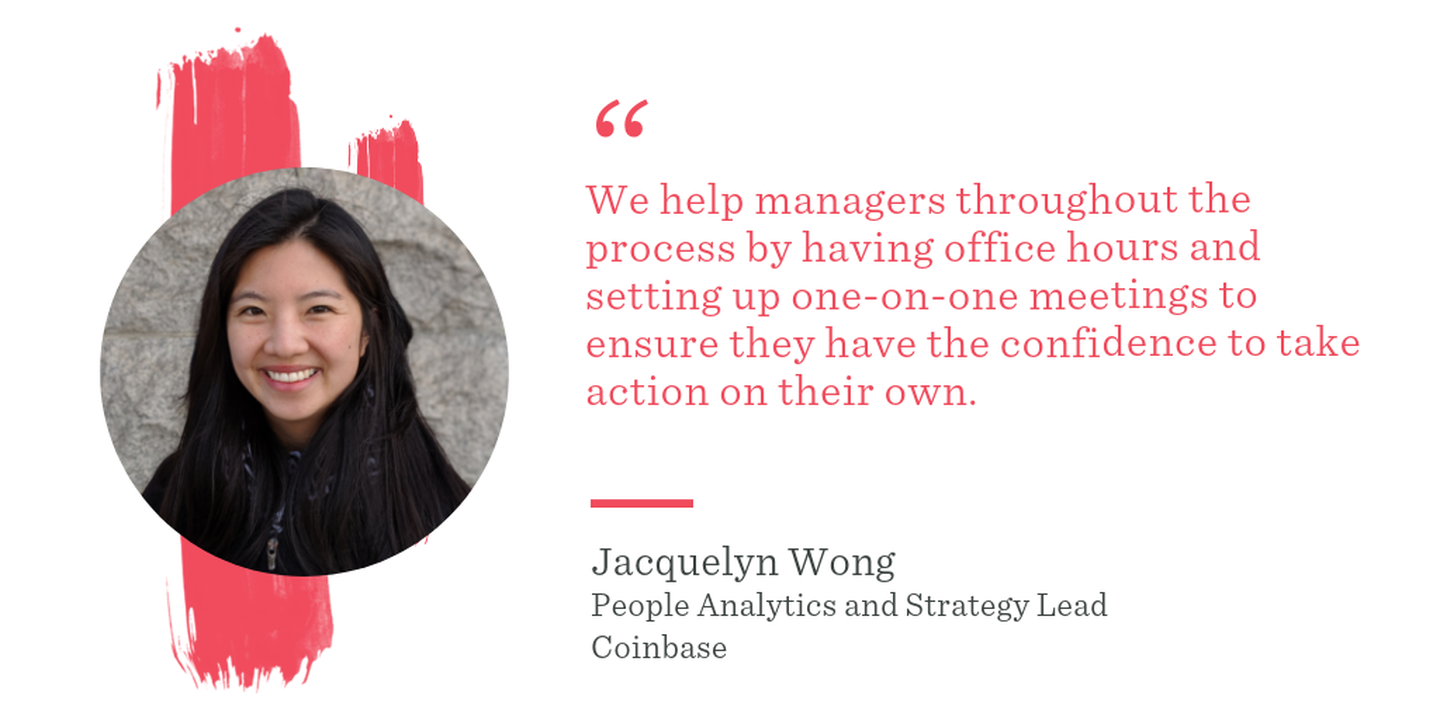 She continues, "We help managers throughout the process by having office hours and setting up one-on-one meetings to ensure they have the confidence to take action on their own."
Claudia Fulga, VP of People Operations and Leadership Development at Fivestars adds, "'Managers', or 'Coaches' as we call them, also have a responsibility to ensure that engagement rates amongst their team members is at 80% and above based on each Coachee's individual leadership style and we track this every quarter with Culture Amp in the Leadership Section of the survey that we custom designed based on what we defined as a  "Coach at Fivestars."
Philosophical education
Philosophically, we should share with our managers what we mean when we say "action planning" and what their role is in the process. Claudia has a simple way to establish ownership and responsibility amongst, not just managers, but all employees.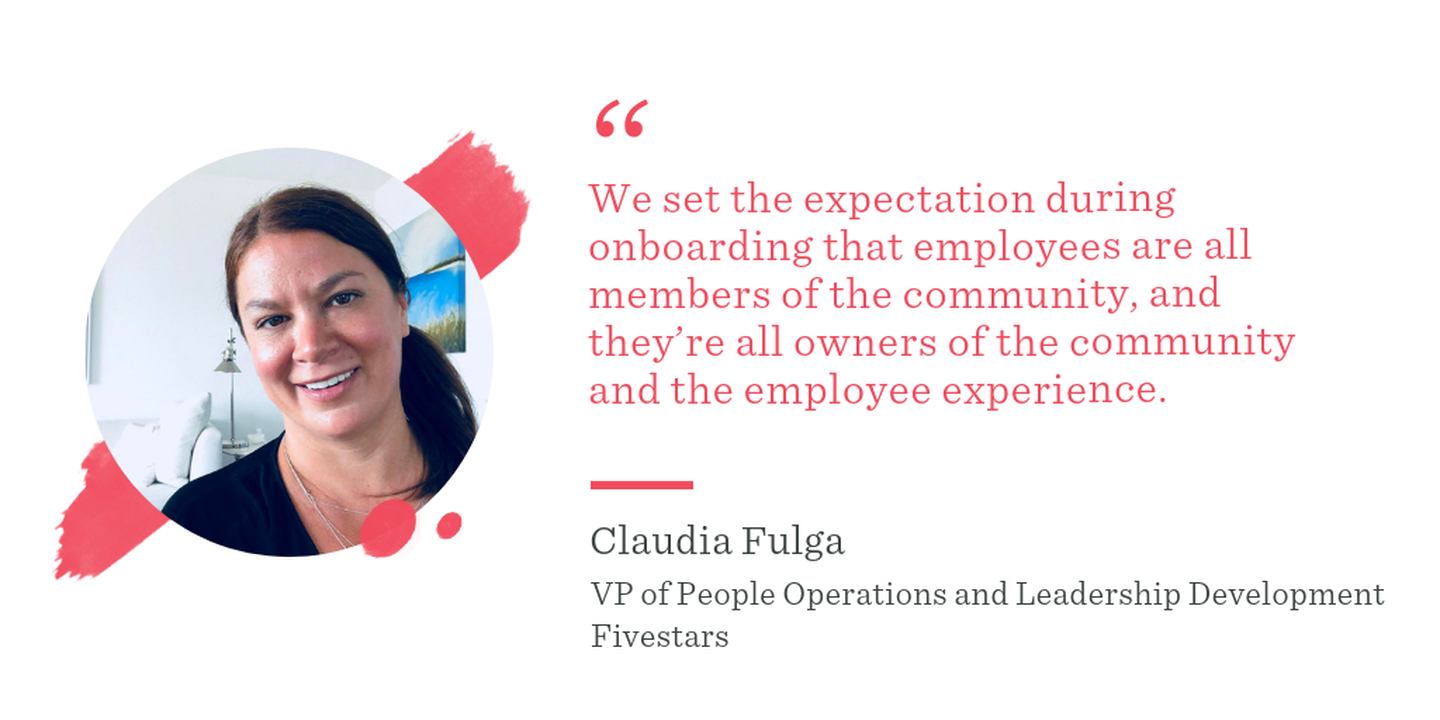 "When someone starts at Fivestars, we set the expectation during onboarding they're all members of the community, and they're all owners of the community and the employee experience," says Claudia. "I think when you say that to somebody, the level of engagement and commitment they have to the company, to the community, to their team changes drastically for the better.  Ownership equates to engagement."
L: LISTEN
Use two-way communication between your managers and your team so they know who to come to should they need assistance.
Throughout the process, ensure that you have set up a two-way communication process, meaning that your role is not only to educate them, but they are also able to come to you for additional resources, education, and more. Elizabeth Pierce, Global Director of Learning and Development at Eventbrite, emphasized the importance of a supportive environment in empowering her managers.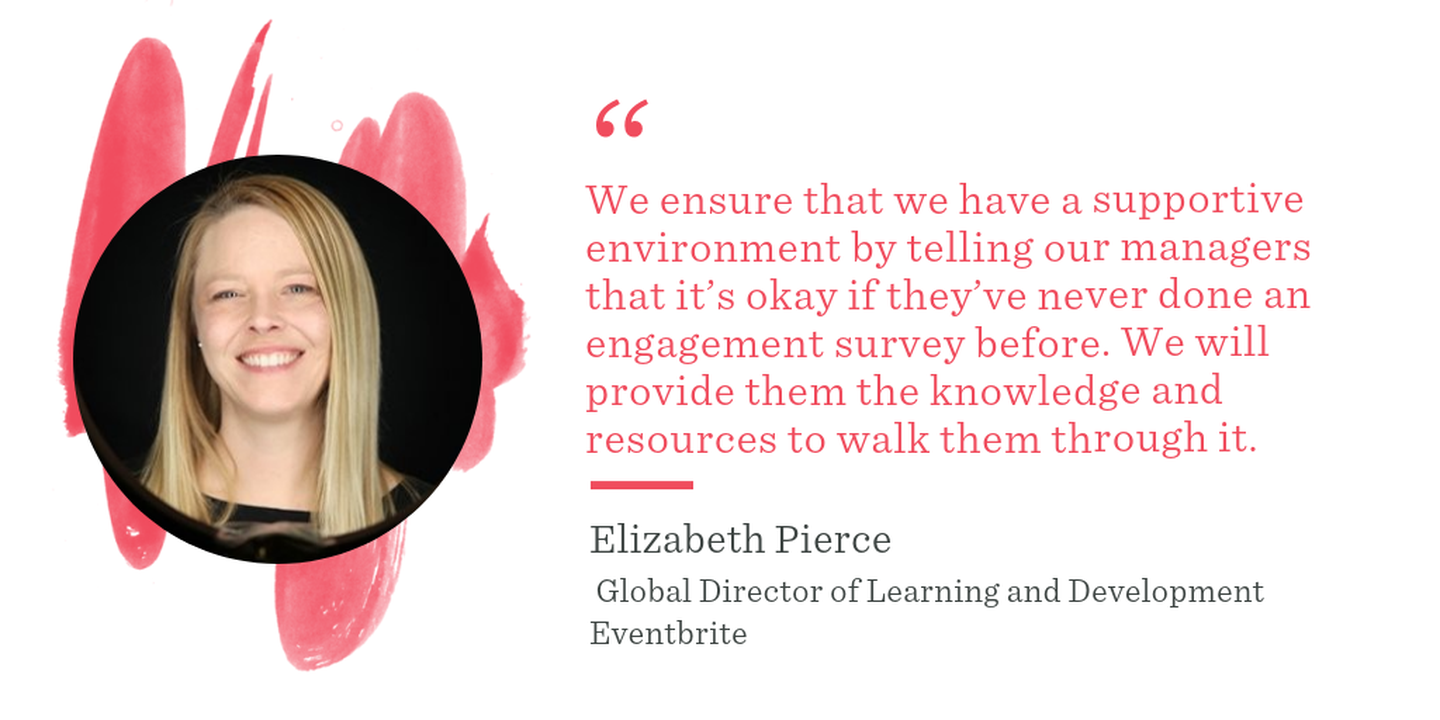 "We ensure that we have a supportive environment by telling our managers that it's okay if they've never done an engagement survey before. We will provide them the knowledge and resources to walk them through it. If they are facing difficulties or challenges with their teams in improving results, we go as providing them one-on-one coaching."
Jacquelyn also brought up the importance of the hardest to find resource - time. "We moved to a bi-annual cadence in order to give our managers more time to take action on the results, so that our engagement surveys could be impactful."
L: LEARN
Once your feedback cycle has ended, take time to learn how you can continue to improve.
Just as we encourage continuous learning from our employees, we too can continue to learn as leaders. We should iterate on the think, educate, and listen cycle to ensure that our managers continue feeling empowered to move through the feedback cycle.
Take time to think about what worked and what didn't work in the previous steps; how can we think, educate, and listen more or differently?
And while we want to continue iterating, we also have to make sure we are still giving our managers the opportunity to learn. Sometimes that means giving them the opportunity to fail. Elizabeth explained the idea that, even if we know something won't work, we still must give our managers the autonomy to try. "If somebody who's never done it before says, 'I want to try this,' you may think in your head, 'I know that's going to fail.' But, we must consider: are they going to learn something from this?"
It's important, not only for their own learning, but also to identify new and innovative ways to improve your organizations, to create a culture where it's okay to "fail." And remember, that failure is subjective. Similar to the invention of the lightbulb, trying something and not having it work does not mean that you have failed, it simply means that you have found one way that won't work. And the best way to determine if action plans are having an impact? Utilize your survey tools! You can utilize a pulse survey after an action plan to determine how your actions are making a difference; should the company adopt this action plan, do we need to adapt to make it more successful, or is it time to stop and start over?
Elizabeth also brought up her experience with encouraging managers to take time and learn from their failures. "I've always said that failure equals data and the more data you have, the better decisions you can make next time. Ask your managers, 'How can we learn from this, and what do we do next time?'"
Start empowering your managers to take action
It's clear that manager empowerment is key to ensuring the successful implementation of our action plans and it was awesome to hear from three, incredibly successful women who have utilized a variety of methods to do so. The next time that you start your action planning process, make sure that you don't just tell your managers what to do, but T[hink], E[educate], L[isten], L[earn].
This panel discussion was a part of Culture Amp's People Geekup event series and was hosted at Eventbrite's office in San Francisco. A massive thank you to our panelists for the engaging discussion and thoughtful responses to our Q&A session. By working together, we're one step closer to building more Culture First organizations.
Build a world-class employee experience today