Case study
How Culture Amp helped Slack use people data to scale their culture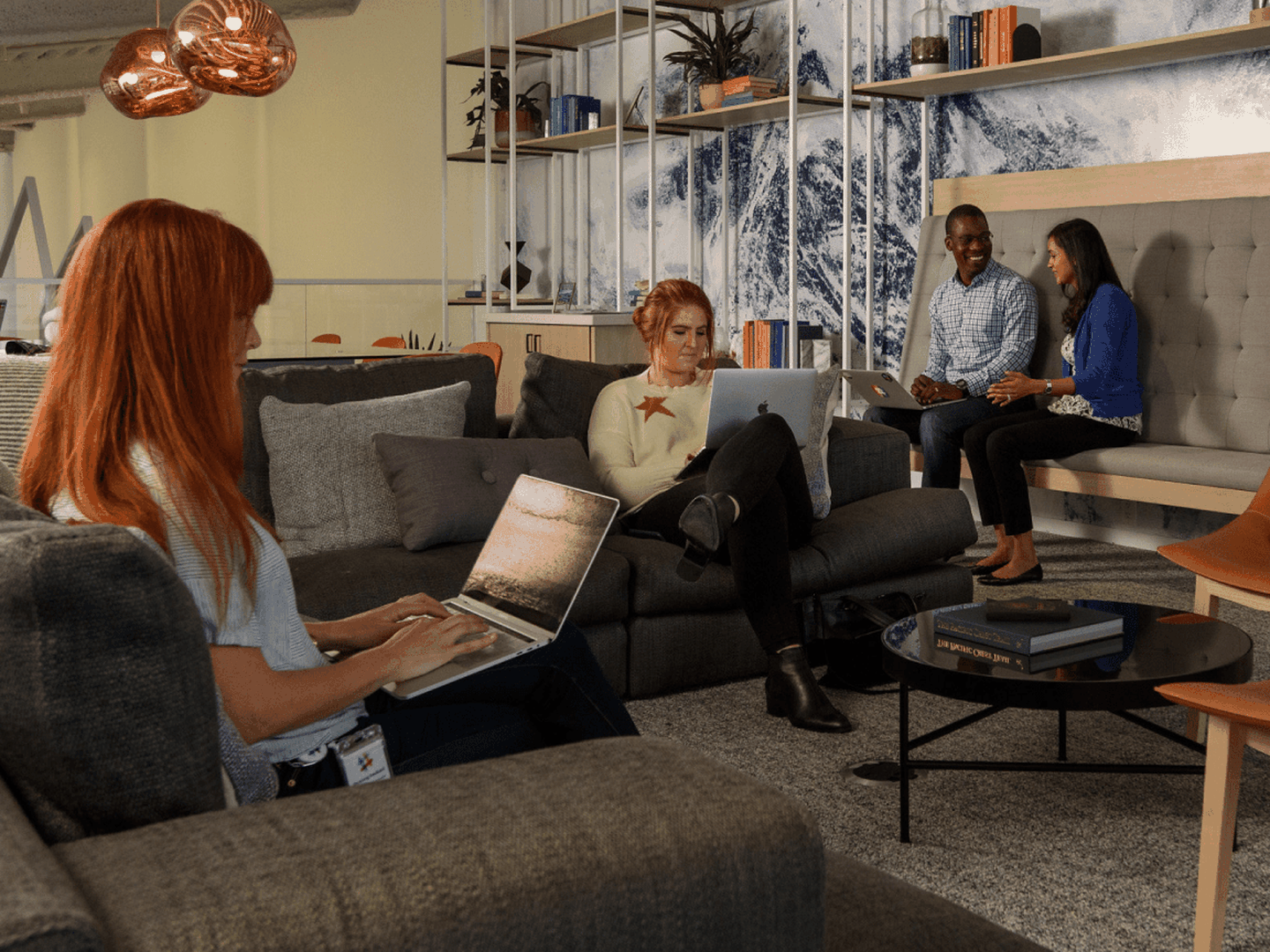 Statistics
2500employees

15offices

119k+paid customers
About Slack
Slack is a workplace collaboration hub that unites teams, information, and tools in one place for a more efficient flow of work. Slack started using Culture Amp in 2015 when they had just two offices. As Slack continues to scale up, feedback and communication are critical in maintaining their culture. We spoke with Dawn Sharifan, VP of People and Sheela Subramanian, Senior Director of Strategic Planning and Programs to learn how Culture Amp helps drive smarter people decisions.
Meet Dawn
Dawn joined Slack at 150 employees as a founding people leader. Today, Dawn oversees the people partners, people operations, organizational effectiveness, and diversity & inclusion teams. According to Dawn, "Culture Amp sits right at the center of all of these functions."
Meet Sheela
Sheela joined Slack in 2016 as the first Enterprise Marketing leader. From there, she helped build the global marketing organization and now works closely on strategic programs  with Slack's CMO.
"My role today involves ensuring our team has the support and tools they need to thrive. It's hard to measure that – it's not a simple yes or no checkbox – so we use Culture Amp to measure whether we're headed in the right direction and doing our job effectively."
Key challenges
Company culture is Slack's North Star – the thread that binds together everything they do. But as Slack scaled, Dawn found it hard to maintain the same level of intimacy and communication. "When you get bigger it becomes harder to give feedback. We needed to find a way to formalize feedback and still remain personal enough to build that foundation of trust."
In the face of exponential growth, Slack needed a scalable solution to identify insights and ensure employees had the right resources to do their job effectively. Beyond the demands of rapid growth, the COVID-19 pandemic presented a new set of challenges for the Slack team to navigate.
As Slack responds to these simultaneous hurdles, here's how Culture Amp helps them make smarter and more efficient people decisions, while maintaining a highly personal approach.
Areas of impact
At Slack, hard work is about not working the most hours, but rather working together in a way that drives the best results. Both Dawn and Sheela have found that Culture Amp enables them to form educated hypotheses to create solutions around areas that need attention.
Slack uses Culture Amp for annual engagement surveys, pulse surveys, D&I surveys, and exit surveys, but Dawn encourages her team to use the platform for any type of survey so all the data can live in one place and they can track trends over time. The resulting insights have been critical as Slack works to drive engagement and performance in the face of ongoing change.
"Great people professionals have a robust toolbox for driving people strategy and objectives," says Dawn. "Culture Amp is a key tool in the toolbox of an effective people leader."
Scaling culture
Early engagement survey results surfaced a need for better communication during periods of high growth. With Culture Amp, leaders identified a kink in the hose in the flow of information. "Culture Amp allows us to identify specific drivers that can help us move the needle."
As they grow, Culture Amp's integration with Slack easily delivers notifications right in the flow of work. "We live and breathe in Slack," says Dawn. "Slack is the foundational piece of many different integrations, so I expect an important piece of software to live in that same space." Notifying employees of new surveys and reports directly in Slack increases participation rates.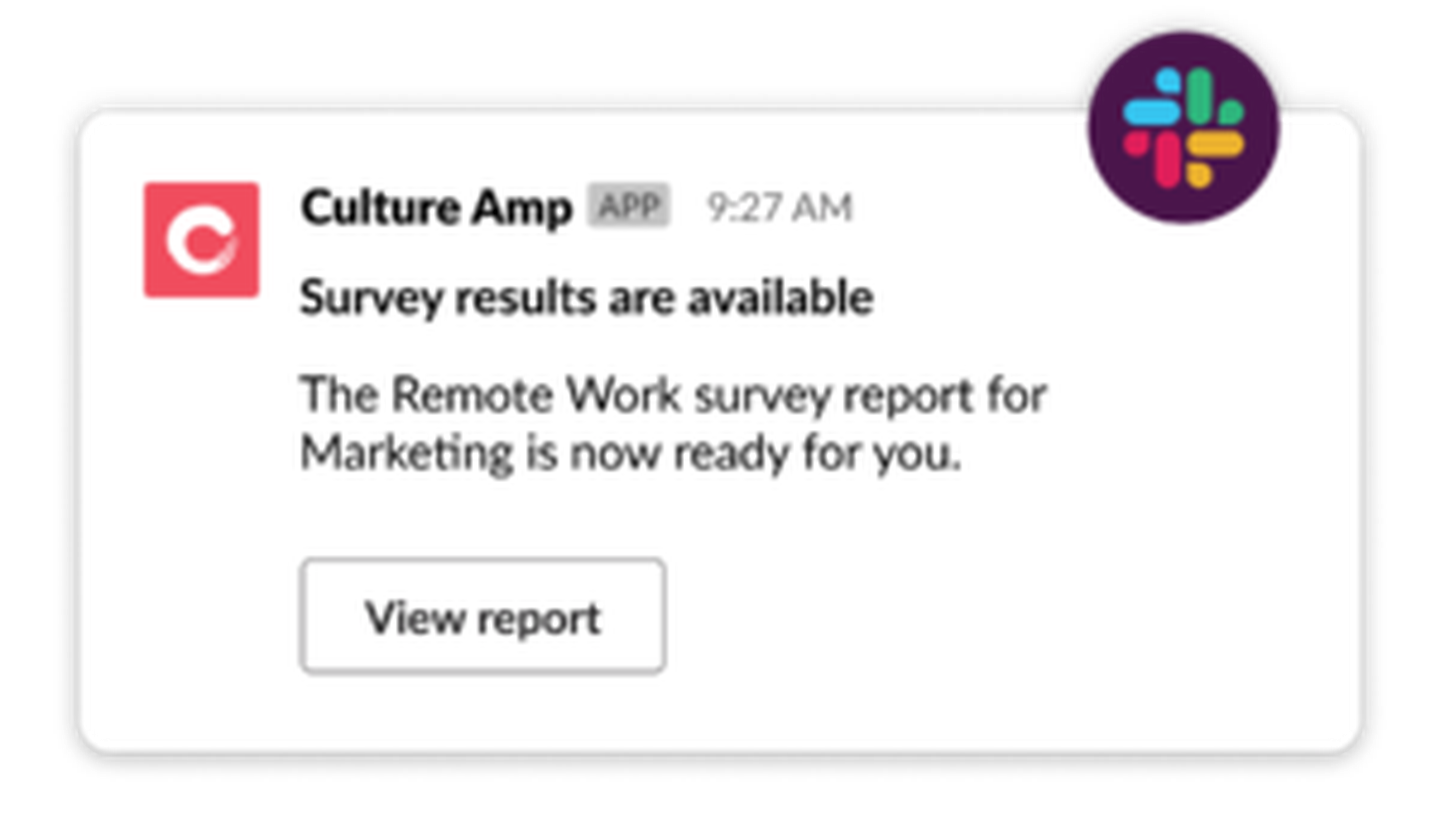 Sheela recognizes the integration as critical to participation and visibility: "We don't check our email frequently, so it's important to get notifications directly in Slack when it's time to fill out a survey. This ensures people are both completing their surveys and have access to the results."
Beyond the survey, Dawn found value in Culture Amp's community and benchmarks. "The ability to tap into collective intelligence when you're growing fast helps you identify what's normal and what's not. If your engagement score is 83, what does that really mean? For overachievers it might be failing. But compared to your peers, it might be 10 points higher."
Slack's surveys uncovered that employees of color report lower engagement than their peers. While this result is in line with benchmark data, Slack wanted to do better. "We decided it's not okay for us to have different engagement scores across different demographics," says Dawn. "It's an upstream swim, but our goal is to have equal engagement scores across the board."
Reframing the manager experience
Data accessibility and ease of use has strengthened the relationship between HR and managers at Slack. After a pulse survey, Sheela worked closely with her HR business partner to understand the results. "HR has been a great partner in ensuring that we have policy and process in this growth, so that we can effectively manage our teams."
Likewise, Dawn's team is better able to identify areas where managers are struggling and add these development areas to their learning portfolio. "Managers have a very emotional journey with their engagement scores," says Dawn. "It's like five stages of grief, which is why HR needs to continually support them by explaining the results and identifying actionable next steps."
It's challenging for anyone to receive negative feedback, but this data-driven approach has already helped managers like Sheela embrace feedback: "As a manager, it's like a holiday when we get those results. There's a bit of nervousness, but I love seeing the data across a variety of dimensions and reading the comments to understand the qualitative context."
Sheela appreciates how the platform enables people to be frank about what's working and what's not. "As a leader, it taught me that it's impossible for everything to be perfect all the time and to adopt more of a growth mindset rather than a fixed mindset."
Taking action on results
Dawn's team uses insights from Culture Amp to inform meaningful action. "Great people work is a marriage of data and gut. Culture Amp allows you to get curious in an efficient way. When I start pulling on a thread in the data, it points me in the direction of a hypothesis."
One engagement survey uncovered too many one-to-one reporting lines. "You need a minimum of five direct reports to see your results and half of our managers weren't even able to get their results. We realized our team was too hierarchical and we needed to rethink our org structure."
As a manager, Sheela uses the lowest scoring items to inform team OKRs. "As a result of the survey, one of our objectives was to build and invest in better processes and supporting tools. Because we knew where to focus, it helped us prioritize our key results and we've already seen improvements in pulse survey scores around this objective."
Slack's leadership team loves this visibility into company-wide insights. "Especially at the highest levels, people want to know what's really going on in the organization," says Dawn. "Our CEO wants to see the hotspots, success stories, and teams that are thriving. At such a high level, it's important to help leaders recognize that watching trends over time is critical."
Bonus: Responding to COVID-19
The Culture Amp platform has been a key part of Slack's response to the COVID-19 pandemic. Having these structures in place allowed for a smoother response to the crisis. For example, regular pulse surveys have informed several tactical responses including an increased stipend for home office setup and one company-wide Friday off per month dubbed "Friyays."
"In the beginning, people were unsure how to communicate what they wanted," says Dawn, "Culture Amp allowed us to get insights into what was going on with our employees and avoid making assumptions. A couple of my initial hypotheses were proven wrong."
Slack used Culture Amp's wellbeing survey to help pinpoint where particular groups of employees might need additional support around caregiving, mental health, or wellbeing. This has been critical to individuals like Sheela who has two young children at home. "It's hard to both keep my kids sane and do a good job at work between the hours of nine and five. Leaders at Slack are working to build a more asynchronous work environment, where you can work over the course of a day, rather than within a fixed set of hours."
Sheela also recognizes an important shift in the role of the manager as a result of the crisis: "We need to reimagine management and foster a culture of affiliates and coaches. In times like these, managers need to be a support system more than a task master."
Bringing it all together
Culture Amp has supported Slack's rapid growth with important actionable insights. At the highest level, Dawn estimates that "if we were still doing things on Google forms and trying to crunch the numbers ourselves, that's probably at least one person's full time salary."
Slack leverages Culture Amp to drive time and resource-savings by making smarter decisions around engagement. For Dawn, engagement doesn't mean happiness, it means wanting to do your best work. "I don't have a formula, but the ability to identify and thoughtfully pull levers to increase engagement has a huge ROI. And not only on productivity, but retention as well."
Beyond these insights, Dawn has found meaningful value in the long-term partnership between Culture Amp and Slack. "Having the Culture Amp team in our shared channels feels like they're an extension of our team. Most companies we partnered with were great at a certain size or stage, but weren't able to keep up with our growth. Such a long partnership shows that Culture Amp delivers what we need as we grow.
The power of the two products together is what makes the partnership so strong. For me, Culture Amp's wow factor is around how aligned our companies and cultures are. Few vendors cross the threshold to becoming partners, but it feels like a seamless weaving between our cultural values and mission, and that's more powerful than any survey insight."
Headquarters
San Francisco, United States
Challenge
Collecting feedback at scale while still remaining personal
Solution
Using data-driven hypotheses to inform engagement strategy
Result
A more efficient and effective approach to people management
Build a world-class employee experience today