17 powerful employee onboarding survey questions to use
"Creating a good onboarding experience is no longer a nice-to-have. It's a necessity," says Stacey Nordwall, Culture Amp's Senior People Operations Manager. And part of creating this "good onboarding experience" is asking the right questions on your employee onboarding survey.
Here at Culture Amp, we've always believed employee surveys are essential to every company's employee feedback strategy. Onboarding surveys, specifically, provide valuable insight into whether or not your company is setting your people up for success and making improvements to optimize that process.
With so much on a new hire's plate when they join your company, onboarding surveys are a useful, systematic way to efficiently check in with people. Moreover, they send an important message to new employees that their voices matter and that the company cares about how they feel.
With so much on the line, knowing the right questions to ask in an employee onboarding session is essential. In this blog, we'll share recommendations for what to cover in an onboarding survey, along with actual example questions that we use over the first two "phases" of an employee's onboarding.
Phase one, week one: Employee onboarding survey questions
The questions in the Phased Week 1 onboarding survey cover logistics and the recruitment experience. They also build an understanding of why an employee decided to join the company. The onboarding survey is often the first time you will introduce the concept of employee feedback, and it could be your new hire's first workplace survey experience.
Remember that survey questions are bi-directional in that we're asking employees for their feedback, but we're also telling them what we think is important by virtue of the questions we put in front of them. It's a great way to start a conversation about feedback early in the employee lifecycle journey and show people their voice is valued at your company.
In week one, we suggest asking questions about the recruitment experience, the new hire's decision to join your company, and the onboarding experience so far. Below are some examples of how this could look.
Questions about recruitment
In this section, it's important to ask new hires about the quality of the information they received early on, satisfaction with the process overall, perceptions about timing for delivery and receipt of information, and overall feedback on how to improve.
I was provided accurate information about [Company] during the recruitment process. [Rating scale]
Is there something we could have done to improve the recruitment process? [Free-response]
Questions about their decision
Understanding a new recruit's decision to join your company can inform your marketing initiatives, employer value proposition efforts, and where you dedicate recruitment efforts.
Please indicate the reasons why you joined [Company]. [Free-response, or multi-select]
What were you doing before you began working here? [Free-response]
Questions about the onboarding experience
Asking about the new hire's experience in the very first week of employment shows that you value them and want to ensure they feel included as a member of your organization.
I am feeling welcome here. [Rating scale]
I am proud to work for [Company]. [Rating scale]
What's one thing we could have done differently to improve the first week of your onboarding experience? [Free-response]
Phase two, week five onboarding survey questions
After your new hire has had a few weeks to settle in, they'll have more feedback about their experience. Questions in phase two, week five cover belonging, alignment, and engagement.
Questions about engagement
Including core engagement survey questions in your onboarding survey provides an important point of comparison for a later period of a new hire's tenure. You'll be able to look back and see how their level of engagement changes over time. We recommend asking these five questions to measure engagement:
I am proud to work for [Company]. [Rating scale]
I would recommend [Company] as a great place to work. [Rating scale]
I rarely think about looking for a job at another company. [Rating scale]
I see myself still working at [Company] in two years' time. [Rating scale]
[Company] motivates me to go beyond what I would in a similar role elsewhere. [Rating scale]
New hires are typically engaged at work (known as "the honeymoon effect"). It's normal for engagement levels to fall after the first engagement survey.
Questions about induction
New hire induction is an important part of the employment lifecycle, especially early on. It's a good idea to ask employees for feedback on how enabled they feel to complete their work and their feelings about the expected learning curve. You can also gain an understanding of how your new employee feels about the training plan they were assigned to get up to speed, their perceptions of their manager, and whether they had satisfactory opportunities to relate with other new and seasoned employees.
I'm confident in using the systems I need in my role. [Rating scale]
I have had good training on the processes applicable to my role. [Rating scale]
I have a good idea about what I still need to learn to do my job well. [Rating scale]
The information provided has been at the right level for me. [Rating scale]
Questions about organizational alignment
Organizational alignment is important throughout the entire employee lifecycle. It's a core theme included in almost all well-designed employee feedback surveys. It's important to ensure new hires feel aligned with organizational goals and values. They should also understand how their work will contribute to achieving those goals and demonstrating those values.
The organizational values of [Company] align well with my own values. [Rating scale]
I understand how my role contributes to the organizational goals of [Company]. [Rating scale]
My experience with the organization has matched my expectations. [Rating scale]
Questions about role perceptions
While organizational alignment is imperative, so is role alignment – particularly for new hires. It's essential to understand if your newest employees feel like they are receiving an accurate preview or description of the job they signed up for.
My role so far matches the role description provided to me. [Rating scale]
I still feel like this is a great role for me. [Rating scale]
Questions about the onboarding experience
The week five survey is great for asking for feedback on your overall design processes. Did the system help your new hires to be successful? Gaining feedback on this subject will enable you to iterate on the onboarding program for future recruits.
I am feeling welcome here. [Rating scale]
I am feeling productive. [Rating scale]
What's one thing we could have done differently to improve your onboarding experience? [Free-response]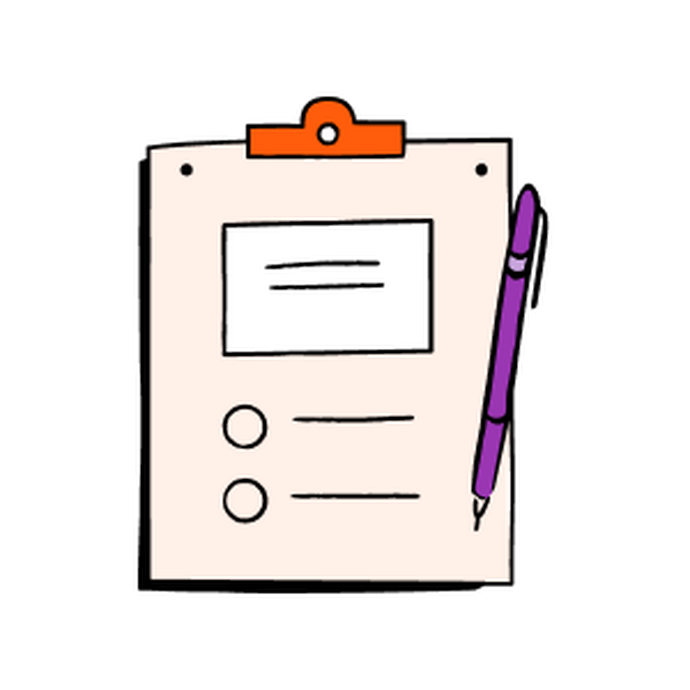 Want to learn more about Culture Amp's onboarding survey?
Get in touch
Build a world-class employee experience today