Top 5 moments from Culture First Americas 2021
After a year of uncertainty and change, we were thrilled to bring back Culture First Americas as a virtual experience. Nearly 4,500 live attendees from 2,900 organizations worldwide came together virtually to connect with peers, share ideas, and hear from industry thought leaders on creating a better world of work.
By the time Culture First came to a close, attendees had left with several key takeaways from this year's panelists and speakers on how to create a better world of work. The panelists shed light on critical issues from the past year that stemmed from the pandemic. They shared powerful insights to help organizations build a foundation for an optimal employee experience.
Whether or not you had the chance to attend, the insights were too invaluable to go unrecorded. Though there were several panelists, there were a few key moments that really stood out and ignited engaging discussions about the ever-changing landscape of work. In this article, we look back at the top five moments from this year's event.
#5. Mindfulness moment: A guided meditation from our friends at Calm
With the pandemic's undeniable impact on employee wellbeing, mental health has become an important priority for most organizations. While some employees have embraced the "work from anywhere" culture, others have felt isolated and anxious without clear work-life boundaries.
After a half-day of sessions, our friends at Calm led attendees through a guided meditation. We learned how to be grounded in the present and to embrace the fact that, at times, our minds wander naturally.
A Harvard study found that people not only spend about 40% of their waking hours thinking about something other than what they're doing, but that they are consistently less happy when their minds wander. Functioning on autopilot makes us more vulnerable to stress or anxiety. In contrast, when we're present, our brain is better able to openly filter information to the part of the brain where our executive functions take place, such as learning and problem-solving.
While a culture of wellbeing can make your employees more focused, it can be challenging to implement at scale. Check out our collaborative guide with Calm to learn how to develop a successful wellbeing strategy.
#4. Focusing on belonging, from start to finish
At the beginning of Culture First Americas 2021, Craig Forman, Lead People Scientist at Culture Amp, and Julia Winston, Senior Facilitator from Play on Purpose, taught our attendees about the meaning of belonging and genuine connection. During this interactive welcome session, attendees were excited to see belonging badges return in a virtual format. These belonging badges helped activate the conversation around diversity and inclusion and brought these topics into the open.
These self-defined labels are what make us unique and are one way of sharing our personal stories. For instance, Craig revealed that he recently learned that he had ADHD and explained, "It's a superpower. I love it, and I love that it helps me to both understand myself and better communicate." Belonging badges are more than just simple labels - they are portions of our own identity that empower us to be vulnerable and build genuine connections with others.
#3. Prioritizing self-care through check-ins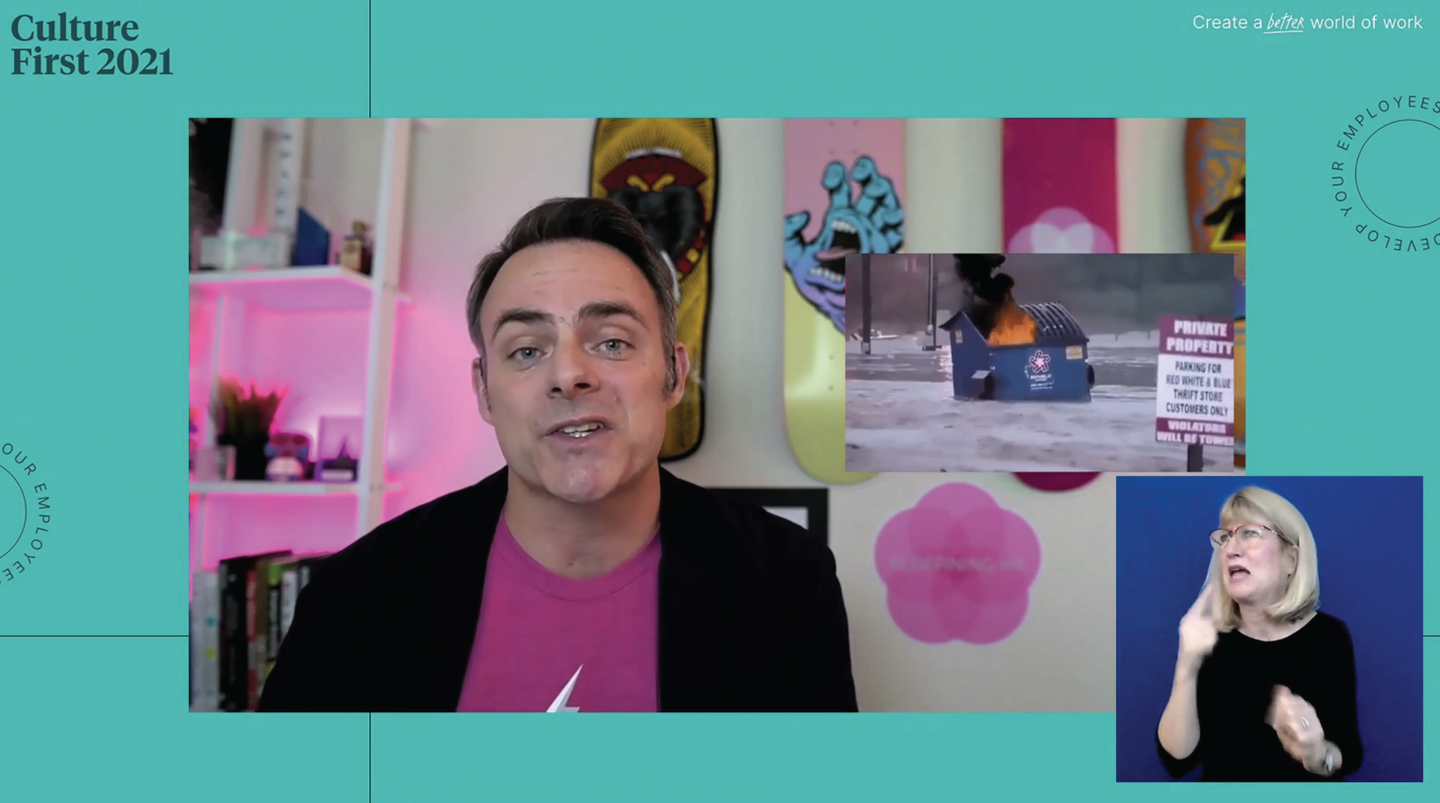 This past year was a wake-up call for many leaders who didn't prioritize culture. Lars Schmidt, best-selling author and founder of Redefining HR Accelerator, led a discussion with three human resources executives about the top considerations for people leaders when preparing for the new world of work.
When the pandemic began, there was a sudden transition for most organizations into remote work. Lars reflected, "Our roles became even broader than [standard people operations]. We got more involved, and HR took on many new roles." HR professionals already have a direct line into how people in an organization feel, so it can be easy for them to put others' needs before their own. As a result, balancing both personal and professional obstacles has become increasingly difficult. Initial results from our HR for HR Survey revealed that only 34% of respondents feel able to switch off from work to make time for rest, and only 43% feel that their stress levels are manageable. That said, one of the crucial takeaways from this discussion is the importance of holistic self-care.
Along with Calm's guided meditation session as one example of self-care, many organizations are working hard to alleviate burnout. Talking about self-care and making time for yourself and your employees is a step in the right direction, but it is just as important to tailor your efforts to your organization's unique needs. There are many ways to prioritize your own self-care while still supporting your teams. While this is just one piece of the puzzle, self-care is foundational to building a culture-first organization.
#2. Emotional Agility is critical to business success
In our first keynote of the day, Claude Silver, Chief Heart Officer at VaynerMedia, and Susan David, best-selling author of Emotional Agility, discussed the importance of emotional agility within organizations. Emotional agility is a core process that allows us to navigate life's twists and turns with an open mind and clear focus. For culture-first organizations, emotional agility helps create an environment where vulnerability and authenticity are lived and encouraged.
The speakers identified one key area for organizations to address: toxic positivity. In a toxically positive environment, individuals avoid confronting challenges and critical feedback in order to maintain a positive outlook. While there is nothing wrong with being optimistic, failing to acknowledge mistakes, challenges, and opportunities for improvement often invalidates the lived experiences of your employees. Susan explains, "When we force positivity, that paradoxically makes us more fragile, more rigid, and less capable. That's because tough emotions are part of our contract with life."
By embracing life's pitfalls, we can better address problems and develop stronger practices in the future. An emotionally authentic culture starts with encouraging employees to bring their authentic selves and experiences to work.
#1. How to create anti-racist organizations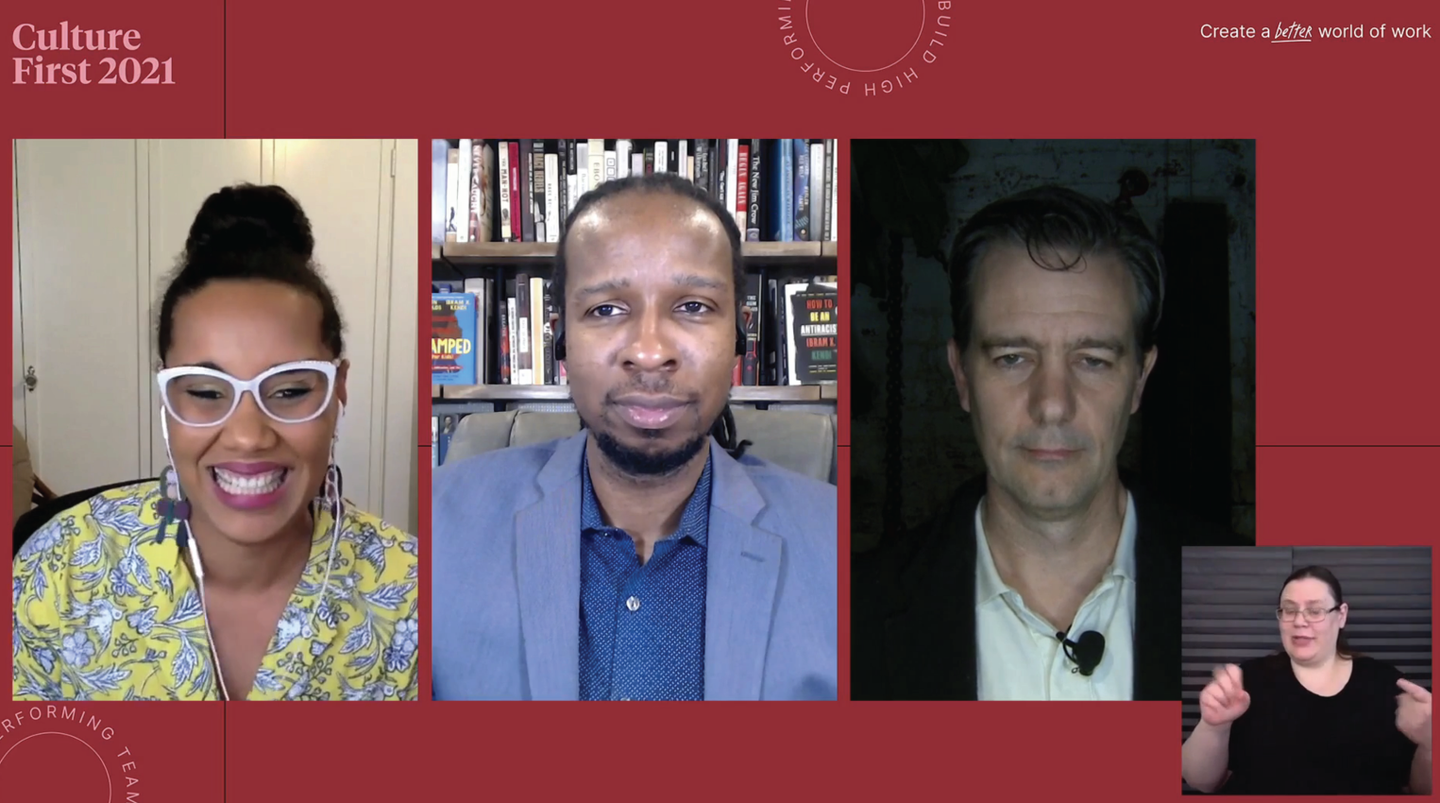 One of the most important issues that came to light during the pandemic was ongoing systemic racial inequality. Despite surface-level efforts to voice company support, organization leaders are being faced with the question: "What does it mean to be anti-racist?"
Culture Amp's CEO, Didier Elzinga, and Professor Ibram X. Kendi, New York Times Best Selling Author of How To Be Antiracist and the Founding Director of the Boston University Center for Antiracist Research, discussed how organizations should take more initiative and become more accountable at the senior level when it comes to anti-racism. Real organizational change starts from the top, and without executive buy-in, meaningful action is often stunted. According to Professor Kendi, "The reason why [leadership buy-in] is so critical is because it creates a culture where people are able to recognize the mistakes, policies, or practices that may be racist practices within the organization."
Being anti-racist, both individually and collectively, is a process within itself. However, becoming anti-racist is also a process, as Culture Amp's CEO, Didier, acknowledges. He elaborates, "It's a standard we have to hold ourselves to. It's a standard we will hit most of the time. But if the standard keeps going up and we keep getting closer, then we'll achieve better outcomes. It's something that all of the leaders need to take on as a first principle." Professor Kendi defines anti-racism as doing impactful work that empowers and amplifies the voices of marginalized communities. According to Kendi, "I don't walk in declaring I'm anti-racist, but I'm certainly trying to demonstrate that through my actions, and I'm hoping that's also what companies are striving to do."
While this is a process that takes time, it's essential to recognize that even taking your first, small steps can have a significant impact. These first steps can be as simple as educating yourself and considering your intentions before you act. If your organization's resources in diversity and inclusion are lacking or you don't know where to start, this kit is an excellent resource to help you start building anti-racist practices across your organization.
Putting it into practice
To build a culture-first organization, we need to understand the needs of employees and prioritize their holistic wellbeing. By embracing the full spectrum of experiences and allowing ourselves to be authentically vulnerable, we can create a safe space for engaging conversations around what it truly means to build a better world of work. Being culture-first also means a commitment to fostering accountability and education. By learning about the histories and stories of other communities and cultures, we can create a stronger sense of belonging.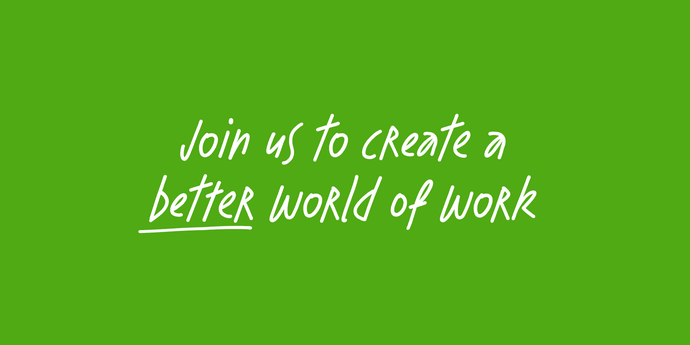 Access Culture First Global on-demand
Watch your favorite sessions from our first-ever virtual Culture First conference.
Discover more
Build a world-class employee experience today