Top 5 learnings from Culture First APAC 2021
This year's Culture First virtual conference series culminated with our final event in the APAC region. In response to a year of global uncertainty, Culture First APAC doubled down on the importance of organizational values and purpose.
According to the most recent Gartner Global Talent Monitor, "Just 9% of Australian workers are considered 'engaged,' showing both high discretionary effort and high intent to stay with their current employer." People leaders throughout Australia are trying to find ways to ensure that their employees are engaged with their organization, both in terms of values and career development. The Australian HR Institute (AHRI)'s joint report with The Leaders Lab, "The State of Leadership in Australian Workplaces," found that nearly 60% of the leaders surveyed said they felt they were struggling as leaders. In comparison, only 22.3% reported that they were thriving with ease in their positions.
As many organizations consider transitioning to a hybrid workforce, most are relying on their values to help rediscover and redefine their culture. Our keynote speakers – HR thought leaders from Australia – provided tips and insights to help other HR professionals navigate the challenges. In this article, we'll share our top 5 takeaways from Culture First APAC 2021.
5. Embed employee development into company values
According to Culture Amp's latest research, only 54% of direct reports agree with the statement: "My manager helps me understand potential career paths at [Company]," which highlights the importance of prioritizing employee development.
In fact, out of 200 drivers of employee engagement, progress toward career development goals ranked second in Culture Amp's 2021 Global Employee Engagement benchmark. One of the key pillars of organizational success is having a solid employee development strategy within your company. However, some organizations may not have the resources and bandwidth to prioritize employee development. Others may also not know where to start when building an employee development strategy. In the session "Develop your people: How to put your company values at the heart of your employee development strategy," Mark Lush, Executive General Manager of Organisation Development at Xero, and Nathan Ainsworth, Customer Success Team Lead of APAC at Culture Amp, discussed how Xero built out a values-driven culture through the power of employee engagement and development.
Based in New Zealand, Xero is a cloud-based accounting platform and one of the fastest-growing global software service companies. Xero's culture is built around the idea of being human, and Mark elaborates, "The company's value is an opportunity to holistically see people, and there are different ways [this has happened] pre-COVID. We want to create the conditions for our people to do the best work of their lives no matter the circumstances."
With that specific value in mind, Xero has recently implemented an agile leadership development strategy. Mark reflects that there are two ways to measure how company values are practiced: communication and listening. When speaking about Xero's thinking behind their development strategy, he says, "We want visible and authentic communication about why our values are important and how we can interact with one another. Values are the anchor points for decision making in times of crisis."
Values are the anchor points for decision making in times of crisis.
— Mark Lush
Executive General Manager of Organisation Development at Xero
Developing your employees starts with your organization's culture and core values. When created and implemented thoughtfully, core values can help define what your organization stands for. But values should be more than just generalizations. Without commitment and consistent practice, they won't be truly meaningful. If your organization is struggling to develop strong company values, here are the three core values you can use to help them come to life.
4. Build high-performing teams with a focus on culture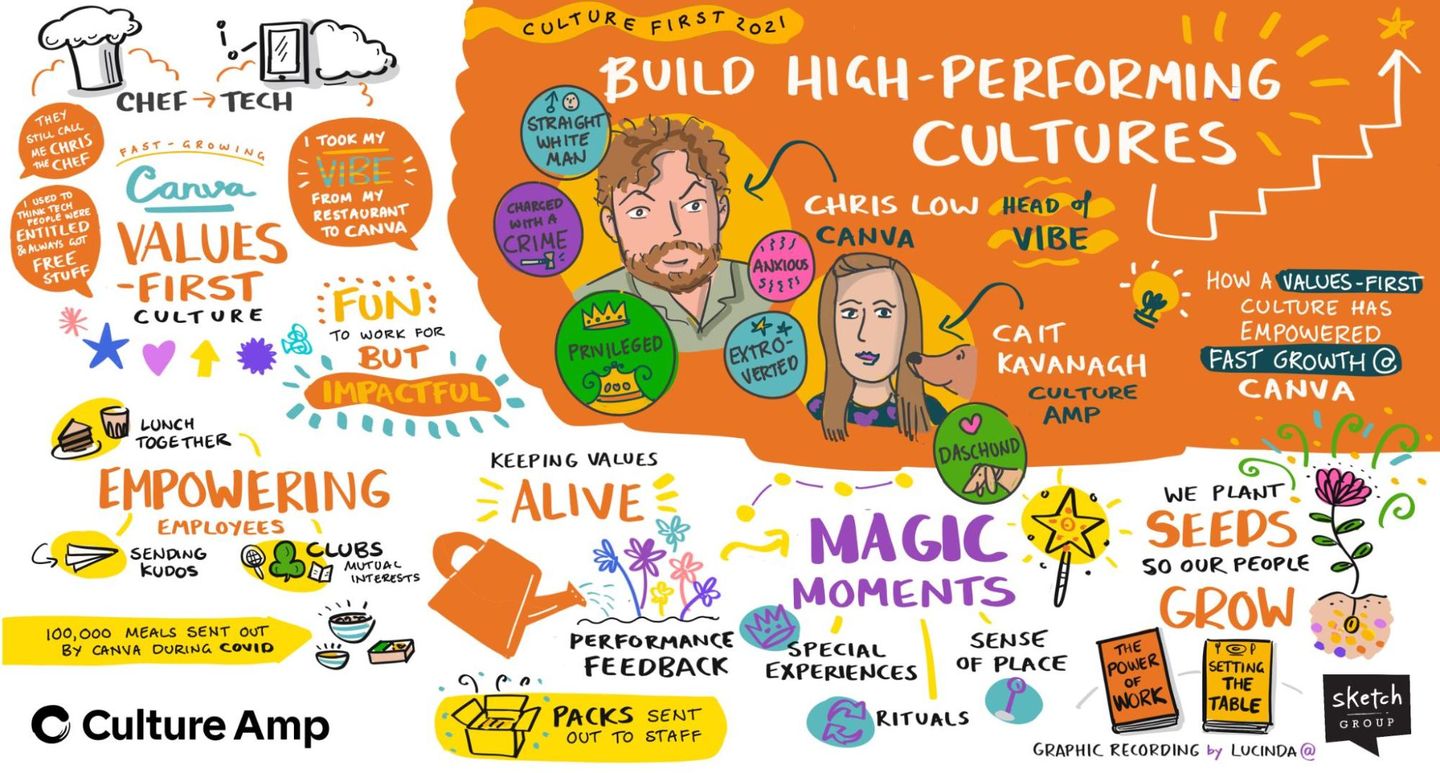 As organizations scale and grow, it can be increasingly difficult to maintain culture, which may result in decreased productivity and motivation. However, Canva, a Sydney-based graphic design company, knows what it takes to support a high-performing team. Chris Low, Head of Vibe at Canva, and Cait Kavanagh, Customer Success Team Lead, Enterprise at Culture Amp, discussed how Canva's value-driven approach led them to unprecedented growth.
Values are only effective when practiced regularly. Chris stresses that the "most important thing about values is that it gives the team, no matter where they are in the world and their personal experience, something to bond over and move toward together."
One of Canva's values is to empower others because every person has a unique and powerful impact on where the organization will go. Canva measures performance in two ways, according to Chris. "There's what we do and then how we do it. What we do is the work – the goals we set and try to achieve," he explains. "There's also how we do it, which is our values and skills that we bring to our profession."
While companies all experience internal and external shifts during growth, starting from a value-based foundation will help foster a high-performing environment. To achieve this, consider adapting your performance reviews to align with your values. By embracing a holistic and human-centric approach, your organization will amplify the potential of your employees.
3. Focus on the first 365 days to drive engagement
New employees are pivotal to the employee lifecycle because their first days can make or break the overall employee experience. While some new employees assimilate naturally into the company's values and structure, other employees may lack a sense of belonging. For Carman's Kitchen, focusing on a new employee's first 365 days has led to a 96% employee engagement rate. Lainie Tayler, General Manager of People & Culture at Carman's Kitchen, and Damon Klotz, Work Culture Evangelist at Culture Amp, talked about how Carman's Kitchen reached that significant milestone.
One of the biggest drivers of Carman's success is how they zero in on new employees before their start date. The company asks new hires to complete an onboarding assignment before their first day to get a sense of their individual strengths and weaknesses. According to Lainie, "We're able to give [new employees] feedback, learning what drives and motivates them." As new employees of Carman's Kitchen progress throughout their 365 days, they receive touchpoint surveys along the way with questions about their understanding of the company and the role.
A proactive approach to onboarding helps foster an encouraging and engaging environment. It's crucial to ensure that new employees feel like an integral part of the organization and see opportunities for development. One way to help your new employees become more integrated is to set up consistent 1-on-1 conversations. These conversations can help drive development and increase employee engagement.
2. Use meetings efficiently and effectively
Looking at your calendar can be daunting as there may be numerous meetings that fill up your workday. But do the majority of your meetings have a defined purpose? Priya Parker, Master Facilitator and Author of The Art of Gathering, and Greta Bradman, Psychologist, Broadcaster & Performing Artist, discussed how to make these gatherings impactful and purpose-driven.
Even before the pandemic, many employees felt the pain of unnecessary meetings. According to Priya, "The pandemic has revealed that, in some ways, employees have been gathering too much, too little, or around the wrong things." In other words, meetings without a clear agenda or purpose can feel like a waste of time. Parker adds, "This is a perfect opportunity to pause and to ask: when should we gather, and why, and for what?"
According to a 2007 study from MIT Sloan Management, on average, employees spend six hours, and managers spend more than 23 hours a week in meetings – and these numbers keep growing. Meeting culture is an essential component of the employee experience. When done right, meetings can be a great tool to drive alignment, connection, communication, and collaboration. Consider the following tips for using meetings effectively to reflect your organization's culture.
1. Have the courage to use your platform
A 2020 report from the Jumbunna Institute of Indigenous Education and Research and Diversity Council Australia surveyed 1,033 Aboriginal and/or Torres Strait Islander workers across Australia. Its findings were alarming, as the report found that 59% of Aboriginal and Torres Strait Islander workers have experienced racism based on their appearance, and almost a third feel their workplace is culturally unsafe.
Many organizations throughout Australia have inefficient support and resources for Aboriginal and Torres Strait Islander workers experiencing racial abuse. With these statistics in mind, organizations and employees are wondering how they can support and advocate for their marginalized colleagues. Clara McCormack, Lead People Scientist at Culture Amp, and Adam Goodes, CEO of iDiC and Co-Founder of GO Foundation, discussed how both individuals and organizations play critical roles in being proactive against racism and discrimination.
Adam retired from the Australian Football League (AFL) in 2015, stepping away from an illustrious career in the sport. After suffering racial abuse in the later years of his career, Adam felt disillusioned and disappointed - especially by the late apology he later received from the league. As a result of these experiences, he founded two organizations focused on helping Indigenous communities in Australia: Indigenous Defence & Infrastructure Consortium (iDiC) and the Goodes O'Loughlin Foundation.
"Being" and "becoming" an antiracist are very different things, as many speakers explored during this May's Culture First Americas conference. Adam points out, "When you don't have strong voices speaking up, whether that is at a commission level or the board room table, that is when nothing happens [and] no change will happen either." One of the biggest challenges for leaders looking to become advocates is breaking down their own neutral outlook. Adam feels that some leaders are at a certain point in their leadership journey where they think, "Well, if I rock the boat now, [am I] going to go against the majority of people that I'm working with?"
It's important that people leaders and employees use their voices to help educate and provide others with learning opportunities to empathize with marginalized colleagues. However, finding your voice is an arduous process that doesn't just happen overnight. Adam advises, "When you make decisions aligned with your purpose, you rise up to potential challenges by using your voice and platform. We are always creating spaces for people to have that voice, but also giving them examples of what is the type of behavior that they would personally do in uncomfortable circumstances."
When you make decisions aligned with your purpose, you rise up to potential challenges by using your voice and platform.
— Adam Goodes
CEO of iDiC and Co-Founder of GO Foundation
Leadership shouldn't be stuck in neutral. By using your platform, your organization will develop and maintain a culture of authenticity and vulnerability. If you don't know where to start, we've created this DEI starter kit to help you drive meaningful progress in your organization.
Implementing the insights
Amidst a rapidly changing world of work, organizations have rediscovered their values and harnessed them to optimize the employee experience. The strength of an organization's values is foundational to ensure that employees are fully engaged and thriving. When you start by listening to your employees, the pathway to creating a culture that fosters purpose and authenticity becomes increasingly clear. With these learnings in mind, your organization will be well-equipped to become a culture-first organization.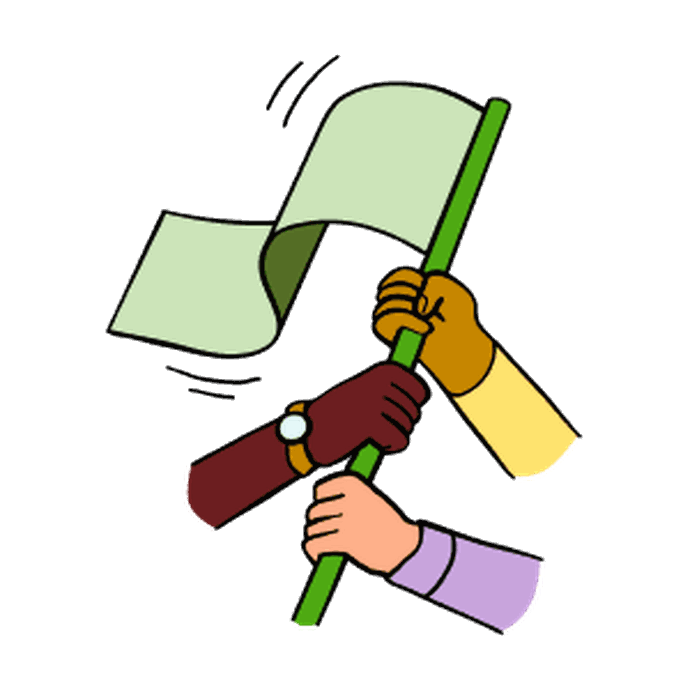 Join us for Culture First APAC 2022
Connect with community on culture at work on Sep 7.
Register now
Joi
Build a world-class employee experience today