Driving engagement with Culture Amp's 1-on-1 meeting tool
Learning and developing the skills it takes to be an effective manager takes years of experience, but today's managers are expected to be great coaches from day one. While self-guided courses and in-person training can put a bandaid on the situation, the reality is, most lessons from the classroom are forgotten by the time they need to be put into practice.
At Culture Amp, we want to ensure that every 1-on-1 is more than a status check-in. Our new 1-on-1 meeting tool provides managers with everything they need to lead exceptional 1-on-1s - thanks to a combination of our people science-backed approach to 1-on-1s and best practices from our Playbooks and Skills Coach tool. This way, managers can learn and practice necessary skills with their direct reports over time, rather than all at once, leading to higher knowledge retention and deeper manager-employee relationships.
To help arm managers with the engagement and performance insights they need, we're sharing how Culture Amp's new 1-on-1 tool has driven business results for companies over the last year. We're also sharing how your people leaders can leverage this new functionality to lead their teams to success.
1.) 1-on-1s drive change to increase engagement
The manager-employee relationship is the single most influential factor in driving engagement.
And, as the saying goes, "People don't leave bad jobs, they leave bad managers."
1-on-1s play a crucial role in maintaining and improving the manager-employee relationship at scale and over time. If managers can leverage these weekly or biweekly meetings with their direct reports efficiently, they can have more meaningful conversations with their employees and improve their team's engagement and productivity.
In fact, our team of people scientists found that teams that have regular 1-on-1s with their manager are...
6% more likely to recommend your company as a great place to work
14% more likely to believe action will take place from your survey results
7% more motivated to go above and beyond in their role
While the data doesn't lie, you might be wondering how Culture Amp's new 1-on-1 tool can help make this happen. Here's how:
Provides access to employee insights: Our platform enables managers to easily pull in insights from engagement and performance data so that they can access an individual's level of engagement, goals, and overall performance before or during a 1-on-1 meeting. That added context can help them improve relationships and drive meaningful outcomes for individuals, teams, and the wider business.
Drives meaningful conversations: It's hard to get the most out of your 1-on-1s when both parties decide to just "wing it." Our tool makes it easy for your managers to plan, prepare, and conduct these meetings with the help of their direct reports. In addition, built-in reminders and shared agendas encourage collaboration and mutual ownership of meetings, so both individuals come prepared to take advantage of every minute of the 1-on-1.
2.) 1-on-1s drive development to improve engagement
Culture Amp engagement data shows that the response to "My company is a great place for me to make a contribution to my development" is one of the strongest drivers of engagement across all industries. The catch? Our data also shows that "development" is the area direct reports rate their managers most poorly for - to be exact, the average satisfaction score is only 67%.
Luckily, 1-on-1s are the perfect environment to broach professional development, but your managers might need the occasional nudge to keep L&D top of mind. For your business, improving the quality of your manager-employee 1-on-1s can simultaneously target and enhance both manager and employee growth and development.
Looking to improve L&D and engagement within your organization? Teams that have regular 1-on-1s with their manager are:
12% more likely to have access to the L&D they need to perform well
11% more likely to get opportunities to develop skills relevant to their interests
So, exactly how did our People Science team weave development into our 1-on-1 tool? There are two key elements to our 1-on-1 approach that drive this outcome:
Self-awareness: Self-reflections are baked into each 1-on-1, allowing your direct reports to pause and reflect on their performance and your managers the ability to figure out how their direct reports are faring.
Coaching: Being a good coach and manager starts with asking the right questions. Culture Amp's 1-on-1 meeting tool encourages solution-focused questioning through open-ended questions so that direct reports can come to the table with their own insights. This can help them build personal awareness and feel more motivated to change and reach their goals.
3.) 1-on-1s create belonging to increase retention
While improving engagement and investing in L&D will undoubtedly help increase retention at your organization, our data also suggest a sense of belonging is influential in keeping employees around for longer. In fact, our data shows employees are three times more likely to leave a company if they score themselves low on "sense of belonging."
So, how can your managers use these meetings to build belonging? First of all, 1-on-1s give employees an opportunity to get personal. They help managers and their direct reports get to know one another and build lasting relationships, which can help increase an employee's sense of belonging at the organization. They also enable employees to air any issues they face in the workplace, such as experiences with microaggressions or exclusion. Only once these concerns are made known can your managers put an end to or alleviate these issues and improve their direct report's experience at the company. With a direct effect on belonging and retention, 1-on-1s can have widely felt implications for the entire organization.
In fact, teams that have regular 1-on-1s with their manager are:
14% more likely to feel that outstanding service is acknowledged at their company
13% more likely to feel that the right people are rewarded and recognized at their company
Our people science-backed 1-on-1 approach helps drive belonging by:
Acting as a springboard for more meaningful conversations: A great 1-on-1 has to be a real, in-depth conversation. To help your managers dive deep below the surface, we provide self-reflection questions that touch on the whole employee experience, thus making it easier to bring deeper topics to the surface.
Providing managers with science-backed coaching skills: Designed by organizational psychologists, our 1-on-1 meeting tool has all the skills and knowledge your managers need to become better coaches. Your managers can leverage the tool's expertise, best practices, and tips, so they'll never feel like they're leading alone.
Start improving your team's 1-on-1s today
Encourage your managers to go beyond status updates and facilitate real, raw, and difficult conversations with their teams with Culture Amp's 1-on-1s tool. Equip them with the tools and knowledge they need to build stronger connections, improve alignment, and increase performance - all in one central platform. Start empowering your managers to become better people leaders today.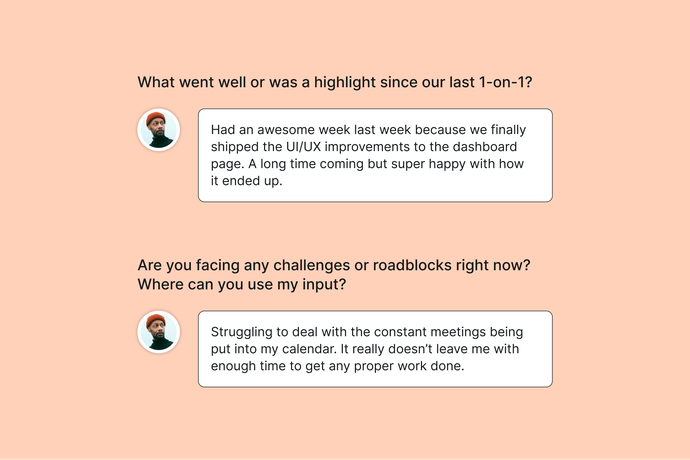 Make 1-on-1's at your company count
Increase engagement, drive performance, and create belonging with Culture Amp.
Learn more
Build a world-class employee experience today